On paper, an RTA tank sounds like a great idea. But in practice RTA tanks are a serious pain to live and work with….
One of the things I love about vaping is the sheer choice of stuff you have at your fingertips. Mods and tanks come in all kinds of different styles and sizes, for instance, but if there is one thing I cannot stand, despite concerted efforts, it is RTA tanks.
I bloody hate them.
Why? Simple: they're fiddly, they never work properly, they leak every where, they're often impossible to wick correctly, they serve up a near-constant stream of dry hits… I could go on.
And believe me, I have tried and tried and TRIED to like RTA tanks. I've bought a huge number of them over the years and all, with the exception of the ENVII Artisan RTA, have been either A) hugely fiddly to set-up, B) leakier than Hilary Clinton's email, or C) completely inconsistent with prolonged use.
I actually hated my Griffin RTA so much I threw it in the bin, after spending an entire afternoon trying to get it to wick properly. Turns out you need to have a doctorate in engineering to get that thing functioning properly. And I am no doctor.
Even the ENVII Artisan RTA is trying at the best of times. I'll set it up, for instance, and it'll vape like a champ for a few hours and then, from out of no where, a disgusting dry hit will rip my throat apart, reducing me to a spluttering, coughing mess.
This recently happened when I was driving. It was not fun. Another time, it just decided to leak all over my new coat. No warnings. It'd been fine for days and then, BOOM, it spunked all over my brand new winter coat for no reason.
Basically, enough was enough. RTA tanks are just far too fiddly for my liking. I enacted a shun on all things RTA. Screw you, RTA tanks. You've stolen enough of my time, money, and sanity.
Not when you have other, vastly superior options available.
Why RDTA Beat RTA Tanks EVERY TIME
When I first started messing around with RTA tanks, it was because I loved the concept: sub-ohm tank-levels of E Juice capacity and the ability to build my own coils. On paper, that sounds like the dream, right?
And it sort of is, accept for some reason I cannot get any RTA tanks to deliver consistent, reliable performance. There are ALWAYS problems. And they happen when you least expect it – like when you're driving at 80mph on the freeway.
For this reason – and many, many more – I have't used an RTA, properly, for a good long while. Instead, I am know obsessed with RDTA tanks. These types of tanks, for me, are really where its at when it comes to overall ease of use, flavour, and performance.
The GAIA RDTA, for instance, has not missed a beat since I first got it about five months ago. I use it most days and, like a Nissan from the 90s, it just keeps on going. Nothing can stop this thing. And on top of this it is a joy to live; I can wick it in under 30 seconds.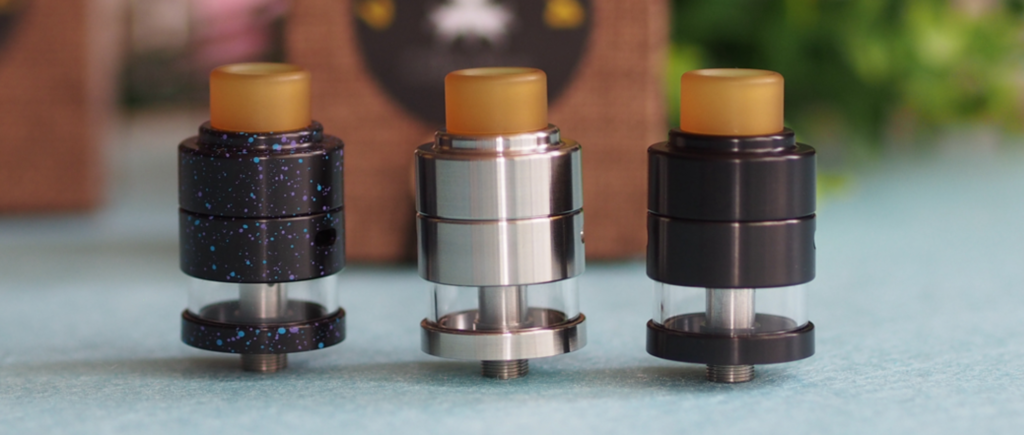 Never had a dry hit from it either. Not one.
RDTA do also have a habit of being a little leaky too, but they are NOTHING compared to the floods I have found inside my pocket after carrying an RTA around for a few hours.
I know, I know – I haven't used EVERY RTA in existence. There are probably some good ones out there, ones that are great in the right hands. I get this. This is kind of a personal rant, so if you use RTA tanks and are happy with them, good for you.
If you're considering a move towards RTA tanks, however, and you're relatively new to the world of wicking and coil building, I have one simple piece of advice: avoid them AT ALL COSTS.
Just get an RDTA, they're so much better.