JUUL is one of the fastest-growing brands in the vape space. But is the company's JUUL device the best AIO system around?
---
JUUL has big plans for the vape space.
---
---
The company has grown massively during the past two years and is now setting its sights on becoming the Apple of the vaping arena – in that when you think of a vaping device, you'll think of JUUL.
But, as you'll see inside our Best Pod Mod Vape Guide – JUUL is not the best option available right now. For a variety of reasons…
RELATED: JUUL vs RELX: Which is The Best Vape?
But mostly because its battery life sucks and the JUUL pods it runs on are too expensive (and non-refillable).
You'll be miles better off with something like the UWELL Caliburn G – it's cheaper, it vapes better, and it has better battery life.
So, yeah… JUUL is popular. But it ain't the best. Not even close…
The Rise of JUUL – JUUL Market Share
JUUL's market share has grown, wait for it… 669% in the past 52 weeks (and this is why work is now underway on the JUUL 2).
That is HUGE and it shows just how popular the device has become.
---
---
It's so popular, in fact, that JUUL is now in the process of raising around $100 million in order to meet its current demands.
Apparently, JUUL is struggling to keep up with demand for its pods.
Therefore, a cash investment is required in order to keep the demand supplied and ensure the entire ecosystem runs smoothly.
As problems go in corporate America, this is definitely one of the more preferable ones for any business to have.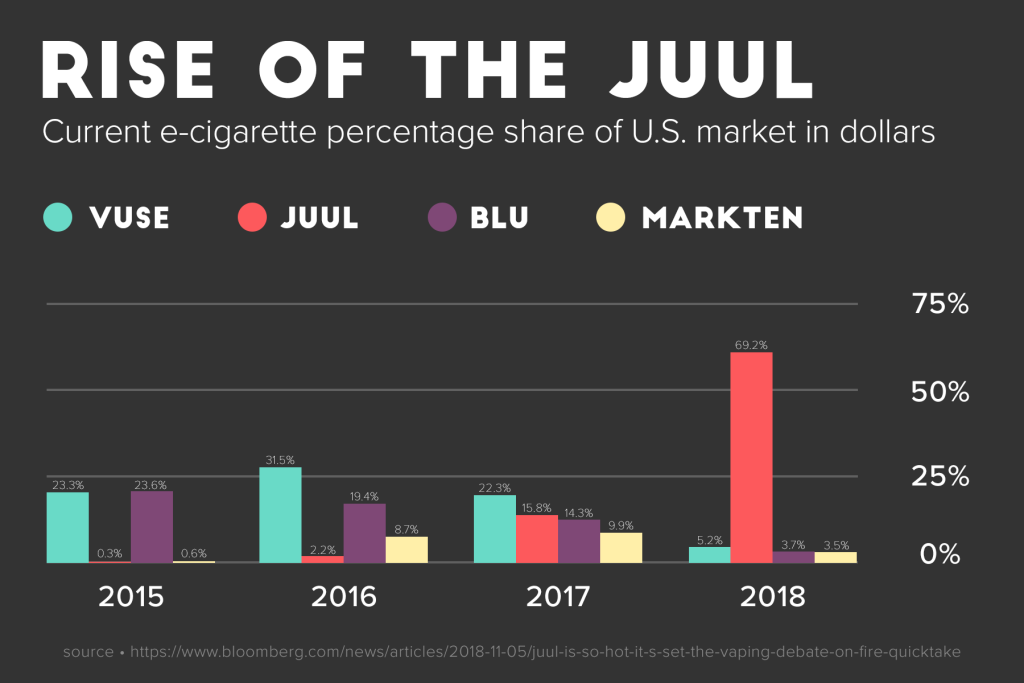 [social_warfare]
Just like Hoover and iPod (or iPad) when you mean a vacuum cleaner or an MP3 or a tablet device.
It's a bold vision and the company is making excellent headway. But is the JUUL the best beginner vape kit for those looking to kick cigarettes for good?
Possibly. No one can say empirically; people like all kinds of things.
But JUUL is very popular – and not just with those new to vaping.
No, plenty of veterans also use JUUL.
And the reason for this is simple:
Ease of use, the stealthiness of the device, and the way it hits.
This article is basically an All You Need To Know About The JUUL – a device that is way more than just another vape starter kit!
I'll add in a comparison of reviews from around the web at the end, so you can see how other review sites have rated it.
But before we get to that, let's take a look at what makes the JUUL tick.
What is JUUL? 
I love the way the JUUL looks.
It's stealthy as heck, and it looks very smart which makes it ideal for pretty much any kind of user – even those that work in corporate environments.
It's tiny when compared to standard mod and tank kits and takes up barely any room in your pocket.
This is why JUUL is so popular with ex-smokers: it not only pulls like a cigarette but it kind of handles like one too.
And because of its design, there's hardly any moving parts. You just connect two bits together and you're away. Simple.
This is what I like most about the JUUL. It just works and it is super lightweight.
Whenever I'm driving long distance or off on a night out, I take mine with me.
It fits pretty much anywhere, has the battery life to handle it, and requires nothing from you as a user – just draw and inhale. Again, simples.
The biggest part is the battery portion of the device. Then you have the little juice pods. And a top piece for the bit you inhale from.
You connect the pods to the top piece and this connects to the battery. Then you turn it on and you're away.
As I said, it's insanely simple.
How The JUUL Vape Works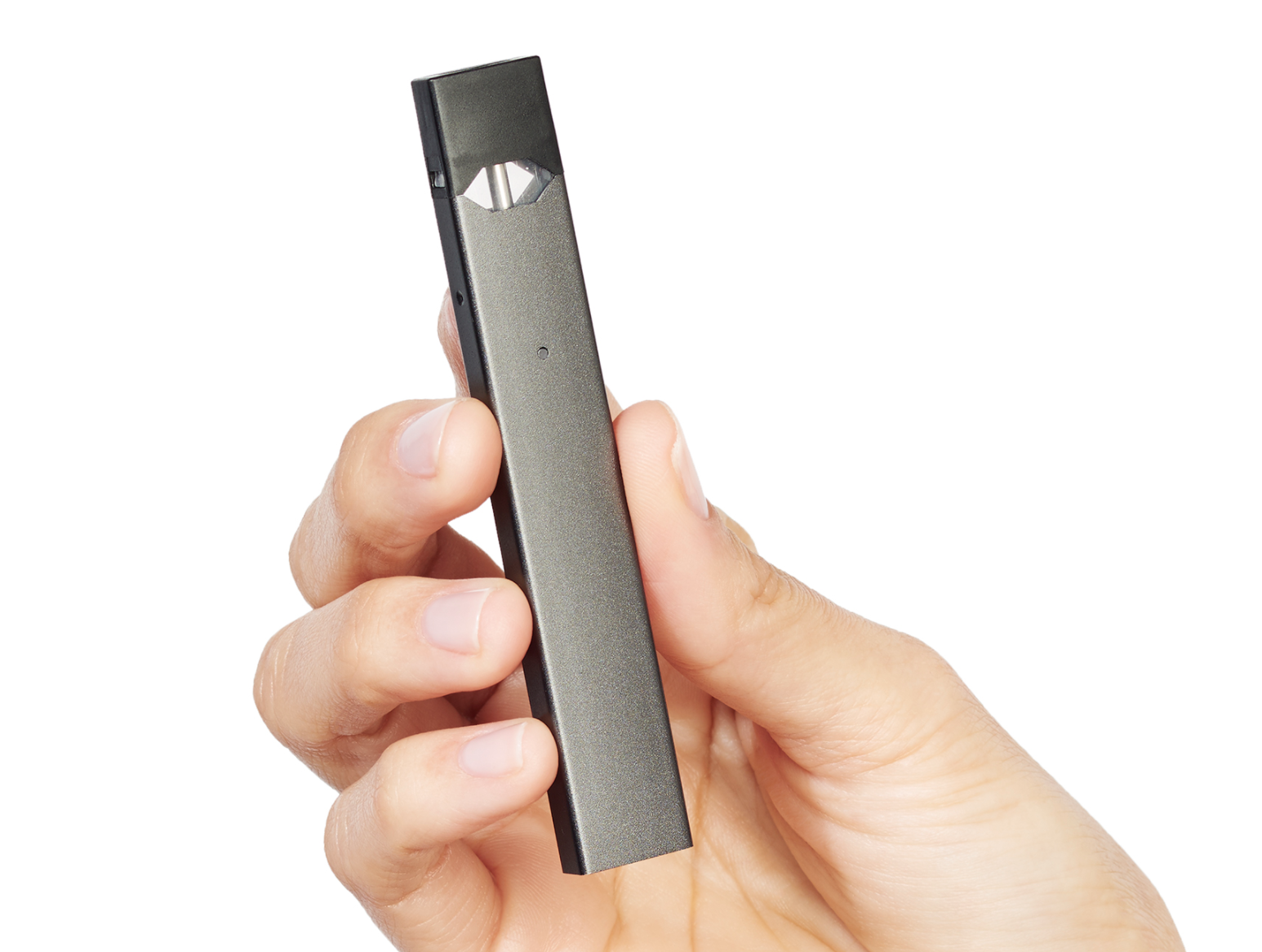 The JUUL is designed to closely mimic the sensation you get from inhaling on a cigarette.
It's an MTL (mouth-to-lung) device, so it's not something you'd use to chase clouds.
Rather, it is designed completely to replace a cigarette by mimicking how it draws and the sensation it creates in your throat.
I kind of wish there was something around like this when I first started vaping, as the entire kit functions just as advertised.
I also like the fact that JUUL does a subscription service for its pods – you basically get sent pods every month at a reduced price.
JUUL is designed to be discreet.
But it does pack a wallop when it comes to flavor and vapor production.
It's not like an RDA, so don't go thinking you'll fog up an entire room in three puffs, but for an AIO device, it is very, very impressive indeed.
JUUL Pod Flavors – What Are The Options?
As of right now, there are five flavors to choose from:
Cool Mint
Virginia Tobacco
Fruit Medley
Creme Brûlée
How Long Do JUUL Pods Last? 
The short answer is… not very long at all!
The longer answer goes a little something like this: each JUUL pod is designed to last for around 200 puffs – or, a pack of cigarettes. You get four JUUL pods in a pack, so you get around 800 puffs per pack of JUUL pods.
This isn't ideal, really. 200 puffs, especially with heavy use, is not great. You'll get through one inside a few hours if you're anything like me. For this reason, you're always better off with one of the many exceptional JUUL alternatives.
They last long, have better battery life, and they're 100% refillable, meaning you can use your own E Juice, which will save you a fortune in the medium to long term.
VapeDeal has some of the cheapest offers right now for JUUL Pods – it even undercuts JUUL. This means VapeDeal is the #1 place to buy your JUUL Pods.
The pods come in packs of four, are non-refillable, and sized at 0.7mL with 5% nicotine by weight.
If you're after cheaper JUUL pods, check out our post on Best JUUL Pod Alternatives (they're all cheaper and just as good).
Or, if you'd rather just see what they are right now, check out the table below for our #1 picks:
PICTURE
BRAND
BEST PRICE
Why You'd Buy
RATING

(Best For Strength & Flavor)

BIG on Flavor
Same Size As JUUL Pods
35MG & 50MG Strengths
Best Option For Flavor

100%

(Best For Value For Money) 

Massive Flavor Selection
Big Pods. Great Value For Money
3 Different Nic Strengths
Cheapest Options By Far

98%

(Cheaper & Bigger Than JUUL's)

Great Flavor Selection
Bigger Than JUUL Pods
50MG, 30MG & 18MG
Great Taste & They Last Ages

95%
---
Is JUUL Bad For You – The Nº 1 Question!
Obviously, if you're all about optimal health, you are 100% better off doing neither (smoking or vaping).
Vaping is 95% safer than smoking. And this isn't conjectured. This is fact – a fact backed by Public Health England and the UK's NHS.
There is a TON of misinformation around about vaping at the moment. And the vast majority of it is bunk.
It also massively misses the point: vaping is about getting off cigarettes, which is one of the best things any smoker can do.
Nicotine on its own, while addictive, is not harmless. Again, this statement is not conjecture – it is backed by actual science.
Nicotine is a stimulant, the same as coffee and sugar.
It does not give you cancer; that only happens with carcinogens found in combustible cigarettes.
Get rid of the fire, and you remove most of the danger.
This is why the UK's NHS has signed off on vaping.
Because it is a safe, preferable way to exorcise oneself of addiction to nicotine.
And if you don't wanna quit nicotine, at least you're getting it in a healthier manner.
JUUL Vapor – How It Hits (AKA Performance) 
Pound for pound, I think the JUUL is one of the best AIO devices on the market right now.
The combination of its pods and the design of the device make it one of the best hitting vape pens around right now.
It feels just like smoking, the sensation is identical, only it tastes better and is A LOT healthier.
---
Nic-Salts = Potent JUUL Vapor
JUUL vapor is different from, say, your standard sub ohm tank.
It's made from Nic-salts for a start, and this ensures JUUL vapor is potent, satisfying, and incredibly smooth.
We already have an entire piece on Nic-salts. But the bottom line is this:
They pack in WAY more nicotine, but because of the treatment process, the hit is smooth as butter (unlike standard E Juice, which uses freebase nicotine).
This is why many people swear by JUUL vapor.
It's also why plenty of well-known vapers use them too!
The flavors are all decent too. My personal favorite is Creme Brûlée – it's sweet and delicate and perfectly balanced.
But I also like Mango and Cool Mint (I'm a sucker for menthols).
Mostly, though, I just like the design and functionality of the JUUL. It's simple and it does exactly what it promises with zero fuss.
JUUL Battery Life
You'll get about a day from the battery life (and that's with moderate usage).
I tend to use mine on nights out or long drives when I don't want to be carrying something cumbersome like an RDA and a mod.
If I were using the JUUL exclusively, I'd definitely buy a couple of spare batteries and leave them charging, so I had no downtime when one ran out.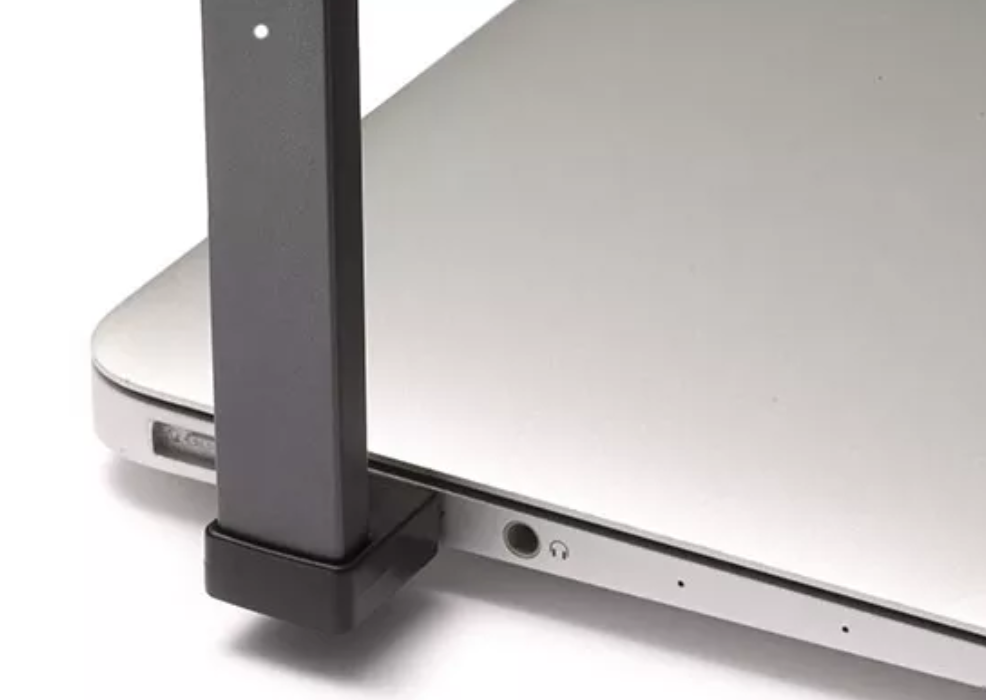 This is what I do with my 18650 cells. And it ensures I always have a powered mod at all times.
As I said: the JUUL is not designed for chain-vaping.
If you're vaping it every minute of every hour all day long, you're going to run the battery down in no time.
But, if you treat it like you would a cigarette it'll be fine and see you through the day no problem.
And for $35.95 it is easily one of the best value vapes around right now (especially if you're just coming off cigarettes).
VapeDeals is now selling both the JUUL Starter Kit and JUUL Pods for less than JUUL (prices start at just $26.95), so if you want to save some money on your JUUL, make sure you buy it via VapeDeals!
JUUL Review Roundup (What The Critics Are Saying)
[letsreviewunique title="JUUL Review Roundup – What The Critics Said…" score_subtitle="The Best AIO Device Around" affiliate_title="Best Place To Buy? " pros_title="PROS" pros="Excellent, Svelte Design,Hits Just Like A Cigarette (And Tastes Better),JUUL Ecosystem is Great ,The Flavors Are Great – I Like All of Them" cons_title="Things To Keep In Mind" cons="You Have To Buy Pods From JUUL,Battery Not Suited To Chain Vaping,Not Designed For Cloud Chasing" criterias="VapeBeat,90,Engadget ,92,Vaping Daily ,94,Vapesterdam,78,The Vape Guide,98″ affiliate="JUUL – Starter Kit – $34.99,http://shrsl.com/19jgv,JUUL – Cheap JUUL Pods – Save $$$,http://shrsl.com/19jgt" accent="#81d742″ final_score="91″ format="1″ skin="1″ animation="1″ design="2″ main_image="3989″][/letsreviewunique]
---
If you already own a JUUL, make sure you check out our Guide To Cheap JUUL Pods Alternatives…
Drake Equation
Co-founder and Editor of VapeBeat. I make the words.