JUUL vs IQOS – which is best? We take a look at two very different NRT products to find out which is the best overall vape device…
---
The IQOS is the first FDA-approved vape to hit the market and unlike the VOKE, which was being promoted by the NHS in the UK, the IQOS uses actual tobacco. Just don't call it a vape – because it kind of isn't. Rather than using vape juice, the IQOS uses real-tobacco which is stored inside a pod, known as a HEET.
RELATED: JUUL vs RELX: Which is The Best Vape?
You insert a HEET into the IQOS and then the device heats the pod up, producing a kind of vapor that is similar to smoking – just without all the noxious chemicals. In this respect, it is more like smoking than vaping.
The JUUL, as most will know, is a standard vape pen-style device. It runs on JUULpods filled with vape juice (made with Nic Salts) and it works, for all intents and purposes, like any other standard pod vape device.
But which is best? Let's investigate, looking at the pros and cons for both vape products…
JUUL vs IQOS – How They're Different
Let's start with JUUL. Developed by PAX labs, the guys behind the PAX 3 and PAX Era weed vaporizers, JUUL is an all-in-one vape pen device. It is small, discrete, and designed for first time users – this means it is incredibly easy to use.
The JUUL runs on JUULpods, small pods that contain vape juice in a range of flavors. The JUUL looks like a pen vape and it draws just like a cigarette; this is the #1 reason why it is so popular. You can buy JUULpods online or in 7/11's – JUUL has great distribution.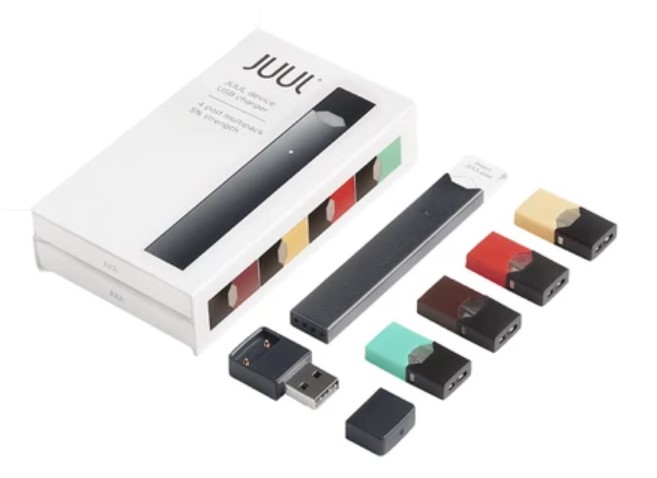 The IQOS is a completely different kettle of fish. It isn't really even a vape either because it runs on ACTUAL tobacco – things called HEETS. In order to use the IQOS, you buy a pack of HEETS, insert one, and turn the device on. Within moments, you can start taking drags and IQOS delivers vapor.
If you're a fan of tobacco and need something that closely resembles a cigarette – but isn't one – the IQOS is perhaps the only option on the market right now that does this. You get real tobacco and real tobacco flavors. And if that's your thing, the IQOS is definitely worth a look.
JUUL vs IQOS – Battery Life
Neither the JUUL nor the IQOS has a particularly good battery life. The JUUL will last around 200 puffs, while the IQOS will do about 10 HEETS before it needs a recharge – around 60 minutes (each HEET lasts for 15 puffs).
If battery life is important to you, I would recommend you go with a proper vape pod device – something like the FreeMax AutoPod50. With a vape like this, you can refill with your own vape juice and you have excellent all day battery life – two things neither the IQOS nor JUUL can match.
JUUL vs IQOS – How They Work
The JUUL is literally one of the simplest vapes to use on the market. You get a battery (the bottom part of the device) and a JUULpod. Connect the two together, the device powers on, and you can vape. Simple, right?
The only downside here is that JUULpods A) don't last very long and B) are REALLY expensive compared to buying a bottle of normal Nic Salts vape juice and using a refillable pod vape (like one of these).
With the IQOS, you buy the device and then have to buy additional packs of HEETS to run it. Think of the IQOS' HEET as a pod. Only here it is filled with real-tobacco. To work the IQOS, simply insert your HEET and turn the device on. The IQOS will then heat the HEET and that will produce vapor which you inhale.
HEETS are cheaper than JUULpods, so if price is important to you, the IQOS is – generally speaking – a cheaper device to run in the short, medium, and long term.
Cost
JUUL Kit Price – £29.99
IQOS Kit Price – £79.99
JUULPods Price – £10.99
HEETS Price – £5.00
Flavors
Both JUUL and IQOS do a range of flavors, though fans of fruity flavors will be more drawn to JUUL: it offers a range of fruit and tobacco flavors, whereas IQOS is focussed solely on tobacco blends.
JUULpods Flavors
JUUL pods: Mango flavor
JUUL pods: Mint flavor
JUUL pods: Virginia Tobacco flavor
JUUL pods: Cucumber flavor
JUUL pods: Creme flavor
JUUL pods: Classic Menthol flavor
JUUL pods: Fruit Medley flavor
JUUL pods: Classic Tobacco flavor
IQOS Flavors
Amber HEETS – Rich tobacco blend
Blue HEETS – Deep menthol flavor
Sienna HEETS – Intense and full-bodied blend
Turquoise HEETS – Smooth menthol blend
Yellow HEETS – Smooth and finely balanced tobacco blend
Green HEETS – Lightly toasted tobacco blend providing a balanced menthol cooling sensation enriched by green minty aroma notes
Sienna Caps HEETS – Rounded, toasted tobacco blend of Sienna Selection with its woody and light tea aroma + menthol
JUUL vs IQOS: Verdict?
These are two very different products. The IQOS is focussed on tobacco – and it uses real tobacco – and it works differently to standard vape devices like the JUUL and other pod vapes.
If you're after a premium tobacco experience, the IQOS is the only current vape on the market that uses actual, real tobacco in its pods. You're vaping proper tobacco here, not vape juice – just without all the noxious chemicals you get when smoking.
The IQOS is essentially a hybrid device that is part cigarette, part vape – it has the best aspects of both and none of the dangers of the latter.
The JUUL is more of a straight-up pod vape. It runs on proprietary pods, and you cannot refill them yourself: you have to buy JUULpods for the device. There are no longer any third-party JUULpods available, thanks to a lawsuit introduced by JUUL last year.
JUUL is popular, but I'd be way more inclined to use a proper pod vape over it – a vape system like one these (which are all way better than the JUUL).
The IQOS is a very different proposition, however, because it isn't really a vape – it's kind of a futuristic cigarette. It runs on real tobacco, but it doesn't burn it; instead, it uses heat to vaporize the tobacco and this, in turn, creates vaper. Yes, it's vaping, of a sort, but not like we're used to.
If you want to vape real tobacco, tobacco made and grown by actual tobacco companies, so you get that classic flavor, the IQOS is worth a look. If you'd prefer to vape e-liquid in your vape, go with one of the pod vapes off our Best Pod Vape Guide.
The JUUL freakin' sucks and costs way too much to run in the short, medium, and long term.
Drake Equation
Co-founder and Editor of VapeBeat. I make the words.