In my view: you have several options when it comes to the #1 AIO vape devices in 2022 (and it kinda depends on what you're looking for)… read on for my picks for the best AIO vape devices that are PERFECT for stealth vaping when you're on the go!
---
When pod vapes (or AIO vapes) first appeared on the scene, I tended to avoid them simply because you had to make too many concessions – poor battery life, non-removable coils, etc.
But as the market has developed, things have changed, allowing for devices that run both MTL and DTL coils, pack in huge batteries, and output lots of power.
But choosing the best AIO vape is tricky; there are literally thousands of potential options on the market right now, including the ever-popular disposable vapes.
AIO Vape Means "All In One Vape Kit"
Plenty of hardcore vapers, including myself and Grimm Green, don't actually like carting around massive mods and tanks around with them.
They're too bulky in the pocket, and the clouds they kick out can be, well… a little too much for a quiet beer in a bar.
And I happen to agree with this sentiment.
I like having something more discreet when I'm out and about, either with friends in town or when I'm driving long distance.
Why I Use AIO Vape Kits "On The Go" – Spoiler: Stealth Vaping
For me, it's about four, key factors:
They're simple and there are no moving parts (I don't need to drip)
They don't kick out massive plumps of vapor
They're discreet; I can have it in my pocket and hardly know its there
They're stealthy as F**K – ideal for cheeky vapes
In this guide, we'll focus on refillable, all in one vape kits – meaning pods.
Best Pod Vapes 2022
---
1. OXVA Xlim SE Pod 25W
There are a few things that make a pod vape awesome: decent flavor, excellent coils, long-lasting battery life. But few rarely nail all of these things. But that is what makes the OXVA Xlim SE so very, very special.
This pod vape will run DTL and MTL coils, it has a massive 900mAh battery inside it, and the flavor it kicks out is other-worldly, easily beating 2021's best pod vape, the UWELL Caliburn G.
Add in things like automatic coil resistance detection, a lightweight and compact design, and it is easy to see why the OXVA Xlim SE is currently our #1 pod system for 2022 and beyond. Nothing else comes even remotely close to this bad boy…
---
2. Voopoo Argus Pod 20W Kit
The Voopoo Argus Pod 20W is one of the smartest pod vapes on the market, thanks to its Uber-clever GENE.AI chipset which brings with a range of vaping modes and safety features, including rapid fire, coil detection, and USB-C fast charging.
You have 20W of power, more than enough for MTL vaping with Nic Salts and 50/50 vape juice, and two coil options: 1) Argus Pod Cartridge 0.7ohm Coil, and 2) Argus Pod Cartridge 1.2ohm Coil. Both deliver intense, precise flavor and both last, on average, anywhere from 12 to 14 days.
Battery life is another big plus of this pod vape. The Voopoo Argus Pod runs an 800mAh battery that supports fast-charging via its USB-C port. On a single charge, it'll do a full day's worth of vaping with plenty left in the tank when you go to bed.
If you're after a smart, good-looking vape pod with excellent coils and a pitch-perfect MTL draw, the Voopoo Argus Pod is 100% worth a look.
---
3. Vaporesso LUXE Q
The Vaporesso LUXE Q is a lightweight, potent pod vape that, despite its simple looks, really delivers in the performance and battery life department, thanks to its 1000mAH battery and 100% leak-proof design.
This is a MTL vape too, so it is ideal for Nic Salts and 50/50 E-Juice blends. You have two coil options with the Vaporesso LUXE Q: 1) 0.8 Ohm Q Pod, and 2) 1.2 Ohm Q Pod. The former delivers more vapor, while the latter offers a tighter, more flavor-packed draw.
The Vaporesso LUXE Q is extremely compact, comes in a range of colors, and could not be easier to use. All you do is fill up the pod, insert it into the device, and take a draw – everything is breath-activated, so you don't even need to press a button.
The pod was designed with Vaporesso's 'SSS' anti-leak technology, so you don't ever have to worry about spills in your pocket. This SSS tech also ensures your coils wick quickly and effectively every time, so no more dry hits. All in all, this pod is utterly brilliant.
---
4. Smok Nord Pro
SMOK makes a lot of Nord brand pod vapes but our current favorite, after testing all of them, is the SMOK Nord Pro. This mighty pod vape is very compact, chock-full of useful features, and runs on a 1100mAH battery, so it'll last a solid couple of days on a single charge.
You have 25W of power at your disposal and two available coil configurations: 1) 0.9 Ohm Smok Nord Pro Mesh Coil, and 2) 0.6 Ohm Smok Nord Pro Mesh Coil – we prefer the 0.6 Ohm coil; it delivers better flavor and a tighter draw.
Unlike a lot of pod vapes, the SMOK Nord Pro will do both MTL and restricted DTL vaping (RDTL). This means you have more freedom with the type of vape juice you run inside it. With the RDTL coils, you can use slightly higher VG juice and get more vapor and clouds, for instance.
The SMOK Nord Pro comes with two options for firing: 1) breath-activated, whereby you don't have to do a thing except take a draw, and 2) via its dedicated fire button which, when pressed, while activate the atomizer. Why two options? Some people don't like breath-activated vapes.
If you like your pod vapes versatile, compact, and running excellent coils that are widely available everywhere, the SMOK Nord Pro is well worth a look in 2022.
---
5. SMOK RPM 5
If you're the kind of user that likes more power and control, but you don't want to run a vape mod, the SMOK RPM 5 is pretty much exactly what you've been waiting for – it's a hybrid device, a cross between a pod vape and a vape mod.
The SMOK RPM 5 runs on a 2000mAh battery, huge for a pod vape, and will output up to 80W, meaning you can sub-ohm vape on this pod with High CG juice without a problem.
With coils, the SMOK RPM 5 runs two distinct types: 1) 0.15 Ohm RPM 3 Mesh Coil, and 2) 0.23 Ohm RPM 3 Mesh Coil. The former is what you want to be using with higher VG vape juices at higher wattages, and the latter is what you'd use for lower power vaping with Nic Salts and 50/50 vape juices and e-liquids.
If you like MTL vaping, this device probably isn't for you. SMOK designed the SMOK RPM 5 with DTL vaping front and centre. It is meant to replace your vape mod and sub ohm tank. That's its entire MO. And, you know what, it actually will – this thing is incredibly powerful.
---
6. UWELL Caliburn G2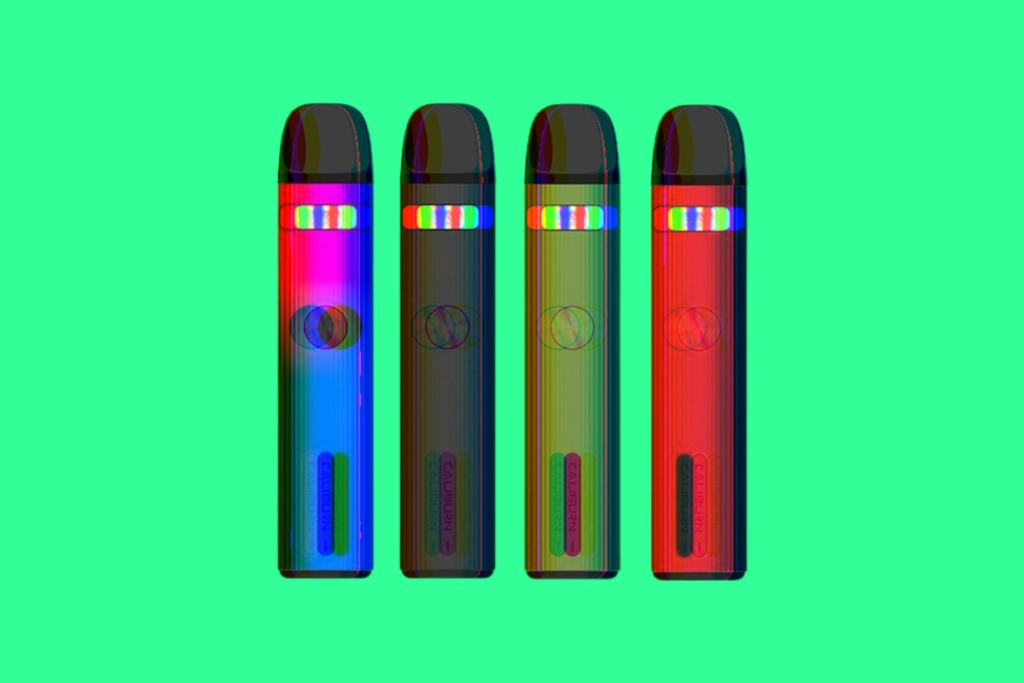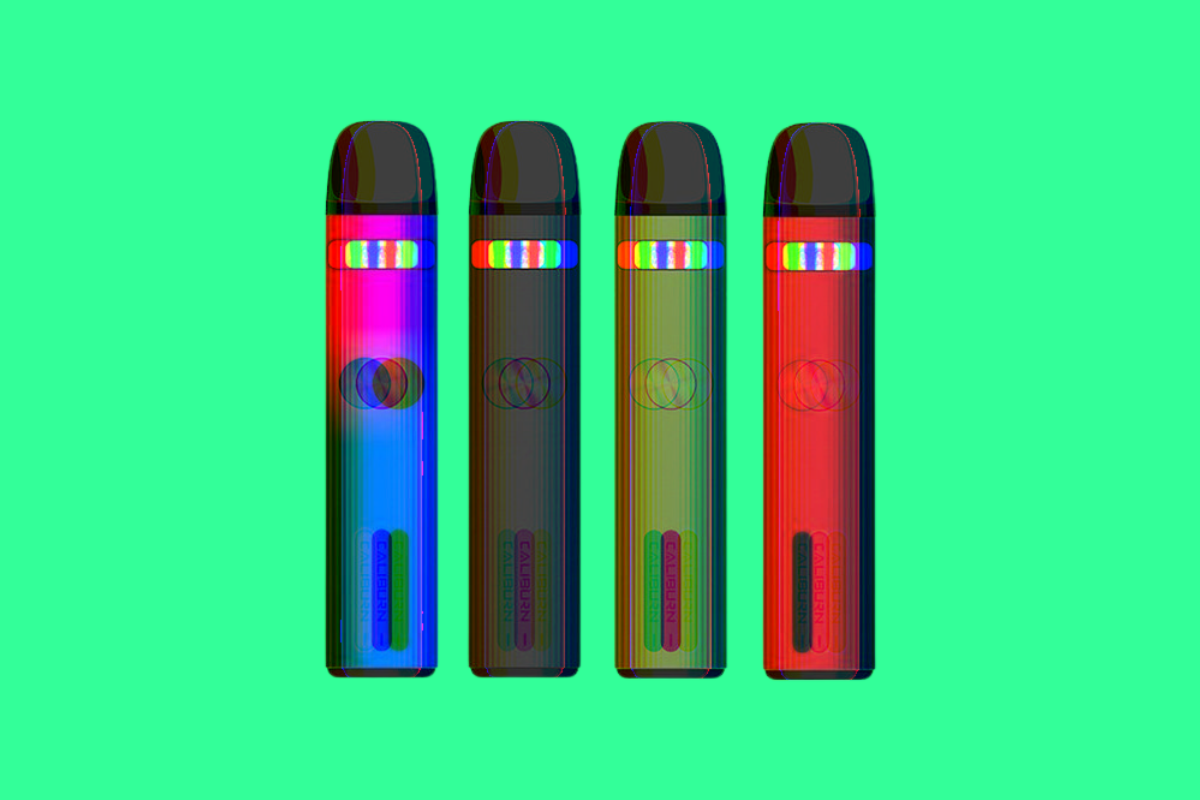 UWELL's OG Caliburn pod vape was one of the first MAJOR successes for pod vapes. UWELL sold a gazillion units of its now-iconic pod vape, creating such a stir that even the FDA took note – and then banned it.
UWELL returned, however, with a follow up in the form of the UWELL Caliburn G2. And this time, the pod vape is smarter, has more features, and packs in a significantly bigger battery (750mAh) for extended battery life.
This pod is designed, predominantly, with MTL vaping in mind. The UWELL Caliburn G2 supports two coil options: 1) the Mesh G2 1.2 Ohm Coil, and 2) the Mesh G2 0.8 Ohm Coil.
Both coils are excellent but we definitely prefer the Mesh G2 1.2 Ohm Coil – it delivers a pitch-perfect MTL draw with loads of flavor. With respect to coil performance, we've been getting – on average – around 12-14 days from the MTL coil and 7-10 days from the 0.8 Ohm coil.
If you like your pod vapes to come in a pen vape style design and deliver a near-perfect MTL draw with tons of flavor, the UWELL Caliburn G2 is definitely up there with the best of them right now.
---
Drake Equation
Co-founder and Editor of VapeBeat. I make the words.