Best Disposable Vapes: 7 "KILLER" Options [2023]
Packing in big hits, amazing flavor, and large amounts of vapor, disposable vapes are massively popular right now – here are the #1 best disposable vapes we've tested…
---
---
What We Recommend Right Now (And Why)
Out of all the disposable vapes we've tested, and there has been A LOT in the last 12 months most weren't all that good – just cheap vape devices from overseas.
Disposable ecigs are now so popular that literally everybody is making them; this creates a near-infinite number of options. And a huge market for potential sales that could equal $18 billion by 2032.
In order for a disposable vape to make this list, it needs to hit certain criteria set out by our team of reviewers. The best disposable vape has to have/do the following things:
Great Flavor
Loads of Puffs
Be Rechargeable
Solid, Easy To Handle Design
High Nicotine Content
All of the disposable vapes featured below are the ones that scored highest in our reviews, hence their inclusion in our 2023 guide to the best disposable vapes you can buy right now.
Best Disposable Vapes 2023
---
The Best Disposable Vape Right Now
Not so long ago, choosing the best disposable vape on the market was pretty tricky. Most of them were all the same. But in the last year or so, things have really progressed.
We've tested an untold amount of disposables between the start of 2022 and now. Maybe 300? Maybe more? I don't know; you lose track of these things.
But the disposable vape that we like the most right now, the one that impressed us not only with its number of puffs, but also its design, its reliability and its flavor profiles, is the 7 Daze Ohmlet 7000.
For me, the 7 Daze Ohmlet 7000 ticks nearly every conceivable box about what you'd want from a disposable vape in 2023.
It'll do 7000 puffs. It's fully rechargeable, meaning you get maximum performance from it as you use it, no more "drop-offs" in vapor production as the battery wanes.
And the flavors are incredible, as you'd expect from 7 Daze – it's a well known vape juice company.
My advice? Get this disposable vape, it is leagues ahead of the competition.
Best Rechargeable Disposable Vape
A lot of modern disposable vapes are now rechargeable, so if that is high on your hit list of needs and wants for your next disposable vape purchase, you're going to be best off with the following kits:
All of these disposables are rechargeable, so once you feel the power dipping, you can plug it into the mains for 30 minutes and return it to its full potential.
Again, my current pick of all the disposable vapes on the market right now would be the 7 Daze Ohmlet closely followed by the SWFT Mod 5000 which you can read more about below.
Best 7000 Puff Disposable Vape
7 Daze Ohmlet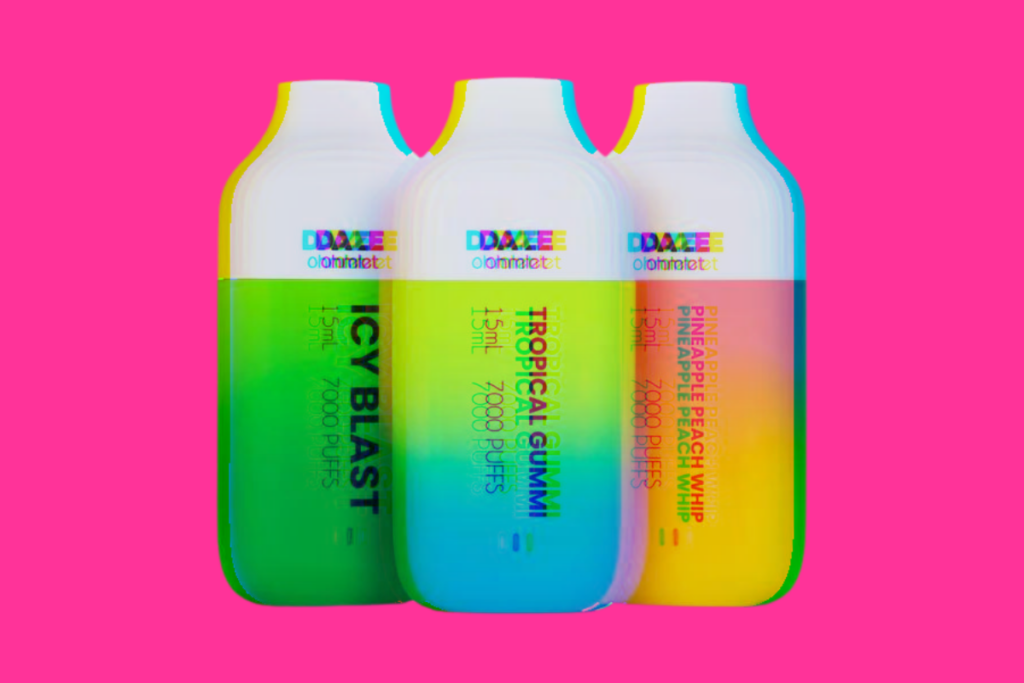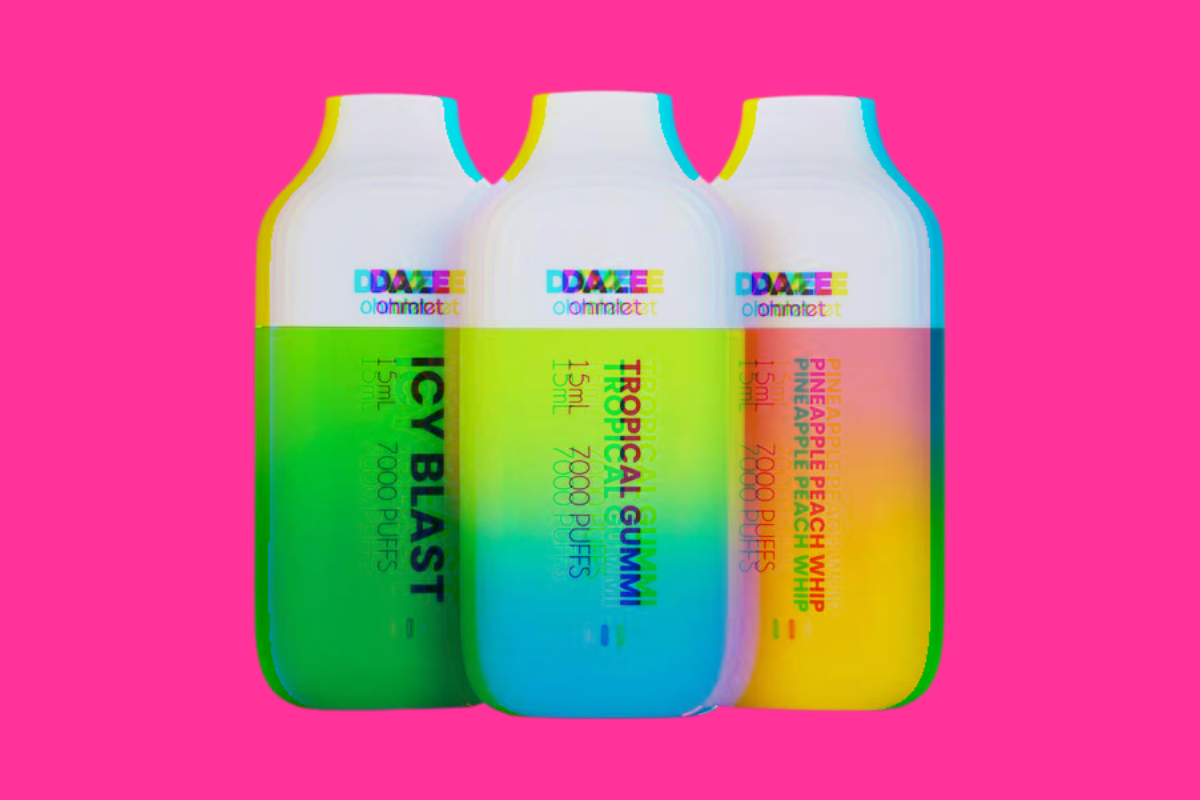 In my opinion, the 7 Daze Ohmlet 7000 sets the gold standard for disposable vapes in 2023.
Boasting a capacity of 7000 puffs and the added advantage of being rechargeable, it ensures consistent performance throughout its lifespan. Gone are the days of experiencing reduced vapor as the battery diminishes.
The flavor profiles are nothing short of exceptional, which is no surprise given 7 Daze's reputation as a leading vape juice manufacturer.
My recommendation? If you want the best 7000 puff vape on the market, go with this one – It's in a class of its own.
Funky Republic Ti7000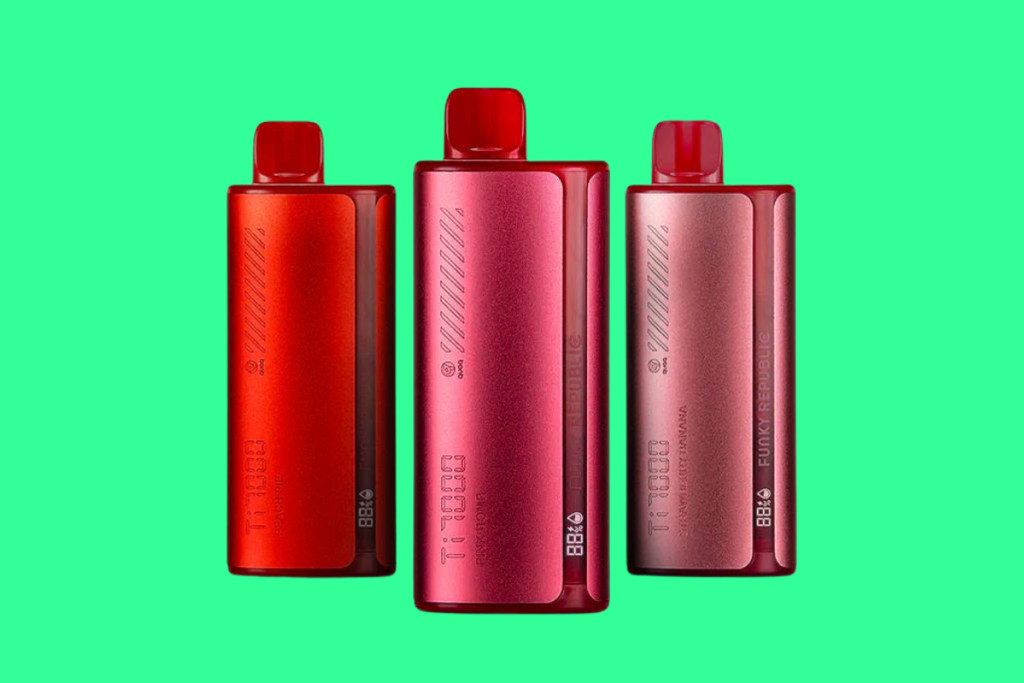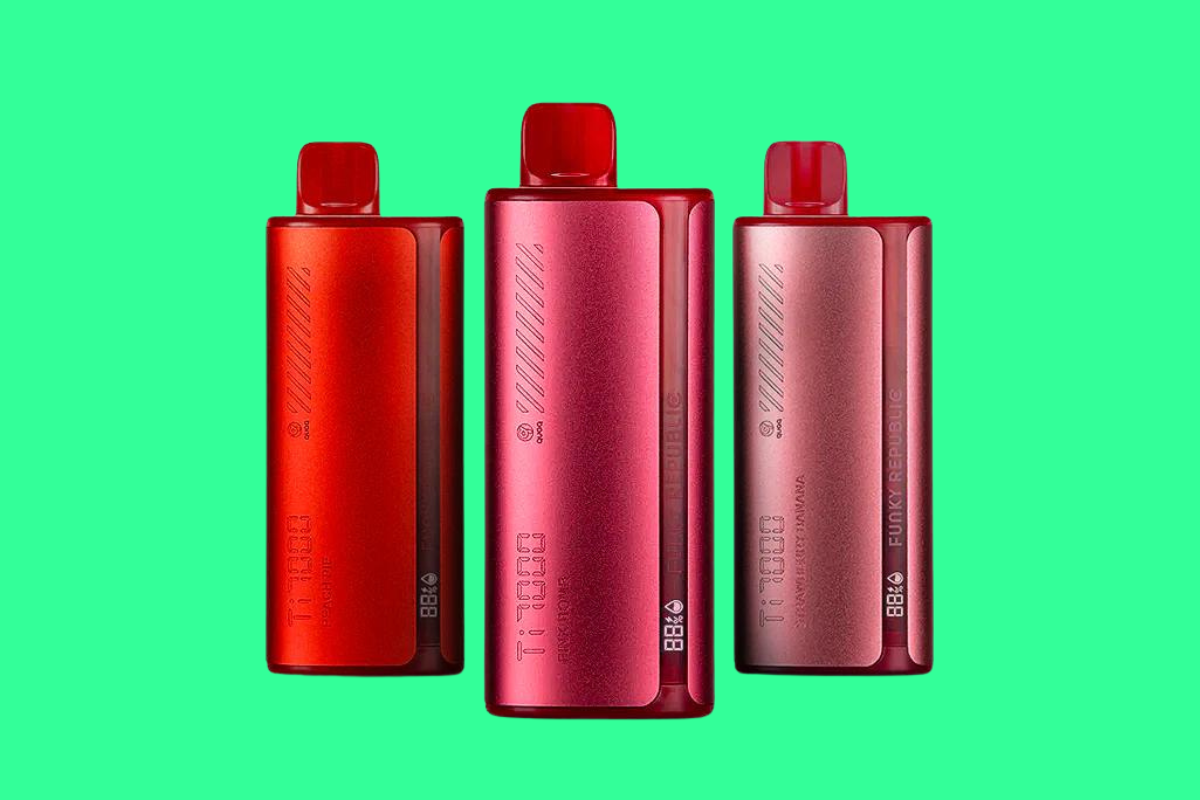 The Funky Republic Ti7000 makes a decent mark in the world of disposable vapes. Its digital screen is a commendable addition, and it's a feature I hope becomes more common in similar devices.
In terms of performance, the vape holds up well and doesn't seem to have any leakage issues during regular usage. Out of the five flavors I sampled, each one was pleasant, with a few particularly shining through as ones I'd consider repurchasing. For those who might not be keen on the flavors I mentioned, there are about 20 other options to explore.
For those who prefer a more controlled MTL draw, the Ti7000 meets the mark. The overall vaping sensation is commendable, producing ample vapor and delivering a gratifying hit, thanks to the balanced VG and PG mix.
Best Refillable Disposable Vape
Usually, disposable vapes are not refillable; it's kind of their whole deal. You use them until they're spent, and then you dump them. Simple, right? But as I mentioned in the intro: this market is hugely competitive, so vape brands are getting more and more innovative with their designs.
Case in point: the NKD 100 MAX 4500 disposable vape is 100% rechargeable and it is also refillable too, so you can use it, more or less, just like a pod vape – or, until its coils fail (usually after a couple of weeks).
If you're keen on getting more mileage out of your next disposable vape, I'd highly recommend going with the NKD 100 MAX 4500. You will be able to recharge it and, once the juice is gone, refill it with your own vape juice and keep on trucking.
How's that for innovate!?
Best Disposable Vape Flavor
For flavor, all of the options on our list were what we would consider exceptional when it comes to flavor. However, there were a few brands of disposable vapes that performed better than others in this context.
The Elf Bar BC5000, 7 Daze Ohmlet 7000 and Biff Bar Lux 5500 were all very, very good not only with their flavor options but also in their production – all of these vapes have exceptional flavor performance.
Again, I'd lean towards the 7 Daze Ohmlet 7000 in most instances but I do think the Biff Bar Lux 5500 and the Elf Bar BC5000 have it pegged – or, at least matched – when it comes to flavor.
---
Different Types of Disposable Vapes
Back in the day, disposables were a kind of one-size-fits-all deal. They were a one-use product. You buy it, you vape it, and once the battery and/or juice has run out, you bin it.
Nowadays, there's more choice: you have standard disposable vapes, the traditional kind that isn't rechargeable, and the newer kind which comes with USB C charging ports, so they can be charged.
The vast majority of the most popular disposable vapes are not rechargeable. Geek Bar, Elf Bar, Pukka – these are all one-use vapes.
They have a finite amount of battery life and a finite amount of juice.
However, Elf Bar also makes a rechargeable disposable vape called the Elf Bar Lost Mary or, if you're in the USA, the Elf Bar BC5000 – and they're both very, very good. In fact the BC5000 is currently ranked #2 in our best disposable vapes table up top.
The Elf Bar Lost Mary comes with a USB C port for recharging. You cannot top-up the juice, it is still technically a disposable vape, after all, but it does allow you to get full, optimal performance from the vape while it has juice.
And this is important because you paid for the juice, so you might as well get your money's worth. And by money's worth, I mean vaping it with maximum power. And to do this, you need the vape to have a rechargeable battery.
With standard disposables, like the basic Elf Bar, the battery life will wane as you use it. This means, as you get to the end of its lifespan, the power will drop off and it will not hit quite as well.
With the Elf Bar Lost Mary, you simply do not have this problem as the battery can be topped up and this, in turn, ensures the vape itself always outputs its maximum amount of power.
For this reason, the Elf Bar Lost Mary is well worth a look. As disposable vapes go, it is one of the best on the market right now if you're in the UK and/or Europe.
If you're in the USA, go with the following:
7 Daze Ohmlet – the most puffs available inside a disposable right now.
Elf Bar BC5000 – the best flavors on the market, plus its rechargeable.
NKD 100 MAX 4500 – amazing flavors and it is also rechargeable AND refillable.
Disposable E-Cig PROS
If you're looking at getting a disposable vape, you're probably wondering what makes them a good choice over, say, a more traditional, refillable pod vape system.
The way I see it, there are several key benefits of using disposable vapes for certain kinds of users, and they are as follows:
They're simple to use with zero learning curve; there are no buttons, no settings, and no fiddly wicking and/or refilling. You unbox it, take out the rubber stoppers, and start vaping.
They run Nic salts vape juice, either 10MG or 20MG, so they provide a similar hit, nicotine-wise, to a cigarette. This is what JUUL built its business around and the disposable vape market certainly took note.
You can buy them LITERALLY everywhere. From service stations to gas stations, and even supermarkets. This makes them not only easy to use but very accessible too which is great as no one likes getting caught short when their vape battery dies.
They're cheap, way cheaper to run than something like JUUL.
You can pick up an Elf Bar for £5.99 and it'll deliver the same amount of puffs as three packets of cigarettes. Whichever way you slice it, that's good value for money.
But when you consider what's on offer in the USA, things start to fall apart rather quickly. For a bit more money, you can pick up the 7 Daze Ohmlet 7000 which'll do 7000 puffs.
That's as good as it gets right now.
But you also have vapes like the NKD 100 MAX 4500 that'll do 4500 puffs but are also refillable, so that means they'll run even longer than, say, a non-refillable like the 7 Daze Ohmlet 7000.
Disposable E-Cig CONS
When it comes to CONS or downsides to using disposable vapes, the most obvious and scary is the environmental impact of these types of products.
No one makes recyclable disposable vapes because A) it'd cost too much to develop, and B) this would hike up their retail cost, making them uncompetitive when compared to normal disposable vapes.
For me, this is a big issue, so I am very careful with how I use them. Most of the time, I use a pod or a vape mod and tank. I only ever use disposable vapes when I'm in a pinch.
But if you're looking to quit smoking and want something to transition to vaping with, using a disposable for a month or two isn't exactly the end of the world.
And right now, the following are the disposable vapes we recommend the most…
If you're in the UK or Europe, check out the top disposable vapes right now by clicking here.
Best Disposable Vapes 2022
---
What Is The Best Disposable Vape?
If you're new to the world of disposable vapes, the best option – bar none – is the SuperGood Bar. It is extremely cheap (less than $10) and it comes in a massive array of flavors. It is ideal for beginners. If you need something that lasts longer and has a bigger battery life, go with the Air Bar Lux or the Flum Float – both do well over 1500 puffs each.
All of the disposable vapes listed above work brilliantly, however – that's why they're included inside our best list. In order to get a mention inside this list, all of the products we test have to meet and excel certain criteria. All of the disposable vapes listed above excelled in our testing, so they're all great options.
Personally, I am a massive fan of the SuperGood Bar; it is cheap, it works seamlessly, and the flavors are stunning. For me, this is all you need from a disposable vape. I don't need fancy features. I just want something cheap that I can buy in bulk and use as and when I need them. And for this, the SuperGood Bar is superb.
Disposable Vape With Most Puffs?
Out of all the disposable vapes listed above, the one with the most puffs is the Flum Float disposable vape – it'll do 3000 puffs. In a close second place would be the XTRA Max disposable (it will do 2500 puffs). If you want the most puffs possible, these two would be the ones to go with. Or, the AirBar Max – it does 2000 puffs.
And if you're still not convinced by the idea of disposable vapes, make sure you check out my guide to 2022's best pod vapes – these look similar to disposable vapes but are refillable and you can use your own vape juice. In the long run, a pod vape or a vape mod is always going to be more economical.