Funky Republic Ti7000 Flavors [2023]: A Complete Guide…
By Drake Equation • Updated: 08/17/23 • 4 min read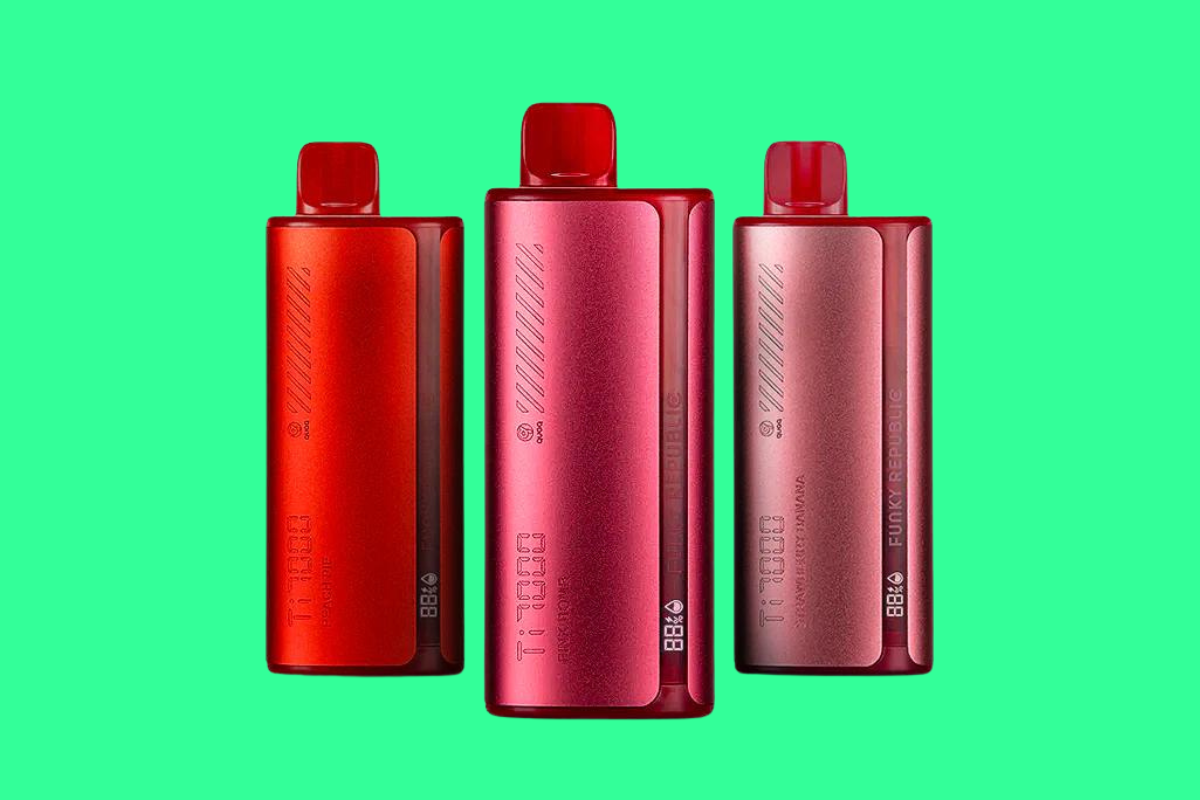 Explore the vibrant world of Funky Republic Ti7000 flavors in this comprehensive 2023 guide. Dive into detailed reviews, from classic favorites to exciting new blends, and discover your next vaping sensation
---
With an impressive 15 flavors available at launch and another 10 promised in the pipeline, it's clear that Funky Republic is aiming to cater to a diverse palate. Having had the opportunity to sample a selection of these flavors, I was keen to see if they lived up to the hype.
Given that these vapes hail from the creators of Elf Bar, I thought I had a pretty good idea of what was in store. But, as with any great story, there were twists and turns that kept me on my toes. Here's a deep dive into the Ti7000 flavors that graced my taste buds.
Best Funky Republic Ti7000 Flavors
California Cherry: A Sweet Surprise
The California Cherry was an unexpected delight. Unlike the usual Elfbar lineup, this flavor stood out with its sweet fruity essence, complemented by a nuanced icy hint. It's a complex yet harmonious blend that I'd happily indulge in again. If you're looking for a flavor that's both familiar and refreshingly new, this one's a winner.
Passionfruit Kiwi Lime: A Tropical Trio
This flavor is a testament to the timeless appeal of tropical fruits. The dominant passion fruit notes are beautifully offset by the tang of lime and the subtle sweetness of kiwi. It's a balanced act that dances on the edge of being overly sweet but manages to stay refreshingly delightful. A must-try for those who love a fruity kick.
Pomelo Pearl Grape: An Exotic Encounter
Admittedly, I was a tad unsure about what to expect from a pomelo flavor. But if this vape is an accurate representation, then pomelos are certainly on my grocery list. While the grape might be a tad overpowering for some, it adds depth to the overall experience, making it a unique and enjoyable vape flavor.
Watermelon Ice: A Cool Classic
Watermelon Ice is a staple in the vaping world, and for good reason. The sweet, candy-like taste of watermelon, paired with a cool icy finish, is a combination that many adore. While it can be a bit too sweet for some (myself included), the icy touch makes it palatable. If you're a fan of this classic combo in other vape brands, the Ti7000 rendition won't disappoint.
Super Berry: A Summer Sensation
Imagine a burst of mixed berries with a hint of menthol, minus the aniseed. That's Super Berry for you. It's vibrant, fruity, and evokes the feeling of sipping on a chilled berry smoothie on a hot summer day. The sweetness might be a tad much for some, but its juicy essence is undeniably tantalizing.
What is The Funky Republic Ti7000?
Crafted by the renowned EB Design (you might remember them as Elf Bar), the Funky Republic Ti7000 is a sleek e-cigarette device that delivers a whopping 15 flavor options.
Compact yet mighty, the Ti7000 guarantees up to 7000 puffs of pure, uninterrupted flavor, all thanks to the cutting-edge Quaq Tech technology. But what truly sets it apart? Its state-of-the-art built-in screen. No more guessing games; this nifty feature keeps you updated on juice and battery levels in real-time.
Simplicity is key with the Ti7000. With its draw-activated mechanism, you can forget about fumbling with buttons. Just take a drag, and you're good to go. Powering this beast is a 600mAh rechargeable battery, paired with a generous 17ml of 5%/50mg Salt Nicotine. And the best part? Maintenance is a breeze. Just recharge when needed, and you're back in action.
Need more options? Check out our guide to the ultimate disposable vapes you can buy right now.
Final Words…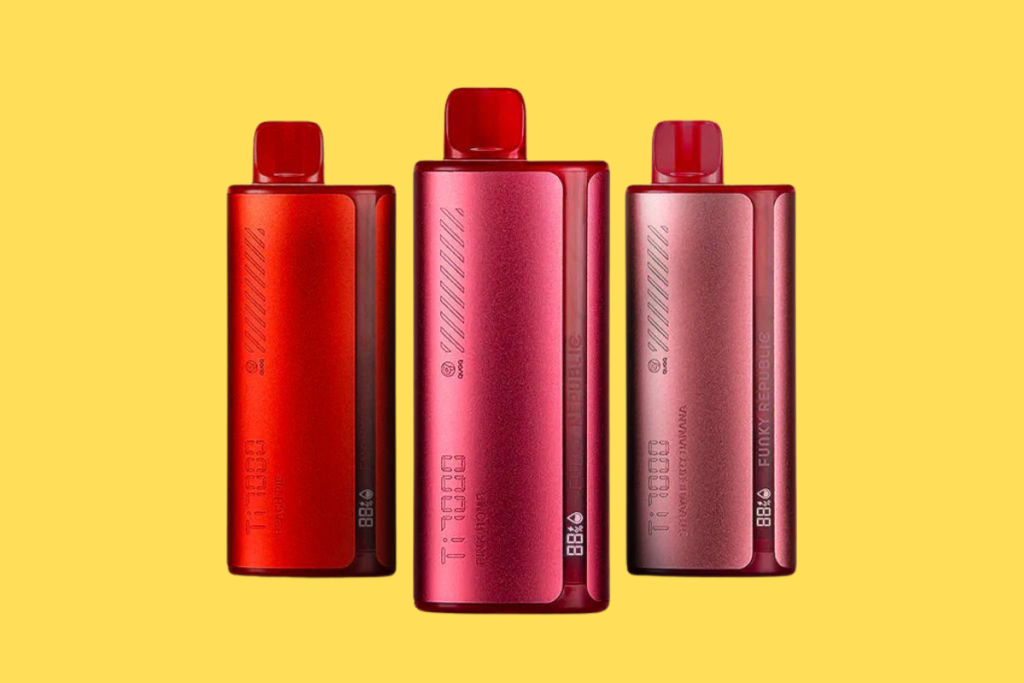 The Funky Republic Ti7000 emerges as a solid contender in the disposable vape market. Its digital display sets it apart, offering a feature that many would love to see become a staple in disposable vapes. Performance-wise, it's reliable and leak-resistant, ensuring a hassle-free vaping experience.
Among the flavors we tested, a few truly shine, notably Super Berry and Watermelon Ice, hinting at the potential of the broader range available. For those seeking a tight MTL draw, the Ti7000 delivers performance in spades. Check out all the flavors here.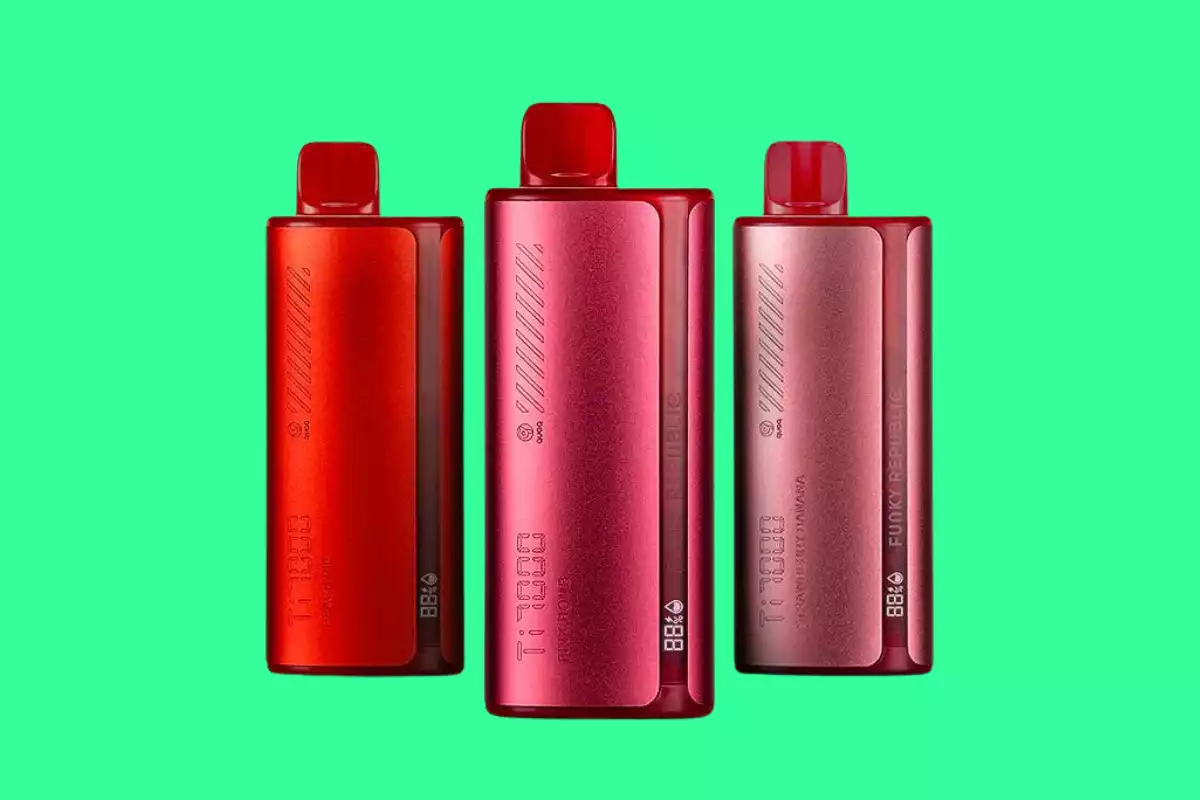 Funky Republic Ti7000
Performance-wise, it's reliable and leak-resistant, ensuring a hassle-free vaping experience. The flavors are great, and there's more on the way. And you get 7000 puffs per unit. For those seeking a tight MTL draw, the Ti7000 delivers in spades. We like this vape A LOT.
Pros:
Digital Display: A unique and user-friendly feature not commonly found in disposables.

Leak-Free Design: Ensures a mess-free vaping experience.

Diverse Flavor Range: With up to 25 flavors, there's something for every palate.

Satisfying MTL Draw: Perfect for those who prefer a tighter mouth-to-lung experience.

Reliable Performance: Consistent vapor production and a balanced 50/50 VG and PG mix provide a gratifying throat hit.
VIEW LATEST PRICES
Drake Equation
Co-founder and Editor of VapeBeat. I make the words.