Top Mods for Vaping: The 5 Best Vape Mods & Box Mod Kits [2023]
In the last 18 months, we have personally tested over 150 vape mods from a range of vape brands. This guide is the distillation of hundreds of hours of vape mod testing. And right now, these are the #1 best vape mods you can buy in 2023…
---
---
Mods. Vape Mods. Vaping mods. Box mods. These days, there's plenty of names for a vape mod, and plenty of mod options to choose from. But what are the best mods right now?
If you're in the market for a new, cool vape mod in 2023, you have plenty of great mod options to choose from.
If you're looking for good vapes to buy right now, a vape mod that'll last you a solid 12 months or more, this is the vaping mod guide you've been looking for.
It isn't an arbitrary list of mods and box mods. Rather, it is a collection of the best of the best vape mods our team has tested in 2023. That's why we've focused on just five particular vape mods.
Type of Vape Mod
This quick guide pays particular attention to highlighting mod features like: the safest vape mods, the best starter kits, and the best small vape mod, as well as including those which champion cutting edge design and features.
And for the absolute beginner that's still unsure about mods, check out this guide: What is a vape mod?
Basically, what's listed below are the best vaping mods money can buy (according to our team of expert vapers). If you're new to vaping or a seasoned pro, the mod recommendations below are all well worth your time and money.
Vaping Mods – How We Test Vape Mods and Box Mods
The VapeBeat team consists of several experienced reviewers and each year, collectively, we get through hundreds of different types of common vape products.
When we find vaping products we really like, it is added to our team's internal spreadsheet. From here, we discuss whether it should be included inside our best box mod list
We take our time when testing mods and we ONLY ever add products to our best regulated vape mods list that the team collectively agrees on.
If one person isn't sure about the vape product, it isn't added to our best vape mod list.
In order to feature inside our best vape mod guide, the product has to be incredible in every area.
Best Vape Mods 2023
1. VooPoo DRAG 4
VooPoo didn't make that many friends with its Drag 3 concept. I really liked this mod. But it wasn't a traditional vape mod in the true Drag sense. And this put quite a few potential mod users off.
The Drag 4 mod, however, returns to its roots. This mod device isn't afraid of doing things in a more traditional sense. The fact that this mod has four temp control modes is a testament to this fact. And it is, in my view, one of the best looking vape mods on the market right now.
Add in a superb sub ohm vape tank and a set of bangin' coils and you're looking at one of the best vape mod kits on the market right now at this price point.
If you want oodles of flavor and clouds and a solid, reliable mod that looks extremely premium and hits extremely hard, this excellent vape mod kit is well worth a look – I really, really love what VooPoo has done here…
---
2. Voopoo Argus GT 2
VooPoo is no stranger to making decent vape hardware. The VooPoo Drag 4 is one such device. But I think the Voopoo Argus GT 2 is a very different beast altogether, and it offers a far more compelling option for a specific type of vaper too.
If you need a powerful, extremely durable vape mod kit, something that can withstand all kinds of extreme conditions and hold its own, the Voopoo Argus GT 2 kit is definitely worth a look – it's stylish, well built, has tons of power, and it comes with an exceptional vapor tank.
As mod kits go, you're kind of spoilt in 2023's market – there's just so many excellent vape mod kit options. But I do genuinely think that the Voopoo Argus GT 2 is one of the top mod options for three very specific reasons:
This mod has loads of power and modes, so it is perfect for more advanced vapers that like to tinker with their mod's settings.
The mod design is very solid and premium looking. Add in the fact that this mod is water, dust, and shock resistant and you're looking at a fairly compelling setup by these standards alone.
The MAAT tank is utterly brilliant. The tank doesn't leak, it kicks out immense flavor and the draw, while a little restricted, is very, very good for all day usage. The coils this mod comes with are phenomenal as well, lasting, on average, a good 12 days before needing a change.
This is why the Voopoo Argus GT 2 is featured so highly inside our best vape mods guide. If you like the sound of this mod, what it can do, and how it looks doing it, go out and get one – you will not regret it!
---
3. GEEKVAPE Aegis Mini
Not everybody wants a massive box mod, and some people, understandably, don't like messing around with 18650 batteries. If you want less faff with your next vape starter kit, as well as a smaller overall compact design, the GEEKVAPE Aegis Mini is exactly the type of mod you've been searching for.
The GEEKVAPE Aegis Mini features an integrated 2200mAh battery and it comes with IP68 rating too, just like its big brother, the Aegis Legend. This makes it one of the smallest and most durable vape mod kits on the market right now.
Inside, you have up to 80W of power and the mod comes with GEEKVAPE's excellent Cerberus sub ohm tank – it delivers insane clouds and stunning flavor across the board – although the GEEKVAPE Aegis Mini will happily run all kinds of vape tanks.
The mod design, the durability, its compact size, everything is very much on point here. I cannot think of a better small vape mod kit on the market right now, so if that's what you're after make sure you get the GEEKVAPE Aegis Mini – it is a marvelous box mod starter kit.
---
4. Lost Vape Quest Centaurus Q200
Lost Vape is a brand that knows how to design a good-looking vape mod. This mod has a huge amount of pedigree in this regard with a slew of amazing box mods under its belt. The Lost Vape Quest Centaurus Q200 is no exception.
With the Lost Vape Quest Centaurus Q200 you're getting a box mod capable of throwing 200W of power. But it also comes with Lost Vape's new Centaurus Sub-Ohm Tank which run its amazingly flavourful UB Max coils.
The design, coil and hardware on show here are sublime. The mod itself is honed from zinc alloy with a stainless steel 510 connection at the top. The face plate is where you'll find Lost Vape's Quest 2.0 Chipset which is jam-packed with vaping modes, features, and settings.
The Lost Vape Quest Centaurus Q200 packs in USB C for rapid charging, has a 0.96″ TFT Color Display Screen that is interacted with by using the mod's four button controls. Everything is powered along by Lost Vape's Quest 2.0 chip and literally nothing has been left on the table here.
---
5. GeekVape T200 200W Touch Screen Starter Kit
Do you want a box mod that comes with a touchscreen? Some people do; nearly every month there are a few thousand web search for mods of this ilk. Well, once again, GEEKVAPE is here to answer the call as a top mod device.
The GeekVape T200 200W Touch Screen Starter Kit is one of the most advanced and futuristic vape mods on the market right now. It has a 2.4in touchscreen with four potential UX options, an IP68 rating for water, dust and shock-proofing, and it'll put up to 200W.
And because this is a starter mod kit, you also get a vape tank too. And not just any old vape tank, you get GEEKVAPE's Z Sub-Ohm 2021 Tank which runs the company's excellent and long-lasting Z Series XM Coils – these coils last 2x as long as other coils on the market.
The mod features an oversized firing button, stainless steel top plate, and a dual battery access door that houses its 2x 18650 batteries. Inside, everything is powered along by AS-Chip 3.0 chipset which brings things like SMART Mode into play. FYI – SMART Mode automatically detects the atomizer resistance and applies the best wattage when vaping.
More than just a gimmick, the GeekVape T200 is a beautifully designed, insanely useful box mod that comes packed with more features than you could ever possibly need. Add in a killer sub ohm tank with brilliant coils and you're looking at one of 2022's best vape mod kits.
---
6. Vandy Vape Requiem 95W
The Vandy Vape Requiem 95W Box Mod is a standout player in the crowded vape mod scene. It's not just talk – it backs it up with a host of features, a compact but tough design, and top-notch performance.
Design-wise, the Requiem 95W Box Mod is a winner. It mixes modern looks with practicality, making it a real deal for vapers who want the best of both worlds.
Performance is where the Requiem truly excels. It's great for all users, from beginners to experienced vapers. It comes with a range of modes – VW, VV, Bypass, and TC – giving you more flexibility than many other models. This versatility makes the Requiem a solid choice for a wide range of users.
Vandy Vape Requiem 95W Pros
Compact and Durable: The mod is compact for portability, yet made from sturdy PCTG material, ensuring it withstands wear and tear.
Powerful Performance: With a range of 5-95W and compatibility with both 18650 and 2700 batteries, the Requiem offers versatile power options.
Variety of Modes: The device comes with VW, VV, Bypass, and TC modes, allowing for a personalized vaping experience.
User-Friendly Interface: The bright 0.96″ TFT display and intuitive button-activated system make navigation and settings adjustment easy.
Balanced Design: Combining contemporary aesthetics with utilitarian functionality, the Requiem is as stylish as it is practical.
Which One Should You Get?
To make it onto this list, each mod has to score at least 4.5/5 in our vape testing. All of the mods above did – some even got full marks like the VooPoo Drag 4 and the VooPoo Argus GT 2. Both are top mod kits and come with excellent vape tanks, so these would be our current mod picks for right now.
VooPoo Drag 4
If you want a powerful, intelligent mod that can handle any style of vaping and any type of tank, go for the VooPoo Drag 4 – it is utterly brilliant, comes with a killer vape tank (the UFORCE-L) and the device looks stunning, thanks to its epic industrial design.
VooPoo Argus GT 2
If you're a fan of box mods with style and want access to some of the smartest vaping modes on the market, go with the VooPoo Argus GT 2 – it is probably the smartest (and most robust, thanks to its IP68-rating) box mod of the bunch.
Best of The Rest of The Mods…
Lost Vape Quest Centaurus Q200
The GeekVape Aegis M100 is more or less the same deal as the Legend, only it is A LOT smaller. This box mod kit has been a favorite of ours for the past 18 months.
It is more "styled" than the Legend, and it runs on an internal battery, so if you like your mods slim and compact, this is the mod to go for. This mod is perfect for MTL vapers or anyone that runs a single coil RTA tank.
I've been using mine for over 12 months now and it is still working brilliantly.
---
Best Vape Mods For Tanks
VooPoo has fixed many of the issues that plagued the Drag 2, such as poor paint work and wonky build materials, and the result is a much more robust mod.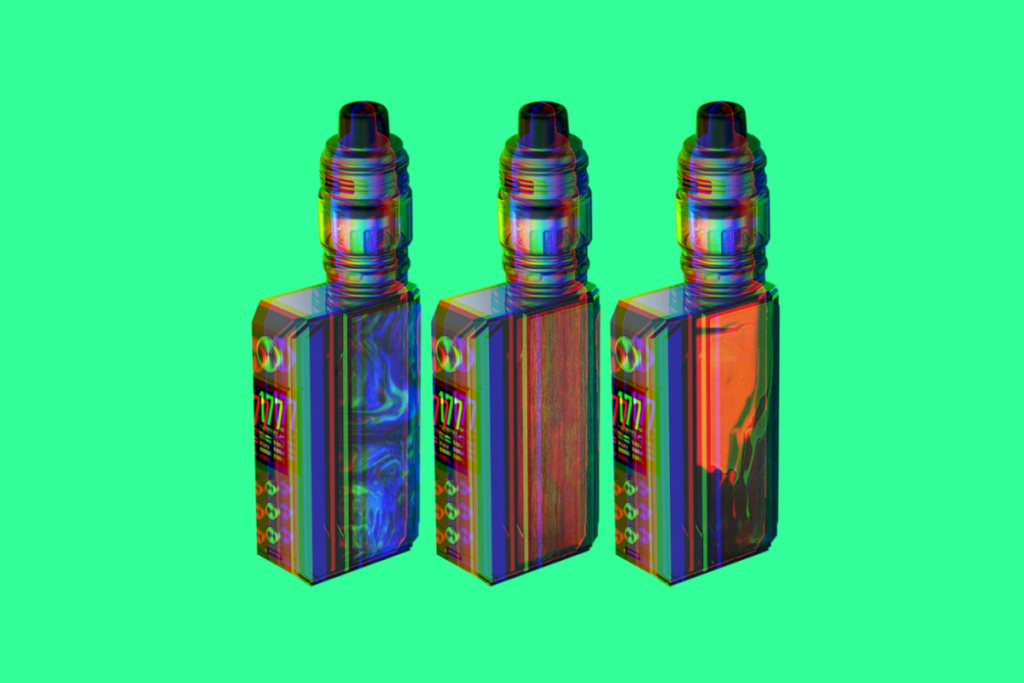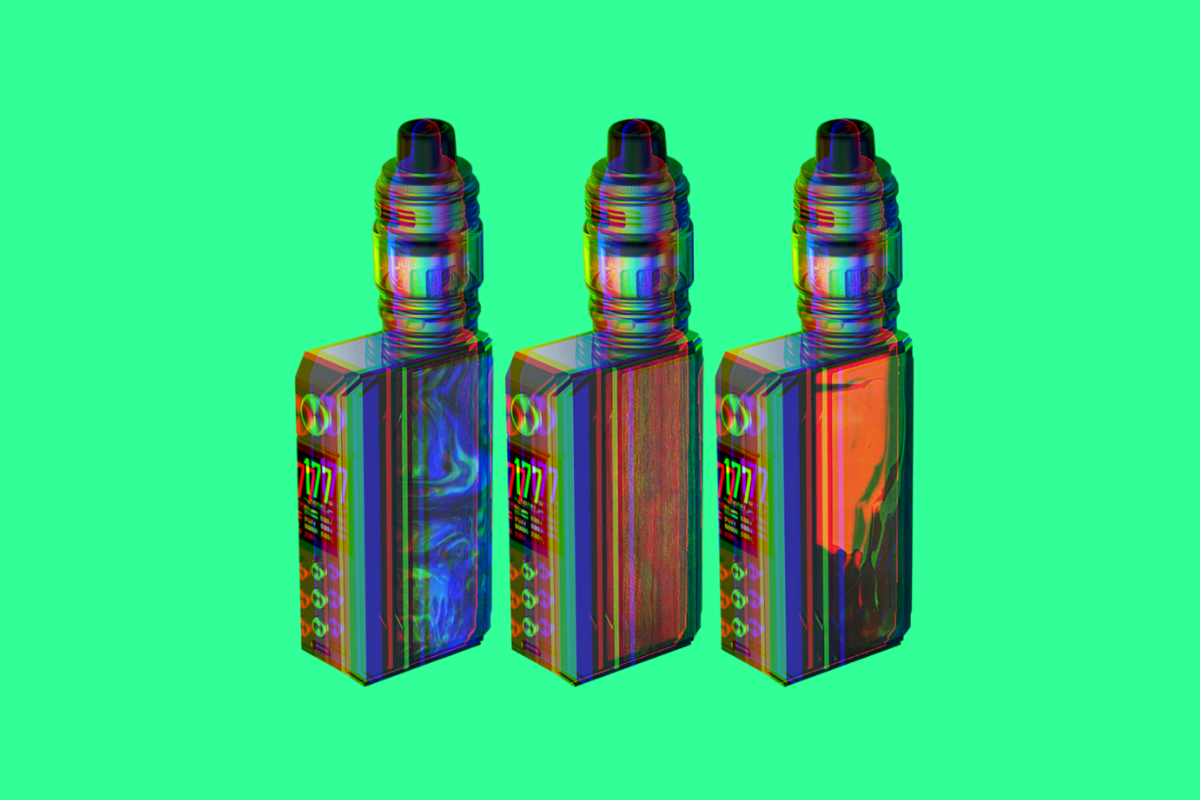 The mod itself comes with 177W of power, easy to access buttons, including a top-loaded, circular fire button, and a beautiful OLED display that packs in all the information you'll need from a single glance. And the tank is brilliant. What more could you want!?
Pros:
Excellent 510 connection
Lock slider is a awesome
Solid, robust design
Battery door mechanism is awesome
Excellent power mode performance
Accurate wattage rating (189 watts)
Loads of temp control options
Comes with amazing vape tank (UFORCE-L)
Best Touchscreen Vape Mods
If you're looking for a thoroughly modern vape mod that comes not only with a boat-load of advanced features and vaping modes, but also a touchscreen, the GeekVape T200 Touch Screen vape mod is definitely one of our favorites from the last 12 months.
Based loosely on GeekVape's now-iconic and utterly brilliant AEGIS X mod, the GeekVape T200 Touch Screen comes with 200W of power, a raft of vaping modes (Bypass Mode, Rapid Fire, and TC mode) and a gorgeous, expansive touchscreen complete with four UX themes.
The GeekVape T200 Touch Screen is great for sub-ohm vaping but, because it is so versatile as a mod, you can use it to run all manner of tanks from mesh coil sub ohm tanks to rebuildable RDA and RTAs – the sky's the limit with this top mod.
And, as an added bonus, the GeekVape T200 Touch Screen comes with the legendary GeekVape Z Sub-Ohm 2021 Tank which runs its Z Series XM coils that have one very special party trick: they last TWICE as long as the next best coils on the market.
For users that like their vaping evices flashy, the GeekVape T200 Touch Screen is exactly what you've been looking for – we love this vape kit.
Best Vape Mods For Those New To Vaping
If you're brand new to vaping and you want something simple that is easy to use, maintain, and setup, the best option right now would have to be the Voopoo Argus GT 2. It is smaller than most vape kits on the market, so it is nice and compact and best of all it still manages to pack in excellent battery life.
The coils inside the tank last weeks at a time, the flavor is incredible, and the mod itself is extremely safe and easy to use and is chock-full of safety protections which is great for new vapers.
Best Waterproof Vape Mods
Active types that vape, myself included, often find themselves in conditions that aren't exactly great for your vape gear – rapids, torrential rain, storms, extreme heat and/or cold.
And if you're anything like me, and you like hiking or running up mountains, and you like taking your vape with you so that you can blow some of your own clouds once you reach the summit, you'll need a vape mod that can withstand the elements.
Are any vape mods waterproof? As it turns out there are quite a few water, shock, and dust resistant vape mods on the market, and the best thing is that they look and function just like any other mod.
The GeekVape T200 Touch Screen is 100% water, shock and dust resistant and so too is the GeekVape Aegis Mini and the VooPoo Argus GT 2.
Vandy Vape GAUR-21
Another good option would be the IP67-rated Vandy Vape GAUR-21 200W which is one of the best-looking vape mods you can buy right now.
These are all great options for anyone looking for a robust, waterproof vape mod to buy for your travels. My personal favorite, however, would have to be the Vandy Vape GAUR-21 200W – it is just such a nice looking mod, and it is jam-packed with features and performance. And it runs dual-21700 batteries for extra battery life.
Things To Keep In Mind When Buying Mods
If you're new to vaping or this is your first box mod and/or vape mod purchase, here's a few things you'll want to keep in mind before buying:
Do you need a tank with your mod? If so, make sure you choose one of the options listed about that comes as a kit (which means it includes a vape tank and coils).
Do you want an MTL or sub ohm tank? MTL tanks work more like a cigarette, whereas sub ohm tanks inhale more like an inhaler and produce much bigger clouds.
Do you want a vape mod with an internal battery or one that runs removable, rechargeable 18650 batteries? Most of the best vape mods run on removable 18650 batteries and, in order to charge these safety, you will need to invest in a proper external charger.
Mechanical Mods
If you're looking for advice on mechanical mods, please check out guide to the best mechanical mods. Mech mods are a completely different kettle of fish, so they require a completely different article.
CBD Vape Mods & Vape Pens
If you're new to vaping, you might not know exactly what you're looking for when you buy a vape device. Maybe you want and/or need something smaller than a bulky vape mod?
If a vape mod is too big for your needs or, conversely, you're more interested in vaping CBD, you'll want to be looking at either a vape pen or a dedicated CBD vape which are completely different vaping devices to vape mods.
Luckily for you, we're sticklers for details when it comes to vaping devices, so we have quick guides for both of these things which you can check out below:
---
Top Vape Mods: Key Takeaways on Which Type of Mod is Best…
The best vape mods on the market listed above were pooled together based on a wide set of criteria, so as to appeal to all kinds of vapers.
The devices we chose offer an array of features, power output options, and designs making them ideal for both beginners and experienced vapers alike. With the ever-growing number of devices available, it's essential to consider the type of vape mod that will be the perfect fit for you, the vaper that will be using it.
One essential aspect to examine when selecting a vape mod is its design. A well-designed device will not only be visually appealing but also ergonomic, ensuring a comfortable grip and user-friendly experience.
The design of a vape mod can also impact its performance, making it crucial to find one that strikes the perfect balance between aesthetics and functionality.
Another vital factor to consider is the type of vape mod that will best cater to a vaper's preferences. For instance, mechanical mods offer a raw and powerful vaping experience, while battery mods – meaning regulated mods – provide a safer, more consistent power output for extended vaping sessions.
Each type of vape mod offers its own unique set of advantages and drawbacks, making it essential for vapers to explore and compare different devices to find the one that suits them best.
Tanks and coils play a significant role in determining a device's performance and compatibility. The best vape mods will be versatile enough to accommodate various tanks, enabling vapers to switch between different e-liquid flavors or coil types with ease.
It's important to consider the compatibility of a vape mod with different tanks and coils, as this will greatly impact the overall vaping experience.
Power output is another key factor in selecting a vape mod, as it determines the intensity of the vape and the overall satisfaction of the vaper.
Some devices offer a higher power output, producing more vapor and a more intense flavor.
On the other hand, lower-powered devices may be more suitable for those who prefer a milder vaping experience.
Finding the best vape mods requires careful consideration of various factors, including design, type, compatibility with tanks and coils, and power output.
By thoroughly researching and comparing different devices, our team has put together a list that is designed to best the needs and preferences of every kind of vaper.
And right now, based on all of the above, these are what we recommend currently:
Best Vape Mods & Box Mods Overview
---
Vape Mods FAQs
---
2021's Best Vape Mod – VooPoo Drag Max
Need something more compact that is like a vape mod kit but behaves like a pod system? Go with the VooPoo Drag Max.
Brilliant Performance. Supports MTL, Sub-Ohm & RBA
Many vape brands have tried to meld a pod vape and a vape mod into one device. But nearly all without exception have failed.
And this is what makes the VooPoo Drag Max so very, very special – it is one of the best vapes I have ever used, thanks to its innovative design and ability to run all different kinds of tanks.
For flavor, battery life (Although the Drag X Pro now offers better battery life), and choice of coils and tanks, it is unbeatable. You can do all kinds of vaping with it from RBA-style to MTL and everything in between, thanks to its innovative design.
This really is the Swiss Army Knife of vape mods. And, if we're still here in a couple of years, it'll probably be what most vape mods are like – it is really that good.
---
Need More Options? Here's The Best of The Rest For 2021…
Please note, a lot of the recommendations listed below are now either out of stock or unavailable. Plus, the ones listed at the top of this post – the best vape mods for 2022 – are more current and up to date. I've just left these options in to give you an idea of what was happening in the market last year.
#1 – VooPoo Argus GT 160W Starter Kit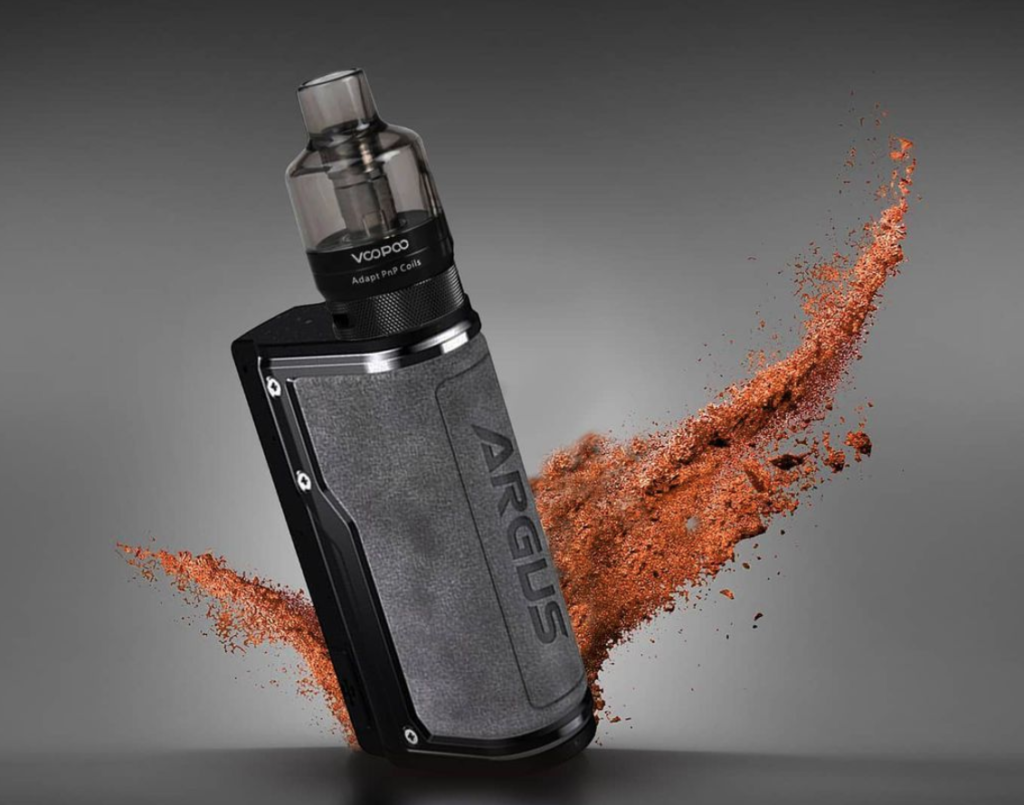 Killer Design. Amazing Performance
The VooPoo Argus GT 160W Starter Kit is an inexpensive, feature-rich vape mod and tank kit that quickly became one of our all-time favorites in just a few days. It looks great, produces outstanding flavor, and it is really simple to use, thanks to its simplified menu and ergonomic design.
Inside, you have VooPoo's GENE chipset which brings with it a host of vaping modes – from Bypass Mode to TC Vaping, it covers all the basics and a whole lot more. I also really love VooPoo's PNP Pod Tank; it's great for flavor and the coils last for ages.
The kit comes with two coil options, as well as one loaded in the PNP Pod tank: 1 x 0.2ohm PnP-VM5 Coil and 1 x 0.15ohm PnP-VM6 Coil. In my experience with this device, the coils lasted, on average, about two and half weeks, making them very, very impressive in that context.
This vape mod kit is a tour de force of performance, reliability, and great features. And because it runs on 2×18650 batteries, you never have to worry about battery life either. VooPoo's GENE chip is also excellent at power management too. I love the VooPoo Argus GT 160W.
---
#2 – GeekVape Aegis X
Exceptional Value For Money
The GeekVape AEGIS X was our top-rated vape mod of 2020. And the reason? It is brilliant – this is why it is still one of our top picks for 2021. You get a stunningly designed vape mod with masses of power and a beautiful display, as well as one of the best mesh coil tanks in the business. This is a near-perfect vape kit.
If you're looking for value for money, best-in-class design, and water and dust resistance, the GeekVape AEGIS X is 100% where it is at – and for the money, this kind of vape kit is near-unbeatable. It looks like a $180 vape mod but it retails for a fraction of this. It has been one of our go-to vape kits for over 12 months now and I do not see that changing any time soon…
---
#3 – INNOKIN MVP 5
The Vape Mod That Does It All
If you want a vape mod that will happily work with RDAs, mesh coil sub-ohm tanks, RTAs, and MTL tanks, then the INNOKIN MVP 5 is well worth a look. I think it is one of the best vape mods on this list. And it isn't just a pretty face either; in our tests the INNOKIN MVP 5 beat out a couple of vape mods that were A LOT more expensive. And that should tell you everything you need to know about this mod.
The Innokin MVP 5 looks amazing and it vapes just as good. Perfect for all styles of vape tanks – from MTL tanks to RDAs and mesh coil sub-ohm tanks. We love the retro, classic design of this vape mod and its 120W of power under the hood is more than enough for any style of vaping. Innokin smashed it outta the park with this one!
---
#4 – Vaporesso Gen S 220W
I've been a big fan of Vaporesso's products for years now. Vaporesso makes great-looking hardware and is a big fan of pushing the envelope when it comes to innovation.
With the Vaporesso Gen S 220W, you have 220W of potential power, an array of vaping modes, and a gorgeous 0.91in OLED screen that displays everything you need to know about.
The form-factor, for me, is perfect for a vape mod; it sits wonderfully in the palm of your hand and it looks great running any style of tank.
Add in Vaporesso's outstanding internal tech, and you're looking at one of the best vapes on the market right now.
If you're looking for a premium vape mod on a tight budget – it retails for just over $42 – then the Vaporesso Gen S 220W is the one to go for.
---
#5 – Uwell Crown 5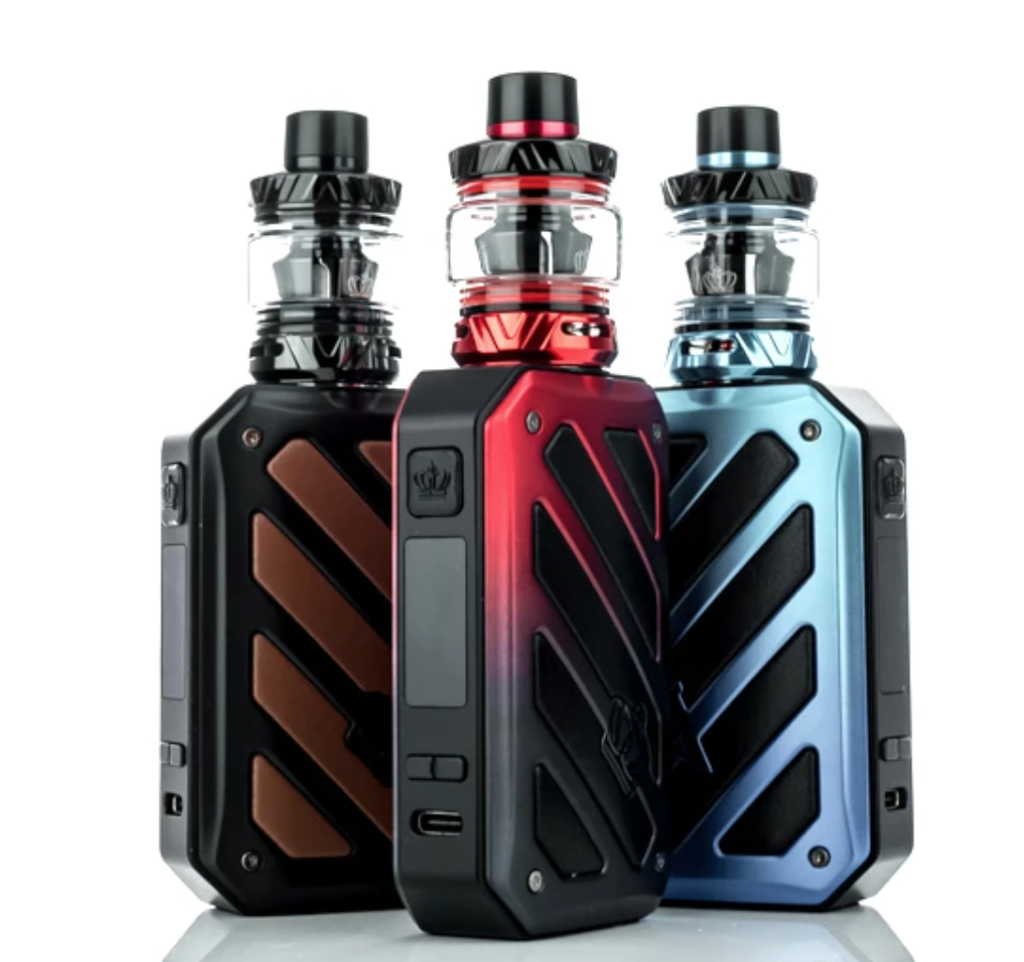 The OG UWELL Crown vape tank was a huge hit when it first dropped, way back in 2014. Since then, UWELL has been pumping out updates to its Crown tank series every year. It has also branched out in vape mods.
The UWELL Crown 5 vape kit brings together UWELL's fifth-generation Crown tank and a vape designed specifically for use with it. The two play together really nicely as well, delivering incredible flavor, massive clouds, and very good coil performance.
The mod itself is handsome enough, it has a rather rugged look, which I quite like, but the star of the show is how well the mod and the tank work together. If you're after a killer mesh coil vape tank and an excellent vape mod to run it, the UWELL Crown 5 kit is one of the better options on the market right now.
---
#6 – Steam Grave Hadron Pro DNA250C Box Mod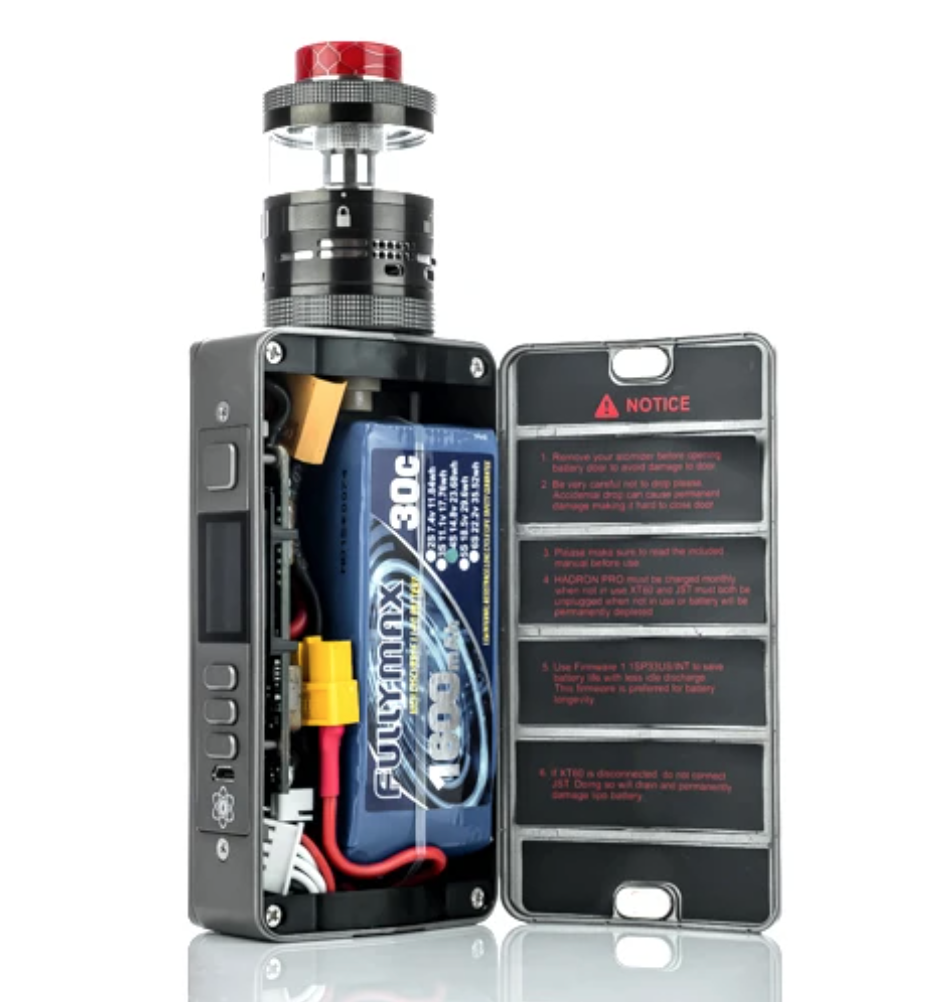 As vape kits go, the Steam Crave Hadron Pro DNA250C Box Mod is fairly bonkers. Not only does it look like something from a sci-fi movie, but it also runs EVOLV's insanely good DNA 250c vaping chip. This means incredible accuracy and market-leading TC vaping.
The id="urn:enhancement-e2657726-d1f7-49dd-805d-6003a202612c" class="textannotation"> kit comes with Steam Crave's Aromamizer Titan V2 41MM RDTA, a monster of a vape tank that can hold up to 32ml of vape juice. That's right: 32ml! You'll need some big ass coils to build it though. But when you do, and you hit that fire button, the Hadron Pro DNA250C Box Mod will blow your head off – it hits like a freight train (in a good way).
Obviously, if you go with the Hadron Pro DNA250C Box Mod, you'll need to be au fait with building and installing your own coils. If you're cool with that, this is perhaps the most interesting vape mod and tank kit ever released. There is nothing else quite like it on the market.
---
#7 – GeekVape Aegis Mini 2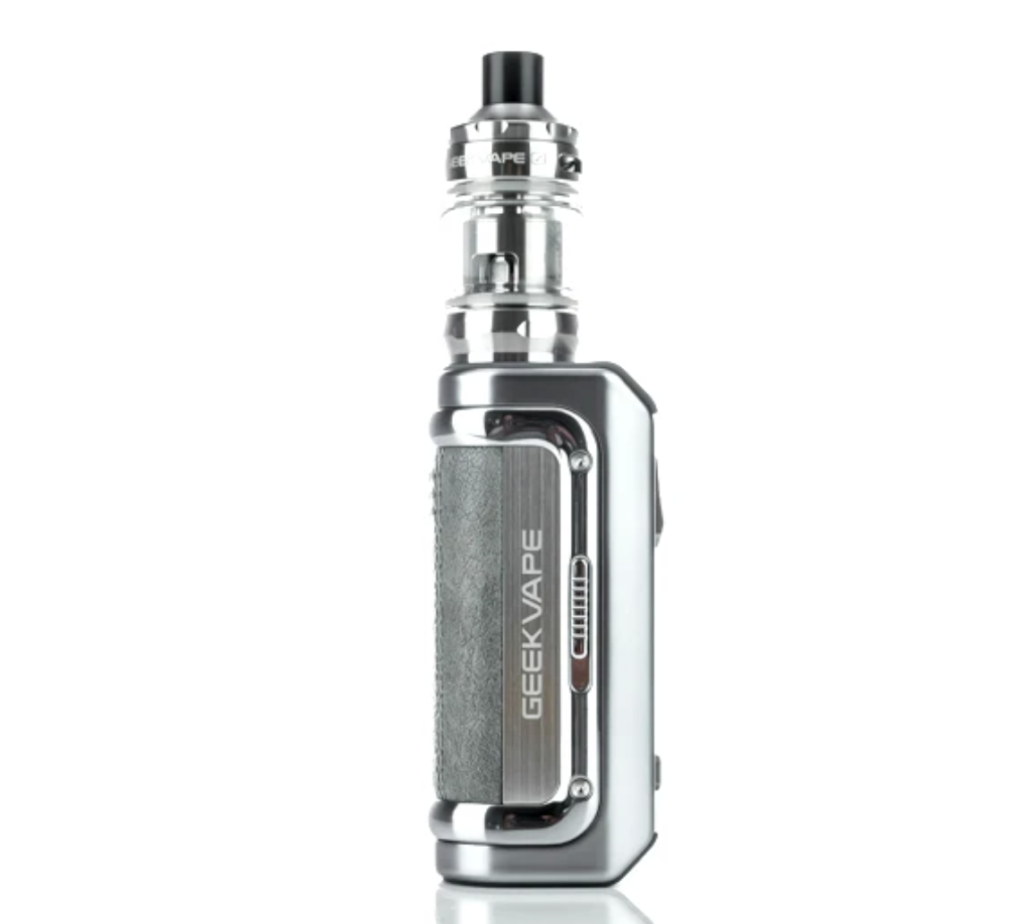 As I've gotten older, I've started to appreciate simple vape kits more and more, and the GeekVape Aegis Mini 2 is just one of those kits that you pick up and use, and fall in love with – it's just so simple and straightforward.
It doesn't weigh much, it looks smart, and it just kind of gets out of the way of itself. It comes with an IP68 rating, meaning it is water and dust-resistant, so you can now safely vape in the shower or hot tub without worrying about dropping your mod.
The kit comes with GeekVape's Nano 2 Tank and it will hold 3.2ml of vape juice. Is the Nano 2 Tank any good? Yes. It's a brilliant little performer and is ideal for any type of vaper, whether new or old. The coils are great too, lasting a solid 12-15 days between changes.
---
#8 – GeekVape L200 Aegis Legend 2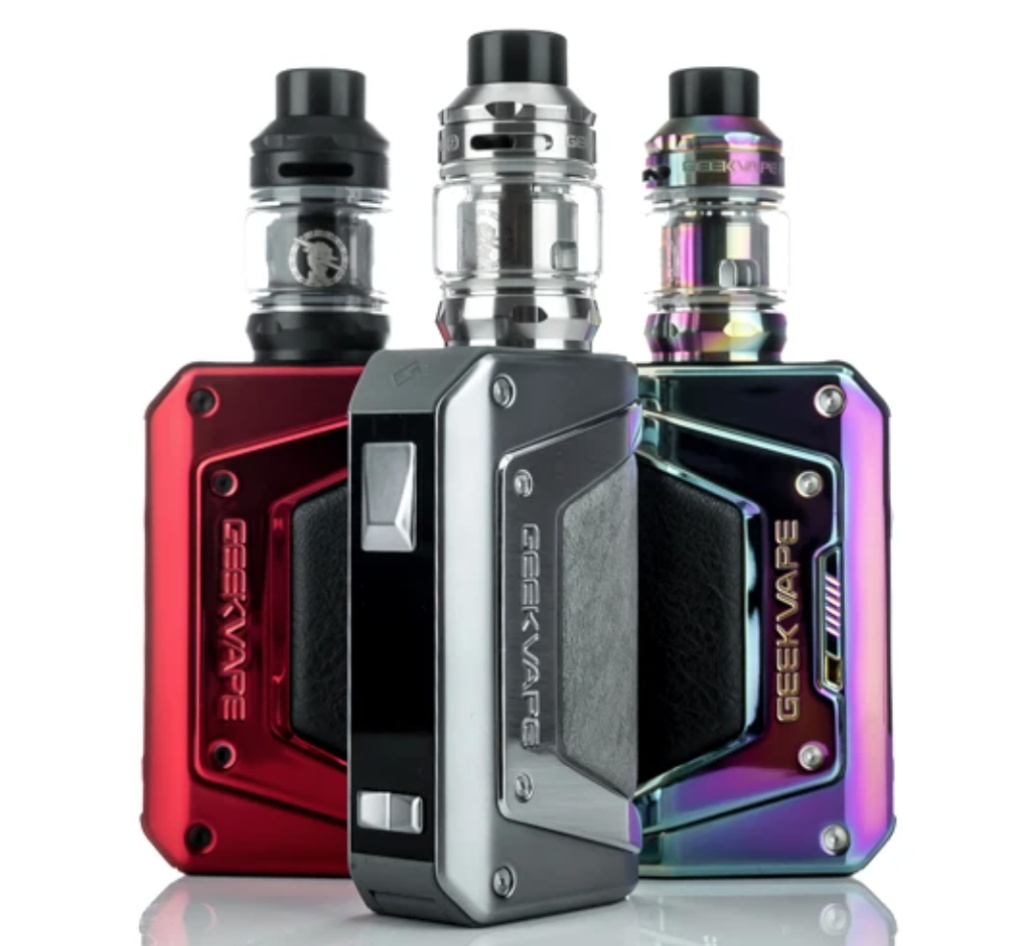 If you want something a little fancier, something with plenty of power under the hood and that comes with a brilliant mesh coil tank, the GeekVape L200 Aegis Legend 2 is another favorite of the team.
This beautifully designed kit is the successor to GeekVape's massively successful Legend mod. And it is a vastly superior beast to its forefather. The design is smarter, it has more features, and it just looks a whole lot better.
Like the OG GeekVape Legend, the GeekVape L200 Aegis Legend 2 packs in all the same stuff as before – it is water, dust, and shock-resistant. I tested them all too; this vape mod could survive a bomb blast. Oh, and it is also 30% lighter and 15% smaller than the original GeekVape Legend.
And if that wasn't enough, it comes with GeekVape's Z Sub tank which is by far and away one of my favorite mesh coil sub-ohm tanks. The flavor it produces is immense and the coils last an eternity. What more could you want from a mid-range, well-priced vape kit!?
> easale.com/r.cfm?b=961776&u=1210509&m=69731&urllink=vapordna.com%2Fproducts%2Fgeekvape-l200-aegis-legend-2-200w-starter-kit&afftrack=" data-lasso-id="29595″>VIEW BEST PRICES
---
What Vape Mod Should I Get?
As of right now, my two personal recommendations for 2022's best vape mods would have to be the VooPoo DRAG 3.
For a straight-up vape mod, meaning something you can use with RDAs, RTAs, and mesh coil tanks, it is flawless. Why? Because it serves up excellent value for money and it will work with any style of vape tank, from MTL to RDAs and Mesh Tanks.
If you want an all-in-one, versatile vape kit, go with the VooPoo Drag Max.
Why?
Well, it is basically what the future – providing the vape market has one – will likely be like.
The VooPoo Drag Max – Click Here For The Latest Pricing
You have vape mod-style power and control, as well as excellent battery life, just in a small, compact pod-style vape.
It runs a range of pods/tanks, so you can run it as an MTL setup, a sub-ohm, a mesh coil one, or an RBA.
Basically, it does it all. r" data-lasso-id="10840″>And it is WAY cheaper (like 60% cheaper) than the Lost Vape Centaurus too. And, in my opinion, it is way more useful too.
As of right now, the VooPoo Drag Max is my number-one favorite vape mod of 2021 so far.
It's what I use and I think you guys will really love it.
---
---
---
---
---
Over on PAGE 2, you'll find all our picks for the best vape mods from 2020…