What Is a Vape Mod? A Quick Guide For Beginners
By Drake Equation • Updated: 04/24/23 • 5 min read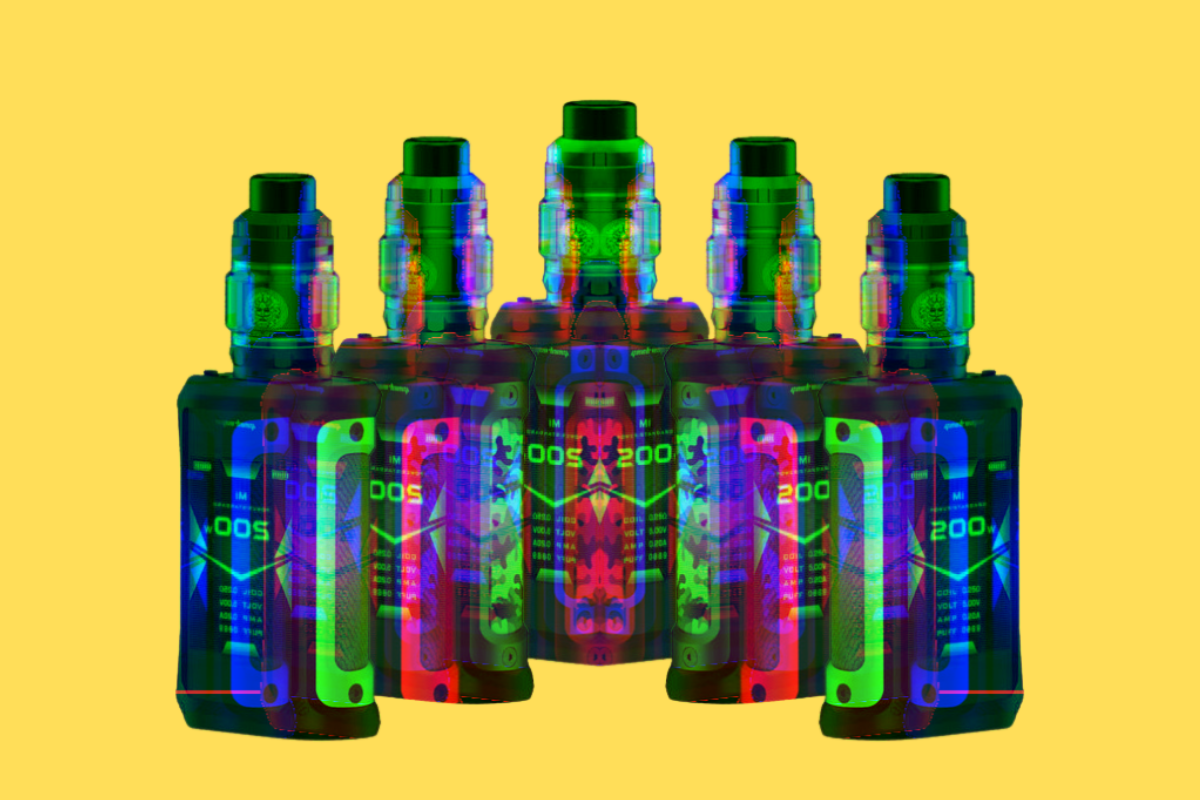 What is a vape mod? If you're new to vaping, this is one of the first questions you might have. In this quick guide, we'll give you a complete overview of vape mods and how they work…
---
Vape mods may have taken a step back in recent years, especially with the rise of pods and disposable devices. However, with more people switching to vapes, box mods are having a comeback. But what is a vape mod, and how do you choose the best vape mod for you?
Vape mods are basically advanced forms of vape that allow users to customize and control various aspects of their vaping experience, such as the wattage, voltage, temperature, and airflow of their devices. In this guide, we'll break down everything you need to know about vape mods.
What Is a Vape Mod?
A vape mod is an e-cigarette device that's formed by a collection of wires, a chipset, and a battery housed in a rectangular box unit. It can come with a screen, buttons, and controls; some even have touchscreen capabilities. These features allow users to control the power and settings of their devices.
Vape mods come in various shapes and sizes, and they can range from beginner-friendly devices to more advanced setups.
How Vape Mods Work
Vape mods are generally designed to draw power from its battery and deliver it to the tank's atomizer. You push a button on your box mod that sends an electric signal to a circuit board that activates the atomizer (or heating element) of your vape tank. This heats up the e-liquid or vape juice and turns it into a vapor that you can vape.
Aside from this, vape mods also offer other functionalities that let users customize their vaping experience. You can control the wattage or voltage at which your device operates, change the temperature of the heating element, and regulate the airflow of the vapor. You can also choose your vaping mode.
Types of Vape Mods
There are different types of vape mods, which can get intimidating if it's your first time venturing into this space. To help you understand your options, here are some of the most common ones to choose from:
Regulated Mods
Most commercial vape mods fall into this category. The term "regulated" means that the current in the device is controlled by the mod's built-in chipset, which ensures seamless power delivery. This is the best starting vape mod for beginners.
Mechanical Mods
Mechanical mods are stripped-down devices that don't have built-in regulated current safeguards. They work by directly connecting the battery to the atomizer, with the user controlling the output himself or herself by adjusting the resistance of the coil. To use mechanical mods, you need to understand Ohm's Law and know the kind of resistance your coil is using, otherwise, you're at risk of your device exploding.
Squonk Mods
"Squonk" means to push vape juice from inside a vape mod to a rebuildable vape tank. So squonk mods have built-in bottles that hold e-liquid, which is fed directly into the atomizer through a hole in the device. The squeezable bottle can be refilled, which enables you to carry more vape juice and reduces the need for frequent refills.
All-in-One Mods
Also known as "AIO" mods, all-in-one mods incorporate the vape tank into the vape mod itself. This makes them similar to pods, although they still typically come with the usual vape mod settings.
Tube Mods
Tube mods feature a cylindrical shape and have a single battery. They're similar in design to mechanical mods, but they're ideal for vapers who want a more simple and more compact setup.
Choosing the Right Vape Mod
Here are some important factors to consider when choosing the right vape mod for you:
Experience Level
Perhaps the most important factor to consider is your experience level with vaping. If you're a beginner, it's best to start with an easy-to-use device, like a regulated vape mod. More experienced vapers can opt for advanced devices with more customization options.
Vaping Style
The type of vape mod you have will directly affect your vaping experience, so you must consider your vaping preferences. For example, if you're heavy on customization, then a box mod is definitely the best choice.
Brand and Reputation
When choosing a vape mod, you must consider the brand and reputation of the manufacturer. Not only does this affect the cost of your device, but it also impacts the quality and safety of your use.
Key Takeaways
Vape mods are great devices for both beginner and experienced vapers who want to improve and customize their vaping experience. All the features and functionalities might make it a bit complicated, but once you know the different types of vape mods and how to choose the right one for you, you're rewarded with the best vaping experience!
Drake Equation
Drake is the founder and editor of VapeBeat. He started the blog WAY back in 2015 when, upon quitting smoking, he struggled to find any useful information about vaping online. With a background in journalism and a newfound hobby on his hands, he set about creating VapeBeat – a blog all about making vaping simple to understand for new users.