Looking for the PERFECT vape tank? In this guide, you'll find the #1 best vape tank options from the past 12 months — for flavor, for long-lasting coils, and for performance. We tested over 60 sub-ohm tanks in order to get down to the options you see listed below… 
---
Top Vape Tanks
The vape tanks listed below all excelled in our testing. They all have great coils that last up to two weeks or more, they all produce excellent flavor, and they're all 100% leak-proof.
They are also all, mostly, mesh coil tanks too. And they're designed for big clouds and high wattage vaping. 
If that's what you're looking for, read on because these vape tanks are currently the best options in the business right now. 
When we test vape tanks, we tend to use them exclusively for a month – or thereabouts. This ensures we get a full picture of how they perform and, most importantly, how long their coils last.
The key thing you have to remember when using vape tanks, however, is that a coil is only as good as the vape juice you're using – if you use rubbish, cheap vape juice your coils will clog up and not last as long.
This is why it is super-important that you use the best quality vape juice possible. If you do this and ensure that you prime your coils correctly, the tanks featured in this guide will perform brilliantly and last you for years.
Read on below for more detailed information on each tank…
---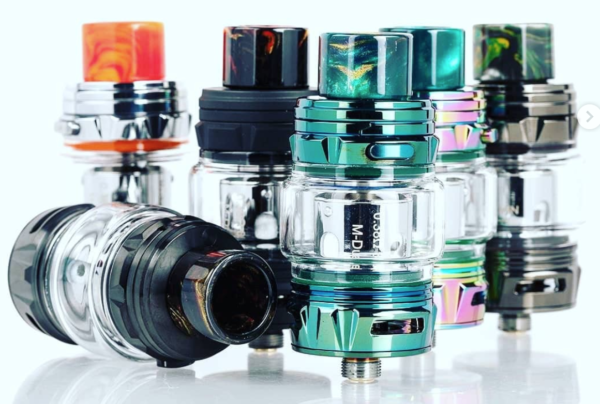 Best Place To Buy? 
The Falcon tank was a revelation. You got RDA-grade flavor, immense mesh coils that lasted weeks at a time, and a well put together tank. It was a winning formula, propelling HorizenTech's sub-ohm tank to the #1 spot on most "best vape tank" lists – ours included!
So, what happens when HorizenTech updates that tank? Simple: you get the HorizenTech Falcon King sub-ohm tank – and this thing is even more impressive. The updated design gives the tank a fresh, new look that is way more engaging than the original model.
The star of the show, as ever, is the flavor: you're getting RDA-grade flavor from HorizenTech's amazing mesh coil heads, which are arguably the best in the business right now. And its new ones, designed specifically for the Falcon King, the M-Dual and the M1+, are mightily impressive new additions.
Bottom line? If you want the best possible flavor from your sub-ohm tank, as well as the longest-lasting, most flavorful coil heads in the business, the Falcon King is 100% the best option right now. Hell, it even retails for less than $30/£29. Madness!
Why You'd Get This Tank?
RDA-Grade Flavor 
Long-Lasting Mesh Coils (2+ Weeks) 
Premium, Modern Design
100% Leak-Proof
New M1 Dual & M1+ Mesh Coils Are Outstanding
---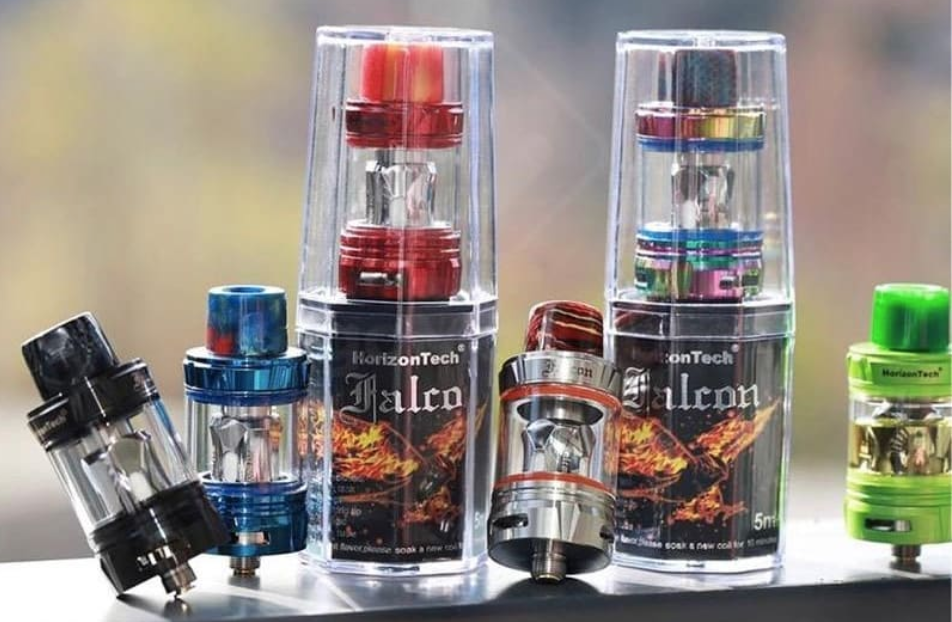 Best Place To Buy? 
RDA-grade flavor? Check. Brilliant coil performance? Check. Solid, reliable performance? Check. This tank really does do it all.
The Falcon tank is easily the finest vape tanks you can buy right now. The flavor is incredible and its coil heads perform brilliantly.
It blew us away when we originally tested and we're still using one today – 5 months later. It really is as good as everybody says it is.
Why You'd Get This Tank?
RDA-Grade Flavor
Excellent Coil Head Performance
Brilliant Performance
Solid, Reliable + Easy To Use
---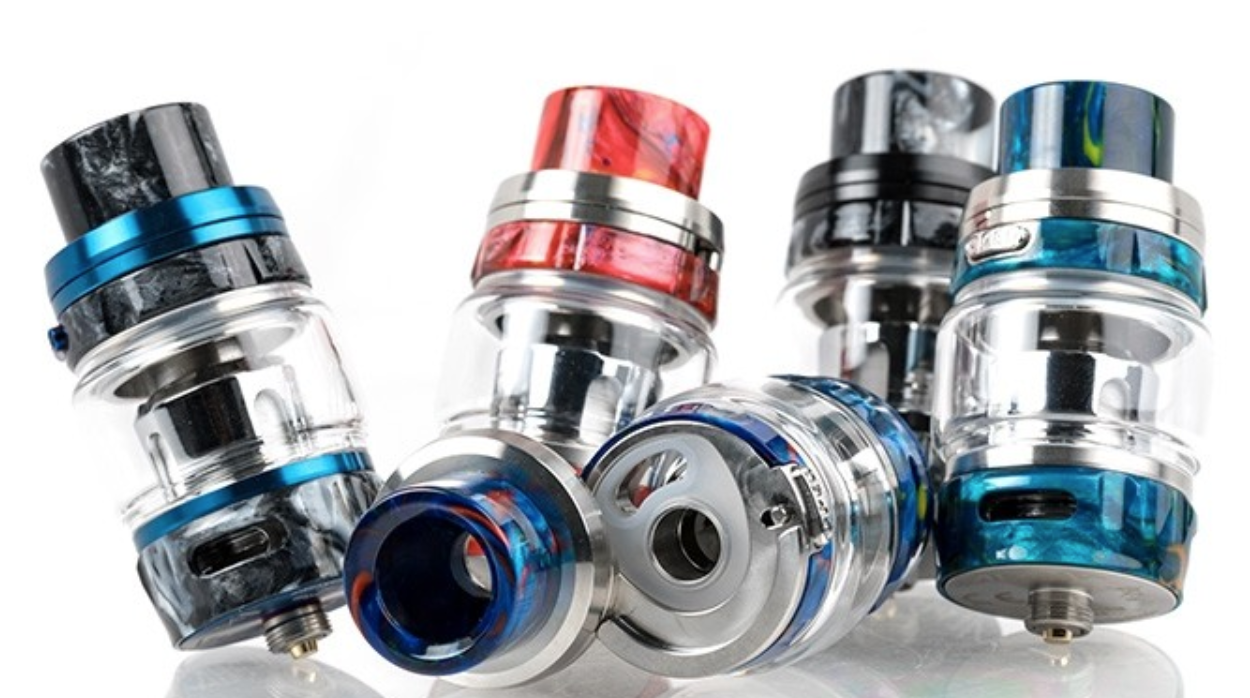 Best Place To Buy? 
The GeekVape ALPHA tank is the newest of the tanks listed in this section and while it is indeed late to the party it impresses nonetheless.
The design of the GeekVape ALPHA is awesome. Just a solid, resin-tinted vape tank with a super-useful, fire-to-release top cap.
GeekVape's MellowMesh coils are brilliant, lasting weeks at a time, and the overall flavor you get from this bad boy is up there with the best of them.
I do really love GeekVape's products, but the company has truly surpassed itself this time. And that is no mean feat in today's vape tank space.
Why You'd Get This Tank?
Awesome Coil Performance
Smooth Airflow
Great Flavor + Refill Mechanism
Solid Price
---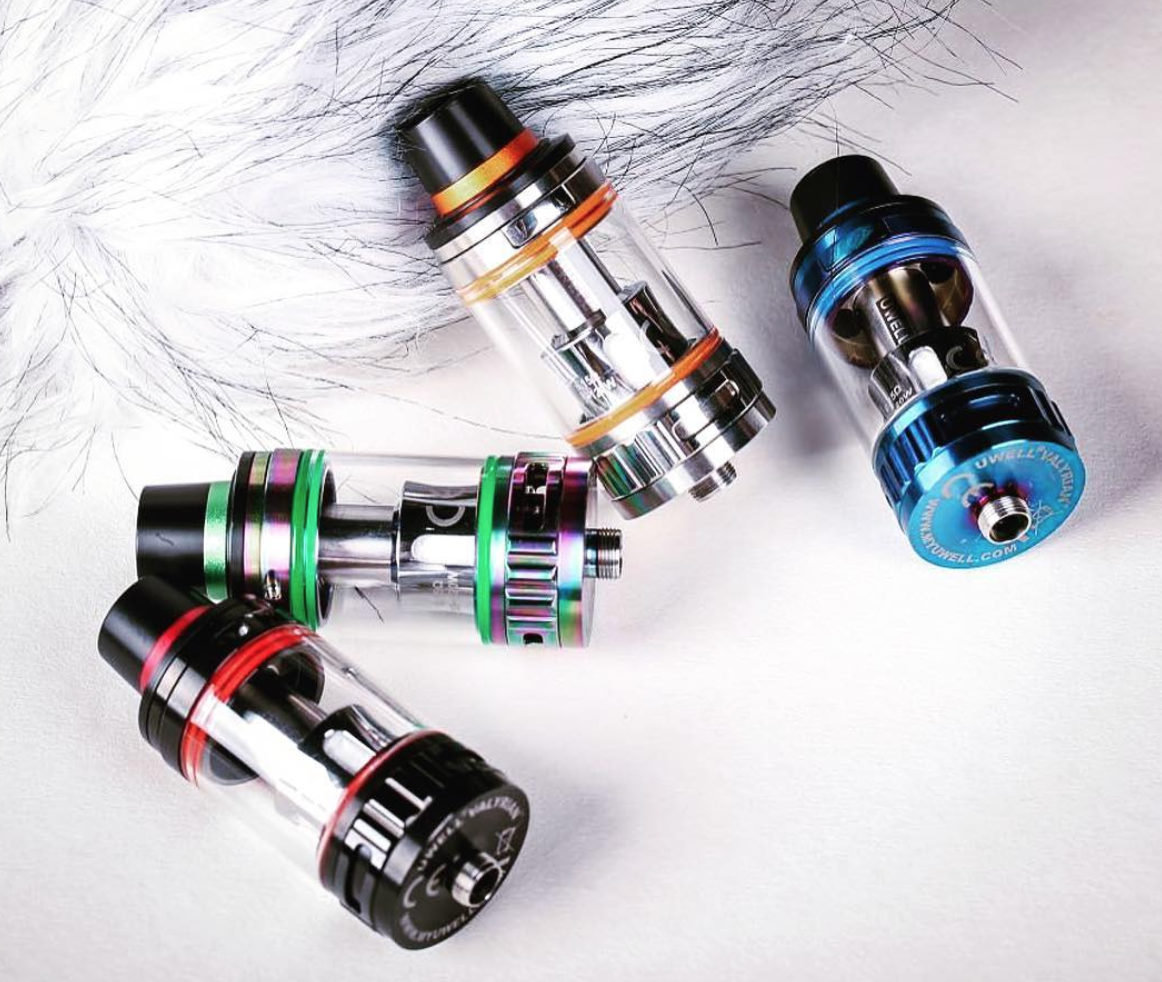 Best Place To Buy? 
If you're after a solid, great performing vape tank, it's impossible not to include the UWELL Valyrian 2.
It was, and still is, one of the greatest vape tanks around.
It does it all, from flavor to coil performance, and it looks great in the process.
Ideal for new vapers or seasoned pros alike, the UWELL Valyrian 2 made a lot of friends when it first landed, and not much has changed since then.
It is still one of my all-time favorite vape tanks. Bar none.
Why You'd Get This Tank?
A True Classic Sub-Ohm Tank
Insane Flavor + Performance
Lots of Coil Head Options
Consistent Performance + Super-Reliable
---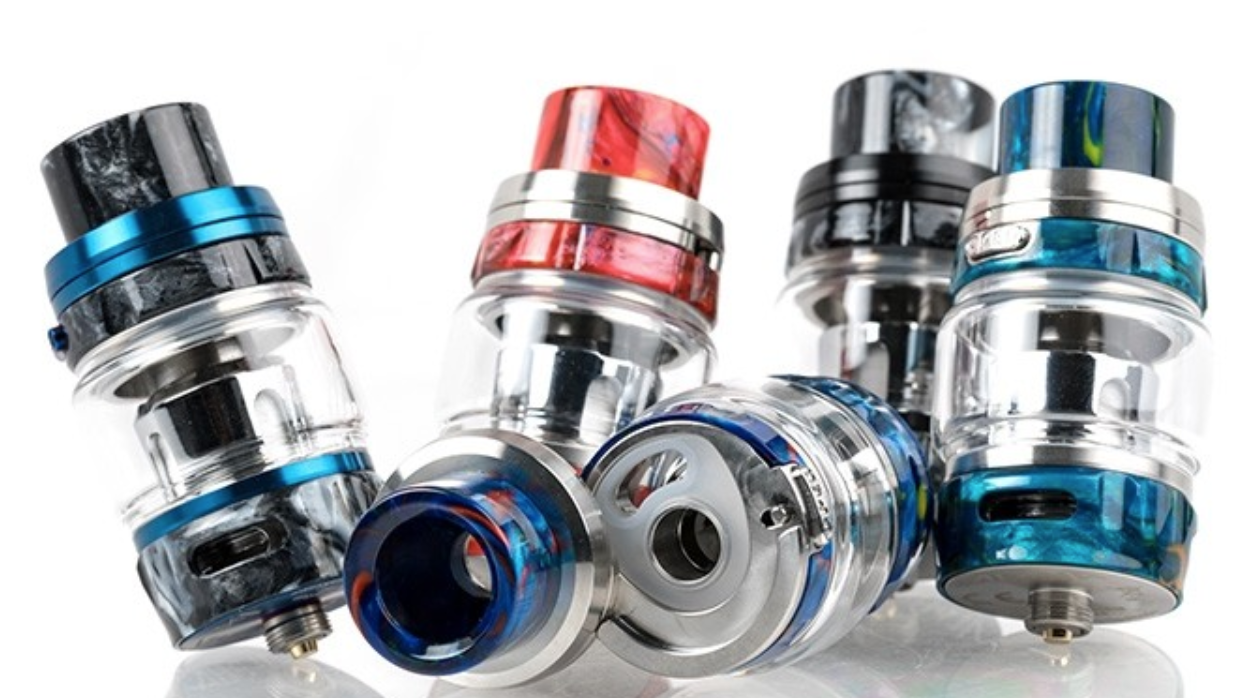 Best Place To Buy? 
Big. Mesh Coils. Mega Flavor. Masses of E Juice capacity. The MESH PRO, as the name suggests, is ALL about the mesh.
Mesh and mega-flavor. I used this tank for a solid couple of months and during that time it did not miss a beat. Not once.
The flavor is incredible and the clouds it kicks out are kinda terrifying.
It picks up where the FireLuke Mesh left off, adding in more performance, more capacity, and more flavor.
You also have a wide selection of mesh coil heads to choose from, including the BEASTLY triple mesh one.
Why You'd Get This Tank?
You're A Cloud Chaser
You Want A 100% Mesh Coil Tank
You Want Mega Performance
You Don't Mind Paying Extra For Triple Mesh Coil
---
2020's #1 Most-Recommended Vape Tank For Clouds and Flavor
I've tested a lot of sub-ohm tanks. But few were as impressive as the Falcon King Tank. You get RDA-grade flavor and mesh coils that last weeks at a time. And, if that wasn't enough, you get ALL of this for less than $30!  
And while it did take us some time to come to this conclusion, we are pretty confident in our estimation of the Falcon King tank – it is, for us, the best overall sub-ohm tank on the market right now.
Personally, I have been using this tank, on and off, for over six months now. If I'm sub-ohm vaping, I'm using this tank. Period. And the reason is that the flavor is stunning and I don't have to worry about the coils – they last for weeks between changes.
For me, that is what elevates a good sub-ohm tank to a great sub-ohm tank; you need reliable mesh coils that last weeks at a time. Get this right, as so few vape tank makers do, and you'll score big with reviewers and users alike. And the Falcon King just does that – in a big way.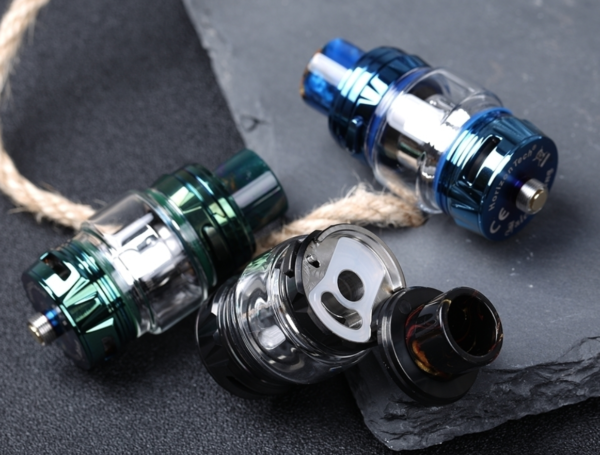 PROS (Why You'd Buy This Tank):
Brilliant Coils – They Last An Eternity
Consistent, Reliable Performance
Amazing Flavor
Massive Clouds
Super Simple To Setup and Use
Great Price (See For Yourself)
Like the UWELL Valyrian and Falcon, the Falcon King just gets everything right. From the airflow to the flavor to the coil performance, everything is brilliant.
I've been using mine for six months now, and nothing has managed to usurp it during this time. For a sub-ohm tank, it is more or less unbeatable – and it is also priced very aggressively.
But for me, right now, the Falcon King is the one to go for!
---
The Best Tank For Sub-Ohm Vaping – Things To Keep In Mind
The most important thing is the coils. Are they good, reliable consistent performers? If so, you're good to go. The next thing is flavor. How good is it?
There is a MASSIVE difference between the flavor performance of sub-ohm tanks. You can't just wing it and expect to get a decent vape.
This is why I kept the above list of sub-ohm tanks nice and short. To cut through the noise and the sheer number of options available today.
They're the best we've tested, the ones that pack in excellent coils and great flavor, as well as consistent performance. Only the best vape tanks make it onto this concise list of EPIC sub-ohm tanks. And trust me, it is proper hard distilling the sheer number we test down into such a short list of tanks!
Top Quality Sub Ohm Vape Tank Brands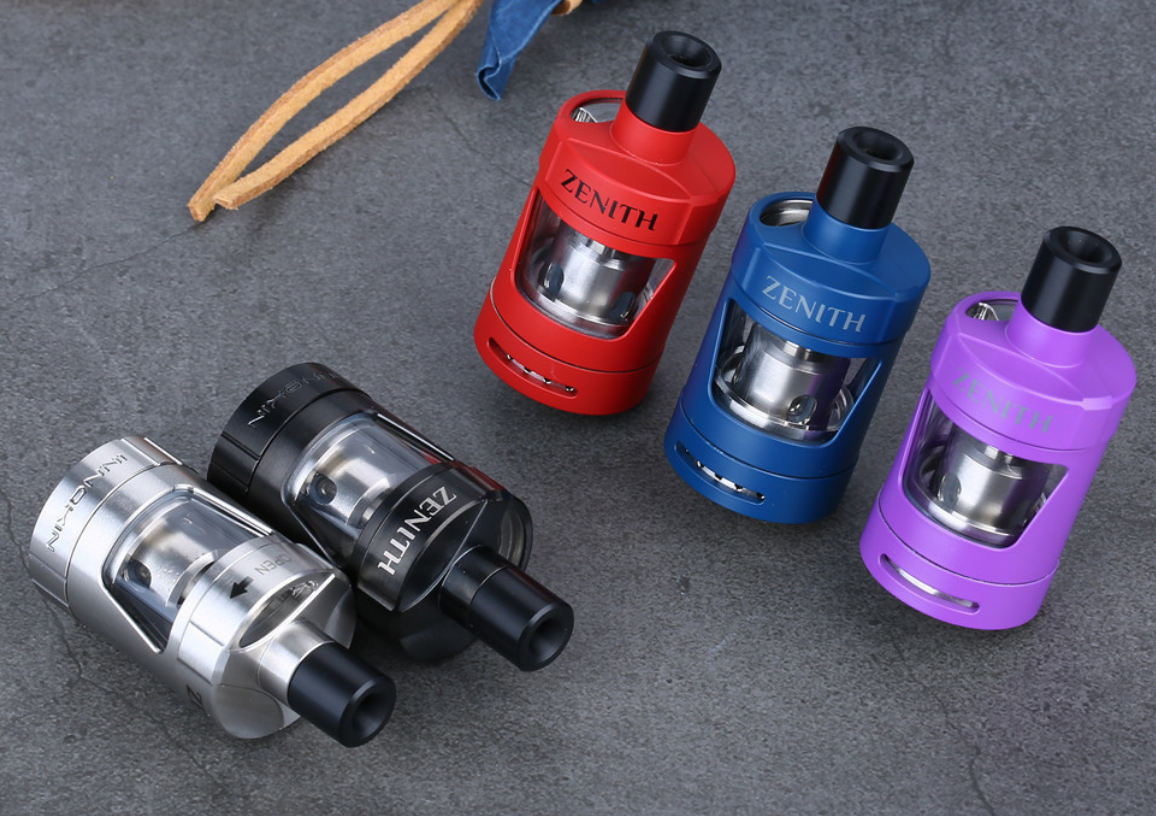 This list isn't exhaustive. It's just a collection of the brands that I know, use, and trust with respect to sub-ohm vape tanks.
There are a few things you need to keep in mind when buying a vape tank as well. And they are as follows:
Coil Head Performance (This is KEY!)
Durability
Ease of Use
Airflow
Get a tank that nails all of these and you're in a good place. Fail to do so, and the tank will end up costing you more than you bargained for…
The #1 problem most people encounter when using vape tanks is to do with their coil heads. They either burn out too quickly or don't last long enough before the flavor drops off – both of these things are not good.
That's why all the tanks recommended in this post come with exceptionally good coil heads. It's also why you don't see any SMOK tanks recommended – SMOK's coil heads suck. Even the mesh ones.
A good coil head should last a week minimum – optimally, you're looking at 9-12 days before you need to change it. All of the vape tanks listed in the table at the top of this post (click here to see them again) feature long-lasting coil heads that'll save you a fortune over the long term.
How We Test Vape Tanks
And right now, only about 6 of them are what I would consider excellent options (the tanks in the table) for experienced vapers and new vapers alike. But any tank will suck if you use rubbish vape juice, so make sure you ALWAYS use high-quality USA-made vape juice (high VG is best for this style of tank as well).
How I Rate The Vape Tanks
Flavor + Performance
Coil Heads – How Long Do They Last?
Design – Do They Look Nice?
Airflow – Is It Smooth?
That's literally it: these are the most important elements when it comes to accessing a vape tank.
And the vape tanks listed in the table at the top are, in the expert opinion of VapeBeat's team of reviewers, are the current #1 vape tank options for 2020.
---
Also: STOP Paying Over The Odds For E Juice! Inside The VapeBeat E Juice Store We Offer 30ML & 120ML Bottles For $8.99 and $19.99, respectively (We Also Have Over 1000 FIVE STAR Reviews).
Vape Tank FAQs
What is The Best Vape Tank on The Market?
As of right now, the best vape tank that we have tested to date is the Horizon Falcon King tank. It scored the highest mark we have ever awarded a vape tank when we reviewed it. For flavor and overall performance, the Falcon King is damn-near flawless.
What Vape Tank Blows The Biggest Clouds?
If you want to blow big clouds, you will need a sub-ohm tank because these vape tanks are designed to run at higher wattages. And higher wattages means more vapor. If you want something simple, a mesh coil sub-ohm tank like the ones listed above are best for blowing big clouds.
What is The Best Vape Tank That Doesn't Leak?
Most good sub-ohm tanks should not leak. Leaking – or a lack of leaking – is one of our testing criteria. If a tank leaks, it fails. All of the vape tanks on our best vape tank listed do not leak, a fact proven through our team's extensive testing.
What is The Best Vape Tank In The UK?
The best vape tank in the UK is the same as it is in the United States – the Falcon King tank by Horizon. This tank has it all. Amazing flavor, brilliant coils, and great, consistent performance.