Everything you need to know about JUUL in one place, including all the latest news, new products, and how to use it…
---
Arguably the most controversial vape brand to ever grace the earth, JUUL has been through the wringer in its short time as a company. Unlike nearly all of its competitors, JUUL took a systematic approach to building its empire – it borrowed from the playbooks of big tech startups, not mom-and-pop vape brands.
The approach, from the very outset, set JUUL apart from other vape brands. It seemed more mature and more optimized for market expansion. It did PR right. It spent tens of millions of dollars marketing itself. And, for a good long while, it all worked great – people loved JUUL.
And this was easy to understand. Until JUUL joined the market, vape devices were rather complex, almost esoteric. To newcomers, the idea of wicking, coils, replacement batteries, tanks, and vape mods was just all too confusing. JUUL spotted this trend and developed something simpler, something that just worked.
A Brief History of JUUL
Founded by James Monsees and Adam Bowen, JUUL started life as part of PAX Labs, a dry herb vaporizer company. PAX was the first company to develop the idea and implementation of Nic salts vape juice, a stronger type of vape juice that delivered a more cigarette-like hit.
Monsees and Bowen met while studying product design at Stanford, where they first developed a working prototype for an e-cig device called Ploom. Following the creation of Ploom, they turned their attention to the cannabis niche, developing the first Pax vaporizer which went on to become hugely popular in the medical marijuana community.
Under the leadership of Pax Labs, the first JUUL vape was introduced in 2015. Two years later, JUUL was spun-off as a separate company, headed by form CEO of PAX Labs Tyler Goldman. Monsees and Bowen both joined the company, occupying the roles of CPO and CTO, respectively.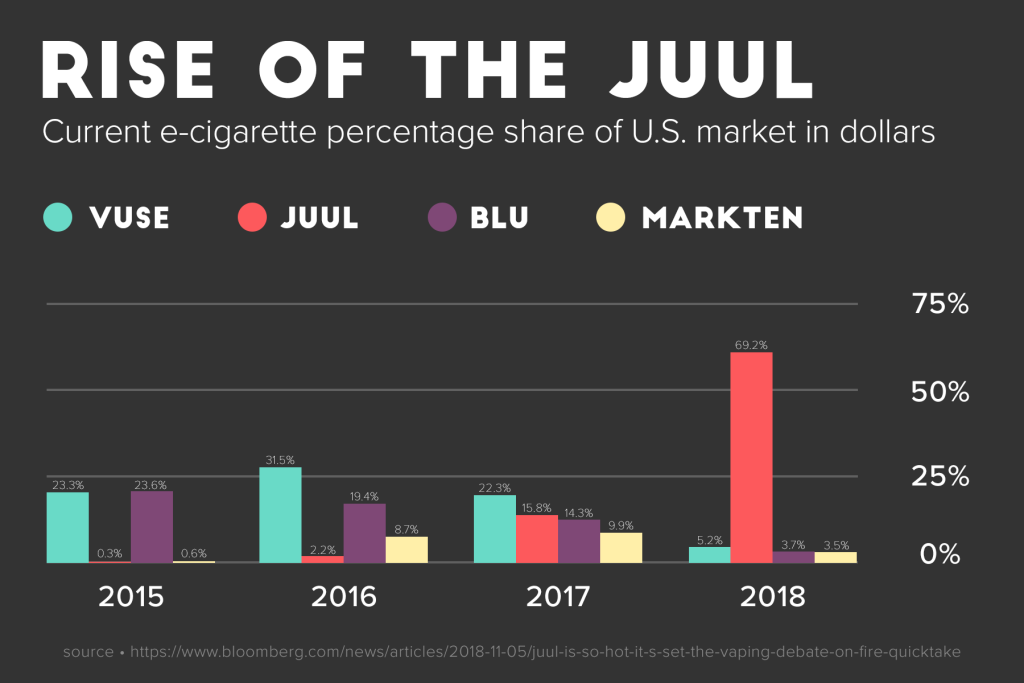 During this period, JUUL raised $650 million in funding, expanded its workforce from 200 to 1500, and earned itself a market valuation of $1.5 billion. At this point, between 2018 and 2020, JUUL appeared unstoppable, its growth was the stuff of legend. But in and around 2019 things began to unravel.
But before any of this happened, JUUL's market valuation again increased, following Atria's – a big tobacco company – massive investment in the business. Atria bought itself 35% of JUUL in a bid to get in on the action but its role in the company wasn't received well.
Atria has its own vape products, MarkTen, but they were not selling well. The company, in a bid to deliver growth to its investors, saw an opportunity with JUUL which, even then, was still very much in its infancy. Atria had plans to expand JUUL's availability and distribution network.
But things didn't quite pan out as Atria expected. Investigations were made by the US House of Representatives in 2018, looking specifically into details of the Atria deal as well as how JUUL had marketed itself online via social media. The findings weren't great, either. And this led to an all-out war between JUUL and the US government.
Following the ruling, JUUL promised to make the following changes and amendments to how its products were marketed:
Advertise or promote its products in media whose audience is 15% or more under the age of 21
Market or advertise on social media (except for Juul's age-restricted YouTube channel)
Use models under the age of 28 in its advertisements
Advertise within 1000 feet of schools or playgrounds
Sponsor or advertise at sporting events or concerts that allow people under the age of 21
Pay for or permit company employees or contractors to appear at school or youth-oriented educational programs or events
Continue to use the terms "adults only" or "not for use by minors," which may entice minors to use Juul products, and replace them with the phrase "the sale of tobacco products to minors is prohibited by law"
Allow unlimited purchase of its product and sets clear limits on bulk sales of Juul products at brick and mortar outlets, as well as online
Additional Resources:
---
The War on JUUL
This was when the war on JUUL kicked off in earnest. A slew of negative headlines, including deaths related to its products were published. As It turns out, JUUL had little to do with these deaths – they were related to black market THC carts, a point no one bothered to mention at the time.
But the damage was done because JUUL became the poster boy for anti-vaping sentiment in the US. It was the most popular and well-known vape device, thanks to JUUL's extensive marketing campaigns, so it became the easiest and most obvious target for the feds and anti-tobacco groups.
JUUL appears to be violating FDA regulations against making unapproved express and implied claims that its product helps users stop smoking cigarettes and is safer than cigarettes
All of this negative attention hurt JUUL's brand, of course, forcing the company to take measures like cutting down on the number of flavors it sold and involving itself in near-constant lobbying in Washington. The company, for better or worse, was made an example of – and this was done to send a message to smaller companies.
The fallout from all of these controversies and legal proceedings saw Atria write down its investment in JUUL, around $4.5 billion. Altria cut its valuation of JUUL to $10 billion in 2020, then $4.3 billion in 2021, and finally down to $450 million in 2022 – just 3.5% of its original value.
This reduction in its value was further compounded by the FDA issuing a marketing denial order (MDO) against JUUL in 2022, forcing JUUL to pull all of its existing products from sale in the US.
Today's action is further progress on the FDA's commitment to ensuring that all e-cigarette and electronic nicotine delivery system products currently being marketed to consumers meet our public health standards. The agency has dedicated significant resources to review products from the companies that account for most of the U.S. market. We recognize these make up a significant part of the available products and many have played a disproportionate role in the rise in youth vaping.

Source
Additional Resources:
---
What is JUUL?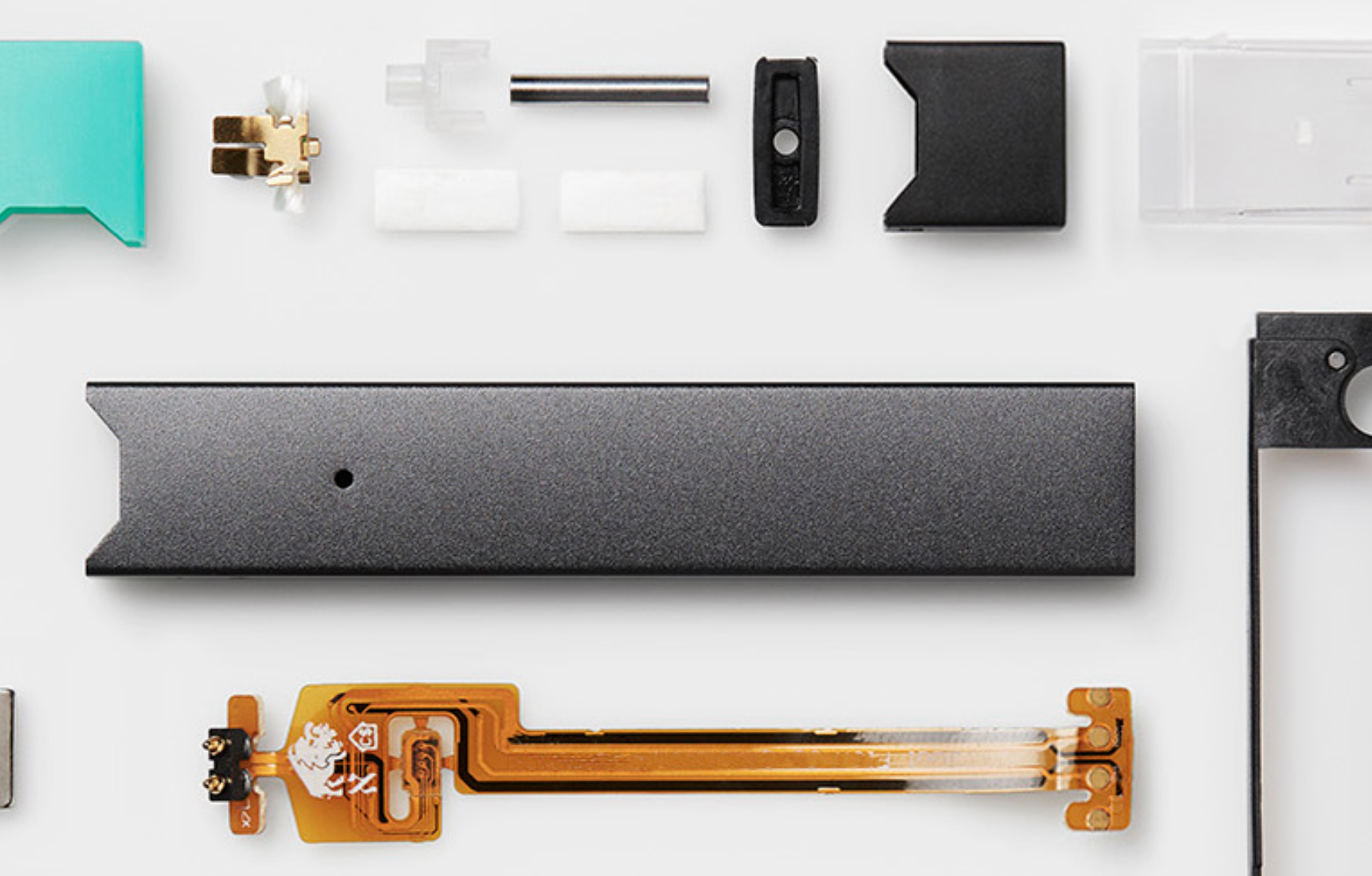 The JUUL is a portable, closed vape system that runs on proprietary pods, known as JUULPods, that contain Nic salts in varying strengths. JUUL is designed to be simple; there are no buttons and no settings. You insert a pod and start vaping.
Simplicity is the order of the day here, and it is this simplicity, combined with the potency of JUUL's pods, that made the device so popular in such a short space of time. Upon its release, there were plenty of similar vapes on the market but none had JUUL's marketing chops. In this respect, the company was a pioneer, leveraging modern platforms like social media and influencers to push its message.
How JUUL Works
The JUUL is designed to closely mimic the sensation you get from inhaling a cigarette. It's an MTL (mouth-to-lung) device, so it's not something you'd use to chase clouds. Rather, it is designed completely to replace a cigarette by mimicking how it draws and the sensation it creates in your throat.
JUUL also does a subscription service for its pods – you basically get sent pods every month at a reduced price. And that you can pretty much buy its pods anywhere and everywhere from gas stations to 7/11 stores.
JUUL is designed to be discreet. But it does pack a wallop when it comes to flavor and vapor production. It's not like an RDA, so don't go thinking you'll fog up an entire room in three puffs, but for an AIO device, it is very, very impressive indeed.
Additional Resources:
---
JUUL Pod Flavors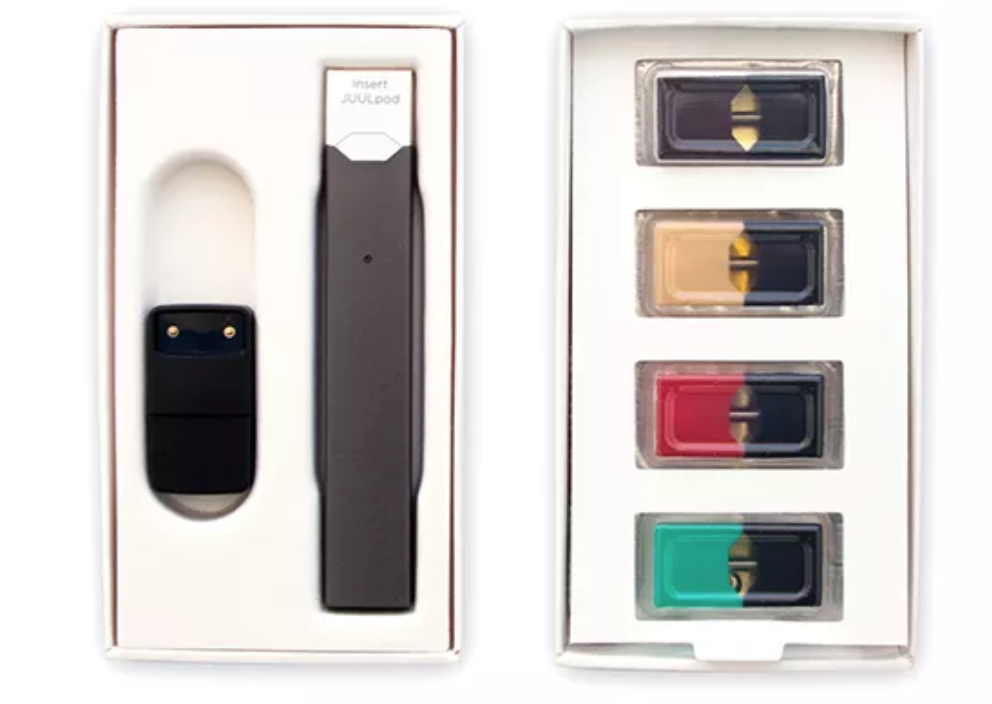 JUUL was quick to spot the trend that ex-smokers, contrary to what the FDA would have you believe, liked flavored vape juice. For this reason, when JUUL first launched its pods were available in a range of flavors.
Upon JUUL's initial release, the device supported five flavors:
Mango
Cool Mint
Virginia Tobacco
Fruit Medley
Creme Brûlée
However, following efforts by the federal government to ban flavored vape juice, JUUL discontinued nearly all of its flavored JUULpods in 2020, reducing its line-up of available flavors to just two options: Virginia Tobacco and Menthol.
The ongoing battle over flavors is still raging in the United States. JUUL, keen to stay on the side of the feds, opted to focus on tobacco-derived flavors as these were the only two flavors that the FDA, for whatever reason, didn't seem to have a problem with.
The FDA's contention back then remains the same today: flavors are designed to attract young people to vaping. It discounts the role of flavors in helping millions of adult smokers kick their habit between the years 20117 and 2020, a point that many UK authorities are keen to point out.
Additional Resources:
---
How Long Do JUUL Pods Last?
Each JUUL pod is designed to last for around 200 puffs – or, a pack of cigarettes. The pods come in packs of four, are non-refillable, and are sized at 0.7mL with 5% nicotine by weight. In total, each pack of JUUL Pods will deliver 800 puffs in total.
Heavy users, like myself, would likely get through one JUUL pod in a few hours. For this reason, you're always better off with one of the many exceptional JUUL alternatives readily available on the market right now.
For instance, part of the rising popularity of disposable vapes is that they not only last longer than JUUL, most have around 600 puffs, but that they also cost less and work in just as simple a fashion.
---
JUUL Reviews
Following its release, JUUL was reviewed by publications large and small, including plenty of popular tech blogs like WIRED. Again, this showed JUUL's advanced marketing skills. It knew that in order to make its product a mass-market product, it needed to go to the publications that not only set trends but also disseminated information to hundreds of millions of readers every month.
How was the JUUL received by reviewers when it first launched? I've added a collection of reviews from a range of publications below – make of them what you will.
The JUUL just doesn't feel the same anymore. Aside from the complete lack of flavor options, the hit just feels empty. I suspect they either lowered the overall wattage output, or tweaked something to make the temperature control feature a lot more sensitive. The hits tend to be cooler and generally less satisfying. If you've ever vaped a JUUL prior to 2019, then you'll most likely notice the decline.
So, would I buy the Pax JUUL? Probably not, but only because I've long since transitioned to high-power mods that greatly outperform it. For a smoker looking to cut back on cigarettes, or make the switch to vaping, it's definitely a great choice. Keeping in mind the gorgeous design and feel of the JUUL, its good performance for a cigalike and innovative nicotine delivery system, I'd say it's undoubtedly superior to a classic cigalike.

If you're one of those people who hate getting their hands dirty with coil builds, DIY e-liquid or learning about resistance, voltage and wattage, and if you're looking for a simple yet stylish alternative to smoking, you should definitely check out the Pax JUUL.
Pumping out a max of 10w isn't cutting it for me and trust me the battery life isn't that good either. Less than full power only adds to the flavour drop meaning the tiniest almost non-existent throat tickle fully powered just drops away to nothing halfway into battery life.

It's back to those flavours again and the way they promise from the aroma and millisecond into a draw – then literally melt away on both the inhale and exhale is really quite bizarre!
Long-term, though, the Juul's careful way of vaporizing that nicotine is its real secret sauce. The temperature of the heating coil is controlled to give you the largest possible cloud of vapor, but none of the dangerous chemicals or compounds, like formaldehyde, that come with overheating the coil or the juice. This is Pax's product, maybe even more than the Juul itself. "The underlying technology, the vaporization technology, is so valuable and can be really disruptive in a lot of different markets," Monsees says. He declines to say more, but the implications are clear: Vaporization is an excellent way to consume everything from weed to cancer-fighting drugs, and being able to exactly control delivery could be hugely powerful.
My own personal opinion on JUUL goes something like this: it is too expensive and its battery life is terrible. There are far better options available on the market that work better, last longer, and are cheaper to run both in the short, medium, and long term.
Additional Resources:
---
JUUL 2022: Latest JUUL News
In 2021, JUUL announced its second-generation JUUL vape, called the JUUL2 Smart Vape. The new JUUL vape, per the FDA's draconian deeming regulations, will not be available in the USA any time soon; instead, JUUL will focus its efforts overseas in the UK, Europe, and elsewhere.
The JUUL2 appears to be geared for sale in countries that have restricted allowable nicotine strength to 20 mg/mL (2 percent) or less. The UK has a 20 mg/mL limit, as do all European Union countries, Canada, Israel, and others.

The JUUL2 will launch with tobacco and menthol pods only. It isn't known if Juul Labs will eventually offer additional flavors. Original JUUL pods are available in mango, mint and berry flavors in the UK, as well as tobacco and menthol. The new pods are not compatible with first-generation JUUL devices, and vice versa.

Source
The key USP of the JUUL2 Smart Vape is that the device is able to identify whether or not a pod is an official JUUL Pod or not. This, according to JUUL, will halt the use of all counterfeit pods on its device, reducing the risk and use of illegal THC carts which resulted in a slew of deaths in the US.
Another upshot of the JUUL2 Smart Vape? You'll HAVE to use JUUL Pods in it which means JUUL can effectively protect itself from cheaper third-party pods running on its device, thus increasing its potential revenue and profits.
Meanwhile, as noted by Forbes, JUUL is embroiled in a host of high-stakes legal proceedings in the US. Here's a quick overview of all the latest JUUL news as of 2022:
In September 2022, Juul tentatively agreed to pay more than $438 million to settle investigations by nearly three dozen states over how it may have marketed to teenagers. The company did not admit any wrongdoing.
In April 2022, Juul agreed to a $22.5 million settlement with Washington state, settling claims that Juul marketed to minors and lied about the addictive nature of the product and agreeing to implement a secret shopper program to police whether retailers are prohibiting minors from buying its products.
In June 2021, Juul settled a case brought by the state of North Carolina for $40 million alleging the company was responsible for an increase in underage vaping in the state.
In November 2021, Juul Labs settled a case filed by the Arizona Attorney General that alleged the company's unlawful marketing practices targeted younger consumers and downplayed the risks associated with vaping. The case was settled for $14.5 million.
My advice? Ditch JUUL and go with an Elf Vape if you want a simple, great-tasting vape with tons of puffs and loads of flavor options.
Drake Equation
Co-founder and Editor of VapeBeat. I make the words.