Tom Hardy vapes and has done for years. In fact, I remember seeing a picture of him vaping before I even made the switch. But what does he use these days?
You see pictures of Tom Hardy online all the time, and a lot of the time he is vaping – as we all do.
But what vape device does Tom Hardy use? We already figured out what Dave Chappelle was vaping on during his latest Netflix special, but Tom's is harder to figure out.
Why? Simple: you only ever catch fleeting glimpses of the vape mod and tank during press interviews and/or location shoots from his latest projects.
I've mined through a few images, however, and I'm pretty sure I know what he's using.
Tom Hardy Vapes But What Does He Use?
I've seen him take a hit a few times during interviews, and he is definitely using an MTL vape tank – most likely the Aspire Nautilus. I could be wrong, but I am 80% sure that is the tank he is using.
The mod, however, is trickier to pin down. But, again, I think I have a pretty good idea about what he uses – or, at least what he's using in the picture below – it's a YiHi-powered SX Mini mod.
Tom Hardy Vapes (And He Knows His Mods!)
If you're unfamiliar with YiHi mods, well… you're missing out. Next to EVOLV's DNA chipset, the YiHi is essentially the benchmark by which all other chipsets are measure with respect to safety and overall accuracy.
The SX Mini is an exceptional mod. It's small, powerful, and is one of the most solid vape mods around. The SX Mini is pricey, but once you've used it you will understand where all that extra money went – it's lightweight, exceptionally built, and it vapes like an absolute champ.
You can pick up the SX MINI Q Mini via DirectVapor for $189.95 (FREE Shipping)
SX Mini Specs & Features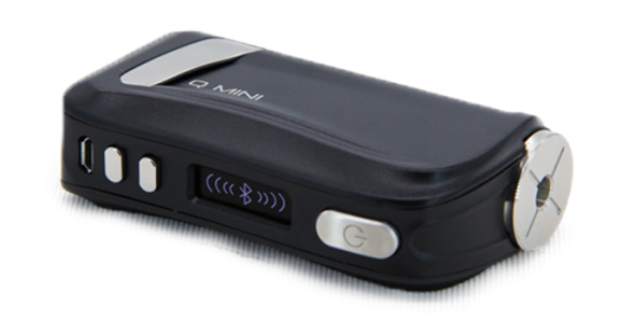 Chip-Set: Yihi SX450J-BT
Requires 2 High-Drain 18650 Batteries (Not Included)
MAX Output Wattage: 200 Watts
Temperature Control Compatible
Compatible Temp Control Wire: SS/Ti/Ni
Output Voltage: 1.0 – 9.5 Volts
Resistance: 0.05 ohm – 3.0 ohm(Power mode)
Output Joule: 10J-120J. (212-572° F/100-300°C)
Resistance: 0.05-0.3 ohms(Joule mode)
Taste modes: Powerful+, Powerful, Standard,Soft, Eco&SXi-Q-S1~S5
Buck-Boost&Boost, DC-DC Converter
USB Balance charge on board(5V/2A)
Zinc Alloy,Aluminum alloy,Stainless Steel & Magnet
Rotary display(Left or Right)
Upgradable firmware .Graphic user interface
Reverse Polarity, output short, low resistance
Low battery voltage, overheat & battery over charge protection
Tom Hardy Vapes Other Mods As Well
I've seen images where he's using other mods too; though I cannot for the life of me figure out what they are! Stands to reason though; the guy's a millionaire, he likes vaping, so I'm sure he has a PHAT collection of mods and tanks at his disposal.
I know I would if I were in his position!
Fancy One For Yourself? Pick Up The SX MINI Q Mini via DirectVapor for $189.95 (FREE Shipping)
Drake Equation
Co-founder and Editor of VapeBeat. I make the words.