What You Get In Report 
Our #1 Picks For Late-2018 Listed In PDF Format
The Best Options For Battery Life, TC Vaping, and Performance 
Access To The Best Deals
Simple, Easy To Consume Content & Info on Each Mod
---
2018's #1 Best Box Mod Vape Option (Power, Design & Value For Money)
The VooPoo DRAG might be kinda old, but it is still one of the best and biggest hittin' vape mods on the planet.
The GENE chip is excellent.
The design is flawless.
And it passed all our durability tests with flying colors.
I've had mine for over 12 months now and it still works as good as it did when I unboxed it.
An immensely powerful and robust mod, the VooPoo DRAG is easily one of the finest (and best-looking) mods ever created. Ideal for newbie vapers and power users, it doesn't really get much better than this!
Want more options? Check out the table below!
Best Vape Mods Right Now | Box Mods & Vape Kits
For a detailed breakdown of our favorite mods of 2018, please use the table below.
Inside, you'll find key points about each mod, reviews when available, and links to the best deals for each device.
If you're browsing the table on mobile, use the + icon to access drop-down menu for reviews of the device and notes on battery performance.
Top-Rated Vape Mod Kits | 2018's Biggest Hittin' Box Mods For Clouds & Performance
Product
Rating
Read Review
Battery Life
Best Place To Buy
PICTURES
Why You'd Buy This Mod
Price

UWELL DRAG

98%
Dual 18650s; Excellent Power Management + All Day Battery Life

Brilliant Design + Super Robust 
GENE Chip is Ridiculously Good
Great All-Round Performer 
Excellent Value For Money 
Tons of Vaping Modes 
Hits Like A Freight Train

Vaporesso Polar Kit

92%
Dual-18650s; Fresh Cells Easily Do 1-1.5 Days (Moderate Usage)

One of The Best Looking Kits Around 
Stunning Mod Design 
Brilliant Performance Across The Board 
OMNI Board 4.0 is Super Advanced Vape Chip 
TONS of Vaping Options – TC, Power, ByPass, Curves 

GeekVape NOVA Kit

95%
Dual-18650s, So Excellent With Good Quality Cells

Stunning Design + Proper Old School Box Mod 
Cerberus Mesh Tank is Phenomenal 
Great Performance, Plenty of Vaping Modes 
One of The Best Looking Mods of 2018 
AS Chip Ensures Fast Firing + Lots of Safety Features

Innokin Proton Kit

88%
Dual-1850; Excellent Power Management >12 Hours With Moderate Vaping

Simple To Use 
Great Systems UX; Tons of Vaping Modes 
OLED Display 
Comes With A Solid Sub Ohm Tank 
Ideal For New Vapers 

SX G-Class Mini Luxury Edition

88%
Dual 18650s; Excellent All Day Power + Idea For RDAs and Sub Ohm Tanks

Beautiful Look & Feel – Ultra-Premium 
YiHi Chip is One of The Most Advanced on Market 
Super Accurate TC Vaping
OLED Display + Great Software UX 
Reliable Performer (In Any Vaping Mode)
You Want The Best Technology

Wismec Reuleaux RX GEN3

90%
Amazing – It Runs Three 18650 Cells (48 Hours Easily)

Insane Battery Life – 2.5 to 3 Days Per Charge 
Great Design & Finish
It Runs 3x18650 Cells (But It's V. Portable) 
Excellent Value For Money 
Great Performer

iJoy CAPTAIN PD270

94%
Dual-20700s; Battery Life Is INSANELY Good – 2-3 Days With Moderate Usage

Runs Dual-2700 Cells + Massive Battery Life 
Great Design, Proper Eye-Catching 
Solid TC & Power Mode Performance 
Super Durable 
Simple To Use

FLAWLESS TUGLYFE DNA 250

96%
Dual 18650s; DNA Chip is Excellent At Sipping Power – All Day Vape Guaranteed

Unique Design 
Market-Leading Performance (DNA 250 Chipset) 
Masses of Power 
Ergonomic Design 
Ideal For Expert TC Vapers 

GeekVape AEGIS Mod

90%
Single 26650 Cell; Great For MTL Tanks & Single Coil RTAs

100% Water Proof / 100% Shock Resistant
Runs 1x 26650 Cell 
Ideal For Low-Power Tanks (MTL Tanks + Single Coil RTAs) 
Looks BADASS
Vapes Like A Dream (In All Modes)

Lost Vape Triade DNA250

100%
Dual-18650s; Exceptional Power Management + 1.5 to 2 Days Between Charges

Excellent, Premium Design 
Beautiful Finish & Overall Aesthetics
DNA 250 Chip is Best In The Business 
Market-Leading TC & Power Accuracy
Tons of Customization Options With Escribe Software 
---
Related Content (You Should Bookmark For Later…)
Best RDA Tanks (Updated For 2018)
2018's Greatest RTA Tanks – Ranked N' Rated
VapeBeat's "Highest Rated" E Juice Guide
Box Mod vs Squonk Mod: What's The Difference? 
---
What Vape Mod I Am Personally Using Right Now (October 2018)
Right now I'm using and abusing the awesome Wotofo FLUX kit, which is a vape mod and tank combo designed by the always-awesome Rig Mod.
You can check out my full review of the Wotofo FLUX kit for a detailed breakdown of what makes this kit cook. If not here's a shorter version: it is totally badass – from how it looks to how it performs.
For me, it's the ideal mod. It looks great, performs great, and it is super-simple to use.
There's no temperature control vaping or fancy vaping modes, just a simple power/wattage mode, and a great 1.3in OLED display.
The styling is EPIC and it is available in a range of colors.
The Wotofo Flow Pro tank that it comes with (a mesh coil setup) is also totally brilliant.
My first coil lasted two weeks (and counting) and the flavor is precise and intense.
It might be late in the game for 2018, but the Wotofo FLUX kit is definitely one of the best setups around right now, especially if you like simple, good-looking vape mods with tons of power and style.
You can grab one via VaporDNA for just $69 (Down From $96)
---
What Is A Vape Mod?
If your brand new to the world of vaping, first off, welcome, great to have you aboard! Second, you might be wondering just what, exactly a vape mod is?
If you are, don't worry: a vape mod is simply the device that powers your tank and/or atomizer.
Vape mods run on batteries, removable (18650s) or non-removable, and come packed with an array of settings that are designed to make vaping super easy and super-engaging.
The Anatomy of Vape Mod
The basics of how a vape mod works are very simple: you have power (which comes from the batteries), a chipset that regulates said power, and controls for adjusting the power (usually in wattages).
Most box mods feature other settings too, though – things like:
Bypass Mode – This turns the mod into a mech mod by sending the full power of the battery direct to the atomizer. You get big hits, but it's not advisable for newbie vapers, as it can put too much strain on the batteries
TC Vaping – Temperature Control vaping is great, it basically means you set a maximum temperature for your coils, and the mod does not take it above that. TC vaping is great for battery life and ensuring you don't get dry hits or burn out your coils too quickly.
Curve Mode – Curve Mode is where you can pre-set the power curve, so, for instance, you could start off low, jump to a higher setting, and then taper off towards the end of the period.
For 99.9% of vapers, you'll be more than happy vaping in power mode, just using wattages as your measure of how much power your mod is delivering.
I tend to use wattage mode more or less exclusively, and I've been vaping for YEARS. It's simple, easy to live with, and you can really customize the vapor this way too.
---
The Different Types of Vape Mods
When it comes to vape mods you have a lot of options, but the main type is as follows:
Traditional Box Mods – these types of mods are the focus of this article; they pack in lots of safety features, displays, and can do things like temp control vaping, and usually run some kind of microprocessor to regulate everything
You can check out our A-Lists for every conceivable style of mod/vape kit below:
Mech Mods (Note: These Aren't For Beginners)
---
Cheap Vape Mod Kits (Under $90)
If you're after a fully-fledged vape kit, so, a mod and a tank, the vape mods laid out below are what get my vote right now.
They're all great mods and decent(ish) tanks.
Mostly though, you're getting a banging vape mod and that means you're free to shop around and upgrade the tank if you so wish.
1) Vaporesso Polar Kit
Best Price: DirectVapor: $81.95 (FREE SHIPPING)
If you like your mods futuristic looking, then the Polar kit by Vaporesso should be HIGH on your list.
This is one BADASS vape kit. You get an awesome mod, powered by Vaporesso's exceptional OMNI Board 4, which brings market-leading safety features and TONS of vaping modes.
The tank it comes with is pretty darn solid too. The Cascade Baby is a weird looking setup, but she vapes great and has very decent coil performance – especially if you go for the mesh coil heads.
I love this mod. Its display and menu are some of the best I have ever seen and it is a solid, all-around performer.
2) Innokin Proton Kit
Best Price: VaporDNA: $60.99
Like the Polar kit, the Proton by Innokin is a well designed, fully functional vape mod.
It does TC. It does memory modes. It does EVERYTHING and more, basically…
If you're a technical vapor, or you like tinkering with settings, the Proton mod has you 100% covered.
You also have a great tank that uses Innokin's PLEXUS coils (think mesh coils, just with a twist) which deliver exceptional flavor and great longevity.
I'm a BIG fan of Innokin, and the Proton mod is just about the best thing the company has made to date.
---
3) Wismec Reuleaux RX GEN3 – Best Vape Mod For Battery Life
Best Price: DirectVapor – $70.99 (FREE SHIPPING)
The RX GEN3 is a very handsome chap. He's a slightly chunky, but thoroughly designed and perfectly thought out.
Unlike the original GEN3, the GEN3 Dual runs 2×18650 batteries. This means it is slimmer and more portable.
You still get ALL the Reuleaux RX features, however, including masses of power, tons of settings, great safety features, an OLED display, and support for TC vaping.
The GNOME King vape tank isn't that well known, but it is a solid performer. Ideal if you're new to vaping and just want something that is simple to set up and delivers great flavor.
---
What Are The Best TC Mods?
Temp control vaping is an important element of any mod, but sadly a lot of cheaper vape mods cannot hold a candle to more expensive devices.
And the reason for this is simple: technology.
EVOLV's DNA chip, and also the YiHi chip, are market leaders when it comes to temp control vaping.
For this reason, if you want a solid, reliable and accurate temp control vape mod, you're going to have to pay a premium.
Right now, I like the Lost Vape Triade DNA 250 and the SX Mini SL Class 100W SX485J TC Vape MOD for my temp control sessions.
Neither are cheap, but both are excellent TC mods.
Benefits of TC Vaping
Stops Dry Hits – Because the atomizer will never over-fire, it will never burn the coil. This means no more dry hits, as the coil is always set to a maximum output that does not exceed its performance cure. This is the #1 reason most vapers use TC mode when vaping.
Safer – With TC vaping, you never put too much strain on the battery, as the maximum output is set and this stops any additional strain being put on the cells. This means it is safer when it comes to vaping with removable batteries like 18650s and 20700 cells.
Better For Battery life – The big thing here is efficiencies; running you vape tank in TC is great for efficiency. It keeps power regulated and ensures you don't overpower your battery life. In this respect, your tank simply sips power and still gives you plenty of clouds and flavor, just without killing your battery life.
Improves Coil Life Span – Burning out your vape coils SUCKS and the #1 culprit for this is too much power. When you TC vape, you're operating within a set power curve, you never exceed it, and this helps to extend the life of your coils, as they're never taxed needlessly.
SX Mini SL Class 100W SX485J TC Vape MOD
SX Mini mods are market-leaders when it comes to design, luxury, and performance.
Tom Hardy favors these mods, and when you test out its features, you will know why the cost a little extra.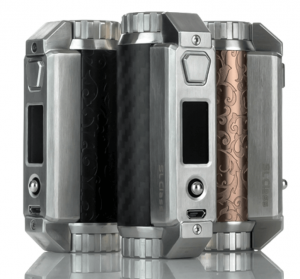 Specs wise, you have a max of 100W to play with. But inside its TC suite is where things really come alive; you have some of the most accurate performance around.
SX Mini SL Class 100W Specifications
YiHi SX485J Chip Set
Firmware Upgrades via Micro-USB Port
Firing Modes: Bypass (Mechanical), Powerful+, Powerful, Standard, Soft, Eco, SX-Q-S1-S5 & Novice Mode
5 to 85 Watt Range
Capable of 100 Watts with use of 35A Battery
Requires 1 x 18650, 20700 or 21700 Battery (SOLD SEPARATE)
0.05 to 3.0 ohm Atomizer Resistance Range
TFT Color Display
Bypass Mode
Novice Mode
Advanced Mode
SXi-Q Intelligent Taste Curve
Temperature Control
And this means exceptional, reliable performance that will prolong your coil's lifespan, improve flavor, and conserve your battery life.
The SX Mini SL Class 100W SX485J TC Vape MOD is also a beast when it comes to wattage mode and other settings as well, making it a master of all trades.
And while it does cost $139.95, the features it contains do have massive effects on your tank's performance, as well as flavor and the life of your batteries.
Definitely not one for a novice, but if you've been vaping a while and are looking for the next step up, this could well be the mod you've been searching for.
And here's our picks for the best box mods in 2018 (from the top of the article) once again:
Product
Rating
Read Review
Battery Life
Best Place To Buy
PICTURES
Why You'd Buy This Mod
Price

UWELL DRAG

98%
Dual 18650s; Excellent Power Management + All Day Battery Life

Brilliant Design + Super Robust 
GENE Chip is Ridiculously Good
Great All-Round Performer 
Excellent Value For Money 
Tons of Vaping Modes 
Hits Like A Freight Train

Vaporesso Polar Kit

92%
Dual-18650s; Fresh Cells Easily Do 1-1.5 Days (Moderate Usage)

One of The Best Looking Kits Around 
Stunning Mod Design 
Brilliant Performance Across The Board 
OMNI Board 4.0 is Super Advanced Vape Chip 
TONS of Vaping Options – TC, Power, ByPass, Curves 

GeekVape NOVA Kit

95%
Dual-18650s, So Excellent With Good Quality Cells

Stunning Design + Proper Old School Box Mod 
Cerberus Mesh Tank is Phenomenal 
Great Performance, Plenty of Vaping Modes 
One of The Best Looking Mods of 2018 
AS Chip Ensures Fast Firing + Lots of Safety Features

Innokin Proton Kit

88%
Dual-1850; Excellent Power Management >12 Hours With Moderate Vaping

Simple To Use 
Great Systems UX; Tons of Vaping Modes 
OLED Display 
Comes With A Solid Sub Ohm Tank 
Ideal For New Vapers 

SX G-Class Mini Luxury Edition

88%
Dual 18650s; Excellent All Day Power + Idea For RDAs and Sub Ohm Tanks

Beautiful Look & Feel – Ultra-Premium 
YiHi Chip is One of The Most Advanced on Market 
Super Accurate TC Vaping
OLED Display + Great Software UX 
Reliable Performer (In Any Vaping Mode)
You Want The Best Technology

Wismec Reuleaux RX GEN3

90%
Amazing – It Runs Three 18650 Cells (48 Hours Easily)

Insane Battery Life – 2.5 to 3 Days Per Charge 
Great Design & Finish
It Runs 3x18650 Cells (But It's V. Portable) 
Excellent Value For Money 
Great Performer

iJoy CAPTAIN PD270

94%
Dual-20700s; Battery Life Is INSANELY Good – 2-3 Days With Moderate Usage

Runs Dual-2700 Cells + Massive Battery Life 
Great Design, Proper Eye-Catching 
Solid TC & Power Mode Performance 
Super Durable 
Simple To Use

FLAWLESS TUGLYFE DNA 250

96%
Dual 18650s; DNA Chip is Excellent At Sipping Power – All Day Vape Guaranteed

Unique Design 
Market-Leading Performance (DNA 250 Chipset) 
Masses of Power 
Ergonomic Design 
Ideal For Expert TC Vapers 

GeekVape AEGIS Mod

90%
Single 26650 Cell; Great For MTL Tanks & Single Coil RTAs

100% Water Proof / 100% Shock Resistant
Runs 1x 26650 Cell 
Ideal For Low-Power Tanks (MTL Tanks + Single Coil RTAs) 
Looks BADASS
Vapes Like A Dream (In All Modes)

Lost Vape Triade DNA250

100%
Dual-18650s; Exceptional Power Management + 1.5 to 2 Days Between Charges

Excellent, Premium Design 
Beautiful Finish & Overall Aesthetics
DNA 250 Chip is Best In The Business 
Market-Leading TC & Power Accuracy
Tons of Customization Options With Escribe Software