In the last 18 months, we have personally tested over 150 vape mods from a range of vape brands. This guide is the distillation of hundreds of hours of testing. And right now, these are the #1 best vape mods you can buy in 2021…
---
If you're in the market for a new, cool vape mod in 2021, you have plenty of great options to choose from. We're about halfway through the year now, so we've tested quite a few mods already.
Only the best, however, make it onto this page. In order to be included here, the mod has to be exceptional in every way.
I've included a table below for a quick peek at 2021's coolest vape mods, and if you need more detail there's plenty more information included below.
The best vape mods we've tested and rated are listed and covered in more detail below.
---
---
5 Cool Vape Mods To Try In 2021
---
2021's #1 Pick – VooPoo Drag Max
But our #1 pick right now is the VooPoo Drag Max.
Brilliant Performance. Supports MTL, Sub-Ohm & RBA
Many vape brands have tried to meld a pod vape and a vape mod into one device. But nearly all without exception have failed.
And this is what makes the VooPoo Drag Max so very, very special – it is one of the best vapes I have ever used, thanks to its innovative design and ability to run all different kinds of tanks.
For flavor, battery life (Although the Drag X Pro now offers better battery life), and choice of coils and tanks, it is unbeatable. You can do all kinds of vaping with it from RBA-style to MTL and everything in between, thanks to its innovative design.
This really is the Swiss Army Knife of vape mods. And, if we're still here in a couple of years, it'll probably be what most vape mods are like – it is really that good.
---
Need More Options? Here's The Best of The Rest For 2021…
#1 – VooPoo Argus GT 160W Starter Kit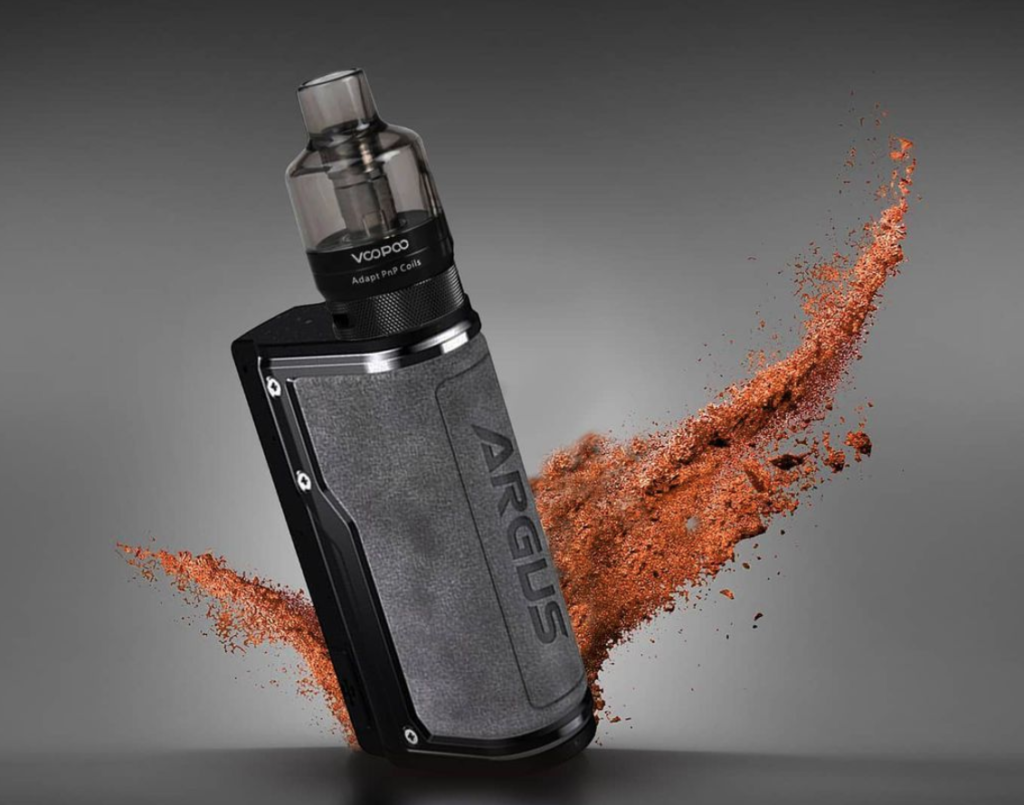 Killer Design. Amazing Performance
The VooPoo Argus GT 160W Starter Kit is an inexpensive, feature-rich vape mod and tank kit that quickly became one of our all-time favorites in just a few days. It looks great, produces outstanding flavor, and it is really simple to use, thanks to its simplified menu and ergonomic design.
Inside, you have VooPoo's GENE chipset which brings with it a host of vaping modes – from Bypass Mode to TC Vaping, it covers all the basics and a whole lot more. I also really love VooPoo's PNP Pod Tank; it's great for flavor and the coils last for ages.
The kit comes with two coil options, as well as one loaded in the PNP Pod tank: 1 x 0.2ohm PnP-VM5 Coil and 1 x 0.15ohm PnP-VM6 Coil. In my experience with this device, the coils lasted, on average, about two and half weeks, making them very, very impressive in that context.
This vape mod kit is a tour de force of performance, reliability, and great features. And because it runs on 2×18650 batteries, you never have to worry about battery life either. VooPoo's GENE chip is also excellent at power management too. I love the VooPoo Argus GT 160W.
---
#2 – GeekVape Aegis X
Exceptional Value For Money
The GeekVape AEGIS X was our top-rated vape mod of 2020. And the reason? It is brilliant – this is why it is still one of our top picks for 2021. You get a stunningly designed vape mod with masses of power and a beautiful display, as well as one of the best mesh coil tanks in the business. This is a near-perfect vape kit.
If you're looking for value for money, best-in-class design, and water and dust resistance, the GeekVape AEGIS X is 100% where it is at – and for the money, this kind of vape kit is near-unbeatable. It looks like a $180 vape mod but it retails for a fraction of this. It has been one of our go-to vape kits for over 12 months now and I do not see that changing any time soon…
---
#3 – INNOKIN MVP 5
The Vape Mod That Does It All
If you want a vape mod that will happily work with RDAs, mesh coil sub-ohm tanks, RTAs, and MTL tanks, then the INNOKIN MVP 5 is well worth a look. I think it is one of the best looking vape mods on this list. And it isn't just a pretty face either; in our tests the INNOKIN MVP 5 beat out a couple of vape mods that were A LOT more expensive. And that should tell you everything you need to know about this mod.
The Innokin MVP 5 looks amazing and it vapes just as good. Perfect for all styles of vape tanks – from MTL tanks to RDAs and mesh coil sub-ohm tanks. We love the retro, classic design of this vape mod and its 120W of power under the hood is more than enough for any style of vaping. Innokin smashed it outta the park with this one!
---
#4 – Vaporesso Gen S 220W
I've been a big fan of Vaporesso's products for years now. Vaporesso makes great-looking hardware and is a big fan of pushing the envelope when it comes to innovation.
With the Vaporesso Gen S 220W, you have 220W of potential power, an array of vaping modes, and a gorgeous 0.91in OLED screen that displays everything you need to know about.
The form-factor, for me, is perfect for a vape mod; it sits wonderfully in the palm of your hand and it looks great running any style of tank.
Add in Vaporesso's outstanding internal tech, and you're looking at one of the best vapes on the market right now.
If you're looking for a premium vape mod on a tight budget – it retails for just over $42 – then the Vaporesso Gen S 220W is the one to go for.
---
#5 – Uwell Crown 5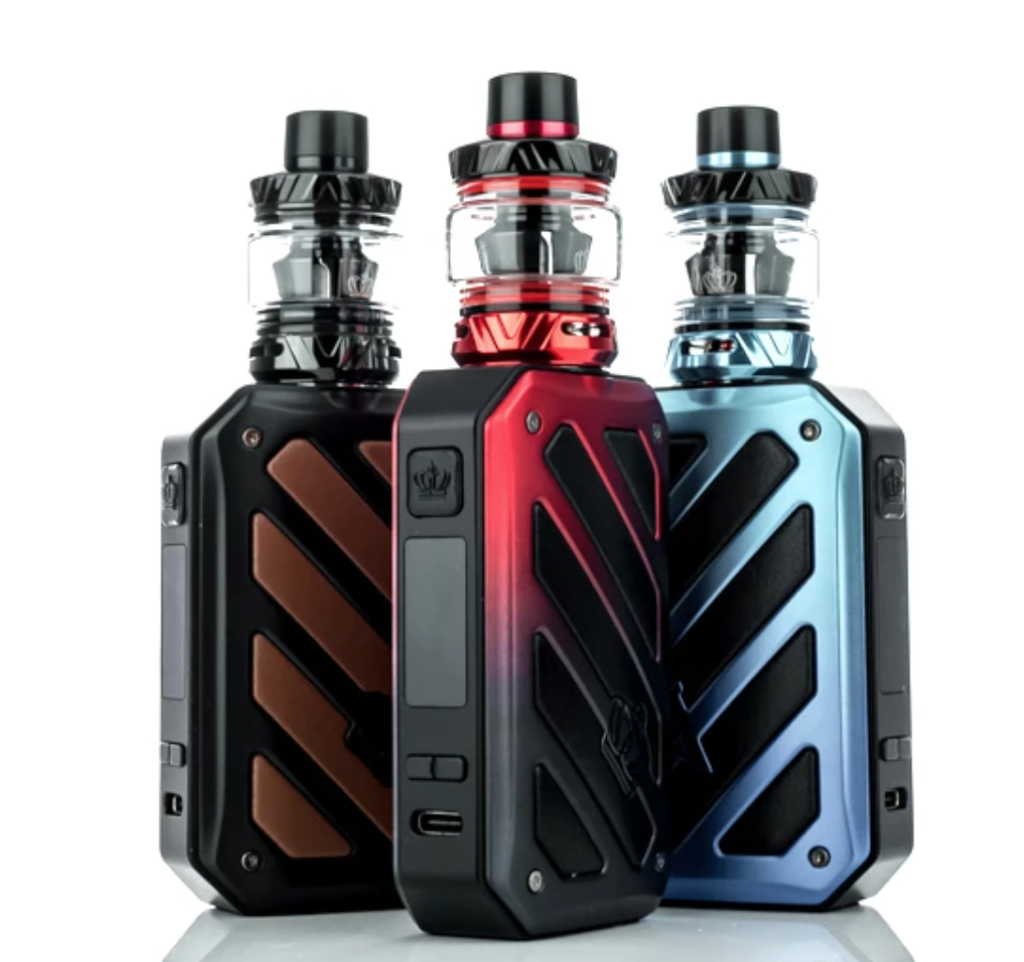 The OG UWELL Crown vape tank was a huge hit when it first dropped, way back in 2014. Since then, UWELL has been pumping out updates to its Crown tank series every year. It has also branched out in vape mods.
The UWELL Crown 5 vape kit brings together UWELL's fifth-generation Crown tank and a vape designed specifically for use with it. The two play together really nicely as well, delivering incredible flavor, massive clouds, and very good coil performance.
The mod itself is handsome enough, it has a rather rugged look, which I quite like, but the star of the show is how well the mod and the tank work together. If you're after a killer mesh coil vape tank and an excellent vape mod to run it, the UWELL Crown 5 kit is one of the better options on the market right now.
---
#6 – Steam Grave Hadron Pro DNA250C Box Mod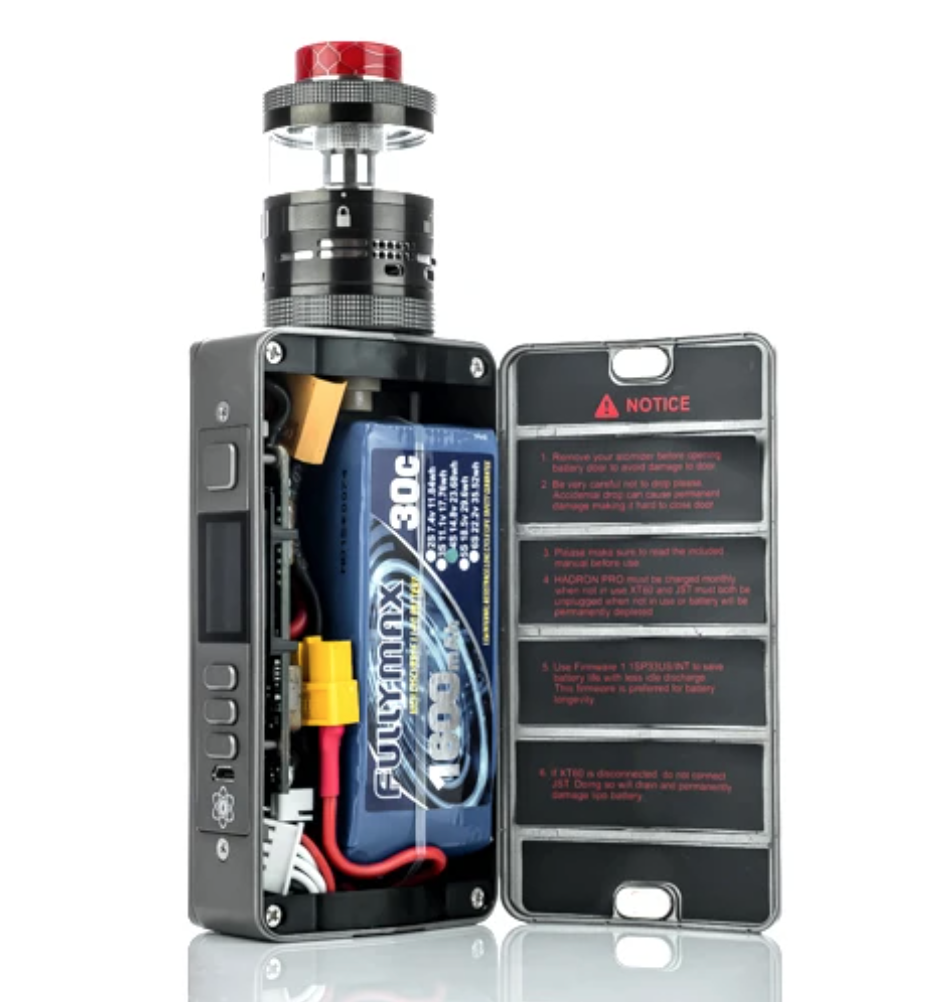 As vape kits go, the Steam Crave Hadron Pro DNA250C Box Mod is fairly bonkers. Not only does it look like something from a sci-fi movie, but it also runs EVOLV's insanely good DNA 250c vaping chip. This means incredible accuracy and market-leading TC vaping.
The kit comes with Steam Crave's Aromamizer Titan V2 41MM RDTA, a monster of a vape tank that can hold up to 32ml of vape juice. That's right: 32ml! You'll need some big ass coils to build it though. But when you do, and you hit that fire button, the Hadron Pro DNA250C Box Mod will blow your head off – it hits like a freight train (in a good way).
Obviously, if you go with the Hadron Pro DNA250C Box Mod, you'll need to be au fait with building and installing your own coils. If you're cool with that, this is perhaps the most interesting vape mod and tank kit ever released. There is nothing else quite like it on the market.
---
#7 – GeekVape Aegis Mini 2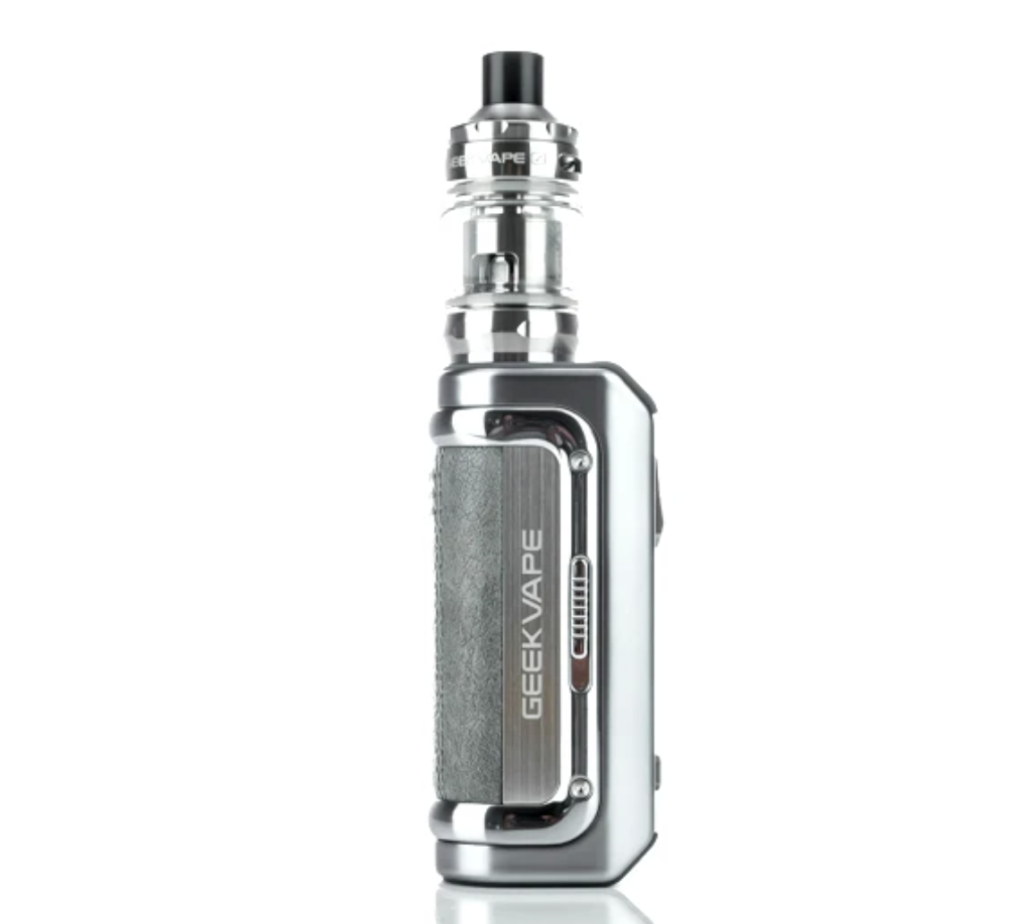 As I've gotten older, I've started to appreciate simple vape kits more and more, and the GeekVape Aegis Mini 2 is just one of those kits that you pick up and use, and fall in love with – it's just so simple and straightforward.
It doesn't weigh much, it looks smart, and it just kind of gets out of the way of itself. It comes with an IP68 rating, meaning it is water and dust-resistant, so you can now safely vape in the shower or hot tub without worrying about dropping your mod.
The kit comes with GeekVape's Nano 2 Tank and it will hold 3.2ml of vape juice. Is the Nano 2 Tank any good? Yes. It's a brilliant little performer and is ideal for any type of vaper, whether new or old. The coils are great too, lasting a solid 12-15 days between changes.
---
#8 – GeekVape L200 Aegis Legend 2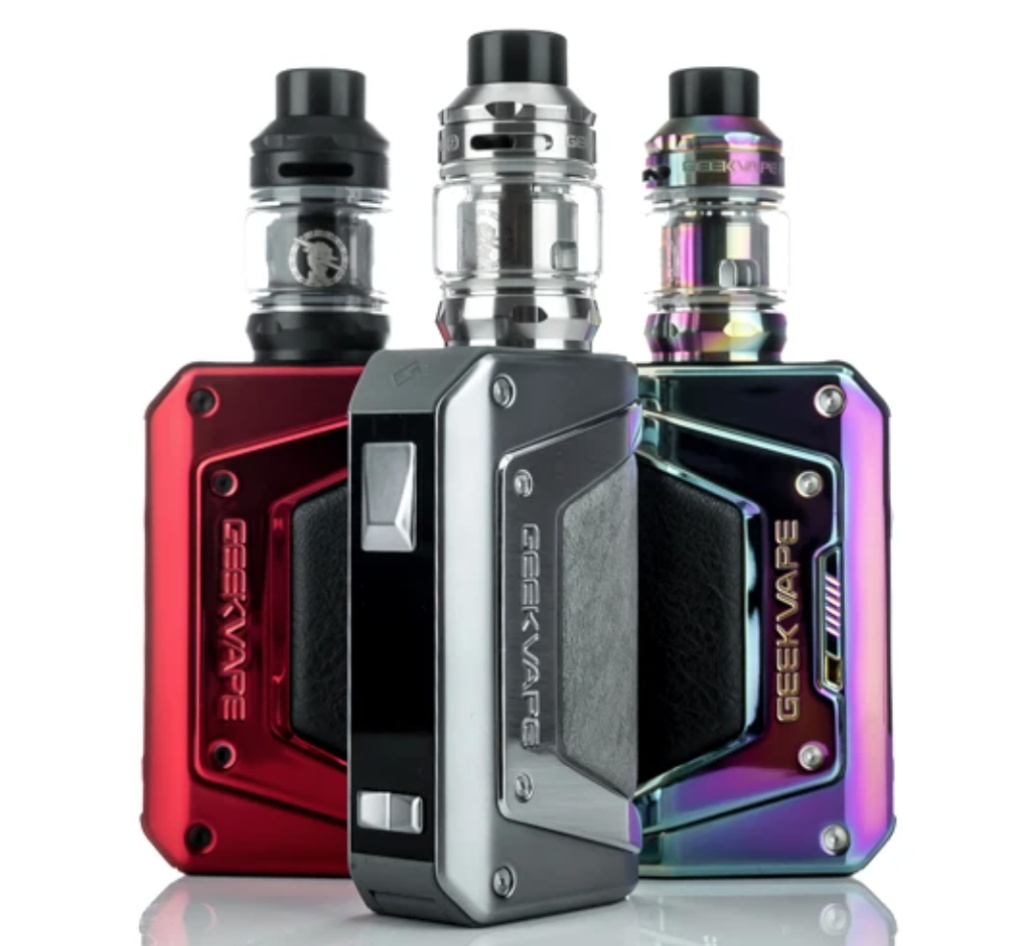 If you want something a little fancier, something with plenty of power under the hood and that comes with a brilliant mesh coil tank, the GeekVape L200 Aegis Legend 2 is another favorite of the team.
This beautifully designed kit is the successor to GeekVape's massively successful Legend mod. And it is a vastly superior beast to its forefather. The design is smarter, it has more features, and it just looks a whole lot better.
Like the OG GeekVape Legend, the GeekVape L200 Aegis Legend 2 packs in all the same stuff as before – it is water, dust, and shock-resistant. I tested them all too; this vape mod could survive a bomb blast. Oh, and it is also 30% lighter and 15% smaller than the original GeekVape Legend.
And if that wasn't enough, it comes with GeekVape's Z Sub tank which is by far and away one of my favorite mesh coil sub-ohm tanks. The flavor it produces is immense and the coils last an eternity. What more could you want from a mid-range, well-priced vape kit!?
---
What Vape Mod Should I Get?
As of right now, my two personal recommendations for 2021's best vape mods would have to be the GeekVape AEGIS X, the Vaperesso GEN S, and the VooPoo Drag Max.
For a straight-up vape mod, meaning something you can use with RDAs, RTAs, and mesh coil tanks, I would get the AEGIS X – it is my current #1 option. Why? Because it serves up excellent value for money and it will work with any style of vape tank, from MTL to RDAs and Mesh Tanks.
If you want an all-in-one, versatile vape kit, go with the VooPoo Drag Max.
Why?
Well, it is basically what the future – providing the vape market has one – will likely be like.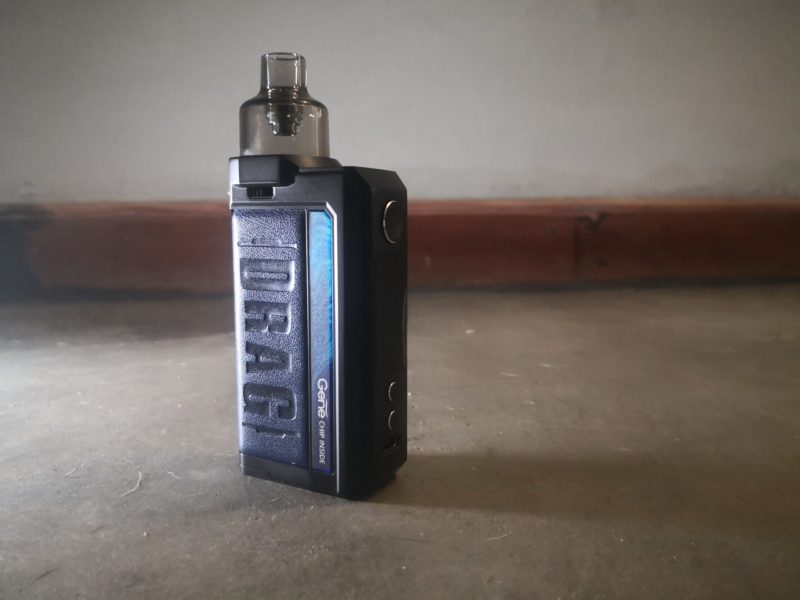 The VooPoo Drag Max – Click Here For The Latest Pricing
You have vape mod-style power and control, as well as excellent battery life, just in a small, compact pod-style vape.
It runs a range of pods/tanks, so you can run it as an MTL setup, a sub-ohm, a mesh coil one, or an RBA.
Basically, it does it all. And it is WAY cheaper (like 60% cheaper) than the Lost Vape Centaurus too. And, in my opinion, it is way more useful too.
As of right now, the VooPoo Drag Max is my number-one favourite vape mod of 2021 so far.
It's what I use and I think you guys will really love it.
---
---
Best Vape Mods 2020 
2020 was a great year for vape mods; we tested A LOT of mods during the 12 month period (around 60, I think, in total). But only a select few made it onto our best list which you can see in full below.
For me, the best overall vape mod for 2020 has to be the GeekVape AEGIS X.
For looks, for performance, and for overall reliability and value for money, it simply cannot be beaten.
Even in 2021, I'd argue the AEGIS X is still well worth a look.
If you want something WAY more premium, however, go with the SX MINI X Class.
This vape mod retails for $238 via DirectVapor which is a lot of cash. But you do really get what you pay for with vape mods and the SX MINI X Class is very much in a class of its own when it comes to build quality, accuracy, and temperature control performance.
#1 – SX Mini X Class Box Mod
If you can stomach the price, the SX Mini X Class Box Mod is just about one of the best vape mods money can buy. It's hella expensive, but with this big price tag comes massive performance, market-leading accuracy, world-class temperature control, and the most premium build materials you'll ever see on a vape mod. This is the Mercedes S Class of vape mods.
#2 – GeekVape AEGIS Legend
If you're looking for the best value vape mod starter kit on the planet, the Geek Vape Aegis Legend LE is 100% where it's at right now – this kit cannot be beaten when it comes to value for money. You get a brilliant vape mod and a stunning mesh coil tank in one package. No other vape brand delivers on value for money like GeekVape, and the Geek Vape Aegis Legend LE is no exception. This one comes highly recommended.
#3 – Vaporesso Gen Mod 220W
Gorgeous design? Check. Masses of power? Check. Works great with all styles of vape tanks from RDAs to MTL tanks? Check. The Vaporesso GEN Mod 220W isn't just a good looking vape mod. It is also one of the most advanced (and best value for money options) on the market right now, thanks to Vaporesso's hugely impressive OMNI board technology. If you cannot afford $100+ for a vape mod, but you want all those exotic vaping modes, the Vaporesso GEN Mod 220W is the one to go for…
#4 – SMOK RPM160
Like the SMOK Alike, the Smok RPM160 Pod Mod is again another hybrid pod vape device, pulling aspects of pod vapes and vape mods into one seamless device. You have 120W of power under the hood, a gorgeously designed chassis, and SMOK's brand new IQ-160 chipset which brings an array of vaping modes into play. If you want a fancy pod mod that behaves and performs like an actual vape mod, the Smok RPM160 Pod Mod is 100% worth a look.
#5 – GeekVape AEGIS Solo
GeekVape's AEGIS Solo is a great little vape mod if you're after something that is simple to use and super-durable. The Aegis Solo runs on a single 18650 battery, so it's best used with single coil RTAs and MTL tanks. Available in a range of colors and powered by GeekVape's awesome AS chipset, the Aegis Solo has you covered for all styles of vaping – from TC vaping to Bypass Mode. 
The Top Cheap Vape Mod
When it comes to vape mods, you can quickly start spending A LOT of money by adding more and more mods to your collection. I spend about $300-$400 a month on mods, though this is mostly for testing purposes – so I can write it off as a business expense.
If you're just a casual vaper, however, and you don't want to spend a lot of money on a vape mod, meaning you just want something cheap and functional, our #1 pick right now is the one we've mentioned most in this post – the GeekVape AEGIS X.
It's totally badass. It works great. And it is ideal for all styles of vape tanks. For this reason, it is the most complete vape mod on this list. You also get amazing design, loads of features, and excellent performance across the board.
Our #1 Pick For High-End Vape Mods
When it comes to high-end mods, you have plenty of options. If money is no object, you're best off going with either a DNA 250C mod like the Lost Vape Centaurus or a YiHi mod like the SX Mini X Class.
Both of these mods are exceptional performers, are honed from premium build materials, and, pound for pound, deliver the best performance you can currently get inside the vape mod market.
If you like or want to do more advanced things like temperature control vaping, you need to be using a DNA or YiHi mod. For optimal performance, there's just no way around it.
Both of these mods are market-leaders with respect to TC vaping, but they're also class-leaders with respect to accuracy and power delivery. 50W on a YiHi or DNA mod is exactly 50W, unlike on cheaper mods where there will be a discrepancy (sometimes by as much as 20-30%).
Best Mini Vape Mod – The Hybrid Vape is HERE…
Not so long ago, you either had a pod vape or a box mod and vape tank. You could also use a mech mod. In 2019, things changed. A new type of device hit the market.
Part vape mod, part pod mod, these devices bring together all the power and features of a vape mod and tank combo, just inside an all-in-one pod vape design.
And right now, the best of the best is the VooPoo DRAG X – it literally NAILS this concept unlike anything else on the market.
The big USP of these devices is that they're smaller than standard vape mod and vape tank combos. But, importantly, they deliver more or less the same performance, allowing for up to 120W of power.
Right now, SMOK and VooPoo are dominating this new niche of products. For me, SMOK and VooPoo's latest releases, listed in the boxes above, are the two best examples of this new style of ultra-powerful AIO vape devices.
Our Favorite "Small Vape"
If you're looking for a small, portable vape mod that you can use with a vape tank, the GeekVape AEGIS Solo 100W is just about as good as it gets right now.
This mod is water-proof and beautifully styled. It runs on GeekVape's latest and greatest vaping chipset which means access to advanced features like TC vaping and Bypass Mode to name just a few.
You'll want to use lower power tanks with it, though, for optimal performance as it only runs on one 18650 cell.
My advice? Use an MTL tank or a single coil RTA. You do not want to be sub-ohm vaping on a vape mod that only has a single 18650 battery inside. You'll run the battery down far too quickly.
If you want a small vape that is technically an all-in-one vape kit, the FreeMax AutoPod would be our #1 recommendation right now. As a small, compact pod device, the AutoPod has similar controls to a vape mod, so you can dial in the power to your exact requirements, but, unlike a traditional vape mod, you do not need a tank to use this device – it's a pod vape essentially.
---
Best Vape Mods 2019
For more detail on each of the vape mods listed in the above table, including specs and notes on how they perform, read on below. Where possible, we've also included video previews too, so you can get a feel for the device before making a purchase commitment, so if you're looking for a cool vape, something that'll last you the next 12+ months, these vape box mods are the ones you want to be looking at.
This post is updated regularly too, so every time we test a new vape mod and it meets our criteria, it gets included here. Please note: in order for ANY vape mod to get on this list, it has to be exceptional – from how it works to how it performs. Good isn't good enough, basically…
In our review of the GeekVape AEGIS X Kit, we called it the perfect vape mod. And the reason for this is threefold: 1) it's well priced; 2) it looks amazing, with its stunning design and OLED display; and 3) it comes with a brilliant mesh coil tank, one of the best on the market right now.
Most vape mods have weak links, things that aren't quite perfect. It might come with a sub-par vape tank or have difficult controls. Most have their quirks, but the GeekVape AEGIS X Kit is solid all the way through – from its design to how easy it is to use. You also have masses of power and myriad vape settings too for things like temperature control and Bypass Mode.
Best Deal: $68.95 w/ FREE SHIPPING (DirectVapor)
For me, the GeekVape AEGIS X is the #1 vape mod you can buy right now. It's priced great, it's built like a luxury German sedan, and it performs like a Tesla off the mark. And if that wasn't enough to tempt you, it also comes with one of my favorite mesh coil tanks of all time, AKA the GeekVape Cerberus, which provides market-leading flavor and coil performance.
Out of all the vape mods I've tested in 2020 so far, it is the GeekVape AEGIS X that I keep coming back to. And it doesn't matter if I'm using RDAs, sub-ohm tanks or an MTL tank, either. I always want to be using this vape mod. And that's rare. Normally, I'll get bored after a week or two. With this? I've been using it for months now…
Coming in second place for 2020 is the VooPoo Drag 2. I tested this mod back in 2019, but it is still one of the best vape mods on the planet. For looks, for power, for performance – the VooPoo Drag 2 has it all. And that's largely down to its GENE chip, which brings a multitude of benefits with it for those that want to take their vaping to the next level.
The design of the VooPoo Drag 2 is solid and robust. I love the resin paneling and overall finish. The button placement is great and the OLED display, while simple, shows you everything you need to know. The UFORCE tank is OK, but it's not as good as the GeekVape Cerberus (the one you get with the GeekVape AEGIS X kit).
Best Deal: $79.95 w/ FREE SHIPPING
Designed for RDAs, RTAs, sub-ohm tanks, and MTL tanks, the VooPoo Drag 2 will basically run whatever you put on top of it. It is great for RDAs, however, and again, this is down to its GENE chip. The GENE is monumentally powerful. You hit the fire button and your RDA springs into life immediately – there is no delay. It's like the VooPoo Drag 2 has a turbo in it or something.
Another reason why I recommend this mod so highly is because I have had mine for over 12 months and it still works great. Most vape mods – especially cheaper ones – do not last 12 months or more. This is just a fact. But the VooPoo Drag 2 does – and I have proof of that right here in my hand. So, if durability and longevity are important to you, I can confirm that the VooPoo Drag 2 is built to last.
The Vandy Vape Jackaroo is the newest mod on this list, and it got on here for a variety of reasons, according to our team. The first is that this mod is basically indestructible – it's water-proof, dust-proof, and shook-proof. You have 100W of power inside it, and the exterior design is beautiful to behold.
It is also the only single 18650 vape mod on this list. And for this reason, I would advise that you only use the Vandy Vape Jackaroo with single-coil RDAs, single-coil RTAs, and low-power MTL tanks. You can run it with performance RDAs and sub-ohm tanks, but it will zap your battery life quickly.
Best Deal: $59.95 w/ FREE SHIPPING
The physical design of the Vandy Vape Jackaroo is nice and simple, but it does have plenty of unique design attributes, such as its removal front plates, as well as their rough-touch design. The firing button is large and clicky and positioned perfectly on the side, just above the display. Below the display, you have the power controls.
As an MTL vaper, the Vandy Vape Jackaroo is one of my most-used vape mods. With my Kayfun Prime, I can run the mod all day long, providing I keep the wattage down at around 12-15W. If you're an MTL vaper and you're looking for a new vape mod, the Vandy Vape Jackaroo comes highly recommended (and I am one of the biggest MTL fans on the planet).
The SX Mini G Class 200W is easily the best vape mod on this list – by a considerable margin. This is just a fact. So why isn't it listed at #1, you ask? Because it costs $239.95, and that is way too expensive for 99.9% of vapers unless you're crazy like me and don't mind spending that much on a vape mod…
I have owned my SX Mini G Class 200W for almost 2-years now. It has been my daily driver for nearly as long as well. The reason it is so good is twofold: 1) you have the YiHi chipset that powers it which is one of the most advanced vaping chipsets on the market; 2) it is made from ultra-premium build materials, so it is designed to last – mine's two years old now and still works as good as the day I got it.
Best Deal: $239.95 w/ FREE SHIPPING
This is why it costs so much. You're paying for the technology, the engineering, and the fact that, should you buy the SX Mini G Class 200W, you probably won't have to buy another vape mod for several years. Put in this context, the price isn't actually too bad. How much have you spent on vape mods in the last 12-18 months? Bet it's more than $239!
With respect to performance, the SX Mini G Class 200W is a powerhouse, regardless of what tank you're using. It's perfectly suited for performance vaping and temperature control vaping, as well as everything else in between. For overall performance, it is impossible to beat. Nothing comes close to what the YiHi chip can deliver with respect to features, safety settings, and overall functionality.
The #1 Beginner Vape Kit
If you're a beginner, you need to ensure you get the right vape kit. Failure to do so will result in disappointment and that could mean you go back to smoking – and nobody wants that! (Same thing applies to buying the right E-Juice, here you can find the best discounted & USA Made e-juices.)
Beginner vape kits should be simple to use, produce excellent performance, and come with a tank that is easy to use and have great coils. As a beginner, you want something simple and safe – that is why mechanical mods are NOT advised.
Vape pens are great but they lack the power, finesse, and control of actual mod devices. You don't have dual 18650 batteries for instance, and this means battery life sucks.
With a mod and tank, you get support for a myriad of features as well as excellent battery life, including tanks that rock all kinds of coil heads – even stainless steel for temperature control vaping.
All the models in this list also have easily accessible fire buttons that make for simple usage.
All of the high wattage vape mods in the table below fit this criterion exactly.
The Top Box Mod Kit That Comes With A Vape Tank
If you want a vape mod that comes with a vape tank (and a good vape tank too), you should 100% check out the following vape kit.
Most box mods feature other settings too, though – things like:
Bypass Mode – This turns the mod into a mech mod by sending the full power of the battery direct to the atomizer. You get big hits, but it's not advisable for newbie vapers, as it can put too much strain on the batteries
TC Vaping – Temperature Control vaping is great, it basically means you set a maximum temperature for your coils, and the mod does not take it above that. TC vaping is great for battery life and ensuring you don't get dry hits or burn out your coils too quickly.
Curve Mode – Curve Mode is where you can pre-set the power curve, so, for instance, you could start off low, jump to a higher setting, and then taper off towards the end of the period.
For 99.9% of vapers, you'll be more than happy vaping in power mode, just using wattages as your measure of how much power your mod is delivering.
I tend to use wattage mode more or less exclusively, and I've been vaping for YEARS. It's simple, easy to live with, and you can really customize the vapor this way too.
The Different Types of Vaping Devices
When it comes to vape mods you have a lot of options, but the main type is as follows:
Traditional Box Mods – these types of mods are the focus of this article; they pack in lots of safety features, displays, and can do things like temp control vaping, and usually run some kind of microprocessor to regulate everything
What Are The Best Temperature Control Mods?
Temp control vaping is an important element of any mod, but sadly a lot of cheaper vape mods cannot hold a candle to more expensive devices.
And the reason for this is simple: technology.
EVOLV's DNA chip, and also the YiHi chip, are market leaders when it comes to temp control vaping.
For this reason, if you want a solid, reliable, and accurate temp control vape mod, you're going to have to pay a premium.
Right now, I like the Lost Vape Centaurus and the SX Mini X Class for my temp control sessions.
Neither are cheap, but both are excellent TC mods.
Benefits of TC Vaping
Stops Dry Hits – Because the atomizer will never over-fire, it will never burn the coil. This means no more dry hits, as the coil is always set to a maximum output that does not exceed its performance cure. This is the #1 reason most vapers use TC mode when vaping.
Safer – With TC vaping, you never put too much strain on the battery, as the maximum output is set and this stops any additional strain being put on the cells. This means it is safer when it comes to vaping with removable batteries like 18650s and 20700 cells.
Better For Battery life – The big thing here is efficiencies; running you vape tank in TC is great for efficiency. It keeps power regulated and ensures you don't overpower your battery life. In this respect, your tank simply sips power and still gives you plenty of clouds and flavor, just without killing your battery life.
Improves Coil Life Span – Burning out your vape coils SUCKS and the #1 culprit for this is too much power. When you TC vape, you're operating within a set power curve, you never exceed it, and this helps to extend the life of your coils, as they're never taxed needlessly.
SX X Class 100W TC Vape MOD
SX Mini mods are market-leaders when it comes to design, luxury, and performance.
Tom Hardy favors these mods, and when you test out its features, you will know why the cost a little extra.
Specs wise, you have a max of 100W to play with. But inside its TC suite is where things really come alive; you have some of the most accurate performance around.
And this means exceptional, reliable performance that will prolong your coil's lifespan, improve flavor, and conserve your battery life.
The SX Mini X Class Vape MOD is also a beast when it comes to wattage mode and other settings as well, making it a master of all trades.
And while it does cost $239.95, the features it contains do have massive effects on your tank's performance, as well as flavor and the life of your batteries.
Definitely not one for a novice, but if you've been vaping a while and are looking for the next step up, this could well be the mod you've been searching for.
Vape Mods Buying Guide & FAQs
What Is The Best Brand of Vape?
In a market filled with so many vibrant brands, it is very hard to isolate the best brands when prices, features, and design remain so closely knit. I have my preferences, however, based on my user experiences over the years.
These are highlighted inside out Best Vape Brands Guide. However, all the brands mentioned in this guide are what I would consider top vape brands – I mean, they got a mod on this best mod guide, so they kind of have to be good!
Cheap Vape vs. Premium Vape Mod
As with most things in life, with vape mods, you tend to get what you pay for. A $30 vape mod from a relatively unknown company is never going to match a $150 vape mod for an established player like Lost Vape or SXmini. But there is a happy middle-ground, so you don't necessarily have to break the bank when getting a vape mod.
90% of the vape mods listed inside this guide, save for those in the Premium Vape Mod section, all retail for well under $100. In most cases, you're looking at around $50 to $60 (and some even come with a vape tank as well). And all of the vape mods listed inside this post have been vetted and tested by our team of expert reviewers, so they're not just here to fill up space.
You have literally THOUSANDS of options when it comes to sub-$60 vape mods. Thousands. But most – meaning a good 75-80% – are not worth your time or money. This is why we did this post, to point you in the direction of solid, reliable vape mod brands – companies you can trust. No one wants to spend $60 on something, only to have it stop working a month or two later.
For this reason, if you want to go the cheap vape mod route, make sure you check out our #1 picks for cheap vape mods. These vape mods are cheap, but they're well-made devices that perform brilliantly, giving you excellent value for money.
If you want to go the premium vape mod route because you want quality and market-leading performance and reliability, have a look at our #1 picks for the best premium vape mods right now. These are more expensive, but they will LAST – you won't have to replace them after six months of usage.
Case in point: I've had my SX Mini G Class for almost three years now, and it works as good as new. Conversely, in that time, I've had several SMOK mods die, so don't let anyone tell you that paying more doesn't get you better quality in the vape mod market because it simply isn't true – when you buy cheap, you buy twice (because cheap mods crap-out and die in under 12 months in most cases).
What is The Best Box Mod For Clouds?
In order to produce clouds with your vape mod, first and foremost you will need a power tank – something like an RTA, RDA, or a sub-ohm tank. You will then need a box mod that is capable, at the very least, of doing 80W to 100W.
What is Mouth to Lung Vaping?
Mouth to Lung Vaping (MTL) is basically a style of vape tank; we have an MTL kit included in the best beginner section above. Essentially, a MTL tank draws very much like a cigarette – it's tight and you draw it into your mouth first, before inhaling it down to your lungs.
Conversely, a standard vape tank (RDA, RTA, Sub Ohm Tank) is direct to lung, meaning you hit it more like an inhaler, taking it straight down to your lungs. MTL tanks are great and very popular with new vapers for obvious reasons.
How Much Does a Good Vape Cost?
As noted in this guide, the price of a vape mod varies – it depends on what features you want and whether or not the latest and greatest technology is important to you. Inside our Resource Page, we have included a bunch of excellent mods that all retail for less than $50. And these really are great devices.
However, if you want the absolute best of the best when it comes to performance, safety features, and design and build quality, you're going to have to stretch into the three figures for a vape mod like the ones listed inside the Ultra-Premium Section.
That's the great thing about vaping, though: you don't need to have lots of money to find something that works for you. This is why this guide is broken up into sections that highlight the best options for straight-up mods, vape mod kits, premium vape mods, and cheap vape mods.
---