In the last 18 months, we have personally tested over 150 vape mods from a range of vape brands. This guide is the distillation of hundreds of hours of testing. And right now, these are the #1 best vape mods you can buy in 2021…
---
If you're in the market for a new, cool vape mod in 2021, you have plenty of great options to choose from. We're about halfway through the year now, so we've tested quite a few mods already. But the best vape mod we have tested to date is the VooPoo Drag 3.
It is reliable, it has masses of power, and it is suitable for all styles of vape tanks – from rebuildables to MTL tanks. The styling is immense, it looks way more expensive than it costs. And in our tests, it was one of the most reliable vape mods from the last 12 months. Basically, it is damn near perfect.
---
How We Test Mods
The VapeBeat team consists of several experienced reviewers and each year, collectively, we get through hundreds of different types of vape products. When we find something we really like, it is added to our team's internal spreadsheet. From here, we discuss whether it should be included on one of our best lists – like this list for the best vape mods.
We take out time when testing and we ONLY ever add products to our best lists that the team collectively agrees on. If one person isn't sure about the product, it isn't added to one of our best lists. In order to feature inside these lists, the product has to be incredible in every area.
I've included a table below for a quick peek at 2021's coolest vape mods, and if you need more detail there's plenty more information included below.
The other best vape mods we've tested and rated are listed and covered in more detail below. But as of right now, our #1 pick is the VooPoo Drag 3.
---
5 Cool Vape Mods To Try In 2021
---
2021's #1 Pick – VooPoo Drag Max
Need something more compact that is like a vape mod kit but behaves like a pod system? Go with the VooPoo Drag Max.
Brilliant Performance. Supports MTL, Sub-Ohm & RBA
Many vape brands have tried to meld a pod vape and a vape mod into one device. But nearly all without exception have failed.
And this is what makes the VooPoo Drag Max so very, very special – it is one of the best vapes I have ever used, thanks to its innovative design and ability to run all different kinds of tanks.
For flavor, battery life (Although the Drag X Pro now offers better battery life), and choice of coils and tanks, it is unbeatable. You can do all kinds of vaping with it from RBA-style to MTL and everything in between, thanks to its innovative design.
This really is the Swiss Army Knife of vape mods. And, if we're still here in a couple of years, it'll probably be what most vape mods are like – it is really that good.
---
Need More Options? Here's The Best of The Rest For 2021…
#1 – VooPoo Argus GT 160W Starter Kit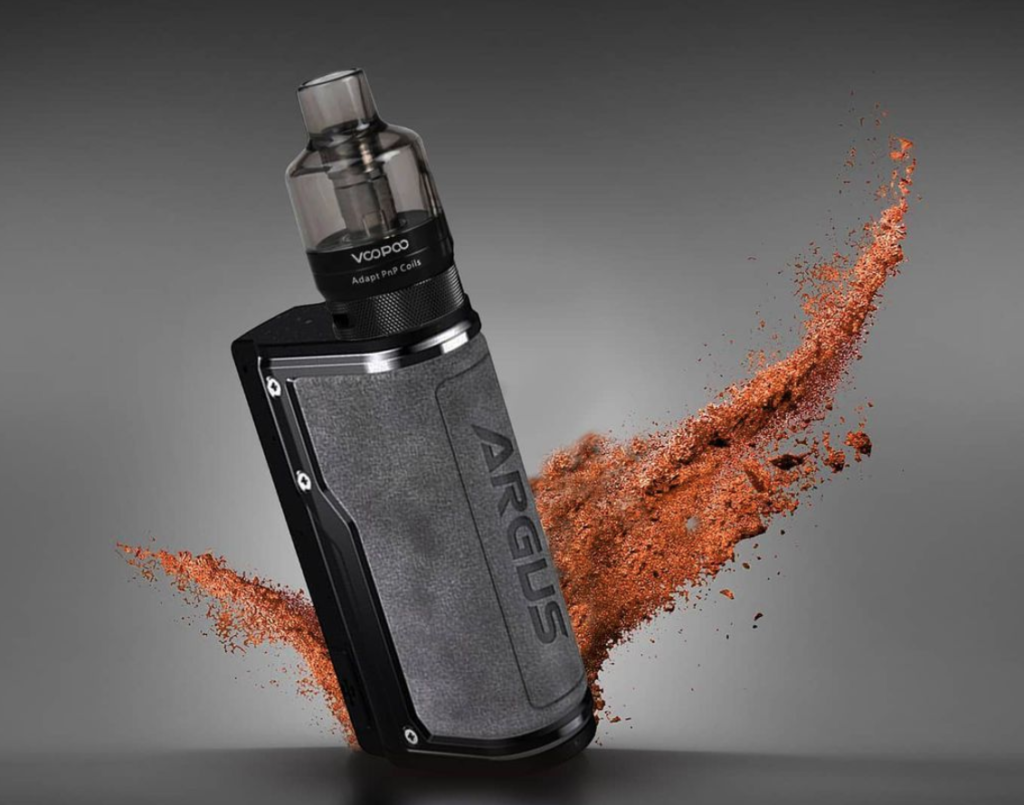 Killer Design. Amazing Performance
The VooPoo Argus GT 160W Starter Kit is an inexpensive, feature-rich vape mod and tank kit that quickly became one of our all-time favorites in just a few days. It looks great, produces outstanding flavor, and it is really simple to use, thanks to its simplified menu and ergonomic design.
Inside, you have VooPoo's GENE chipset which brings with it a host of vaping modes – from Bypass Mode to TC Vaping, it covers all the basics and a whole lot more. I also really love VooPoo's PNP Pod Tank; it's great for flavor and the coils last for ages.
The kit comes with two coil options, as well as one loaded in the PNP Pod tank: 1 x 0.2ohm PnP-VM5 Coil and 1 x 0.15ohm PnP-VM6 Coil. In my experience with this device, the coils lasted, on average, about two and half weeks, making them very, very impressive in that context.
This vape mod kit is a tour de force of performance, reliability, and great features. And because it runs on 2×18650 batteries, you never have to worry about battery life either. VooPoo's GENE chip is also excellent at power management too. I love the VooPoo Argus GT 160W.
---
#2 – GeekVape Aegis X
Exceptional Value For Money
The GeekVape AEGIS X was our top-rated vape mod of 2020. And the reason? It is brilliant – this is why it is still one of our top picks for 2021. You get a stunningly designed vape mod with masses of power and a beautiful display, as well as one of the best mesh coil tanks in the business. This is a near-perfect vape kit.
If you're looking for value for money, best-in-class design, and water and dust resistance, the GeekVape AEGIS X is 100% where it is at – and for the money, this kind of vape kit is near-unbeatable. It looks like a $180 vape mod but it retails for a fraction of this. It has been one of our go-to vape kits for over 12 months now and I do not see that changing any time soon…
---
#3 – INNOKIN MVP 5
The Vape Mod That Does It All
If you want a vape mod that will happily work with RDAs, mesh coil sub-ohm tanks, RTAs, and MTL tanks, then the INNOKIN MVP 5 is well worth a look. I think it is one of the best looking vape mods on this list. And it isn't just a pretty face either; in our tests the INNOKIN MVP 5 beat out a couple of vape mods that were A LOT more expensive. And that should tell you everything you need to know about this mod.
The Innokin MVP 5 looks amazing and it vapes just as good. Perfect for all styles of vape tanks – from MTL tanks to RDAs and mesh coil sub-ohm tanks. We love the retro, classic design of this vape mod and its 120W of power under the hood is more than enough for any style of vaping. Innokin smashed it outta the park with this one!
---
#4 – Vaporesso Gen S 220W
I've been a big fan of Vaporesso's products for years now. Vaporesso makes great-looking hardware and is a big fan of pushing the envelope when it comes to innovation.
With the Vaporesso Gen S 220W, you have 220W of potential power, an array of vaping modes, and a gorgeous 0.91in OLED screen that displays everything you need to know about.
The form-factor, for me, is perfect for a vape mod; it sits wonderfully in the palm of your hand and it looks great running any style of tank.
Add in Vaporesso's outstanding internal tech, and you're looking at one of the best vapes on the market right now.
If you're looking for a premium vape mod on a tight budget – it retails for just over $42 – then the Vaporesso Gen S 220W is the one to go for.
---
#5 – Uwell Crown 5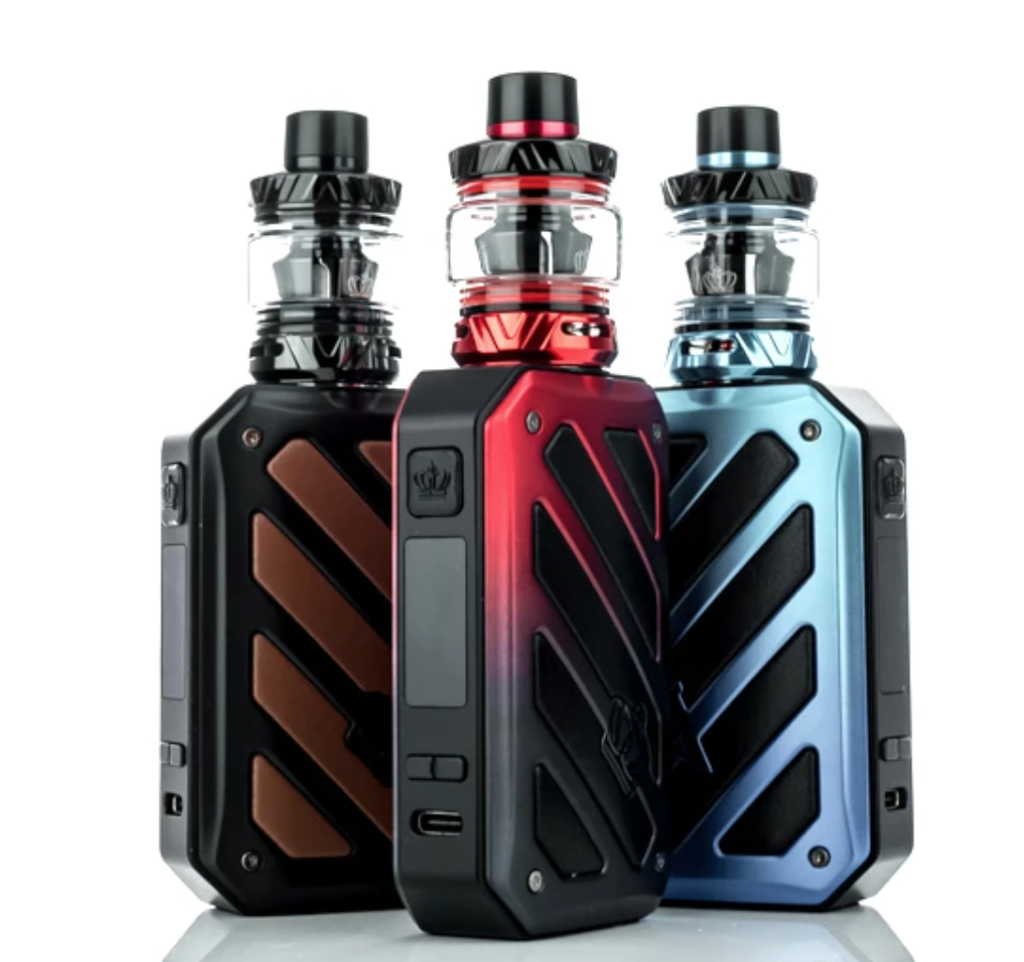 The OG UWELL Crown vape tank was a huge hit when it first dropped, way back in 2014. Since then, UWELL has been pumping out updates to its Crown tank series every year. It has also branched out in vape mods.
The UWELL Crown 5 vape kit brings together UWELL's fifth-generation Crown tank and a vape designed specifically for use with it. The two play together really nicely as well, delivering incredible flavor, massive clouds, and very good coil performance.
The mod itself is handsome enough, it has a rather rugged look, which I quite like, but the star of the show is how well the mod and the tank work together. If you're after a killer mesh coil vape tank and an excellent vape mod to run it, the UWELL Crown 5 kit is one of the better options on the market right now.
---
#6 – Steam Grave Hadron Pro DNA250C Box Mod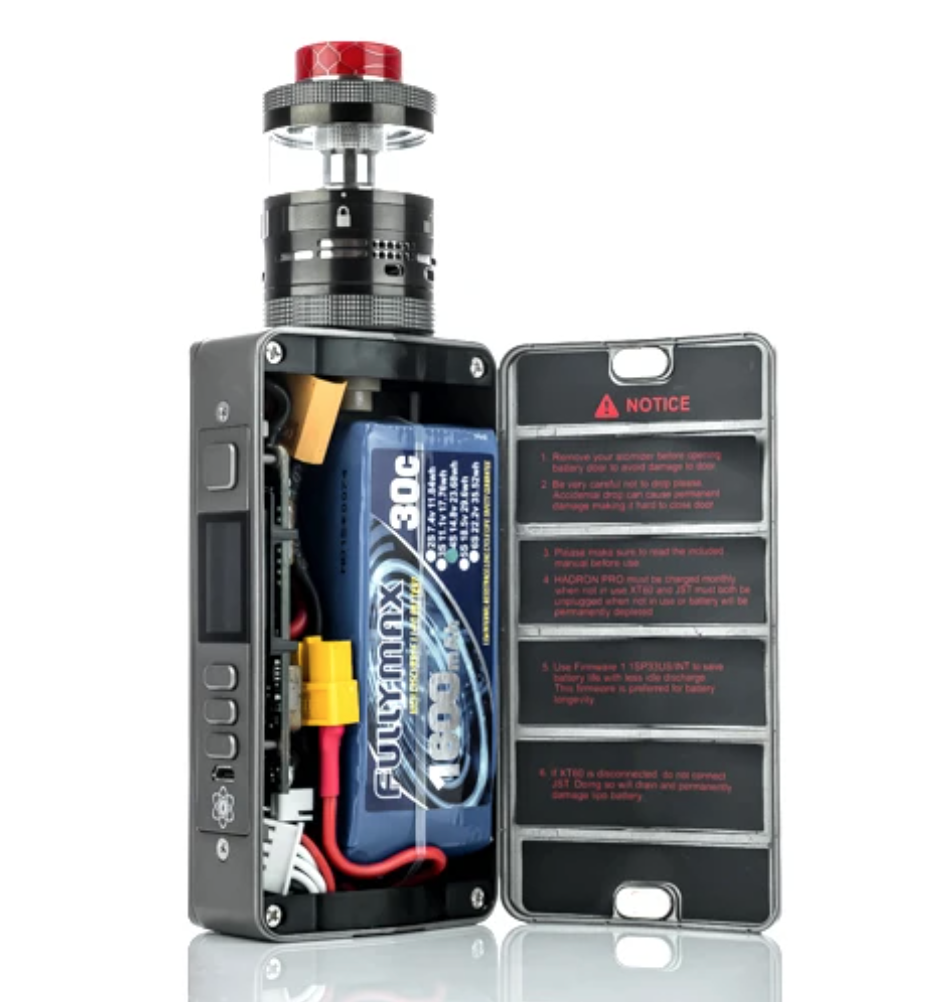 As vape kits go, the Steam Crave Hadron Pro DNA250C Box Mod is fairly bonkers. Not only does it look like something from a sci-fi movie, but it also runs EVOLV's insanely good DNA 250c vaping chip. This means incredible accuracy and market-leading TC vaping.
The kit comes with Steam Crave's Aromamizer Titan V2 41MM RDTA, a monster of a vape tank that can hold up to 32ml of vape juice. That's right: 32ml! You'll need some big ass coils to build it though. But when you do, and you hit that fire button, the Hadron Pro DNA250C Box Mod will blow your head off – it hits like a freight train (in a good way).
Obviously, if you go with the Hadron Pro DNA250C Box Mod, you'll need to be au fait with building and installing your own coils. If you're cool with that, this is perhaps the most interesting vape mod and tank kit ever released. There is nothing else quite like it on the market.
---
#7 – GeekVape Aegis Mini 2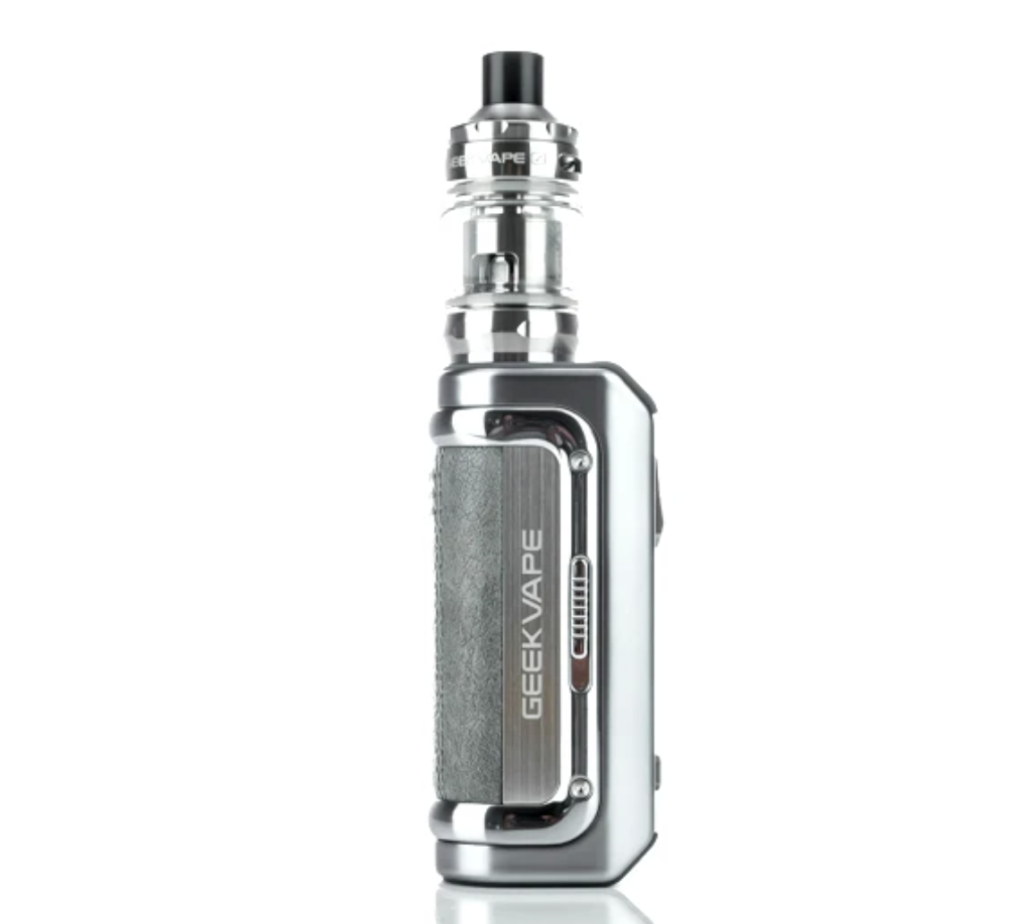 As I've gotten older, I've started to appreciate simple vape kits more and more, and the GeekVape Aegis Mini 2 is just one of those kits that you pick up and use, and fall in love with – it's just so simple and straightforward.
It doesn't weigh much, it looks smart, and it just kind of gets out of the way of itself. It comes with an IP68 rating, meaning it is water and dust-resistant, so you can now safely vape in the shower or hot tub without worrying about dropping your mod.
The kit comes with GeekVape's Nano 2 Tank and it will hold 3.2ml of vape juice. Is the Nano 2 Tank any good? Yes. It's a brilliant little performer and is ideal for any type of vaper, whether new or old. The coils are great too, lasting a solid 12-15 days between changes.
---
#8 – GeekVape L200 Aegis Legend 2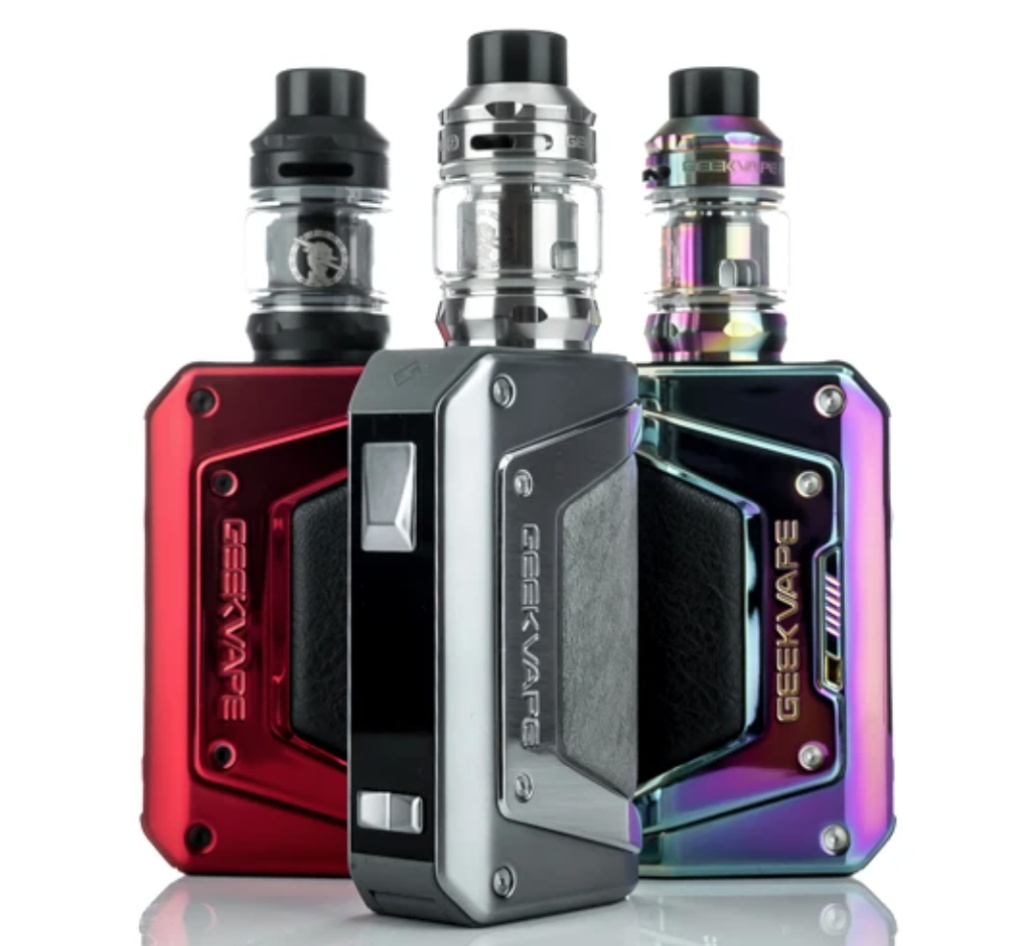 If you want something a little fancier, something with plenty of power under the hood and that comes with a brilliant mesh coil tank, the GeekVape L200 Aegis Legend 2 is another favorite of the team.
This beautifully designed kit is the successor to GeekVape's massively successful Legend mod. And it is a vastly superior beast to its forefather. The design is smarter, it has more features, and it just looks a whole lot better.
Like the OG GeekVape Legend, the GeekVape L200 Aegis Legend 2 packs in all the same stuff as before – it is water, dust, and shock-resistant. I tested them all too; this vape mod could survive a bomb blast. Oh, and it is also 30% lighter and 15% smaller than the original GeekVape Legend.
And if that wasn't enough, it comes with GeekVape's Z Sub tank which is by far and away one of my favorite mesh coil sub-ohm tanks. The flavor it produces is immense and the coils last an eternity. What more could you want from a mid-range, well-priced vape kit!?
---
What Vape Mod Should I Get?
As of right now, my two personal recommendations for 2021's best vape mods would have to be the VooPoo DRAG 3.
For a straight-up vape mod, meaning something you can use with RDAs, RTAs, and mesh coil tanks, it is flawless. Why? Because it serves up excellent value for money and it will work with any style of vape tank, from MTL to RDAs and Mesh Tanks.
If you want an all-in-one, versatile vape kit, go with the VooPoo Drag Max.
Why?
Well, it is basically what the future – providing the vape market has one – will likely be like.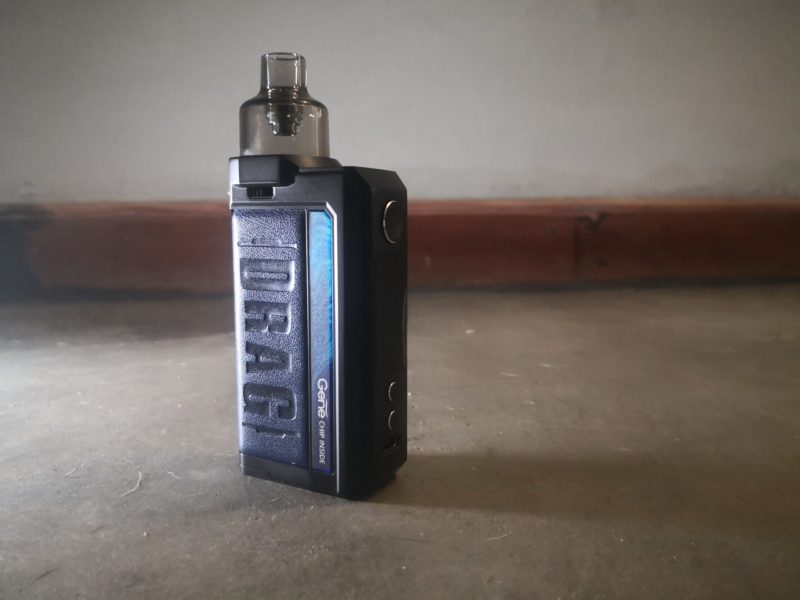 The VooPoo Drag Max – Click Here For The Latest Pricing
You have vape mod-style power and control, as well as excellent battery life, just in a small, compact pod-style vape.
It runs a range of pods/tanks, so you can run it as an MTL setup, a sub-ohm, a mesh coil one, or an RBA.
Basically, it does it all. And it is WAY cheaper (like 60% cheaper) than the Lost Vape Centaurus too. And, in my opinion, it is way more useful too.
As of right now, the VooPoo Drag Max is my number-one favorite vape mod of 2021 so far.
It's what I use and I think you guys will really love it.
---
---
---
---
---
Over on PAGE 2, you'll find all our picks for the best vape mods from 2020…