If you're looking to break into the vaping big leagues, the IJOY RDTA Box Mini 100W is a brilliant place to start
The IJOY RDTA Box Mini 100W is a great little RDTA starter kit. Not only is it well-priced, but it also looks great. I had the pleasure of testing this device out a few weekends ago during a stay at my friend's house and, well… it kind of left a lasting impression.
The first thing you'll notice about this device is just how freakin' cool it looks. The second thing, when you hold it, is the build quality which is off the charts for a mod at this price point.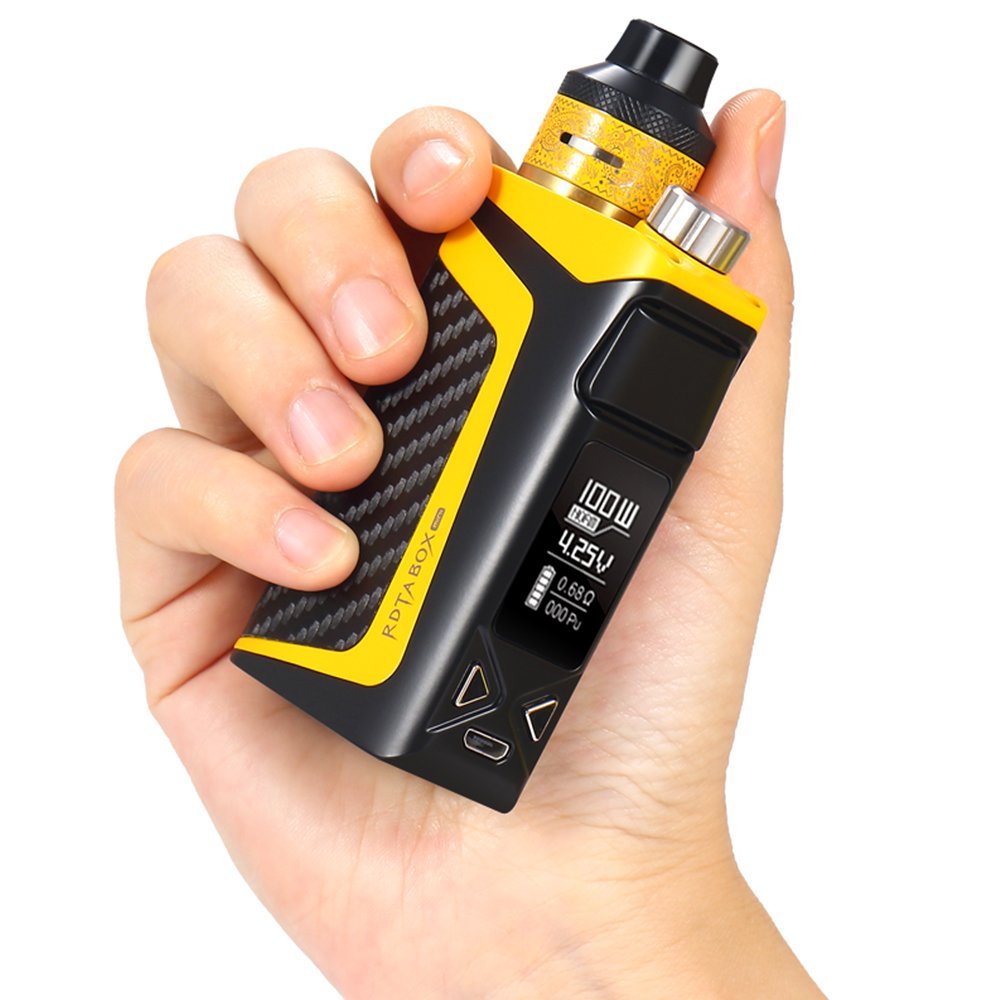 The IJOY RDTA Box Mini 100W is designed to be portable, to be secreted away in your pocket, and provide you with all-day performance, epic clouds, and great flavor. It's compact as hell, but it can still kick out very impressive performance. I'm a big fan of this.
My current mod – SMOANT Charon TS – is great, but it's damn big. Stick the SMOK TFV8 on top of it and you've got a John Holmes' sized addition to your pocket. I don't mind too much, though, as it lasts all day and packs in a ton of features that I love.
IJOY RDTA Box Mini 100W – Performance
My buddy bought the IJOY RDTA Box Mini 100W on a whim; he wanted a smallish RDTA setup that wouldn't break the bank but deliver plenty of performance. He saw the IJOY RDTA Box Mini 100W in a store and impulse bought it.
Two weeks later, he was raving about it. I hadn't tried it at this point; IJOY doesn't tend to send me stuff for some reason (come on, guys, you know where I am). But I knew I'd get a play with it when I went round to visit.
We had some beers, chilled, and then he showed me just what his new IJOY RDTA Box Mini 100W was capable of. His girlfriend was not a fan, however, as it consistently fogged up the house. I always take this as a good sign when you're talking about a RDTA setup, though, as I'm sure you do too.
I had a go on the IJOY RDTA Box Mini 100W and was immediately impressed by the volume of vapor and the flavor. This thing kicks like a mule and, best of all, it looks sick doing it – it actually reminds me of that Transformer, Bumblebee, or whatever it's called.
It also has a really cool juice system, which is shown in the diagram below: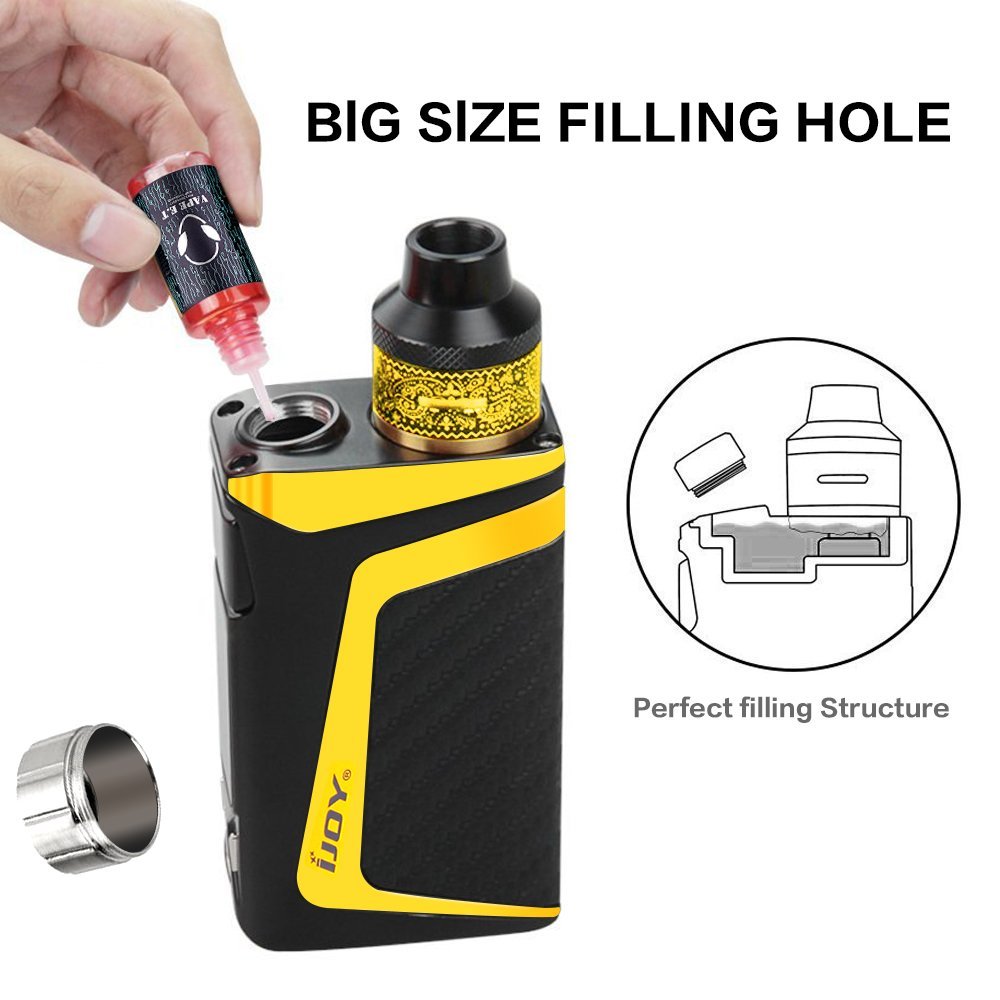 OLED ALL THE WAY
I love OLED displays. They're vastly superior to everything else on the market. This goes for phones, TVs, and, yes, the display on your mod. The IJOY RDTA Box Mini 100W features a beautiful OLED panel that displays everything you need in near-perfect form. You won't see a single pixel on this thing.
The software aboard the IJOY RDTA Box Mini 100W is also upgradable, meaning you might get some performance bumps in the future. It supports a variety of vaping modes too, TC, and your standard wattage/power mode.
There's also a bunch of safety technologies inside that ensure it won't overheat or overcharge, so you can vape yourself silly and never have to give it a second thought.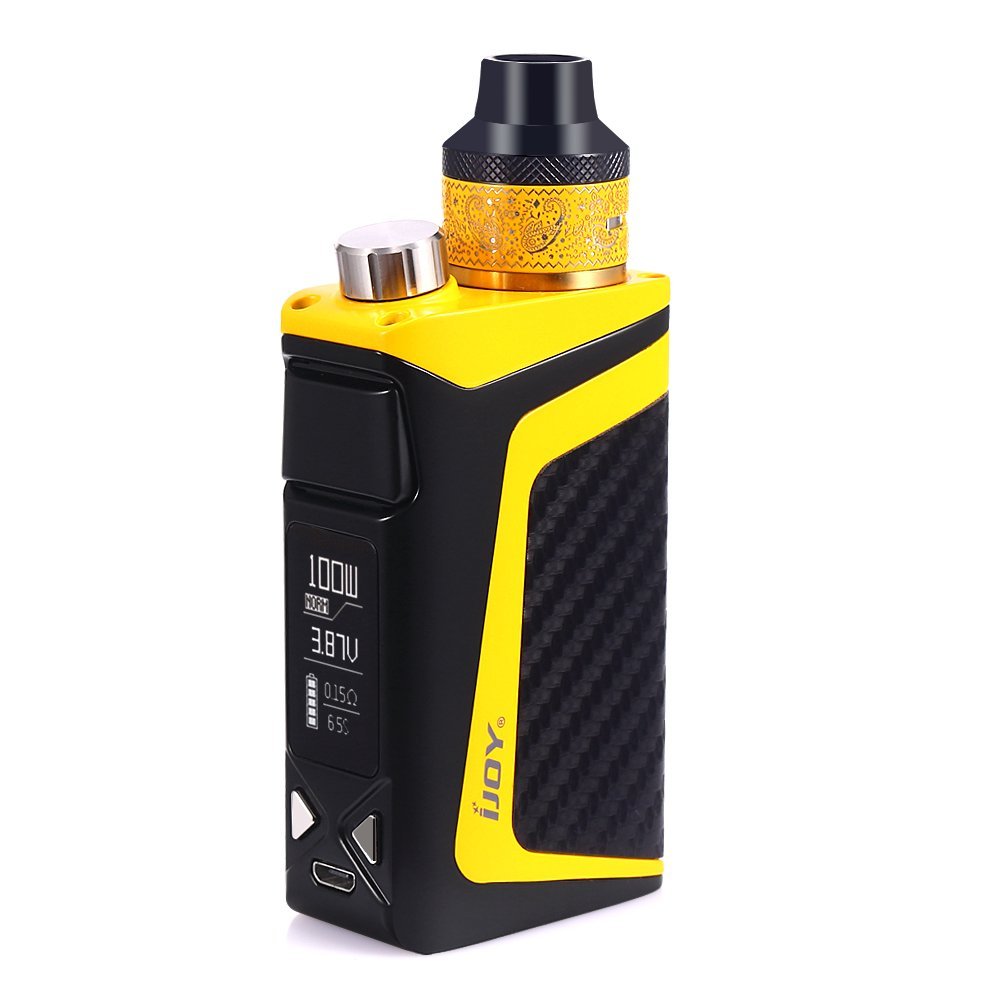 The RDTA tank it ships with is very decent too; it doesn't leak, the deck is great to build on, and it'll hold 2ml of E Juice, so as to comply with UK TPD regulations. It also ships with a pre-made coil, though you might want to stock up on some extras too.
I tend to use these bad boys, as I can get them next-day with Amazon Prime.
Amazon product
If you're interested in my current fave RDTA tanks, please take a look at this article – Best RDTA Tanks I've Tested In 2017 – as it outlines all the big swinging dicks of the RDTA space right now.
All in all, if you're thinking about switching over to a RDTA but don't want to fully commit, the IJOY RDTA Box Mini 100W is a well priced, great-looking piece of kit that packs in a ton of performance and a very impressive tank – and all for a very decent price.
Amazon product
Drake Equation
Co-founder and Editor of VapeBeat. I make the words.