Dave Chappelle vapes – and, he's a bit of a chain vaper to boot!
That's right: one of the biggest comedic forces on Planet Earth looks to have kicked his cigarette habit and moved over to vaping.
I recently finished watching Dave Chappelle's comeback Netflix special, Equanimity, and while I did laugh my ass over throughout, I actually spent most of my time trying to figure out what the hell Dave was vaping on.
Dave Chappelle Vapes But What Does He ACTUALLY Use?
I paused the show. A LOT. And eventually, I had a decent enough idea about what it was to posit a guess – it's a JUUL device.
---
Tom Hardy vapes too (but he uses a proper mod and tank kit)
If you're unfamiliar with JUUL, it's an all-in-one kit (AIO) that packs everything – coils, juice, battery – inside a single device.
Normally targeted at ex-smokers, these AIO devices are super simple to use and provide pretty decent vaping experiences.
Going forward, a lot of market analysts expect these types of devices to be the fastest-selling and most popular setups for new vapers.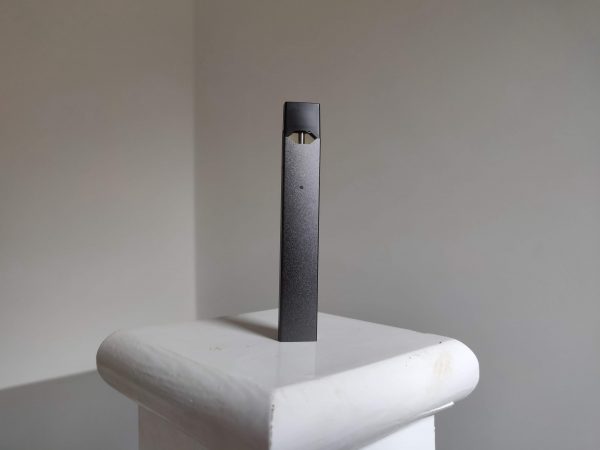 This assertion makes sense too, as they're simple to use, easy to set up, and are closer to the style of cigarettes than more traditional mods and vape pens.
I recently put together a guide to the best AIO Vape Devices, which you should definitely check out if you're in the market for one of these bad boys.
Dave Chappelle is a long-time smoker, he even appeared in a movie in 1999 called 200 Cigarettes, but it looks as if he's now vaping.
Whether it's full-time remains to be seen, as he is smoking on stage in another one of the Netflix specials.
JUUL Pods (And Why They're Different)
They run on nic-salts E Juice for starters.
And this type of vape juice has A LOT more nicotine in it, but it doesn't taste harsh.
More and more brands are now doing this style of E Juice. But it was pioneered inside the JUUL.
Basically, the JUUL hits like a proper cigarette. And it is this what has made it so popular with smokers looking to quit.
You get the nicotine hit (and plenty of flavor).
They are non-refillable, however, and this means you have to ensure you have a steady supply of JUUL pods.
They're also INSANELY expensive at $15.99 a pack which is why I recommend you use JUUL pod Alternatives – they're cheaper, last longer, and come in more flavor varieties.
My #1 picks right now are listed in the table below:
PICTURE
BRAND
BEST PRICE
Why You'd Buy
RATING

(Best For Strength & Flavor)

BIG on Flavor
Same Size As JUUL Pods
35MG & 50MG Strengths
Best Option For Flavor

100%

(Best For Value For Money) 

Massive Flavor Selection
Big Pods. Great Value For Money
3 Different Nic Strengths
Cheapest Options By Far

98%

(Cheaper & Bigger Than JUUL's)

Great Flavor Selection
Bigger Than JUUL Pods
50MG, 30MG & 18MG
Great Taste & They Last Ages

95%
---
Who's The JUUL For? 
The JUUL is ideal for stealth vaping; the clouds are small, but the flavor and hit are very much on point.
These types of devices are ideal for those that work in offices, travel a lot, or don't want to turn every space they enter into something resembling a Sun0))) concert.
If you want a more detailed breakdown of what makes these devices tick, you should definitely check out our feature on The Best Pod Mod Vape Systems – all of the devices on this list are also 100% refillable, which means they're cheaper to run than JUUL.
And if you're in the market for something very funny, make sure you check out Dave Chappelle's new Netflix special.
It's freaking awesome and very, very funny.
And If You Wanna Vape The Same Device As Dave Chappelle, You Can Pick Up A JUUL Vape Device For $34.99.
Though I would 100% recommend you go with one of these refillable pod systems instead – they're cheaper to run and have better battery life!
Drake Equation
Co-founder and Editor of VapeBeat. I make the words.