Is The VLADDIN 2 Actually Better Than JUUL? (Spoiler: It Kinda Is)
By Drake Equation • Updated: 03/22/19 • 7 min read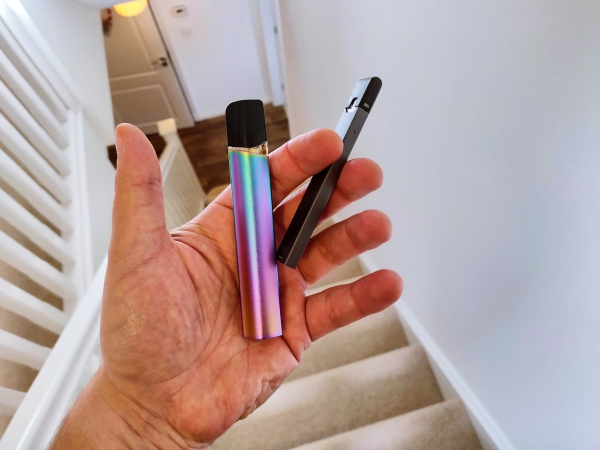 Why The VLADDIN RE Is Better Than JUUL
The VLADDIN 2 – or VLADDIN RE, as it's officially known – is a 100% refillable pod mod vape. It's lightweight, portable, and is designed for vapers that like the look and style of the JUUL.
Unlike JUUL, though, the VLADDIN RE is cheaper to run because it is refillable, meaning you can use your own E Juice, and it has a vastly superior battery life. From 100%, it delivers around 40% more battery performance than JUUL.
Like the JUUL, it's an ecig-style pod mod (meaning: it looks and feels more like a cigarette than a vape mod). I prefer the way it looks, the fact that it charges simply from a microUSB cable and not a proprietary charging dock like JUUL, and that is infinitely cheaper to run.
The VLADDIN RE is also cheaper to buy and cheaper to own than JUUL, simply because you can run your own Nic Salts E Juice in it. This, combined with the battery life and price of acquisition, make the VLADDIN RE ($29.99) a complete no brainer for me.
VLADDIN RE PROS
Battery Life is Better Than JUUL's
It's 100% Refillable
Pod Coil Heads Last Weeks At A Time
Inexpensive To Buy
Looks Great & Vapes Beautifully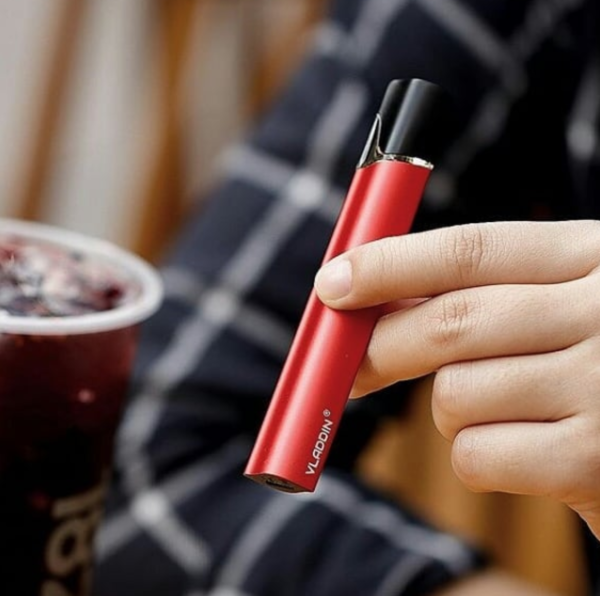 Pin
---
Extended Explanation On Why The VLADDIN 2 is Better Than JUUL
If you're in the market for an easy to use vape pen device, something like the JUUL, you're kind of spoilt for choice right now.
Thanks to the success of JUUL, the market has been swarmed by portable, pen-style vape devices.
There are hundreds to choose from.
But JUUL is still the undisputed king with respect to market share and overall sales – the company is worth $16 billion!
My Main Beef With JUUL
I do like JUUL, don't get me wrong.
The device is simple to use, you can get JUUL Pods everywhere, and it works as advertised. All good things.
But I do have a couple of issues recommending JUUL, and they're both pretty big issues too.
The first is battery life: it sucks – big time. You're looking at 200 puffs before you need to recharge the unit. And that is not ideal, especially if you're trying to quit smoking.
The second is the price of JUUL Pods: they're expensive – again, big time! A four pack of JUUL pods will cost you $15.99.
And while you can save 15% on all JUUL Pods using JUUL's auto-ship program, the cost is still significant.
Let's Do The Math…
Each JUUL pod will last for 200 puffs. You get four JUUL pods in a pack. This means, for $15.99, you're getting around 800 puffs.
Even with a 15% discount on your JUUL pods, this is still gonna cost you quite a bit of dough in the long run.
You can, of course, go with third-party options for your JUUL pods.
Things like ZIIP Pods are cheaper and larger, but they do lack the punch and refinement of JUUL's bespoke pods.
This is my #1 issue with closed-systems like JUUL. Choice is always limited.
And when this happens, the price is all too easy to control.
And it seldom works in favor of the customer.
The Alternative To JUUL?
But the really crazy thing is that it doesn't have to be this way. This is what gets me every time!
New vapers aren't aware of all the options, but they see JUUL as the de facto vape company right now, so they automatically gravitate towards it.
They don't know that you CAN get similar products that look and feel similar, are just as easy to set up, and are infinitely cheaper to run because you CAN use your own E Juice.
Case in point: the VLADDIN 2
I've just spent a solid three weeks using the VLADDIN 2 alongside my normal vape setup and it has seriously impressed me!
The battery life is great, thanks to its built-in 350mAh battery, and it comes with a bunch of refillable pods, so you can use your own Nic Salts E Juice.
The vapor it kicks out is dense and packed full of flavor too; it delivers a lot more vapor than the JUUL, maybe twice as much, and the coils inside the pods tend to last for weeks at a time.
Why's that? Simple: with a maximum output of 12W, you're never really pushing the coil too hard. It's designed to be durable and last. And it really does.
I've been using the VLADDIN 2 for almost four weeks now and I'm still on my first pod (there's four in a pack). And a new pack of four pods costs just $15.99 – the same as four JUUL pods.
Only it will last you months versus days, and you can refill them with your own E Juice.
VLADDIN 2 vs JUUL
The VLADDIN 2 is around the same size and shape as the JUUL. It is slightly longer and slightly thicker, but you're talking mere millimeters there, so it's not going to make much of a difference.
The battery life is better (about 30-40% better in my experience) and the flavor it delivers is very, very good. Especially if you're using decent Nic Salts E Juice – check out my picks for the #1 Nic Salts E Juice brands).
Obviously, battery life isn't stellar. It never is on smaller, pod-style vapes. They all run tiny batteries, so battery life is always going to be an issue – no one has solved this problem just yet.
But it will recharge completely inside an hour, so, if you're in a real pinch, you can hijack a USB charger and get some power into it pretty quickly. I've found that a 20-minute blast, mid-way through the day, is sometimes all it needs to get through an entire day.
The main thing, however, is that it is an OPEN system, meaning you can pick and choose what E Juice you run in it – you don't have to buy expensive pods from the company as you did with the first VLADDIN device.
This aspect is key, as you reduce the cost of running the device by about 80%.
You can pick up a range of Nic Salts E Juice for around $20 – again, check out my current favorite Nic Salt E Juice Brands for more information on good ones.
And this, in the long and short term, will save you a fortune. Especially when compared to closed-system vapes like the JUUL.
Bottomline? JUUL is NOT the only game in town when it comes to pen-style vape devices for beginners.
There are cheaper, better options out there and the VLADDIN 2 is easily one of the front-runners in this category right now.
Right now I'd say the VLADDIN 2 is probably the #1 JUUL alternative you can buy. And for just $29.99 over at VaporDNA, it serves up some pretty impressive value for money too.
I really like the device. I love how it vapes and I like that you can refill the pods. The latter two things are key for ensuring you stick to vaping and stay off cigarettes.
So, yeah… the VLADDIN 2 comes highly recommended if you're after a similar device to JUUL that is cheaper to run and packs in way more value for money.
---
Best Place To Buy VLADDIN 2? 
VaporDNA | $29.99 (Down From $39.99) 
+
Refillable Pack of Pods | $15.99 (VaporDNA)
Drake Equation
Co-founder and Editor of VapeBeat. I make the words.