The VooPoo VINCI pod system is an immensely powerful pod vape. It has 40W of power, features VooPoo's GENE chipset, and it packs in a massive 1500mAh battery – what's not to like!?
---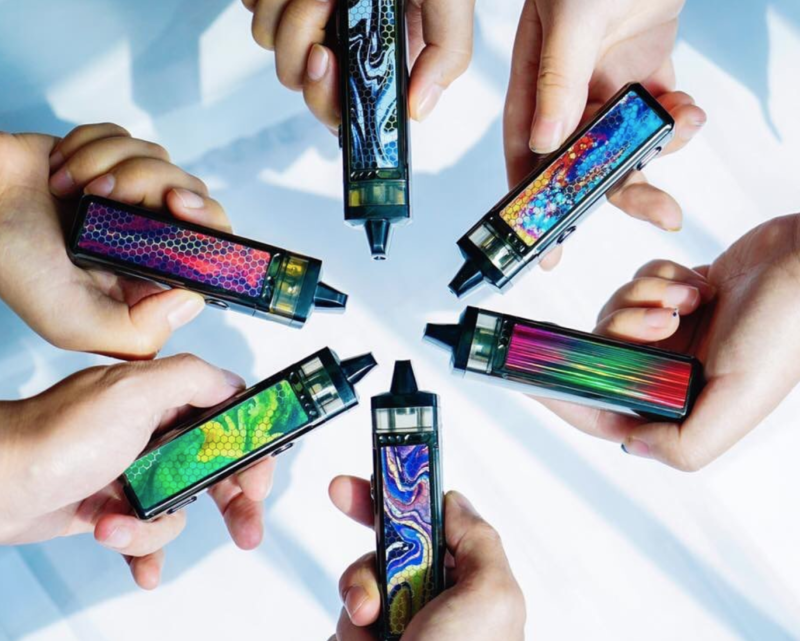 Best Price? DirectVapor | $43.95 (FREE SHIPPING)
VooPoo VINCI Pros
Great Design, A Truly Innovative Pod System
Multiple Coil Options (Inc. Mesh)
1500mAh Battery
40W of Power – Makes It Great For Sub-Ohm Vaping
Large, Detailed Color Display
5.5ml Juice Capacity
Cons:
No MTL Coils
Only Comes With One Coil In The Box
VERDICT: The VooPoo VINCI is unlike anything I've seen before. Yes, it's a pod vape, but it has more in common with a traditional box mod-style setup, which is why VooPoo is calling it a "Mod Pod", I guess. You have 40W of power, support for two types of coils, including mesh, and a mega 1500mAh battery for all-day vaping. As pod mods go, it doesn't get much better than this…
And then you have its performance; with 40W of power, you're going to be running standard E Juice through this device. But that's fine. It kicks out tons of vapor and the flavor is as good as you get on a standard vape tank. For this reason, the VooPoo VINCI is ideal for anyone that loves box mods and vape tanks but wants something smaller, but equally powerful. I honestly cannot think of another vaping device quite like this. And that is why VooPoo is onto a winner here. It scratched an itch I didn't even know I had!
You have adjustable wattage on the VooPoo VINCI 40W, the ability to use breath or a button to fire the device, and a beautiful 0.96in color display that features all the information you could wish for, including a puff counter, battery life, and current settings. For all intents and purposes, the VooPoo VINCI is a box mod shrunken down into a pod vape – it is a true AIO vape device. And I think it will be extremely popular in 2019 and beyond.
MORE: Our #1 Pod Vapes For 2019 & Beyond… 
The design, fit and finish, and detailing on the VooPoo VINCI is exemplary; you have carbon fiber, a wide choice of color options, and a beautifully designed mouthpiece ideal for vaping. The removable pod will hold up to 5.5ml of E Juice and is easy to refill. The coils are replaceable, though you only get one in the box, and the flavor and overall performance are outstanding.
And if that wasn't enough, you can augment the airflow of the pod by switching how it sits in the device; one way delivers a swooshy, sub-ohm style vape, whereas the other creates a more restricted DTL vape. It's super-useful and a really clever feature that I hope more manufacturers start using. Sadly, there's no MTL coil to speak of, which is a bit of a bummer, but I get the impression that VooPoo is going after the mass market here – those that currently use vape tanks and vape mods.
And for my money, I think the company has nailed it. The VooPoo VINCI is a solid performer that looks totally badass, has immense battery life, and kicks out brilliant flavor from excellent coils that last weeks at a time. If you've been on the fence about pod mods, the VooPoo VINCI could well be the vape device you've been waiting for. I'm totally smitten with it – and I think a lot of you guys will be too.
Best Price? DirectVapor | $43.95 (FREE SHIPPING)
---
VooPoo VINCI 40W Review – Design, Specs, Pods, Performance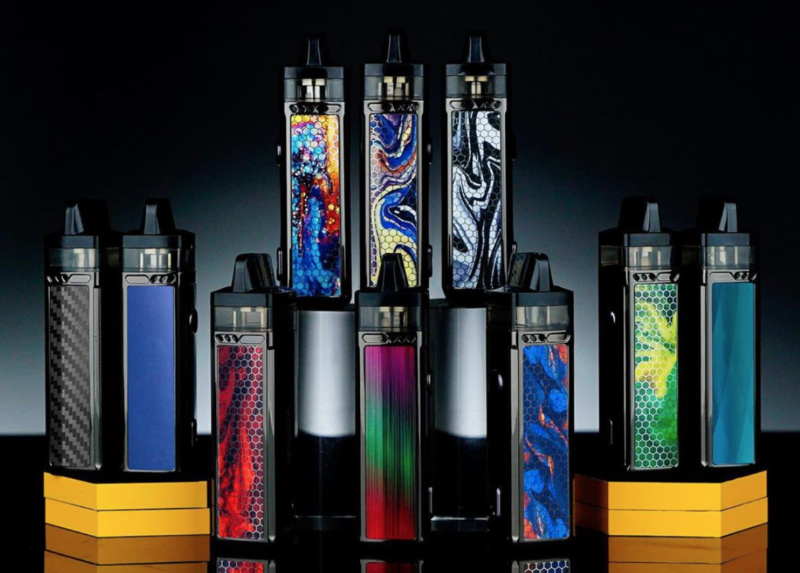 Design
When it comes to industrial design, VooPoo is a master of its craft. The VooPoo Drag and VooPoo Drag 2 Mini were both stunning devices, built for durability, power, and performance. The VooPoo VINCI picks up on this trend, just in a much smaller form factor. You have carbon fiber instead of plastic, rounded edges instead of sharp corners, and a damn-near perfect ergonomic design that makes for some of the best-looking design I've seen in the pod mod/AIO market in recent times.
It's a very similar deal to the Smok RPM40 Kit, only here, I think the design and build materials are more premium, better thought out. SMOK has an RBA coming to its Smok RPM40 Kit soon, but for most people, I think the standard coil configuration of the VINCI will be more appealing. Simplicity, after all, is the highest form of sophistication. VooPoo knows this and it has used it to develop one of the best-looking pod vapes on the market right now.
In terms of design, you have a charging port on the base of the device, a fire button on the front just above the 0.96in color display. Above that, you have the removable pod that can hold up to 5.5ml of vape juice. The fit, finish, and ease with which the parts come apart is stunning. You can set this vape up and have it running in seconds. The carbon fiber accents also look totally badass.
Verdict: The VooPoo VINCI is a premium-looking pod vape that looks and feels like a million bucks. It's durable, perfectly ergonomic, and it is simple to set-up and maintain. I've used hundreds of pod vapes, but the VooPoo VINCI is now easily inside the top 1% of my current all-time favorites.
Specs & Features
Intelligent GENE Pod Chip
Dimensions – 104mm by 25.3mm by 25.3mm
Integrated 1500mAh Rechargeable Battery
Wattage Output Range: (5-40W)
Voltage Output Range: (3.2-4.2V)
Resistance Range: (0.1ohm – 3.0ohm)
3 Power Levels – (3.2V, 3.5V, 3.8V)
Auto Mode
Manual Mode
Puff Curve Mode
2 Week Usage Memory Log
Aluminium-Alloy & Plastic Chassis Construction
Draw-Activated Firing Mechanism
Two Adjustment Buttons
Juice Viewing Window – Check Fill Level
0.96″" TFT Color Screen
Refillable Pod – Replaceable Coil
5.5mL Refillable Pod Capacity
Pods
0.3ohm PnP-VM1 Mesh Coil – rated for 32-40W (DTL)
0.8ohm PnP-R1 Dual Coil – rated for 12-18W (MTL)
As I said, there's no dedicated MTL coil just yet – hopefully, VooPoo will release one soon! But the coils you do have are very impressive indeed, especially if you like vaping on traditional high VG vape juice – like the juice we sell inside our dedicated VapeBeat Juice Store.
I think the 0.3ohm mesh coil is my favorite of the two. This coil, once it's primed and in its optimal performance window, will deliver clouds and flavor like a standard mesh coil vape tank. That's impressive for an AIO vape, and it is the thing that really surprised me about this device.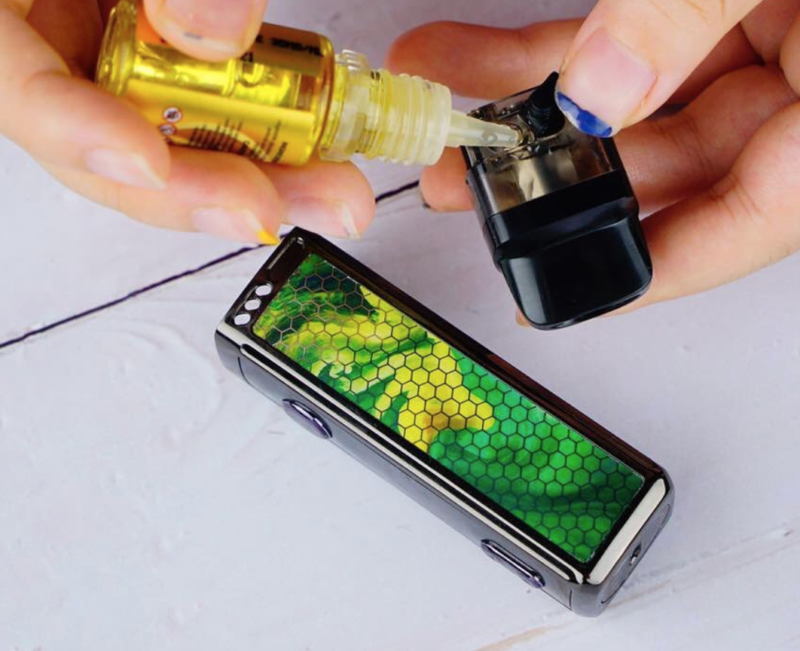 I've used plenty of DTL pod systems, but none have lived up to the hype, none have managed to match the performance of a standard mesh coil vape tank. But the VooPoo VINCI does. And this is what makes it such an impressive device, even when compared to similar products like the Lost Vape Orion Plus and SMOK RPM40.
The 0.8ohm coil is decent too, though it lacks the flavor-punch of the 0.3ohm mesh coil. If you're after a more restricted DTL hit, the 0.8ohm coil is the one to go for – just make sure you have it set to the tightest possible draw when you install it. The flavor is big, like on the 0.3ohm mesh coil, but, for my tastes, it just prefer the way the 0.3ohm mesh coil draws. If you're gonna DTL vape, you might as well go full steam ahead!
How's It Perform
Like a traditional box mod and mesh coil vape tank. For me, this was the biggest surprise about the VooPoo VINCI. I've used plenty of sub-ohm pod kits over the years. Most were OK, but none could match a mesh coil tank and vape mod combo, so prior to testing the VooPoo VINCI, I wasn't expecting much.
I installed the 0.3ohm coil, filled her up with juice (TrailBlazer from the VapeBeat Store, obvs) and set about vaping. Within seconds, I knew the VooPoo VINCI was special – it hits just like a mesh coil tank. I pressed on, using it for a week, and it felt like I was using a traditional box mod and vape tank. Only I wasn't; this thing is technically a pod vape! Insane…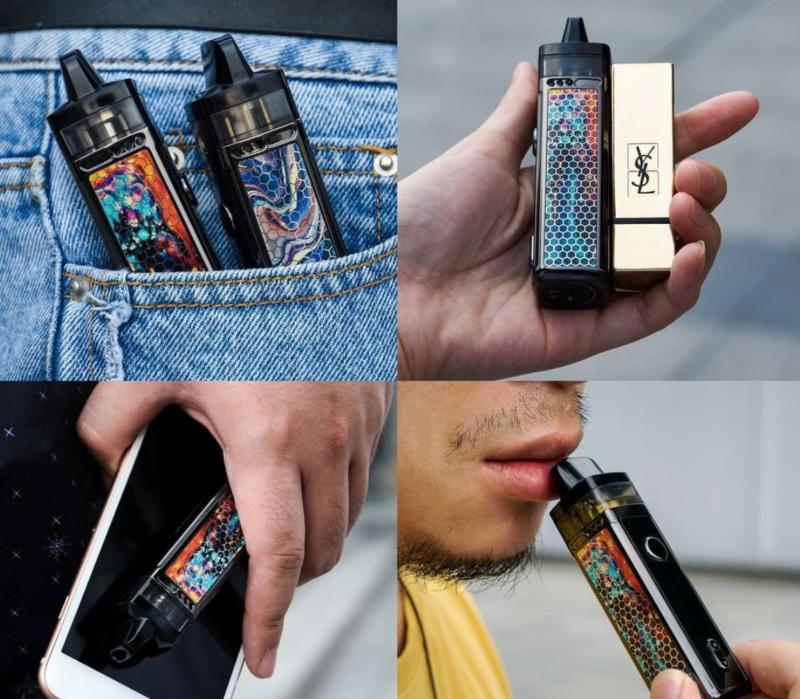 The flavor is, perhaps, the best thing about the VooPoo VINCI. I've ever really felt like pod vapes do high VG vape juice justice, something just always seems amiss. Even in more expensive devices like the Lost Vape Orion Plus. But VooPoo has NAILED it. I know I keep going on about this point, but it is the #1 reason you would buy this kit: the VooPoo VINCI vapes like a mesh coil tank, not a pod mod. And, for me, that is a very compelling thing indeed!
As I said, the VooPoo VINCI is a DTL vaping device. The airflow is open and very smooth. The device itself is also very quiet; I didn't experience any whistling, even with the AFC wide open. The vapor is dense and the clouds are huge. Add in pitch-perfect flavor and you're in a very good place. But the real star of the show here is the battery, which brings me to my next point…
Battery Life
VooPoo has strapped a 1500mAh battery inside this thing, and that means one thing: you can vape this all day, hard, and it will last. You can run it at maximum output and chain it and it will last. You can run it at lower wattages, conserving power and vape juice, and it will last, most likely, a couple of days.
99.9% of pod vapes suffer from poor battery life; this is a tradeoff most are forced to make for the smaller form-factor. VooPoo has basically said, f*** that!, and inserted a HUGE battery cell inside the VooPoo VINCI, making it one of – if not the – best performing pod vapes on the planet, with respect to battery life.
Bottom line? If battery life is a concern for you, you needn't worry about it with the VooPoo VINCI. I've been using this device for weeks now, and I have yet to run it to zero inside a single day (and I vape A LOT). That should pretty much tell you everything you need to know about how good the VooPoo VINCI's battery performance is…
Verdict?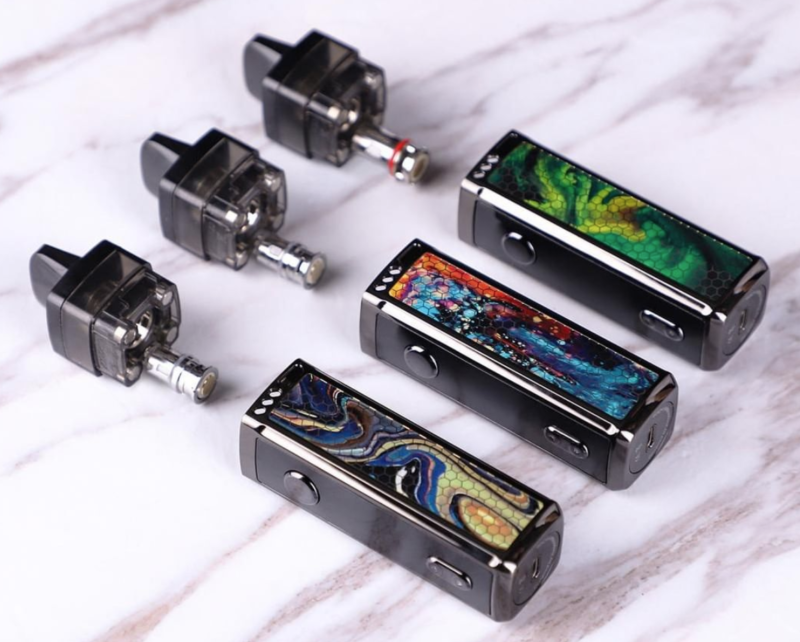 As you can probably tell, I like the VooPoo VINCI quite a lot. And the reason for this is simple: it's a pod mod that delivers vape mod/mesh coil tank-like performance. I haven't experienced this on a pod vape to date, despite testing upwards of 100 of them since 2017. No one has managed to capture the feel and flavor of mesh coil tank inside a pod mod. Until now…
The VooPoo VINCI, while late to 2019's pod mod party, I think, will be noted as one of the best all in one vape devices you can buy right now. I've been using mine for a couple of weeks, and I can see myself using it regularly, as my daily driver, well into 2020. The reason? The flavor and the clouds. It's just like using a mesh coil tank and a vape mod, only here it's a perfectly ergonomic pod mod vape. This is the pod vape I have been waiting years for, basically, and I highly recommend it to anyone that wants vape mod/mesh coil tank performance, just inside a small, compact package.
Best Price? DirectVapor | $43.95 (FREE SHIPPING)
Drake Equation
Co-founder and Editor of VapeBeat. I make the words.