VooPoo Drag 2 vs. VooPoo Drag Mini – Quick Verdict (TL;DR)
Prior to testing these mods, I figured I'd prefer the Drag 2. It has dual 18650 batteries and more power under the hood. However, after months of usage, I now much prefer the Drag Mini.
UPDATE: The VooPoo Drag 3 is Now Official – Here's All The Details
Why? Simple: it's built better, meaning there are no wobbly doors on it, it charges INSANELY fast via USB, and I prefer its size (it's slightly smaller than the Drag 2). It has more than enough power and it's nice not having to deal with external, 18650 cells.
If you're torn between these two mods, I would advise the Drag Mini. That's based on MONTHS of usage on my part. I hardly touch the Drag 2 these days. That's how good the Drag Mini is in comparison…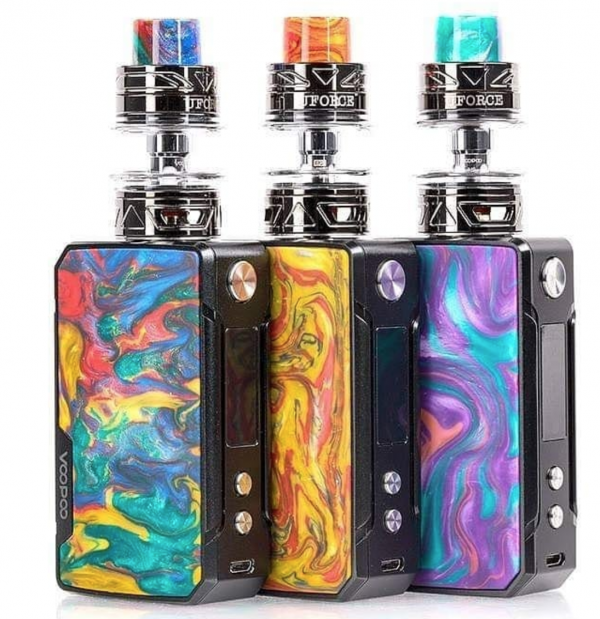 FULL Comparison of VooPoo DRAG 2 and VooPoo Drag Mini
VooPoo has just released its new VooPoo 2 Drag, the follow-up to 2017's insanely popular VooPoo Drag.
This time, though, it didn't just release one mod.
Nope, there are two new vape mods to choose from this time:
The VooPoo Drag 2 and the VooPoo Drag Mini.
As the name suggests, the VooPoo Drag Mini is a less powerful, smaller version of the VooPoo Drag 2.
The mods look similar, but the Mini does not feature removable batteries.
Instead, you have a built-in 4400mAh cell which delivers decent(ish) battery life, providing you're not running it at super-high wattages all the time.
VooPoo Drag 2 vs. VooPoo Drag Mini – The Main Differences
The main differences between these two mods are listed below:
Power | The Drag 2 is More Powerful (177W versus 117W)

Size | The Drag Mini is Smaller (Though Not By Much)
Battery | The Drag 2 Runs 2x 18650 Batteries; The Drag Mini Runs A Non-Removable 4400mAh cell
And that's about it for differences.
Both devices run VooPoo's excellent GENE chip and both hit very hard, just like their predecessor. This is why the VooPoo DRAG was included in our most powerful vape mod list.
VooPoo Drag 2 vs. VooPoo Drag Mini | Design
The devices, as you can see in the images below, look kind of similar. The VooPoo Drag 2 has a removable door for the batteries, while the Drag Mini is completely sealed.
Both are available in a variety of resin options; my review units are the red and kinda-green-looking option.
The design language is great on both mods. I'm a big fan of VooPoo's mods and the Drag 2 and Drag Mini do not disappoint in this context.
They're sturdy, well put together, and they look and feel exceptionally premium.
How Do They Perform?
Let's talk about the VooPoo Drag 2 first, as this mod is kind of the flagship device. You also get a sub ohm tank with both mods in the form of the VooPoo UFORCE mesh tank.
It's a very decent mesh coil tank as well. I'm still on my first coil, two weeks into testing.
I've been using the VooPoo Drag 2 pretty much around the clock for a couple of weeks now. Performance is excellent, as you'd expect from the GENE chip, and I really like the way it looks and feels.
It's not quite as sharp or angular as the original VooPoo DRAG; the design has been smoothed down and refined. It's also about 30% lighter too, which is impressive.
I've run RTAs, sub ohm tanks, and RDAs on the VooPoo Drag 2 and it has run them all brilliantly, never missing a beat, and delivering powerful, punchy performance across the board.
I like that the display, though small, is now OLED. It just looks better and, as a side bonus, it uses less power. Both good things.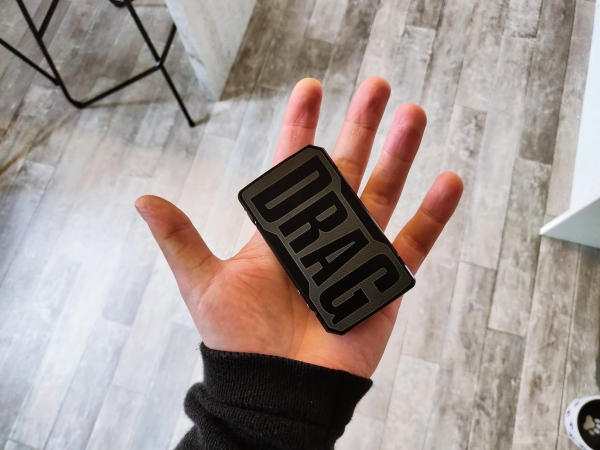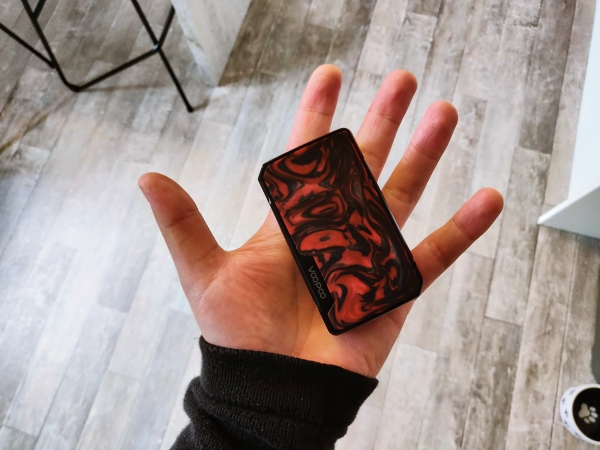 It's not any better than the original VooPoo DRAG, with respect to perceptible performance, but the design is a lot more refined. This is basically what you're paying for when you get this mod.
So if the price of the VooPoo Drag 2 puts you off getting it, I would still 100% recommend the original VooPoo Drag (it's current #1 on our Best Box Mod Guide). And it's about half the price and still kicks a lot of ass.
What About The VooPoo Drag Mini Then?
It's a different kind of beast. It has enough power under the hood for most tanks (117W), but you don't want to be pushing it too hard.
Why's that?
Simple: the battery life will crap out on you. Run it around 45-50W and the battery life is comparable to the VooPoo Drag 2 (which runs on 2x 18650 cells).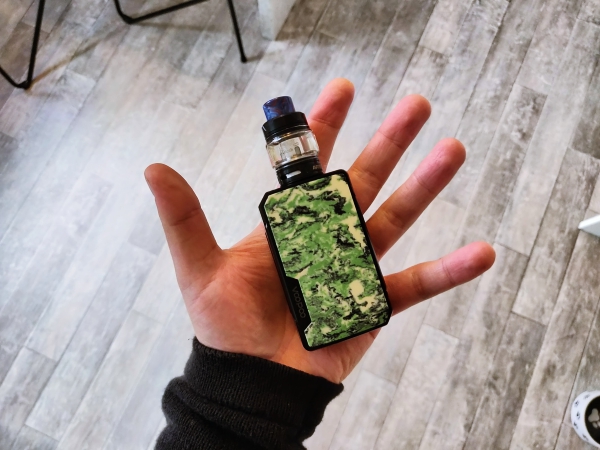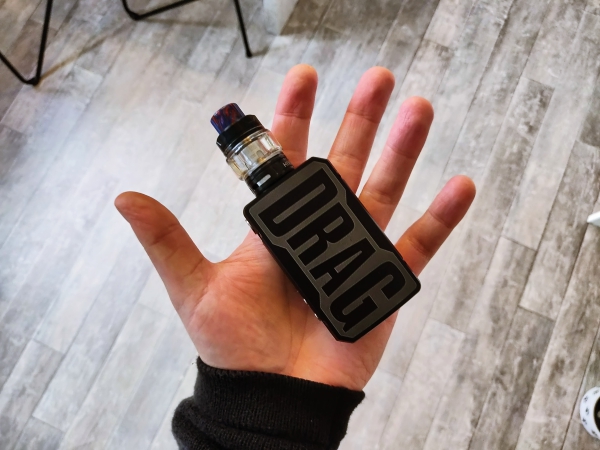 During my testing of the VooPoo Drag Mini, I found it worked best with single coil RTAs. You can run these tanks nice and low, and this conserves your battery life.
Pop a high-performance sub ohm tank on there, a tank that needs 80-100W of power to really work, and you'll kill the battery life in a matter of hours.
It performs great at higher wattages, thanks to the GENE chip, but the battery will let you down eventually. This is just a fact of life when you're using mods with non-removable batteries.
VooPoo DRAG Mini Battery Charges Up SUPER-FAST…
Not having 18650 batteries might sound like a negative for purists, but it really isn't. The VooPoo Drag Mini will charge from dead to 100% in around 30 minutes. Usually less.
Just connect it to any microUSB charger, go make a cup of tea or a have a beer, and when you're done it'll be fully charged. And because it runs on an internal battery, the chassis is one solid piece.
This means it looks and feels more solid than the VooPoo Drag 2, which is a little wobbly – the battery door, for some reason, just doesn't sit right. And this can be annoying.
After prolonged usage, I have found myself using the VooPoo Drag Mini more than the VooPoo Drag, simply because it looks and feels better. I also love how fast it charges!
Best Tank To Use With VooPoo Drag Mini?
Simple: one you can run at moderate wattages, so anything like a single coil RTA or a lower-power MTL vape tank.
However, I've also found dual-coil RDAs and high power vape tanks are fine too; the mod will recharge itself via USB in about 30 minutes.
Basically, you're pretty much covered for all styles of tanks.
Run these styles of vape tank on the VooPoo Drag Mini and you'll have no problems with battery life.
I've been rocking a Kayfun on mine, running at around 18W, and I'm getting about two days of battery life.
If you're the type of vaper that likes to vape in around 80-100W, you can, of course, still, use the VooPoo Drag Mini. I just like getting the most battery life I possibly can.
With an 80W sub ohm tank on it, you're looking at 7-9 hours of battery life, so more than enough for a full day's vaping.
Bottomline?
As noted above, I do kind of prefer the VooPoo Drag Mini. The design and finish is better, and on top of this it charges super-quick.
As an example: I put mine on to charge when I started writing this post. 500 words in and it's back at 100% – not too shabby, right?
The VooPoo Drag 2 is more powerful and it does run dual 18650s. But I don't think it is ACTUALLY a better vape mod than the Mini. The finish isn't quite as good (wobbly battery door) and the difference in power isn't anything to worry about anyway.
I think I was expecting more from the DRAG 2 mod, with respect to design quality, but it is nice to see that VooPoo can still work its magic when dealing with unibody devices like the VooPoo Drag Mini.
If I had to buy one of these mods right now, like, if someone put a gun to my head and made me choose, I'd go with the VooPoo Drag Mini.
That's my 2¢ anyways, both cost the same, as you can see below. And you also get a mesh coil tank as well.
Where To Buy VooPoo Drag 2 & VooPoo Drag Mini
If you're in the US, you can pick up both mods for EXACTLY the same price via DirectVapor (with free shipping).
VooPoo Drag 2: Best Price
Both mods come with the VooPoo UFORCE Mesh Coil Tank as well.
Drake Equation
Co-founder and Editor of VapeBeat. I make the words.