How do you improve on something as perfect as the original VooPoo DRAG? It's always going to be tricky, but VooPoo is returning in 2018 with the VooPoo DRAG 2.
It also released a Mini version too; you can see how they're different here: VooPoo DRAG 2 vs. VooPoo DRAG Mini.
This time, the device is launching as a vape kit – you'll get a tank with it too, in the form of the VooPoo UForce T2.
---
Quick Details For VooPoo DRAG 2 Kit
🔥Release Date: Now Available (DirectVapor / $105.95 Inc. Free Shipping & UFORCE Tank)
🔥Price: $105.95
🔥Color Options: Click Here To View Full Range
---
The VooPoo DRAG, despite its age, has consistently topped our Best Vape Mods List – for price and performance, it's still one of the #1 vape mods around right now.
Will the second coming be as good as the first? I think so…
The inclusion of a tank makes the VooPoo DRAG 2 a more solid contender for punters looking at getting themselves a fully fledged vape kit, putting it in direct competition with starter kits like the Vaporesso POLAR.
To say this mod was highly anticipated would be the understatement of the century! Ever since the release of the original VooPoo DRAG, I've been wondering when we'll see a sequel.
Turns out it's happening in 2018.
VooPoo DRAG 2 Release Date
UPDATE: VooPoo DRAG 2 Price Confirmed (31/10/2018)
OK… so the VooPoo DRAG 2 is now 100% available in the US.
DirectVapor is carrying the VooPoo DRAG 2 Kit – it comes with the Uforce T2 Vape Tank – for $105.95 (and that includes free shipping).
Oh! And DirectVapor currently has an exclusive on the VooPoo DRAG 2 too (in the USA).
The original DRAG was priced very aggressively, however, it did not come with a tank.
The VooPoo DRAG 2 is more expensive, but you are getting a tank thrown into the mix as well.
VooPoo DRAG 2 Specifications
Size: 88.3x51x26.5mm
Battery: 2×18650 (not included)
Material: Zinc Alloy and Resin
Output: 177W max
Resistance range: 0.05-5ohm
Temperature range: 200-600°F / 100-315°C
Firmware upgradeable
GENE FIT chipset
1/4 lighter than original Drag
Chip sealed against fire, dust, and liquid
Centre mounted 510 connection
VooPoo DRAG 2 GENE Fit Chip | The Next-Gen GENE!
The original DRAG's main USP was its GENE chip; it was insanely powerful, hitting like a ton of bricks and firing in an instant.
I was blown away by its performance when I first tested the DRAG. The shock was compounded by the fact that I'd never heard of VooPoo at this point in time either.
Nowadays, everybody knows who VooPoo is – and the reason for this is the VooPoo DRAG and its insane GENE chip.
So… what's new inside the GENE Fit chip? Quite a bit as goes, but these are the main new features:
177W Max Output
Sealed For Dust, Fire & Liquid
Fit Mode – Basically, A Bunch of Preset Modes
Instantaneous Firing
Basically, VooPoo hasn't messed around with a winning formula.
Instead, it's added in more power (177W versus 157W), a few new modes, and, generally speaking, kept things nice and simple.
This is more or less exactly what I was hoping it'd do. I hate it when a company 100% nails something and then, a year or two later, gets cocky and mucks everything up with too much fancy stuff.
VooPoo DRAG 2 Design
This slow-and-steady evolution philosophy applies to the design of the VooPoo DRAG 2 too. VooPoo hasn't changed anything too drastically. The VooPoo DRAG 2 looks and feels like a DRAG mod.
VooPoo has kept the resin panel on the side and the DRAG logo on the other.
This is basically the DRAG's visual calling card, what makes it so recognizable, so I'm glad it is back on the VooPoo DRAG 2.
The display inside the VooPoo DRAG 2 is now an OLED panel.
The chassis has been redesigned ever-so-slightly as well – this has made it more ergonomic. The shape edges are gone in favor of smoother, more comfortable design language.
The net result of all this makes for a mod that is 25% lighter than the original DRAG.
Once the VooPoo DRAG 2 gets released, you'll have eight color schemes to choose from:
Island
Flame
Aurora
Scarlet
Fire cloud
Puzzle
Dawn
Ink
My favorite? Probably Island or Aurora. Though Ink does look pretty darn sick too.
Will I Buy The VooPoo DRAG 2?
You bet your sweet ass I will! The original VooPoo DRAG is probably my favorite mod of all time.
I got mine way back in late-2016/early-2017 and it still works great today. It's scuffed-up and battered, but it still works and hits like a ton of bricks dropped from 1000ft.
For me, the VooPoo DRAG 2 is an absolute no-brainer. I will buy this mod as soon as it is available. Hell, I'd probably even pre-order one for that matter!
I also like that it will be coming with the UForce T2 tank as well. It's a mesh coil setup that'll run the same coils as the original UForce as well as a new triple mesh coil that goes by the name of UForce N3 Triple Mesh.
Here are ALL the coil options that'll run inside the UForce T2 tank:
P2
U2
U4
U6
U8
N1
N2
N3
R1
D4
The tank will also be 100% TPD compliant too, though outside the EU you will be able to get it in the following sizes: 5ML, 5.5ML, and 8ML.
Bottomline?
VooPoo is taking a classic design and making it better. It's doing it incrementally too, so as not to spoil the formula with too many gimmicks.
Refining the design and adding more power. That's basically what you're getting here. That and a bangin' mesh coil tank.

For me, this is shaping up to be one of the best vape kits we'll see in 2018, and for this reason, I am very excited about the prospect of testing the VooPoo DRAG 2, as you can see below with my stupid grin!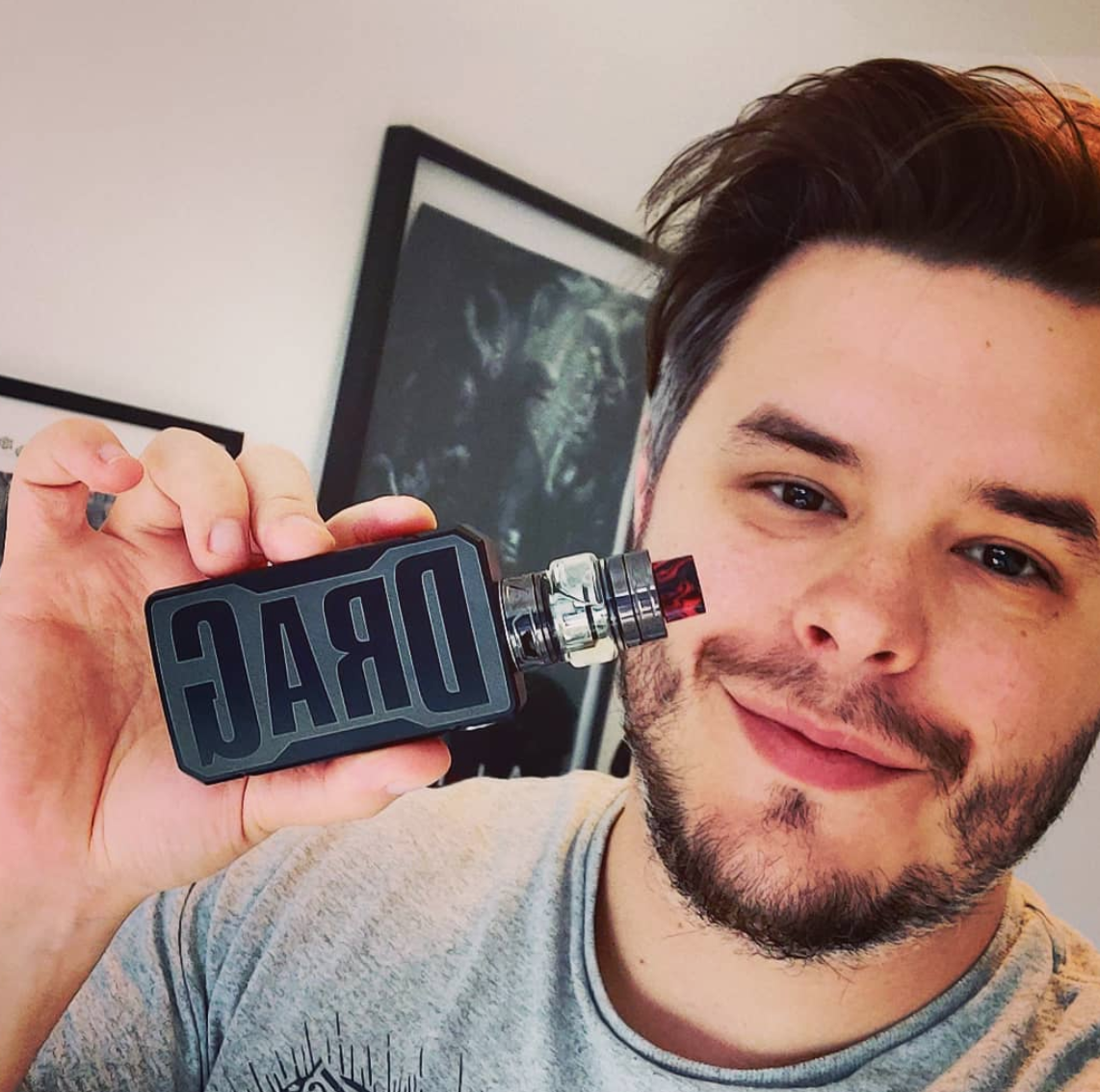 You can pick up yours right now via DirectVapor for $105.95 (and that includes FREE shipping). Also – DirectVapor has an exclusive on the VooPoo DRAG 2 right now as well, so if you want to pick one up you need to go through them!
---
Drake Equation
Co-founder and Editor of VapeBeat. I make the words.