Temple Mini RDA Clone Review – When Clone's Are Done Well They Can Be Great. The Temple Mini RDA Clone Is A Perfect Example of This
We reviewed the actual Temple RDA last year and that thing was a monster. But today we're going to be looking at a clone version of the Temple Mini RDA.
Usually I'd never recommend clones, but the Temple Mini RDA Clone is one hell of an RDA and I've heard tons of good stuff about it, so I figured I'd give it a whirl and see how it stacks up.
If you're looking for a decent RDA, be sure to check out our guide to the best RDAs we've tested in 2016/17.
Right, let's crack on with this Temple Mini RDA Clone review!
Temple Mini RDA Clone Review: Package and Appearance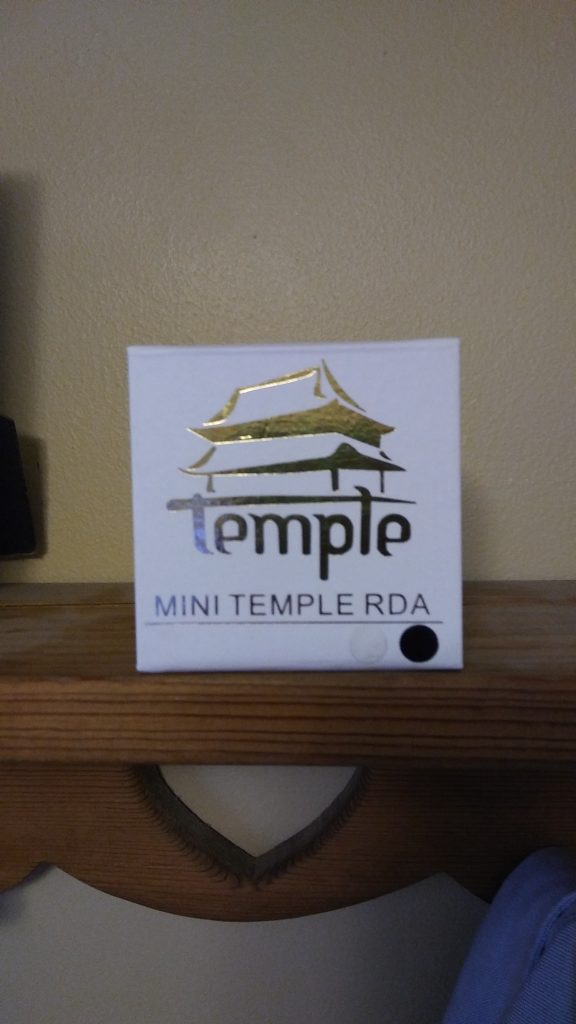 The Temple mini looks really good and well machined for a clone. A wide bore delrin drip tip is already on the Temple mini but you do get a 510 drip tip adapter so you can use your favorite 510 tips.
The threading is really smooth all around. You have a velocity styled deck with one hole on each post and a grub screw to hold your coils on place.
No defects at all with the Temple mini clone, very well done.
Teardown and reassemble of the mini Temple RDA is a breeze. Ample room on the deck for just about any type of build.
Temple Mini Clone RDA: Specs
2 Post Velocity Style Deck
4.5mm Juice Well
36 Air Hole Slots
24mm Diameter
Copper 510 Connection Pin
Screwdriver
Extra O-rings
2 Extra screws
2 Pre Built Coils
2 Housing Options
510 Drip Tip Adapter
Chuff Cap
That is a mighty fine haul if you ask me. I got the Temple mini from my favourite local vape shop for only $25, which is one heck of a deal even for a clone.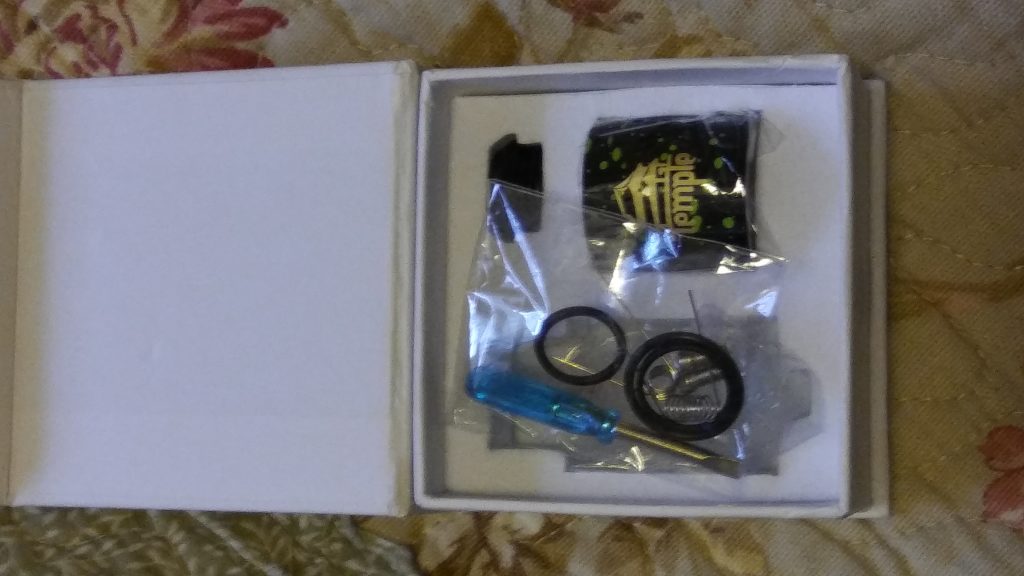 Now, the two housings vary depending on what colour you choose. I went with the white Temple mini with the red zombie splatter. My other housing is black with the green zombie splatter.
Both of the housings showcase the Temples design in a gold accent….very well done.
Temple Mini RDA Clone Review: Performance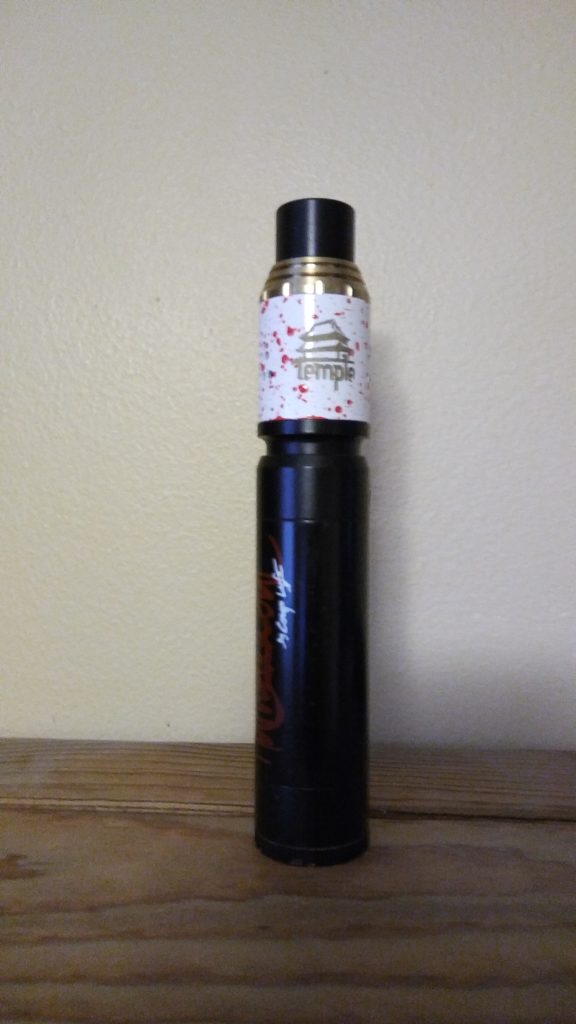 After dropping in a very basic 24g 4 wrap over 3mm dual coil setup and throwing the Temple mini onto the AV Abel clone I fired it up.
The 36 Air Slots are just amazing for that massive airflow. I fine tuned those 36 slots down to a mere 12 and found that to suit my needs.
With my dual coil build coming in at .18ohms, I ran the Temple mini hard, and I do mean hard. I dropped the Temple mini on my RX2/3 and pushed 175W for some vapes and the Temple mini did get warm to the touch but not the mouth thanks to the included delrin chuff cap.
Cloud production is way better than the likes of the Troll v2 RDA or even the Recoil RDA, which is great, but the flavour is not as good as these RDA setups, so if that's your thing you're better off with one of those equally impressive RDAs.
Dialing the air slots down more did improve flavor but decreased clouds. The Recoil RDA does both very very well. All aside the Temple mini gave me really good performance and has been in use since day one.
Temple Mini RDA Clone Review: Final Thoughts
If you want the Temple mini but don't want to drop the money on an authentic one then the Temple mini clone is a great choice. And normally I would never recommend a clone. Like, ever.
Having a lot of airflow with the ability to dial that airflow to suit your exact needs is great and the mini Temple lets you do all this with minimal fuss.
Trying to get massive clouds and massive flavor is not doable on the mini Temple but you can find a good mix of the two that will surely suit most people's needs.
If you want both you're better off with the Recoil RDA, as that thing is a master of all trades.
Nick Jennings
Reviews & Tutorials Guy. If You Can Build It & Vape It, I'm Your Man!