You've heard of YiHi and SX mods. But did you know you can now get a YiHi-powered SX Mini? I've just spent an entire month testing it, here's what happened…
---
SX Auto Squonk– Verdict (92%)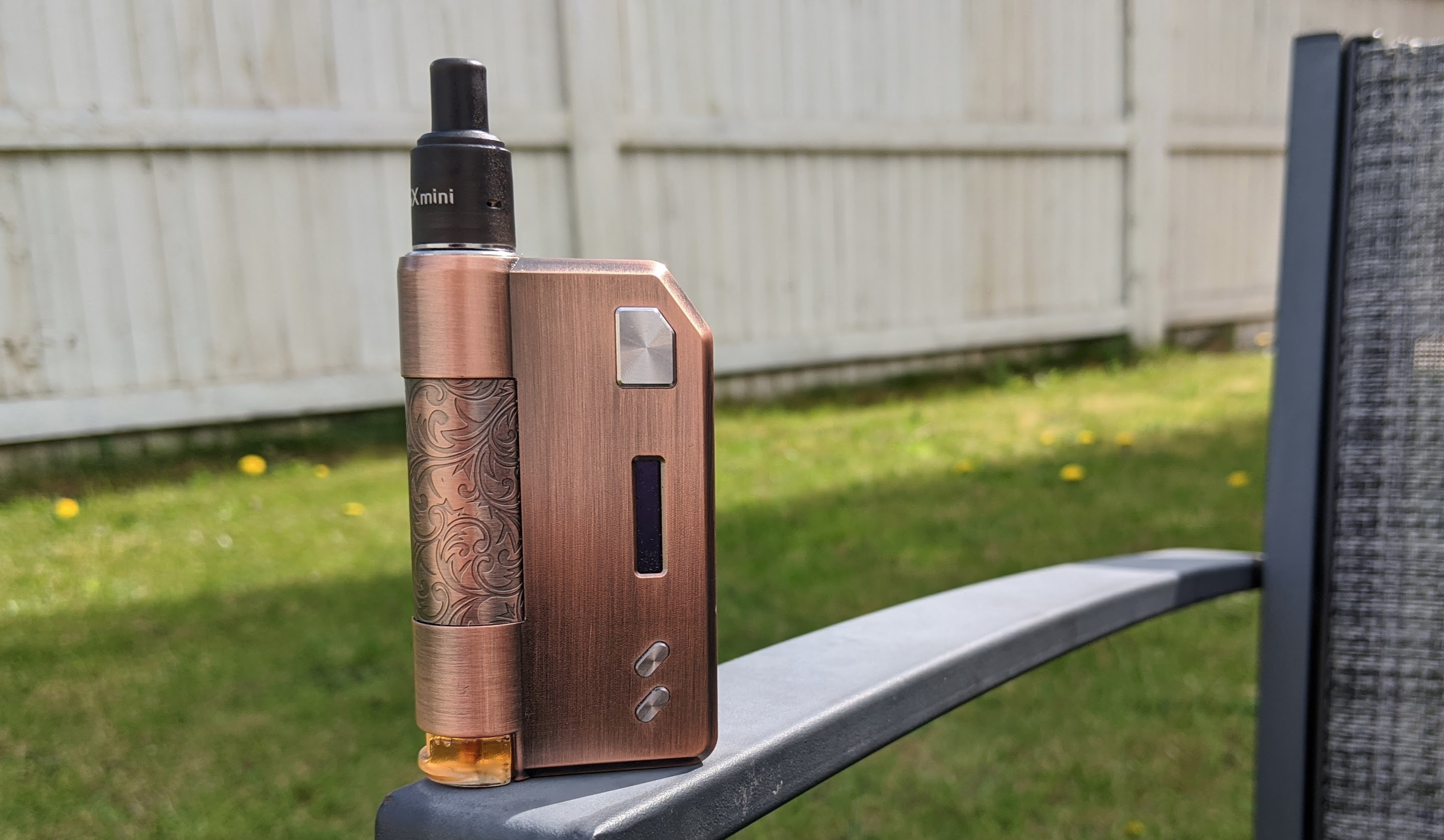 TL;DR Version – The SX Auto Squonk is a YiHi powered AIO (all in one vape) that comes with a range of replaceable tanks, as well as an RBA option. The AIO features near-flawless auto-squonking, whereby vape juice is delivered to the tank exactly when you need it – and it never overflows.
I've been using the SX Auto Squonk for a month straight now and it hasn't missed a beat. The flavor is top-notch and the build quality is exactly what you'd expect from an SX-brand product (flawless and very premium). It also has killer battery life, thanks to its 1400mAh battery.
You have three power modes, though you don't really need to concern yourself with these as the YiHi chipset inside the device will automatically set power and temperatures based on the resistance of the tank you attach to it. Regarding the tanks, you have a few options: 0.2ohm, 0.6ohm, and, my personal favorite, 0.8ohm.
Each tank is kind of a non-rebuildable, mini RDA. On the side, you have an AFC that can be used for tightening up or loosening the airflow. I like the 0.8ohm best because it lets me get a pretty solid MTL vape from this device, providing I have the AFC nice and closed-off. Want a more DLT-kinda-vape? Use the 0.2ohm or 0.6ohm tanks and keep the AFC more open.
The squonk bottle will hold 3.5ml of vape juice; I mostly used Nic Salts in mine during testing (predominantly Top Brass and Bueno Vista). There's a dedicated fire button on the front of the device, as well as display, and a power rocker. You can really dig deep into the settings on the SX Mini and customize performance and how it vapes. I didn't bother too much with this, however, as the YiHi chip is just great at setting things up perfectly from the get-go.
The SX Auto Squonk is a premium AIO; it ain't cheap, and neither are the replacement tanks you'll need to run it long-term. But it is very good. It delivers incredible flavor, a near-perfect vape in both MTL and DTL modes, and it has a very good battery life – you're looking at a full day with moderate to normal usage.
The RBA is also fantastic too if you like that sort of thing; it's easy to build, it vapes great, and the YiHi SX685J chip takes all the headaches out of getting the most from the SX Auto's 30W of power. As RBA and AIO vapes go, I think this is one of the best of its kind. It wipes the floor with the SMOANT Pasito and the flavor you get from this device is akin to what you might experience while using an RDA or RTA.
Basically, I really like this AIO, and if you're in the market for something fancy, that is rebuildable, has excellent battery life, and looks freakin' gorgeous, then the SX Auto Squonk could well be what you're been looking for. I know I'll be using mine for years to come…
Best Price | VaporDNA | $109.95
---
Full SX Auto Squonk Review – Specs, Design, Performance Detailed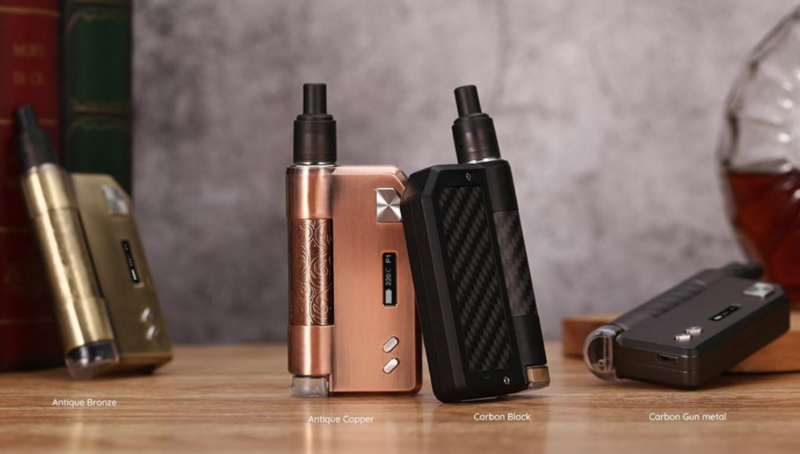 Design
Whenever you buy an SX-brand device (like a YiHi-powered vape mod), you get two things: market-leading design and the brilliant YiHi chipset. Combined, these make for some of the best (and most expensive) vaping experiences on the market. I've long been a fan of SX mods, notably the G Class which I've used consistently for almost four years now.
With the SX Auto Squonk, you're basically getting a pure SX vape mod distilled down into a pod vape (or AIO). The design language, the performance, even the menu system, it's all SX to a tee. The design and finish of the SX Auto Squonk is stunning with is Zinc-Alloy chassis, classy detailing, and precision machining.
It feels great in the hand, measuring in at just 81.8mm by 48mm by 20.3mm. You have a massive 1400mAh battery that'll provide enough power for all-day vaping and a small but detailed OLED display that shows you everything you need to know about what's going on with the device.
The thing that really separates the SX Auto Squonk from the pack, however, is its auto-squonking abilities which is powered by YiHi's Auto Squonking ESS Driver. You cannot see this component of the device without breaking open the mod itself – and you don't want to do that. But what it does is provide a near-perfect stream of vape juice to your atomizer. And it works flawlessly too, in my experience.
The SX Auto Squonk is available in the following colors: Bronze, Black, and Gun Metal. I got the bronze one to review, though I think I prefer the Gun Metal option…
SX Auto Squonk Specs & Features
YiHi SX685J Chipset
Dimensions – 81.8mm by 48mm by 20.3mm
Integrated 1400mAh Rechargeable Battery
Wattage Output Range: 10.5-30W
3 Power Modes – P1, P2, P3
Temperature Range: 180°-260°C / 356°-500°F
Auto Mode
DIY Mode
Zinc-Alloy Chassis Construction
Intuitive Firing Buttons
Two Adjustment Buttons
OLED Display Screen
Auto Squonking ESS Driver – Electronic Spray System
Adjustable Pump Speed
3.5mL Refillable Reservoir – Replaceable Container
Performance
How's the SX Auto Squonk perform? I've been using it as my #1 daily driver for well over a month now and it hasn't missed a beat. I charge it once or twice a day and it's good to go. The flavor is consistent, intense and I haven't had a single dry hit in the entire time that I've been using it – it's just 100% full flavor right off the bat, even when you load up a brand new tank.
The auto-squonk isn't silent, however, it does make a noise (a slight trilling sound) which took some getting used to. Honestly, I didn't think I would be able to get used to it, but now I hardly even notice it. The auto-squonk feature also automatically kicks in whenever you load up a new tank; it adds in the exact right amount of vape juice which is why you never, ever get dry hits with this device. The YiHi chip is super-smart in this regard. And this is why you'll pay such a premium for an SX-powered device. It's the technology that hikes up the price.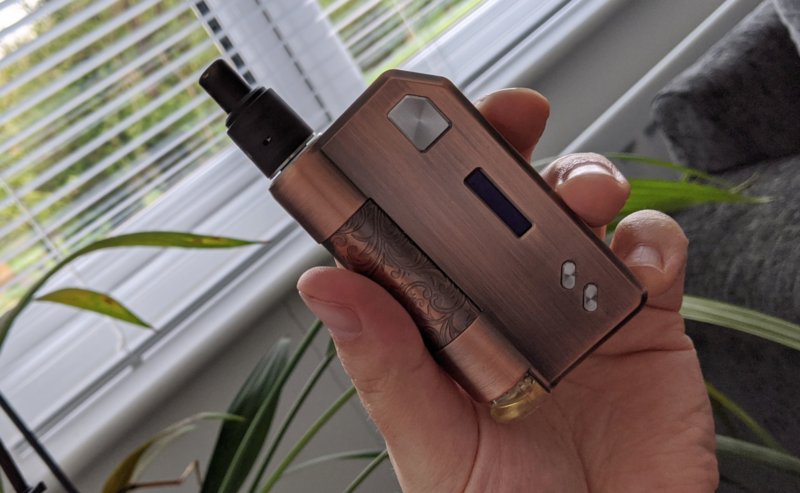 You have a couple of vaping modes at your disposal too; the DIY Mode is for when you're using the RBA tank option and Auto Mode for when you're using the pre-made tanks. I mainly used the latter, as I don't really care much for RBAs on pod vapes. The Auto Mode is damn-near perfect in how it handles power delivery; it hasn't once messed up during my month with the device, always giving you the exact amount of power at the exact right temperature.
Having both an RBA and Auto Mode makes the SX Auto ideal for both beginners and seasoned vapers. You can easily switch between the two without any hassle. The RBA (more on this in a second) is simple to set up, easy to wick, and, when combined with the YiHi chip's latent abilities, provides one of the best RBA pod vape experiences I've had to date. Basically, this thing does it all – and it does it all in a style that isn't overly complex or nuanced. It just works.
SX Auto Squonk RBA Review
OK, let's talk about the SX Auto's RBA tank, which is technically called the YiHi SX-RSA. Building on this little sucker is fairly easy, though you will need a good pair of eyes, as the deck is very small. Once you've installed the coil and wicked it, re-attach the deck to the tank, plop it on the SX Auto Squonk, and switch over to DIY mode.
From here, you can dial-in the wattage to your exact requirements based on the resistance of your coil. You have 30W of power to play with, plenty for a coil of this size, and you can freely adjust the wattage until you find exactly what you're looking for. It works great, is relatively simple to use, and provides excellent flavor when done correctly.
Me personally? I'm a lazy ass and I preferred just using the pre-made coil heads. My preferred tank option would have to be the 0.8ohm one, as I'm a big MTL vaper these days. However, having the option to run High VG vape juice through the SX Auto's 0.2ohm tank is a great addition to an already supremely impressive device. Again, all it does it present you with options. It'll do what you want it to do. And, in most cases, it'll do it with minimal fuss.
Battery Life
You have a non-removable 1400mAh battery inside the SX Auto Squonk. That's a fairly sizeable battery and it does provide excellent performance, especially if you're using the 0.8ohm tanks (these require less power, and less power means less battery drain).
In the RBA mode, you're going to drain the battery faster simply because you will be using more power. Generally speaking, however, the battery life on the SX Auto Squonk is excellent. It'll last all day with moderate usage, while heavy vapers might need to top-up once or two during the day.
With top-ups, I've found that 10-15 minutes on charge is all that's needed to bring the SX Auto Squonk's battery life almost back to full. And this odd too because it does not use MicroUSB Type C. How it's doing this, I do not know. But I'm not going to question it – fast charge on pod vapes is essential. And the SX Auto Squonk charges up quickly!
In day to day usage, the SX Auto Squonk has not let me down with respect to battery performance. There hasn't been a single instance where I've run out of battery life. As long as you remember to fully charge it overnight and give it a top up mid-way through the day if you're going out in the evening you will never have to worry about battery life.
And on a pod vape that is extremely rare.
Should You Buy The SX Auto Squonk?
As you can probably tell, I'm a big fan of the SX Auto Squonk. I love the way it looks, I love the way it performs, and I love the flavor I get from it – it's consistent, reliable, and the tanks last for weeks at a time. I also really dig that it can be used in MTL or DTL mode, as well as with pre-made tank heads and an RBA tank.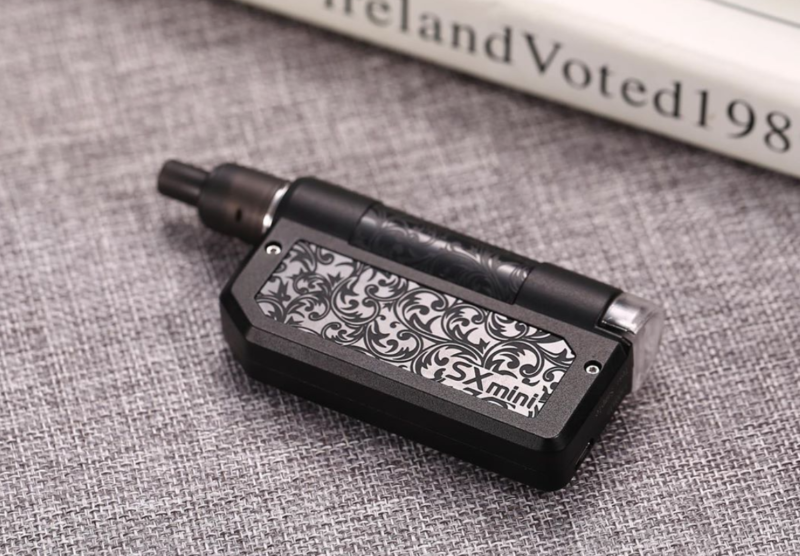 Whatever your style of vaping, you're basically covered here. If you're a newbie, it works great in Auto Mode, providing exceptional flavor with zero input from you. All you have to do is install the tank and let the YiHi chip do its thing. More experienced? Get yourself the RBA tank and start running it with your own builds.
And to top it all off, the SX Auto Squonk's battery life is great too. If you can stomach the price, I think the SX Auto Squonk is one of the best AIO/pod vape devices on the market right now. I know I'll be using mine for years to come 🙂
Best Price | VaporDNA | $109.95
Drake Equation
Co-founder and Editor of VapeBeat. I make the words.