VaporFi is a good company that make good quality juices and hardware. They also offer warranty on all their hardware as well, which is pretty rare in the vaping industry.
A lot of people argue the VaporFi brand is overpriced, but are the company has made a business out of offering premium grade products made to the highest standard.
Yes, they're more expensive than some brands. But over-priced? That connotes the products aren't worthy of the price tag and this doesn't tend to be the case with VaporFi's goods or its customer service, for that matter. You can read about the company's awesome line of E-Liquids in our Best E-Liquids feature which details all the best vape juices you can buy right now.
Today we're going to be looking at the VaporFi Vox 60TC, a brand new mod from the company. We'll be testing it with the VaporFi vSix tank as well — but more on that later.
Right. Let's do this.
VaporFi Vox 60 TC Review: Design
This box mod is a pocket friendly powerhouse. The build and quality detail that went into the Vox 60TC is sensational. I tried to find a flaw, I found none. From top to bottom this thing is flawless.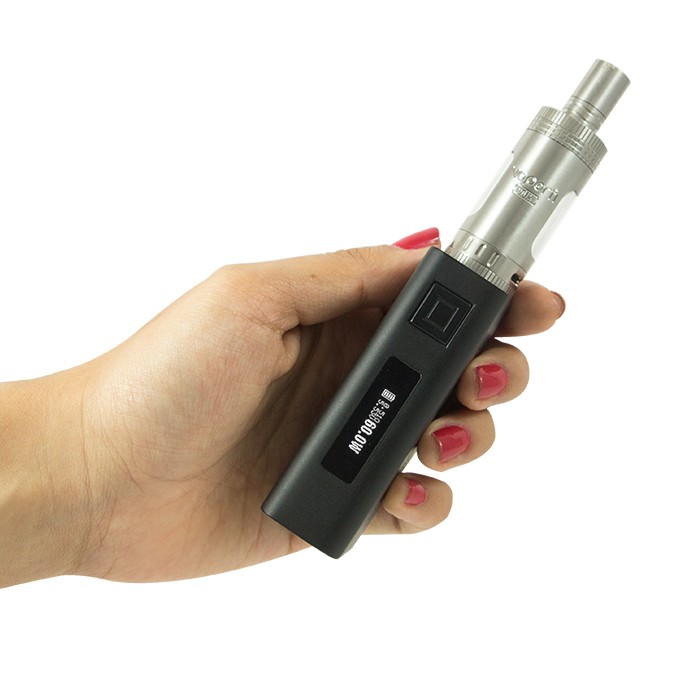 With 60 watts and Temperature Control features what more could you want? Mech mode anyone, you say? This device has that as well — amazing stuff.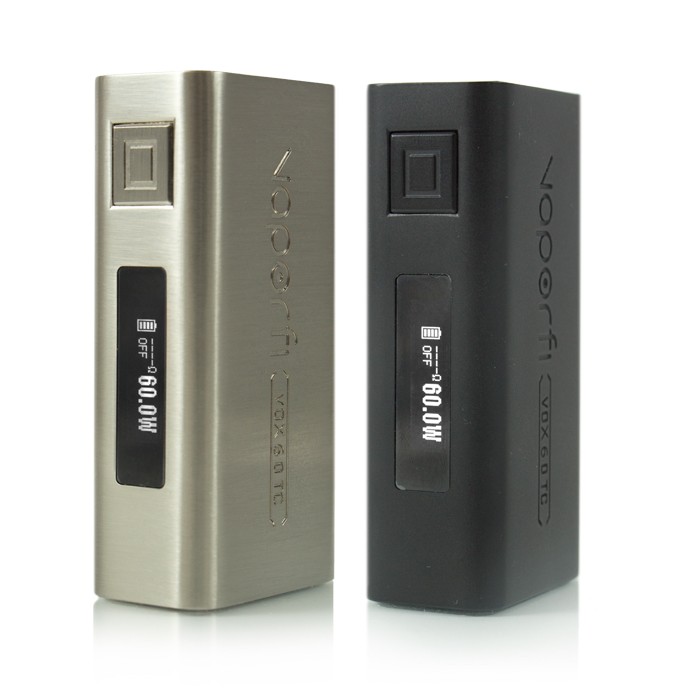 There is no option for doing stainless steel in temperature control, might be a flaw to some (subjective though) but not for me. The tank that came with the Vox 60 TC is called the vSix. This tank is great for what it does. Top fill design, juice control, and two Cyclops style airflow holes that's more than enough. Together they make for one heck of a vape experience.
Let's look at both in more detail.
VaporFi Vox 60 TC Review: Features and Specs
The size is just slightly smaller than the eVic VTC mini. The built in 2600mAh dual internal Li-Po battery is sure to keep you going strong all day. I managed a solid day's vaping before it needed a top-up. It also charges up double-quick as well; even from my PC it went from dead to over 75% in just over 90 minutes.
This little guy can fire resistances as low as 0.1-3.5ohms using a standard coil. In TC, where Ni and Ti are the only options, it'll fire .05-1.0ohms from anywhere between 200-600F.
The output power range is a respectful 7-60W. It features an auto ohm resistance meter, a digital OLED, and all the safety features we have all come to know and love with our regulated devices. The mod itself is available in black and silver.
vSix Tank: Features and Specs
A very nice 22mm tank with a large 6mL capacity. Having top fill makes refilling this tank a breeze. The juice control is great as you can run all different types of juice from 20VG on up to max VG.
It features a removable drip tip too, so you can use your favourite tip, and it comes with three coils as standard. One of which is preinstalled for you, the SS316 .45ohm single coil with a range of 10-35W. The other two are: 1x .25ohm coil with a range of 10-50W and 1x Ni200 .25ohm TC coil with a range 10-60W/0-450F.
All in all, this is a very nice looking tank that I thoroughly enjoyed vaping on. It's easy to use, looks very nice and provides great flavour as well as a variety of vaping setups that's to the additional coils it comes with and supports.
Vox 60 TC: Battery Performance
The Vox 60 TC is small, simple, box mod that oozes premium appeal. I love its size and how easily it slips into my pocket. But this was, initially, cause for concern. And I will admit right now that I was rather worried about the battery.
The built in dual Li-Po had me wondering what I would do if I was out and about and the battery died. It's sealed inside, you see, so you simply can't swap in some fresh batteries. When it's dead it is DEAD until you can find a wall charger.
Mercifully, you can vape on it while it's charging. So, if you're at work and runs out of juice, simply hook it up to your PC and vape away.
When I unboxed the Vox 60 TC, it had around 50% battery. I immediately popped in on charge using my PC and 40 minutes later the little tinker was all charged — 50% in less than an hour. Not too shabby.
To switch the device ON, it's the usual five-click method. Once you've done this the OLED display switches on where things like the battery meter, ohms, voltage, and watts/temperature are displayed.
When I put the tank on the device I noticed that it seemed to just slide on with ease, that's how smooth the 510 threading is. The device automatically sensed I had the SS coil and I adjusted my wattage accordingly before I began vaping. Again, nice touch!
The buttons you use to adjust settings are all very clicky and tactile — both good things. With this level of tactility you can do things blind sometimes
Shortly after I fully charged the Vox 60 TC, I had to go out and meet some buddies. I knew I wouldn't be home until much later, and flirted with the idea of bringing a spare mod with me just in case the Vox 60 TC gave up the ghost just as the night was getting interesting.
But then I thought, NO, this will be a great test. If it can handle a night out with heavy vaping then it can handle anything. So out I went, just the Vox 6o TC, myself and a bottle of ejuice.
I was gone for a total of 15 hours — yep, it was a big night — and by the time I got home the Vox 60 TC had one bar left on its battery. For the record, I was running the vSix tank at 32.5W the whole time. This thing has STAYING power.
I also tested my Herakles Plus tank on it as well, this time at 55W, so slightly higher and it still managed a very solid 10 hours.
VaporFi Vox 60 TC Review: General Performance
The Vox 60 TC fires on demand; there is zero delay. You hit the key, inhale and you're vaping. Adjusting the device is simple and the menu system is very easy to use. As an added bonus, the Vox 60 TC will immediately recognise what sort of tank you've put on it and adjust its settings immediately.
When you put a TC coil on the Vox 60 it asks you whether it's Ni or Ti then afterwards asks if it is a new coil. When you put on a kanthal coil it automatically reverts to wattage mode.
vSix Tank: Performance
I LOVE the way the vSix tank is styled. Its matte black finish looks amazing! The coil wicks very nicely at the 35W max rating and I took it as high as 45W with no issues.
The flavour is pretty good considering it is a single coil. Next, I tried the .25ohm coil and this coil shines. Great flavour and cloud production, I found 45W as my sweet spot. I did go to 60W and the .25ohm coil took it like a champ.
I then used the Ni200 TC coil. Now, I have used a lot of Ni coils in other tanks and this tank was the best experience I have had with Ni200 coils. Flavour is great and cloud production is slightly above par for Ni200 coils.
All the coils that came with the vSix were great at wicking as well. Easily up there with the Herakles. The top fill is very easy to use as the threading is the smooth as ice.
It features two juice slots that can fit anything from glass drippers to needle points, meaning this tank is super easy to refill. You do have a juice flow control as well and it works in a similar fashion to the Herakles Plus — you turn the top of the tank to close off the wicking holes when you refill or are not using the vSix for an extended period of time.
The airflow control is 2 cyclops-styled holes. Very adequate for this tank. The drip tip is removable with ease and rests on the tank very nicely.
Quality, design, and performance are all great on this tank.
VaporFi Vox 60 TC Review: Conclusion
Finding a good quality pocketable device is hard to do and the Vox 60 TC combined with the vSix tank really fills this void. VaporFi has an eye for detail and clearly invests heavily in design and functionality.
The Vox 60 TC might be more expensive than your average box mod but it is a cut above most, especially when bought with the vSix tank. This setup will now be added to my collection and I will likely use it on a daily basis.
Kudos, VaporFi. Kudos!
---
You can BUY the VaporFi Vox 60TC RIGHT HERE
And The EXCELLENT VaporFi vSIX Tank HERE
Nick Jennings
Reviews & Tutorials Guy. If You Can Build It & Vape It, I'm Your Man!