The SMOK ProColor mod – and starter kit – is one of SMOK's most accomplished mods to date. But is it worth your money?
Ω Ω Ω Ω Ω Ω Ω Ω Ω Ω Ω Ω Ω Ω Ω Ω Ω Ω
The SMOK ProColor is one of those mods you see about and wonder what it was after the fact. It lights up, which is kinda neat, and it has plenty of power inside it.
SMOK makes a lot of mods and tanks. It is also easily the biggest brand in the vape space as of right now – it's basically trying to do for vaping what Apple did for MP3 players.
And it is working too; wherever you go on the planet, you will see people using SMOK products, stores selling SMOK products. The company's distribution network is almost as impressive as its hardware output these past few years.
And one of its most popular new setups is the SMOK ProColor, which comes either as a kit (with the SMOK TFV Big Baby) or by itself as standalone mod.
I FINALLY managed to get my hands on the SMOK ProColor kit and I have just spent a month testing it out.
Read on for my full verdict on the SMOK ProColor.
SMOK ProColor Review – Packaging & What's In The Box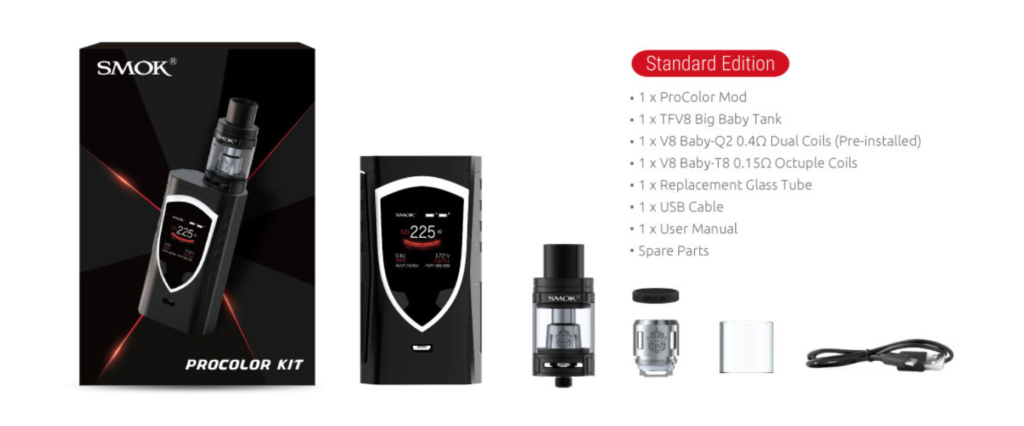 If you've had SMOK products in the past, you'll know the company does decent packaging.
Everything is packaged snuggly inside a well-sized, ergonomic box that ensures nothing gets bumped or scratched in transit.
Inside, you get the following things:
1x SMOK ProColor Mod
1x TFV8 Big Baby Tank
1x V8 Baby-Q2 Dual Coils
1x V8 Baby-T8 Octuple Coils
1x Replacement Glass Tube
1x USB Cable
1x User Manual
1x Spare Parts
The user manual that comes with the SMOK ProColor is also pretty detailed too, so if you haven't used a SMOK mod before you will definitely want to read this in order to familiarise yourself with the mod's settings and modes. Don't worry, it's a quick read – like, less than five minutes.
SMOK ProColor Review – Design
The SMOK ProColor is pitched as the natural successor to SMOK's insanely popular Alien 220W mod. That mod, while problematic, was easily one of the most popular mods on the planet during the past 18 months.
In one of VapeBeat's reader surveys it beat out the competition, snagging around 18,000+ votes as the best mod of 2017. Impressive, given the competition it was up against which included DNA mods and other high mods that retail for around double the price of the Alien.
In this respect, the SMOK ProColor has A LOT to live up too. As I said, the Alien did have its problems. You can read more about those in our Alien 220W Known Problems & Issues article. SMOK will want to put these behind it once and for all with the SMOK ProColor.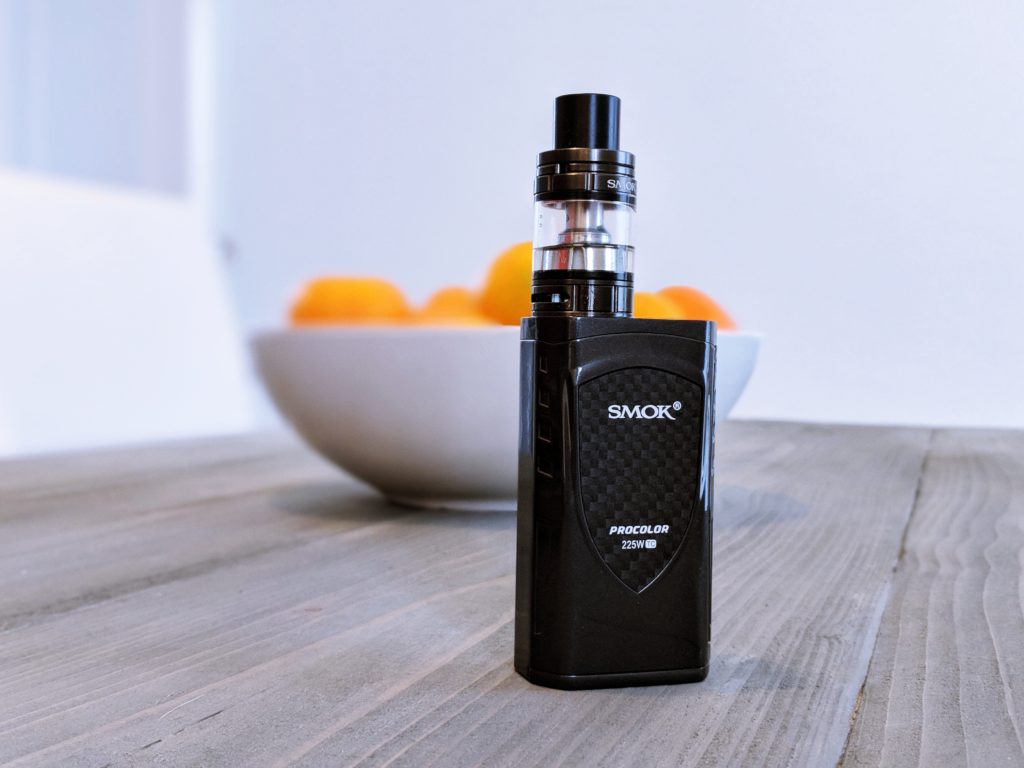 So has it? Well, I'm a month in and so far everything has been smooth sailing – very smooth sailing, indeed. The SMOK ProColor is a joy to live with and use on a regular basis. I'm also rather taken by its design and overall polish.
It has many similar attributes to the Alien, thing like its Fire Bar and overall shape and gait, but there are enough new things to keep things interesting. The flashing LED panel on the front being one of them.
The SMOK ProColor is also available in 21 different colors – that's right: TWENTY ONE!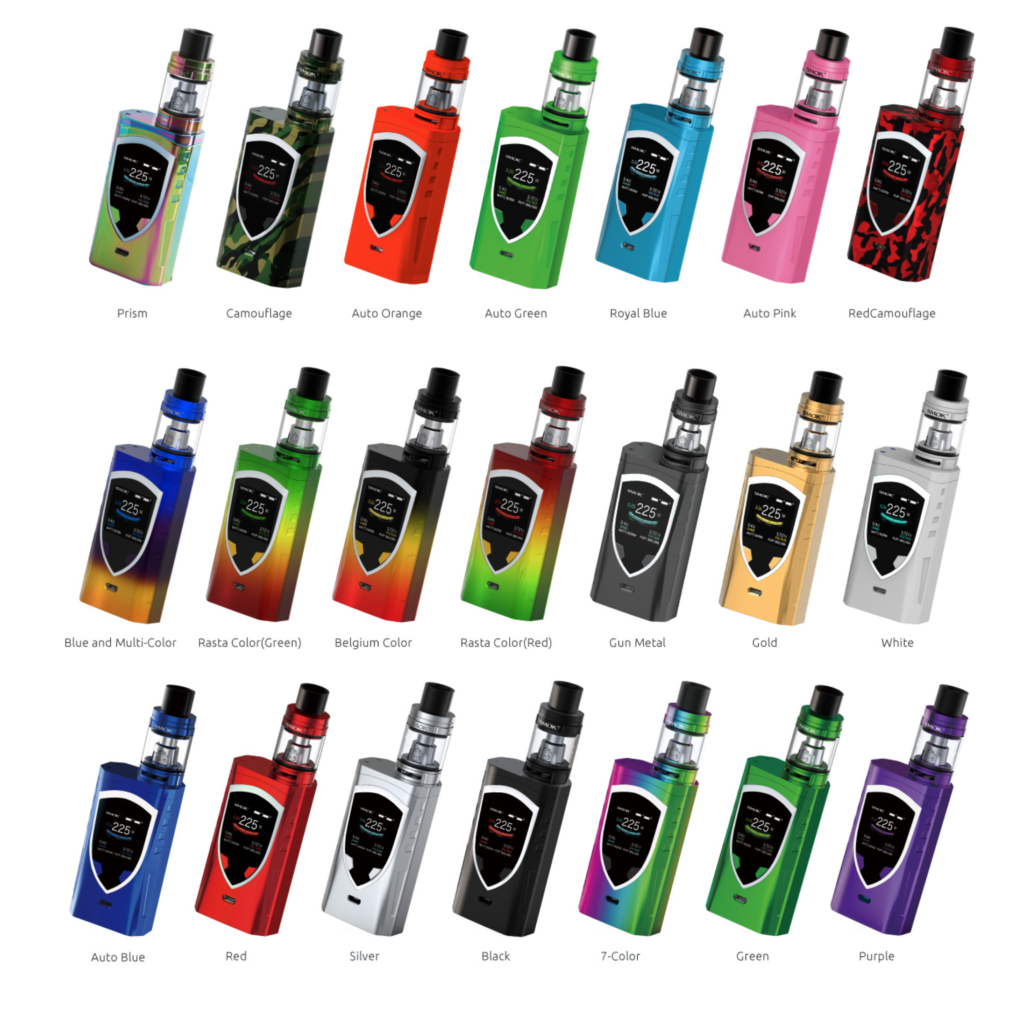 The build materials and overall construction of the SMOK ProColor is superb; nothing has been left to chance here. I've been looking for weeks now and I have yet to find anything wrong with the integrity of the mod's chassis.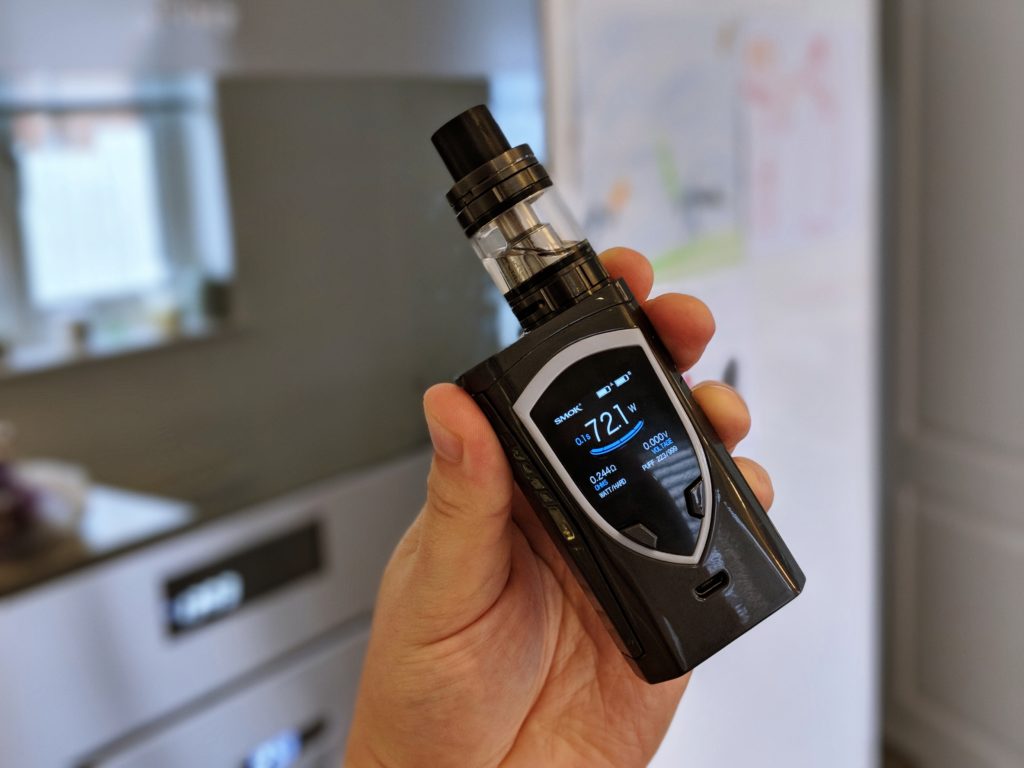 The 510 connector is spring-loaded with a brass pin and is buttery smooth, regardless of what you're installing. I've had RDAs, RDTAs, and SMOK tanks running on the SMOK ProColor during the past few weeks and all of them sat flush to the mod and ran perfectly.
The SMOK ProColor runs on OLED display that is packed full of information. You navigate its settings using the fire bar (three quick clicks) and then the + and – keys to move around the menu. Selecting something is as simple as firing the fire bar.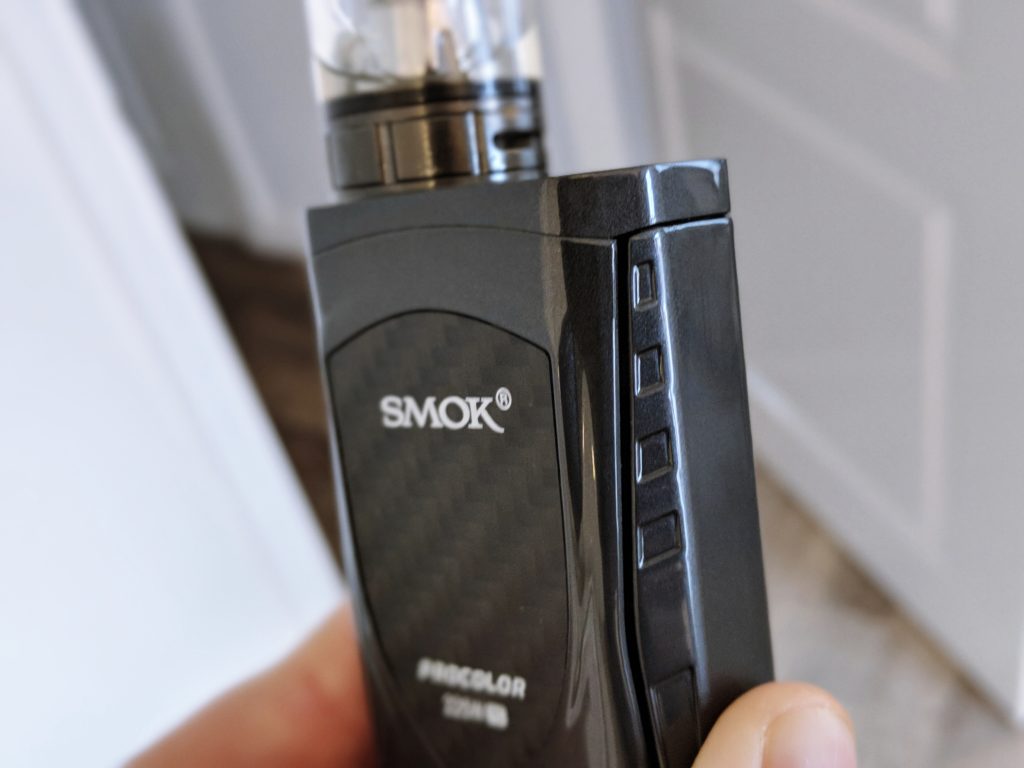 On the front of the mod, below the display, you'll find a microUSB port for charging, though I wouldn't advise this, and updating the firmware. The fire bar sits on the left hand side of the mod and the back features a nice-looking kevlar-style logo.
Navigation inside the settings can be a little, umm… tricky at first. But once you get used to the fire bar and navigation key combos it becomes second nature. Basically, once you're inside the settings menu, just remember that a long press on the fire bar switches menus, say, from LED Color to LED Display Options, for instance.
At the bottom of the device is the battery door, which slides open and fastens back up very snuggly. To access to batteries, simply push the door using the indents on the bottom and it will pop out revealing the battery dock. Make sure you put the cells in the right way around, using the diagram on the inside the of the battery door lip.
Overall, the SMOK ProColor is built like a tank. It feels solid in the hand, features a great OLED display, and looks suitably premium in the hand. I love SMOK's fire bar, I love the styling of the SMOK ProColor, and I really like that you can get it in 18 different color options.
SMOK ProColor – Specs & Features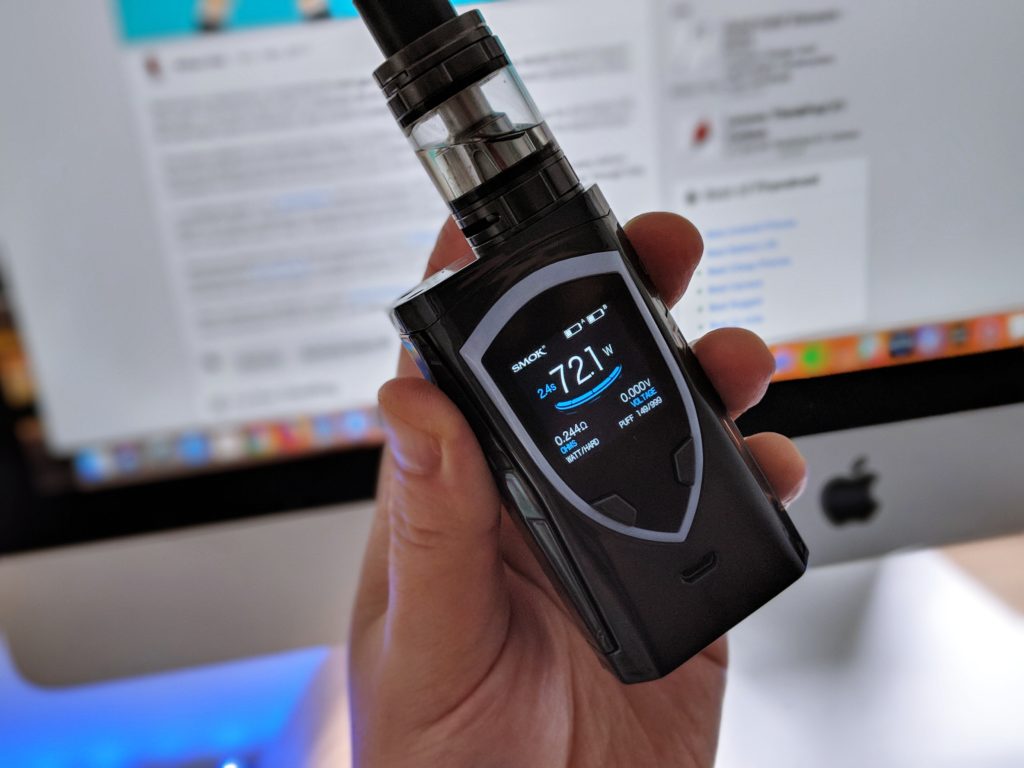 I could write 500 words about the SMOK ProColor's specs and features, but for the sake of brevity, this is a LONG review already, I will just paste the key specs and features below.
Dimensions: 85x46x29.5mm
Wattage Range: 6W – 225W
Temperature Range: 200°F – 600°F / 100°C – 315°C
Resistance Range:
1Ω – 3.0Ω (VW Mode)
06Ω – 3.0Ω (TC Modes)
Input Voltage: 6.4V – 9.0V
Output Voltage: 0.5V – 9.0V
Output Modes: VW, TC(Ti, Ni, SS), Memory
Multicolor LED Light Band Border
Large 1.3 Inch High Definition Color Display
Micro USB Port (Charging & Upgrading)
Firmware Upgradable
Short Circuit Protection
Overheating Protection
Low Battery Warning
SMOK ProColor – Performance
It's been awhile since I used a SMOK mod, but I left the SMOK ProColor feeling very satisfied by what I just experienced. The look, feel, attention to detail, and features-set are all top of the line with nothing being left on the table.
The variety of vaping modes, the ability to save certain settings to memory, the ease of switching and running it in TC mode, and the overall power and efficiencies of the SMOK ProColor are very impressive.
I tend to run my modes in Wattage mode, as I tend to use RDAs/RDTAs and I have my sweet spots that I like with certain builds. TC vaping has never really appealed to me, per se, but I did try it while testing the SMOK ProColor and it worked brilliantly.

The SMOK ProColor is super-precise and very accurate. It delivers power right off the bat and hits pretty hard when you have it set up and primed with a great build in place. For me, this is what separates a decent mod from an exceptional one. This is why I LOVE the VooPoo DRAG and one of the reasons why I now love this one.
The SMOK ProColor can be as complicated as you like too; but if you just want a laid back vaping experience, it'll shift into that style just as easily. And this is what I really like about the SMOK ProColor – it'll be whatever you want it to be and it'll run wherever you stick on top of it.
Sure, the LED flashing lights might be a bit gimmicky, but you can turn these off in the settings menu. Everything else, though, is truly excellent. The hardware, the performance, the design, the features – this mod has them all in SPADES.
One odd aspect about the PROCOLOR was that it seemed to have a hard time reading my GAIA RDTA. Every time I installed it, the PROCOLOR would flat-out refuse to accept it – Atomiser Short was its favourite excuse. And that's fine; these things happen sometimes.
But when I popped the GAIA RDTA on my VooPoo DRAG, it worked first time – no atty shorting. I had a play around with the PROCOLOR, adjusted the spring, checked the atty inside my RDTA, but nothing could get it to play nice.
It did work fine with my LUSH PLUS RDA, however, to further muddy the waters. Eventually, I just got bored trying and switched it back to the LUSH Plus. Beyond this little quirk, the PROCOLOR worked with everything else I threw at it. Guess it just has some unknown beef with the GAIA!?
(As always, I will be updating this review over time in order to access how well the SMOK ProColor holds up over prolonged use.)
SMOK Big Baby Tank Review – Decent Enough (But I Prefer My RDA/RDTA)
The SMOK Big Baby tank is decent enough for most users. It gives great flavour and big clouds, and you have a fairly wide selection of coil options to choose from.
The build and overall design of the tank is fine; it's solid, it holds plenty of E Juice, and it is seriously durable. SMOK also includes a spare glass tube in the kit as well, in case you drop and smash it – something I have done MANY times in the past.
Personally speaking, though, I do have quite a few issues with SMOK's coils (and pre-made coils in general). For one, they're very expensive. Second, they're seriously unpredictable; in that, you can get an entire batch of duds.
Priming SMOK coils properly does help a lot, but every now and then you get a coil that is simply bust, that'll dry hit after a day's use, despite correct priming. If you've used enough SMOK tanks or any other sub-ohm tank for long enough, you will know this is just a fact of life.
This is why I use RDAs and RDTAs; I just cannot stomach the high-cost associated with these pre-made coils. Even more so when the overall performance of them is so inherently unpredictable.
The SMOK Big Baby is great to have around, as a backup, or for when you're travelling, but if you're serious about this thing we call vaping, you'll invest some time and money in a decent RDA or RDTA.
In the long run, you'll save a fortune on coils, never have to worry about dud packs of pre-made coils, get better flavour and clouds, and generally speaking, a better overall vaping experience.
It took me a good few years to figure this out, don't make the same mistake I did.
SMOK ProColor – Verdict
The SMOK ProColor is a brilliant mod that is well designed and jam-packed with tons of useful features and vaping modes. For the price, it is impossible not to love this mod. Even more so when you factor in just how capable it is when you buy it as a kit with the awesome SMOK Big Baby tank.
If you want performance, style, clouds, flavor, the ability to customise the look and feel of your mod, and everything else in between, the SMOK ProColor should definitely be on your radar. I am very freakin' impressed by this setup, so do yourself a favour and check it out.
Drake Equation
Co-founder and Editor of VapeBeat. I make the words.