Drake goes HANDS-ON With The AWESOME GAIA RDTA by Cthulhu
It's been a month and I am positively in love with the GAIA RDTA by Cthulhu Mods.
In fact, I'd go as far as saying this is probably the best RDTA I have ever used. It wicks brilliant, has a decent sized juice capacity (2ml) and, best of all, it can squonk.
I do find RDAs and RTAs a little fiddly if I'm 100% honest, but the GAIA RDTA has been an absolute pleasure to work and live with. This is also my first experience with Cthulhu Mods but it definitely will not be my last.
There are so many things to love about the GAIA RDTA, things you only discover after a few day's use, things that are obvious from the moment you unbox it, though the first thing you will notice is its packaging, which is utterly superb.
In fact, I'd go as far as saying it is the best packaging I have ever seen for a vape tank. It looks like an Amazonian wedding box or something you mind find in a safari gift shop. Personally, I love the way it looks. It's unique, eye-catching and surprisingly hardwearing, given its build materials.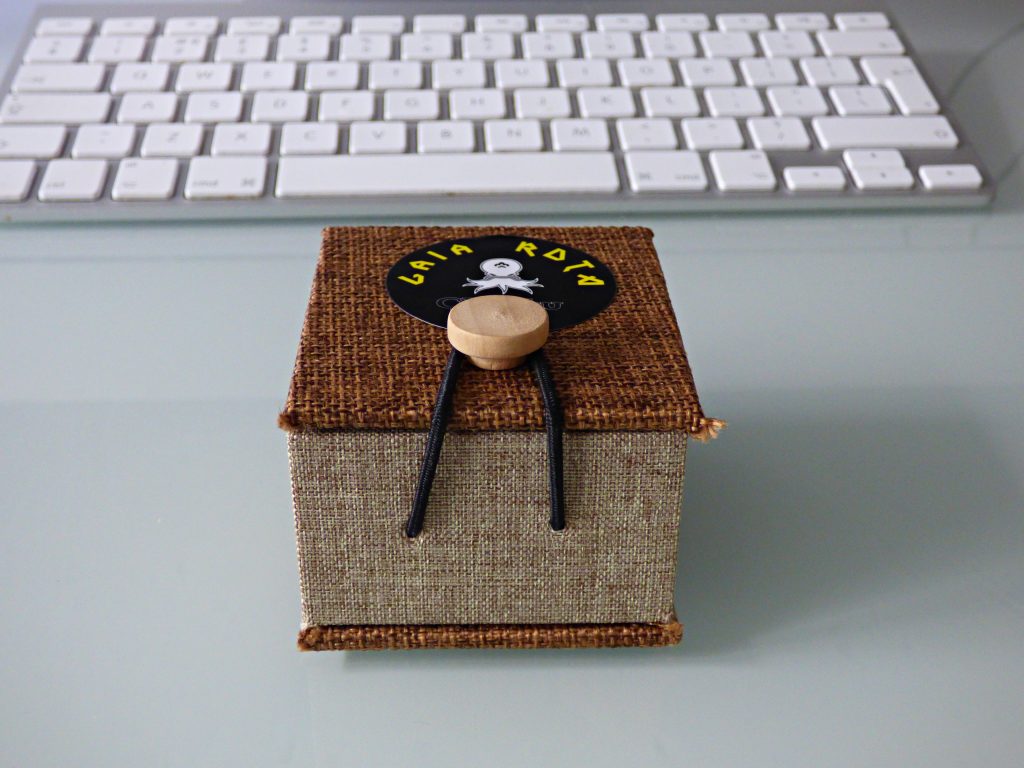 I also liked the name of the company that made it: Cthulhu MODS, which might look and sound completely unpronounceable to those unfamiliar with HP Lovecraft – FYI: it's pronounced CLU THU LU. And if you haven't heard of HP Lovecraft, sort it out and check out some of his work, as he is one of the finest sci-fi/horror writers of all time.
Hell, even Metallica have written a song about Cthulhu!
GAIA RDTA Review: Design
I'm not a massive fan of RBA tanks. I vape A LOT and the constant re-filling kind of gets on my nerves.
I also get angry very quickly if my first wicking attempt doesn't go to plan. This is the reason I threw away the Griffin 25 RTA and it is also the reason why I mostly use sub-ohm tanks like the Vaporesso ESTOK and SMOK TFV8.
Yes, I'm lazy. But I am also time-poor and I don't like spending my time fiddling around with wool and wire if the results aren't always 100% perfect.
There are plenty of great RDAs, RTAs and RDTAs out there that are great to work with. I own a bunch of them, but none – at least, in my collection – are as simple and failsafe as the GAIA RDTA; it wicks perfectly every time and it never leaks.
I always keep an RDA to hand on my desk at home, though. You just cannot beat the flavour these tanks kick out. But for the most part, I tend to use a sub-ohm tank for when I am out and about, which is most of the time.
The reason? I don't want to be constantly refilling my tank.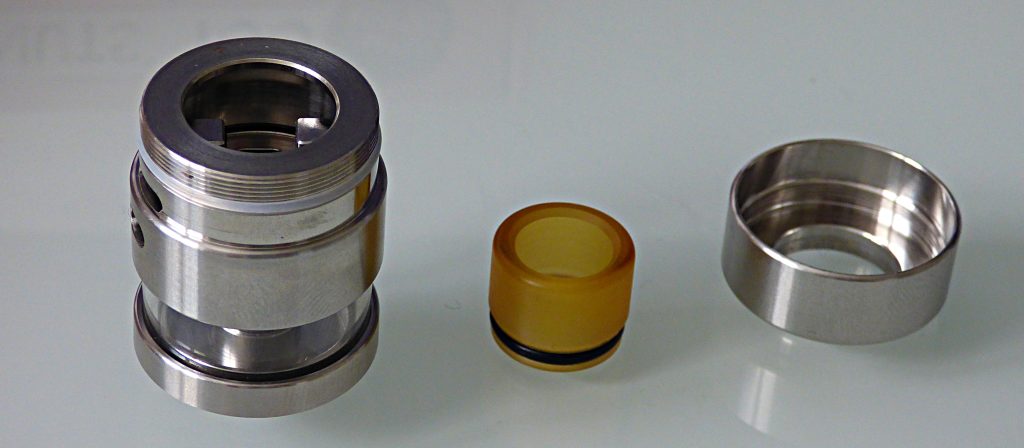 This is where RDTAs come in… because like an RTA system, they merge two worlds (RDA and standard sub-ohm tank) into one. This way you have all the benefits of an RDA (flavour, clouds) combined with the juice capacity of a sub-ohm tank (2ml, in this case).
An RTA tank will give you more juice capacity, granted, but I personally prefer working with RDTAs; they're just less fiddly and don't tend to leak as much. For this reason, I don't mind that they hold less than their RTA counterparts.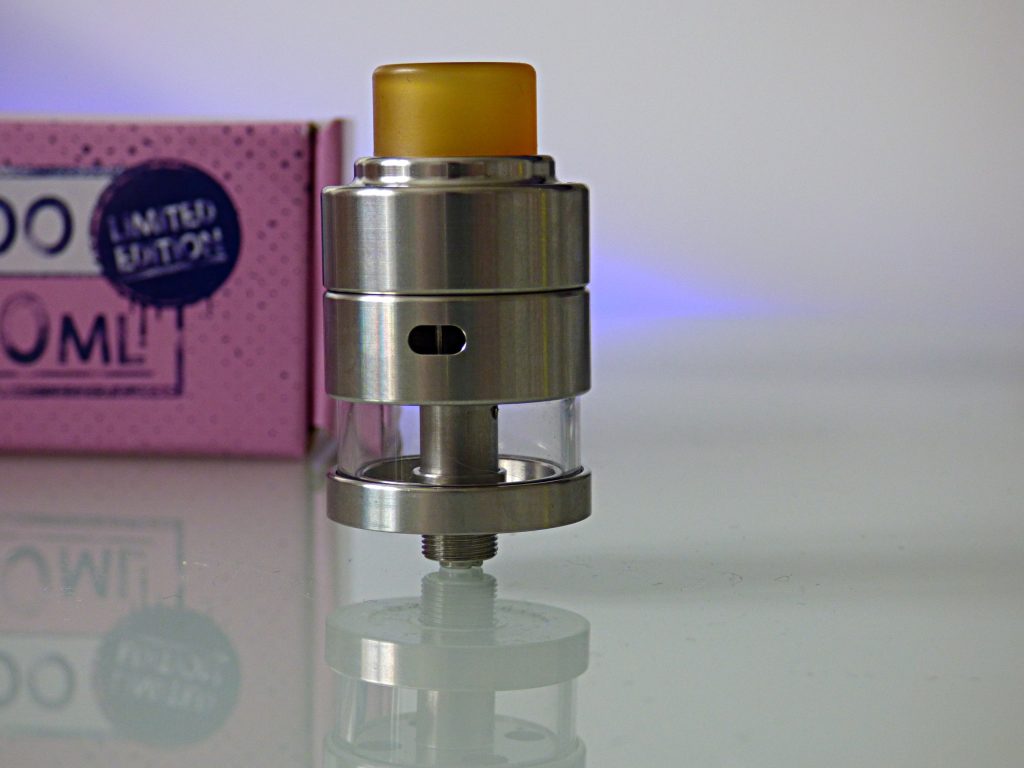 The GAIA RDTA is very easy to work with. And when I say, "very easy", I really do mean super simple – I am no expert builder, and I had ZERO issues getting this bad boy setup. The entire install (I used Alien coils) took less than five minutes, which, for me, is very quick indeed.
The GAIA RDTA is squonk ready as well; all you gotta do is swap the pin in the 510 connector and it'll squonk which is, obviously, a pretty neat feature in and of itself.
The build quality of this thing is BEYOND impressive too, especially given its pricing (it costs just $34). Granted, there are cheaper RDTAs out there but I have yet to use one quite as well put together and capable as the GAIA RDTA.
The machining, the precision of everything is immense. Nothing has been left to chance. The design language is superb, as are the colour options Cthulhu has available. My review unit was the bog-standard silver model. But you can have yours in Black or Speckle Black (my personal favourite).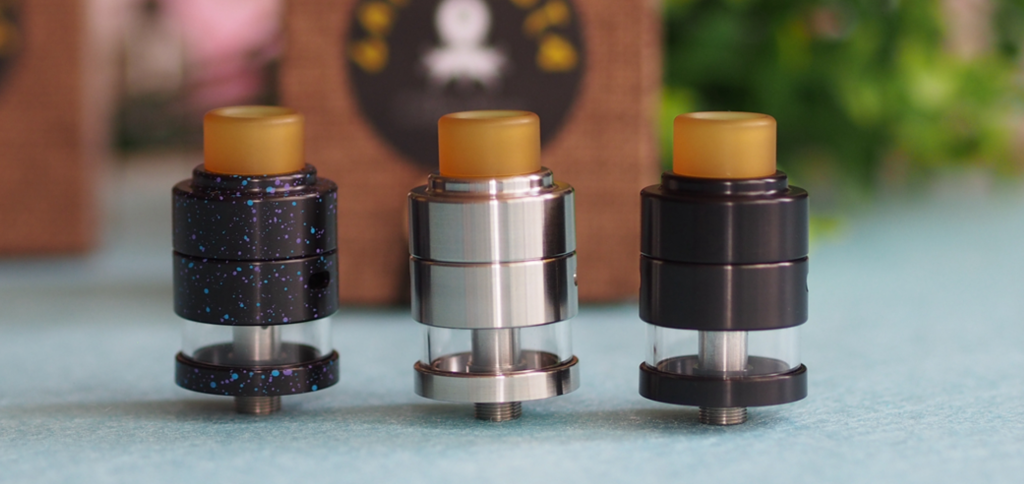 GAIA RDTA Review: Specs & Features
24mm Diameter
2ml Tank Capacity
Center Fill Design
Two Post Dual Terminal Per Post Build Deck
Quad Wicking Ports (4mm)
PEEK Insulator
Dual Airflow Systems
Redirected Bottom Airflow
Dual 5mm by 2.5mm Airslots
Centrally Located
Direct Side Airflow
Dual 8mm by 2mm Airslots
Threaded Airflow Control
Can Be Fully Sealed
10mm Bore ULTEM Drip Tip
Superior Durability and Heat Resistance
Delrin 510 Drip Tip Adapter
304 Stainless Steel and Glass Construction
Squonk Ready 510 Connection
Squonk Assembly Included
Engraved and Serialized
Laser Engraving
GAIA RDTA Review: Super Simple To Wick
One area where I constantly find myself getting bogged down when using RDAs or RDTAs is wicking – I always mess it up. Like nine times out of ten. Either there's too much or too little and the flavour's all over the place.
I have improved over the past 12 months, but there are some tanks – the Griffin 25 RTA, for instance – that I simply WILL NOT work with as they're so goddamn finicky when it comes to wicking.
The GAIA RDTA is the exact opposite; I wicked it right on my first attempt. I used a simple Scottish roll, clipped the ends, pushed them into the juice chamber, popped the top on and I was away, vaping like a champ.
As long as you use decent wicking cotton (hello, Cotton Bacon) and don't make the roll too fat, the GAIA RDTA will always vape like a champ with very little fuss. Just wick it, prime it and you're done.
The flavour this tank delivers is immense. It's big, precise and immediate – the GAIA RDTA does not mess around in this context. The only thing more impressive than the flavour is the clouds it kicks out.
To say the clouds are big would be a gross understatement. Just last week I copped a massive telling-off from my fiancé because, upon returning home from work, she discovered our ENTIRE (four bedrooms) house was filled with sweet-smelling fog.
So, yeah… make sure you leave some windows open.
GAIA RDTA Review: How Easy Is THAT Top Fill, Brah!? 
Refilling the GAIA RDTA is super-simple as it has a juice vent that lets you stick the juice straight into the chamber without dismantling the tank. Just pop the top and aim the nozzle between the two posts and you're done.
You WILL need a unicorn bottle to do this, however, as the hole is minuscule – like, so small you might not even notice its there. If you do have a unicorn bottle, though, you're sorted: just stick it in, squeeze in some juice and you're away.
The well holds 2ml of E-Juice and the chamber of the tank has been designed to ensure the flavour of the vape loses zero potency on its way up. The raised juice walls inside the deck also ensure there is ZERO leakage, a very rare thing indeed for an RDTA tank.
GAIA RDTA Review: Verdict
The GAIA RDTA is the best RDTA I have ever owned. Period. I love this tank and I will use it every day from here on out until something else comes along and replaces it.
The flavour is incredible. The clouds are frankly disturbing. And the overall look, feel and packaging of the product is second to none. I also don't recall ever using an RDTA that is as easy to set up as the GAIA RDTA or one that leaked less.
The ONLY thing I'd change about it is the juice chamber – I'd make it 5ml. But that is literally it. Everything else is near perfect. This is a tank that I would recommend to anyone that's interested in the performance of an RDTA but has been put off in the past by leaking and/or fiddly set-up procedures.
All told, I am very smitten with the GAIA RDTA. Very smitten, indeed…
---
If You'd Like To Stay Up To Date With All The Latest Vaping News & Reviews…

---
Drake Equation
Co-founder and Editor of VapeBeat. I make the words.