What are the best SMOK mods you can buy right now? Good question – these are the best SMOK mods we've tested in the past 12 months…
---
The Best SMOK Mod You Can Buy Right Now (My #1 Pick)
An Absolute POWER HOUSE....
The Cheapest "Indestructible" Vape Mod
When it comes to SMOK mods, you gotta be careful – some aren't as well built as others. I've tested a boat-load of SMOK mods during the past five years or so, and some have been really impressive. In 2020, however, your best option when it comes to SMOK mods has to be the SMOK Mag P3 vape mod starter kit.
Why? For starters, it looks totally badass and has a huge amount of power under the hood. Second, it comes with a very decent mesh coil tank in the form of the SMOK TFV16. The Mag P3 will fire in under 0.01 seconds, has a ton of vaping modes, and has excellent battery life.
Basically, out of ALL the SMOK mods, you can buy right now, and I've tested nearly all of them, the SMOK Mag P3 is by far the best option from a design, performance, and value for money perspective, as you can see below:
SMOK Mag P3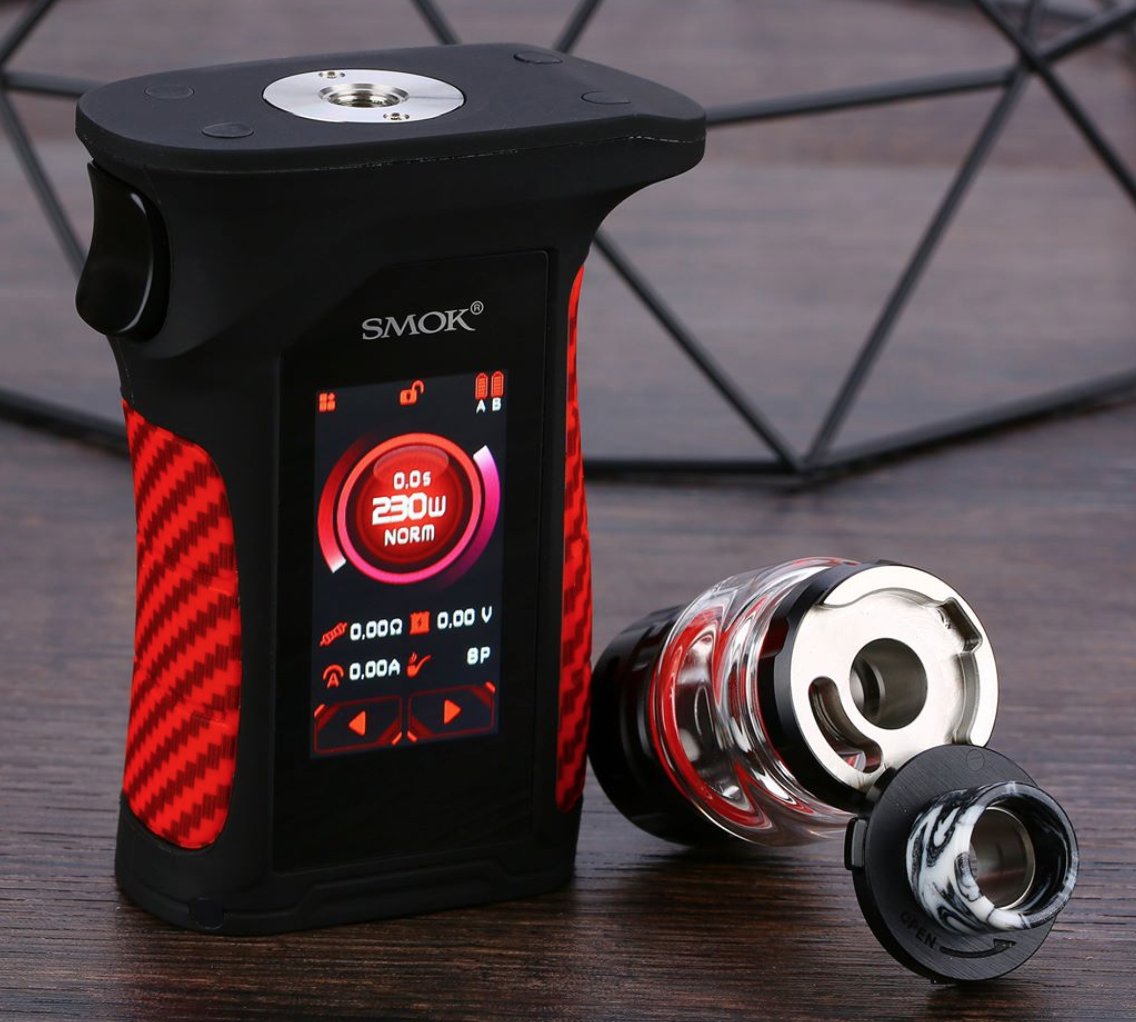 Why We Love It: 

Stunning Design
TFV16 Mesh Tank is Great
Best For Battery Life
230W of Power + Vaping Modes
Iconic Design, Unlike Anything Else
Works Great With RDAs & RTAs Too

OVERVIEW: 

Design: ✪✪✪✪✪
Performance: ✪✪✪✪✪
Battery Life: ✪✪✪✪✪
Ease of Use: ✪✪✪✪
Price:
✪✪✪✪
Overall: ✪✪✪✪✪
---
Top SMOK Mods & Kits (Best of The Rest)
NAME
IMAGE
BEST DEAL
RATING
Things We Like

(Best Vape Kit Option)

100%

Solid Construction & Premium Build Materials
Tons of Power
Brilliant Touch-Screen Interface
Loads of Features
Comes With Great Mesh Coil Tank

100%

Premium, High-End Design 
Beautiful Aesthetics
Touchscreen & UX is Awesome
Loads of Power 
Great For TC/Wattage Vaping 
Stellar Battery Life

100%

Great Design
TONS of Features 
Excellent Battery Life
Masses of Power (230W) 
Touch-Screen Display 

98%

Stunning Design
Voice-Activated Controls
Lots of Power
Tons of Features
TC & Curve Vape Modes 
Great Value For Money

98%

Solid, Robust Design 
Excellent Value For Money
Lots of Power (230W) & Settings
Easy To Use
Very Ergonomic
[social_warfare]

---
SMOK is basically the biggest brand in the vape space.
Like Apple or Samsung, most people with even a passing interest in vaping have heard of SMOK – or used or owned one of its products. But what are the best SMOK mods you can buy right now?
If you're looking at SMOK mods because
You think they're the best, and;
You see them everywhere, it is definitely worth pausing for thought before you pull the trigger on one.
Why? Simple: SMOK might be one of – if not THE – biggest brand in the vape space right now, but that doesn't mean it is the best.
Not necessarily, anyway.
There are literally hundreds of brands out there and most of them do not have the kind of reach that SMOK does.
The best of which are collected and ranked in our Best Box Mod Guide (and this article is updated all the time too).
I do like SMOK mods, however, I personally own about 9 of them (I think), but I just want you to be sure that you're aware of ALL the options currently available (more on this farther down)
For now, this SMOK mod is my #1 choice for mid-2018.
The Best SMOK Mods 2018-2019
#1) SMOK Morph 219W Kit (My #1 Pick Right Now)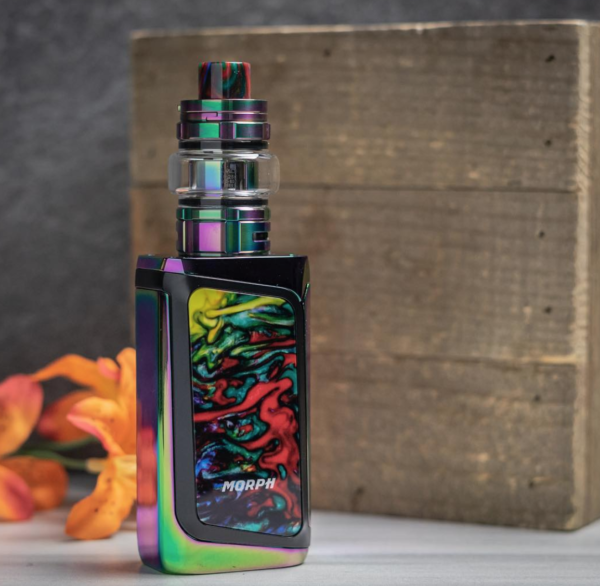 The SMOK Morph vape kit is the latest and greatest SMOK vape kit on this list. I tested it out a few months back, around April, and was very impressed by how it performed.
The Morph is a very good looking vape mod. It's made from premium build materials and it looks and feels great in the hand. The star of the show, however, is the touchscreen interface; it is one of the best I have ever used.
As for power and features, you have PLENTY to play with. Up to 219W, and that's enough for anyone. It's not the most powerful vape mod on this list but it is definitely my #1 favorite right now. Why? Simple: it looks great, it comes with a solid mesh coil tank, and the touchscreen interface is masterfully integrated.
---
#2) SMOK G-Priv 2 LUXE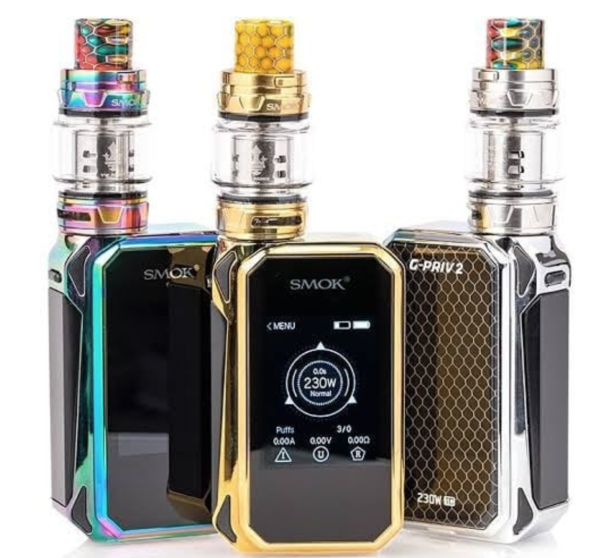 The SMOK G-Priv 2 LUXE is, again, a touchscreen vape mod. It's more compact (well, squarer) than the SMOK Morph and it'll deliver more power – up to 230W.
I don't really need 230W of power. Plus, I prefer the way the Morph looks. But for fans of squatter vape mods with expansive touchscreens, the SMOK G-Priv 2 LUXE is definitely worth a look.
Packed with features, as well as very intuitive display and settings menu, the SMOK G-Priv 2 LUXE has everything you could possibly want from a modern vape mod – masses of power, decent temperature control, user memory settings, and more.
Like big screens and smaller chassis design? Get the SMOK G-Priv 2 LUXE.
---
#3) SMOK Species 230W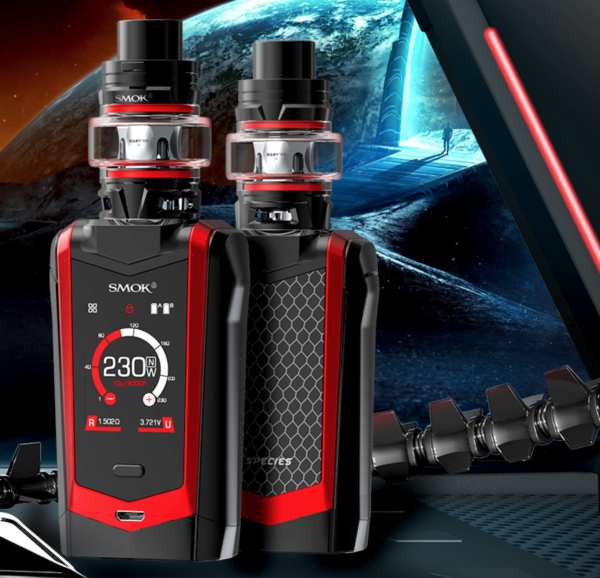 The SMOK Species 230W is a very handsome chap. In fact, I'd say it is one of my favorite SMOK mods in recent years. The styling is very much on point, with nice accent work and clever patterns adorning the back panel.
The OLED panel on the front is STUNNING. It looks almost as good as the display on my OnePlus 6T, so if displays are important to you, well… you're in good hands with the SMOK Species 230W.
And with 230W of power, you have more than enough grunt under the hood for even the most demanding vape tanks. Like all the other vape mods on this list, the SMOK Species 230W runs the same chipset as all other SMOK mods.
This means you get plenty of customization options, excellent power delivery, some of the best settings menus in the business, and masses of safety features that'll ensure you're always vaping without any risk. The SMOK Species 230W also comes with the mesh coil-packing SMOK Baby V2 tank as well – and it's very good.
---
#4) SMOK I-PRIV 230W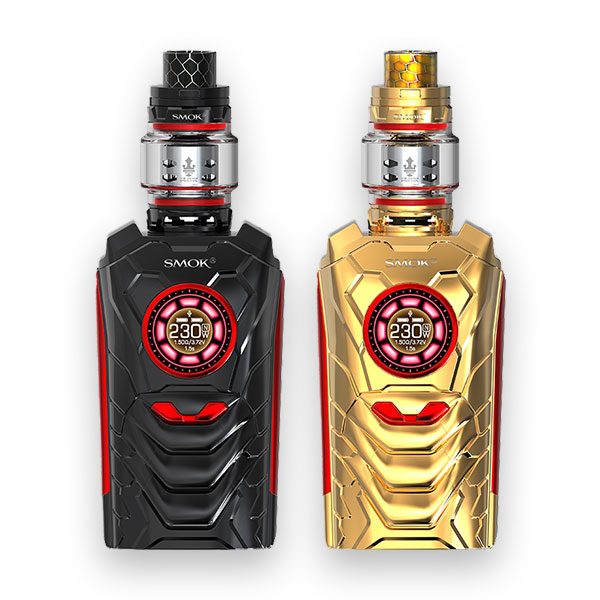 It looks like it's inspired by Iron Man, and it probably is, because the SMOK I-PRIV 230W is the world's first vape mod to feature voice-control settings – you know, just like Siri on your iPhone.
Sounds like a gimmick, right? It kind of is – but it is pretty cool. You can use your voice to adjust the wattage, change settings, and a whole slew of other things. The mod itself is very well designed and proportioned. It comes with a decent mesh coil tank too.
As per usual, you have masses of power under the hood, plenty of settings and customization options and support for decent temperature control vaping. If you like smart vape mods that you can talk to, the SMOK I-PRIV 230W comes highly recommended.
---
#5) SMOK E-PRIV 230W (Best Compact Option)
The SMOK E-PRIV 230W is the most compact vape mod on this list. The design is fairly restrained by SMOK's usual standards. But what the SMOK E-PRIV 230W lacks in design flair, it more than makes up for with performance and overall pocketability.
It comes with the SMOK TFV12 Prince tank, as well as two mesh coil heads, and you have 230W of power to play with. The SMOK E-PRIV 230W is also designed to fast-charge via USB too, so you don't need to mess around with external battery chargers.
The ultra-portable vape mod is stupidly powerful for its size, and the Prince Tank it comes with is very good for a kit tank. I like to run RDAs on mine, but it is handy to have a solid, mesh coil vape tank around for when you're out and about.
Bottomline? If you're looking for an ultra-potent, ultra-compact vape mod that can go shoulder-to-shoulder with the best of then, the SMOK E-PRIV 230W is 100% worth a look!
---
>>>Click Here To View The Table At The Top of The Page Again…