The Voopoo Drag 3 is every bit, if not better than the original Voopoo Drag. That's high praise and it puts the Voopoo Drag 3 in my list of best mid-range dual battery mods of the year.
---
Voopoo Drag 3 Verdict – 93%
Voopoo Drag 3 Pros: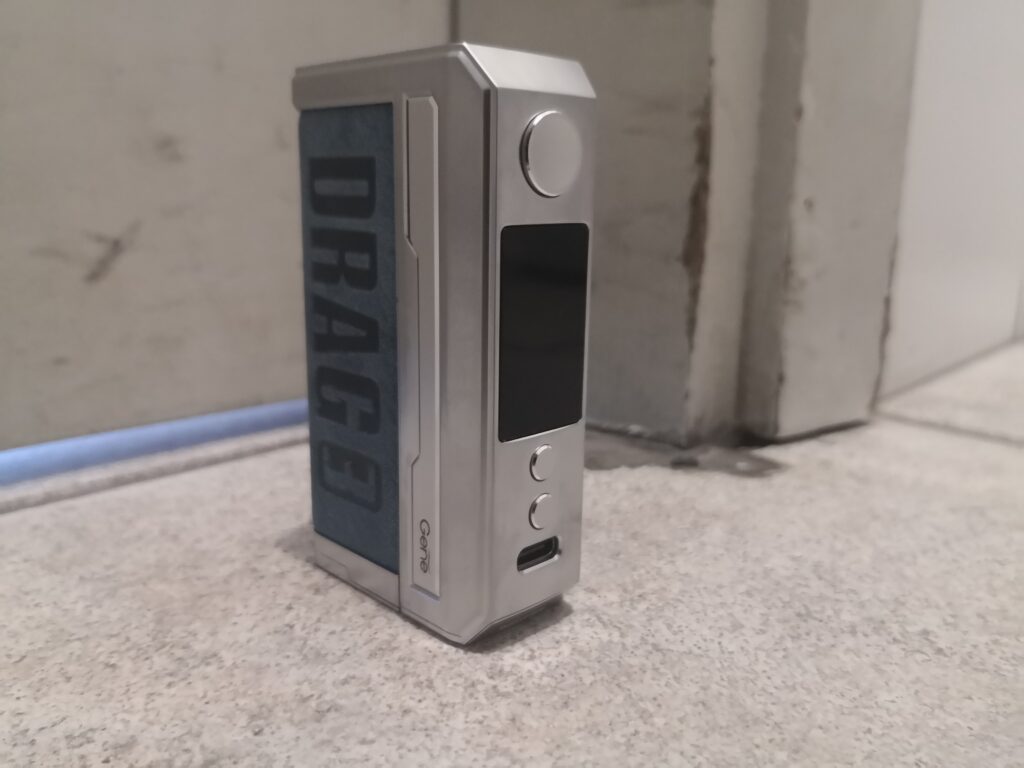 Looks stunning with great colour combinations
A fair bit lighter than the original Drag
Fantastic screen
Supports both 510 and PNP coils with the included tank
Super fast fire time
Voopoo Drag 3 Cons:
Does not feel as solid as previous models
Lost its old-school appeal
The very first Voopoo Drag, pre-PNP era, is to this day one of the best devices I own. So much so, that nearly 3 years later, it's still in my rotation. It's a robust piece of kit and has not let me down once. The Drag series has made Voopoo the powerhouse they are today and the new Drag 3 aims to continue that legacy, or at least, I hope it does.
---
Design
Now before I lay my hands on the latest iteration of the Voopoo Drag, I must make it absolutely clear that I am under no false perception that the Drag 3 compares in no way to the very first Drag. This becomes evident the moment the box is opened and the Drag 3's curved edges lay bare.
No longer does the Drag cut your fingers to shreds by merely fondling the device, but instead smooth rolled and curved edges make for a device that's infinitely more comfortable to hold. That said, it loses the hardcore and tank-like persona of former models. Not only has it lost the badass look, but so too the construction has softened up significantly.
The Drag 3 feels nearly half the weight of older units, no doubt due to too the improved zinc alloy chassis used. Nice as that may sound, I did prefer the brick-like feel of the first Drag. Speaking of materials used, the Drag 3 sports a wrap-around leather grip akin to the Drag Max and Drag S/X series. In fact, you would be hard-pressed to distinguish between the Max and Drag 3, with the latter being way beefier.
Without sounding like a broken record, the front facia is near identical to that of the Drag S/X. A large round fire button sits atop the huge TFT color screen with adjustment buttons and a USB port right below.
The Drag 3, unfortunately, loses the side access battery panel in favor of a battery tray accessed from the button and while I understand that this is by far a better implementation, it is a shame to lose one of the distinguishing features of the Drag 1 and Drag 2.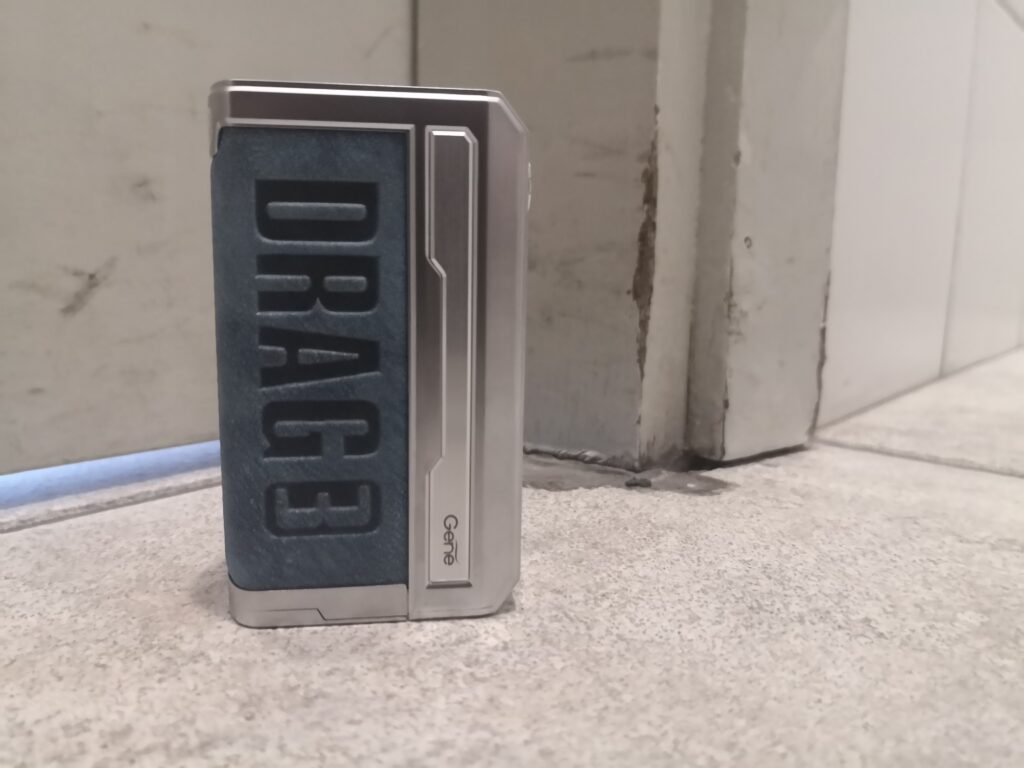 With the extra girth, I would have expected 2X700 compatibility, but unfortunately, the Drag 3 is limited to dual 18650s. A wasted opportunity if we're honest.
As mentioned previously, the Drag 3 houses an offset connection, but the included PNP tank allows users to make use of Voopoos PNP coils. In all honesty, the Vinci series is a better bet for these coils, so we'll stick to the 510 connection on here.
Performance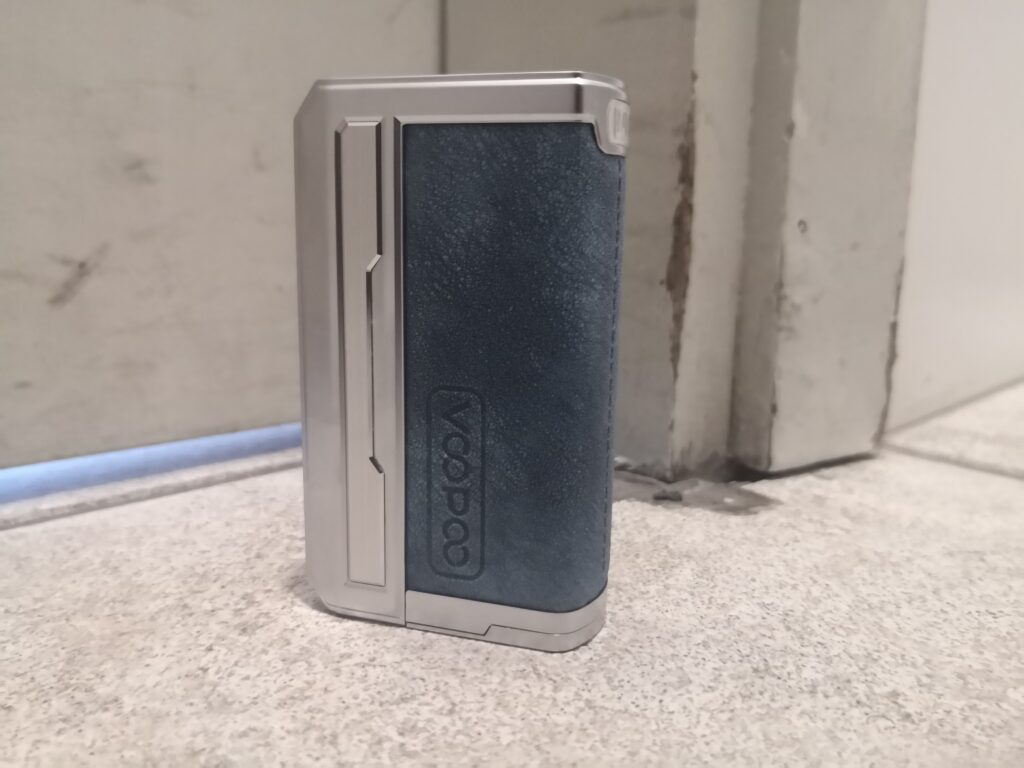 The Drag 1 was forgiven for its lackluster appearance thanks to the vastly superior (at the time) Gene chipset. Now that the Drag 3 is aesthetically pleasing, does that mean it compromises on performance? Simple answer, no. The Drag 3 takes me back to a time where mods served no other purpose other than vaping (I'm looking at you SXMini with your fidget spinner T-Class)
The Drag 3 offers a maximum power output of 177w and fires instantly thanks to some Gene 2 black magic. I'm fairly certain it does not output a true 177 watts, but it damn well feels like it does. The High Burst Super Mode will set your throat on fire, so if your jam is molten lava, the Drag 3 will be right up your alley. I'd go as far as saying that the new Drag performs marginally better than the Drag 1 and 2 and better than most dual battery mods from China lately.
The Drag 3 can support up to a 24.5mm atomizer and while it's certainly not the biggest, it should suit most modern atomizers available today.
As long as you're using healthy, branded batteries, you're battery life should be more than adequate, but seriously, why couldn't we have 2X700? There's more than enough space inside the chassis. The new bottom access battery tray feels solid and more confidence-inspiring than side access panels, although the Drag loses some cool points.
All the buttons have a high-quality feel with no rattle, evidently perfected from the Drag S/X series and a welcome addition at this price point. The buttons are nice and clicky too if that's your thing.
Specs:
Size: 82mm x 25 x 52mm
Materials: Zinc Alloy + leather
Power Output: 5-177w
Battery: Dual External 18650
PNP Tank Capacity: 5.5ml
Charging: USB Type C
Voopoo Drag 3 Conclusion
The Voopoo Drag 3 may have lost its old-school cool status, yet, it retains its legendary reliability and robustness in a softer, more aesthetically pleasing package.
Lovers of the first version will no doubt hate what the Drag has become, but if you're after a solid performing mod, the Drag 3 stands head and shoulders over the competition.
It's got a fire rate to die for, great looks, a magnificent screen and allows for not only a 510 threaded atomizer but the PNP tank for your plug and play coils.
It feels like Voopoo has taken a hot minute to get to the final product (with the Argus GT, Max, and the likes leading up to it) but they've finally arrived, and boy, was the wait ever worth it!