If you're looking for the best 20700 vape mod, the VooPoo X217 vape mod is definitely something you should be looking at. Why? It's solidly built, beautifully designed, and hugely powerful…
---
The VooPoo X217 – A Potent, Beautiful 20700 Vape Mod
VooPoo makes some pretty bangin' vape mods. The resin VooPoo Drag is still one of my favorite vape mods ever – even now with the Drag 2 and Drag 2 Mini readily available. And like the VooPoo Drag, the VooPoo X217 is a definite classic in the making.
VooPoo X217 Pros
Solid, Premium Design
Runs 2x 20700 Batteries – And That Means HUGE Battery Life
GENE.FAN Chip is One of The Best In The Business
It Looks & Feels Amazing
5x User Memory Settings
217W of Power + Temp Control
Looks Like A $200 Mod, But It Costs $57…
---
VooPoo X217 Detailed In Full – Design, Specs, Performance & Battery Life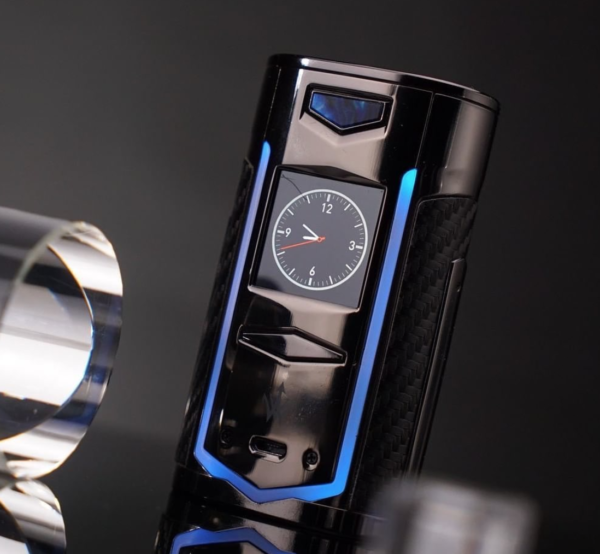 Design
When it comes to good looks, VooPoo really knows what it's doing when it comes to designing vape mods. The Drag Resin was gorgeous, and the VooPoo X217 is no exception either – it feels beautifully premium in the hand, thanks to its exquisite build materials and choice of contrasting metals, leather, and LEDs.
The finished package looks like a $200 mod, something YiHi might make. But it isn't; the VooPoo X217 retails for just $57.99 – and that really is incredible value for money whichever way you slice it. The 1.3in TFT display is stunning too, detailing everything that is going on inside your mod and tank. It feels like nothing has been left off the table with this mod.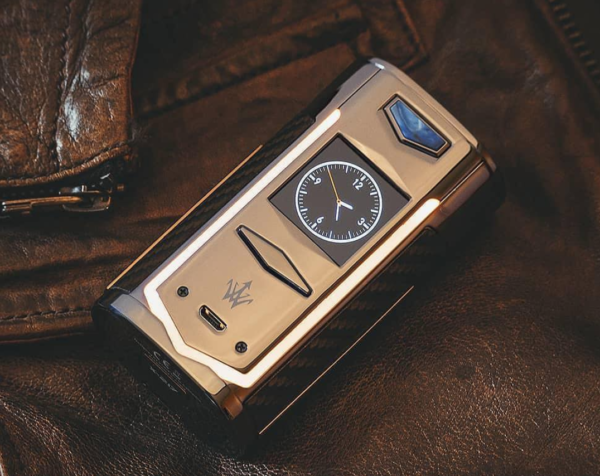 On the subject of YiHi mods, the VooPoo X217 does kind of remind me of a more futuristic-looking SX Mini G-Class. It cuts a similar figure, just with more existing design language. The fire key is located at the top of the device, just above the display, and is ideally placed for my style of vaping. I also really like the soft-touch (faux) leather accents on the side.
The 20700 batteries go in the bottom of the device, again, very much like how they do on the SX Mini G Class. Once inside, they're held fast in place by a secure locking mechanism. The VooPoo X217 will also run 18650 cells too, so you don't always have to run 20700 batteries, though you'll want to because they provide additional battery life.
VooPoo X217 Specs & Features
93mm by 50.6mm by 33mm
Gene.FAN Chip
Variable Wattage Output
Temperature Control
Five User-Defined Output Modes
Three Button Control Face
1.3 Inch TFT IPS HD Display
"U" Shaped Breathing LED Strip
Zinc Alloy and Carbon Fiber Construction
Spring Loaded Gold Plated 510 Connection
As you can see, the VooPoo X217 packs in a ton of features. My favorite, however, is the ability to set up to five profiles. Using this feature, you can set a profile for your RDA, your vape tank, and your MTL vape tank. It saves time and it works great. Just like a DNA mod, only here it's about $100 cheaper.
For this price point, VooPoo has really over-delivered with respect to features and build quality. As noted earlier, the VooPoo X217 looks like a $150-$200 vape mod. The materials used, the specs, the built-in features; everything looks, performs and feels like it should cost a lot more. And if you're a fan of value for money, it doesn't really get any better than this…
VooPoo X217 Performance
VooPoo mods, thanks to the company's GENE chip, have been kicking ass for years now, bringing immense power and near-instantaneous firing to millions of vapers the globe-over. This is why the Drag was so popular. It put VooPoo on the map. Big time.
Since then, things have progressed, and VooPoo has doubled down on its design language and styling. The VooPoo X217 is the end result of this. You have a mod that wouldn't look out of place alongside top of the line DNA and YiHi mods. And that is impressive. Even more so when you factor in just how little this vape mod retails for.
You have tons of power (217W), a full temperature control suite, and a myriad of safety features that'll ensure you're always vaping safely. Chuck in things like memory modes and the "breathing" LED on the front, a gorgeous TFT display, and you're in a very good place indeed. In fact, I can't believe there hasn't been more hype around this mod; it is vastly superior to the VooPoo Drag 2 in pretty much every way.
And that should tell you everything you need to know about how the VooPoo X217 performs.
VooPoo X217 Battery Life – The Main Event
Besides good looks and epic design, the VooPoo X217 has one more trick up its sleeve: exceptional battery life. This is made possible by its dual-20700 batteries, which bring around 20-30% more battery life than their 18650 counterparts, meaning you charge them less and vape for longer.
If you run high power RDAs and vape tanks, you NEED a vape mod that can go the distance. Normally, I'd recommend a triple 18650 vape mod, but the rise of 20700 vape mods kind of makes them redundant. The VooPoo X217's battery life is incredible and this makes it an ideal choice for power vapers.
Fully charged, you'll get through a full day of vaping up and around the 100W mark without the mod breaking a sweat. And because of the design of the mod, you can easily run 30mm RDAs and vape tanks on it. If you're feeling underwhelmed by your dual-18650 vape mod, perhaps it's time you upped the ante and switched to a dual 20700 box mod?
Why You'd Buy The VooPoo X217
Great Design
Immense Battery Life
Gorgeous TFT Display
Masses of Power (217W)
Ability To Run Large, 30mm Tanks
GENE.FAN Chip is Brilliant
You Want A $200 Mod, But Can't Afford One
Bottomline? For the asking price, around $57.99, the VooPoo X217 serves up unbelievable value for money. I own the SX Mini G Class, it's a beast, but the VooPoo X217 looks and feels better in the hand – and it's $100 cheaper!
For me, this is perhaps one of the best vape mods we've seen all year. If you like power, premium design, and immense battery life, you need to be picking up one of these. Like, right now!
Other Good 20700 / 217000 Mods Worth A Look…
The VooPoo X2017 isn't the only game in town, it's just my current favorite. But you do have other options, and they are as follows:
---
#1 – Vaporesso Armour Pro (Ideal For MTL Tanks)
If you're into MTL vaping, the Vaporesso Armour Pro comes highly recommended. This svelte, beautifully designed vape mod is ideal for vapers that run MTL tanks at low wattages. Anything around the 20-30W mark.
It's a single-cell vape mod (it'll run 21700 / 20700 / 18650 batteries), so it isn't designed for high-power vaping. You can do it, of course, but you'll drain the batteries in record time.
Inside you have Vaporesso's impressive OMNI Board chip powering everything, and like VooPoo's GENE chipset, it is mightily impressive, packing in a myriad of vaping modes and safety features. I love this mod, but you HAVE to use it with low-power MTL tanks to get the most from it.
Rocking a high-power RDA or sub-ohm tank will drain the battery too fast. As an MTL vape mod, however, it is brilliant. Well worth a look, if you got any MTL tanks in your collection.
---
#2 – Aspire PUXOS (Unique Design, Solid Performer)
I don't have much to do with Aspire stuff these days, but the Aspire PUXOS made this list because it is A) relatively cheap, B) a decent vape mod, and C) looks decent with its unique, resin finishes on the front on back of the mod.
Like the other mods on this list, it'll run dual-18650/20700/21700 batteries. It is also fairly compact too. Beyond this, the mod features a stunning 0.96 OLED display and packs in plenty of performance – both in power and temperature control modes.
It also comes with a very decent tank as well; the Aspire Cleito Pro, which is a mesh coil sub ohm tank that kicks out plenty of flavor. If you're after a vape mod kit that can run 21700 or 20700 batteries, the impressive-performing Aspire PUXOS is very much worth a look.
---
I'll add more mods to this list as I try them. For now, my recommendations, based on all of the above, are as follows:
Drake Equation
Co-founder and Editor of VapeBeat. I make the words.