If you're looking for a truly exceptional dry herb and/or weed vaporizer, look no further – the DAVINCI IQ is where it's at!
---
Quick Verdict: Davinci IQ (98%)
For me, the Davinci IQ has been one of my best investments ever. The vaporizer is a solid, reliable performer that delivers consistently great vapor and flavor with minimal effort. It also has excellent battery life – far better than the more expensive Firefly 2.
Once you've loaded the bowl, the settings are simple enough to use manually. Then all you have to do is sit back and enjoy the amazing vapor this portable vaporizer mod kicks out.
MORE: Our ALL-TIME Favorite Desktop Vaporizers Listed In Order of Awesomeness
Heat-up times are very good (sub-30 seconds) and the bowl size is very good too. It is also incredibly easy to set up and, if you like, you can also pair it with your phone and control it via Bluetooth. It's extremely portable and it looks and feels stunning in the hand. Ultra-premium stuff across the board, basically.
You get thick, dense vapor from it and the taste is superb. This is mostly down to its ceramic zirconia air path which ensures you get the cleanest-tasting vapor possible. I use mine most days and I honestly wouldn't swap it for anything else – not a PAX 3 or the Firefly 2.
I also LOVE that it runs removable 18650 batteries, as you can hot-swap cells as soon as one is dead, which means no waiting around for it to recharge, as you have to with the PAX 3 and Firefly 2.
For me, the Davinci IQ is the best sub-$300 vaporizer on the planet. Bar none.
Davinci IQ Pros:
Excellent Design + Super Simple To Use
Runs Removable 18650 Batteries
Amazing Flavor (Thanks To Its 100% Ceramic Zirconia Air Path)
Epic Battery Life
Simple Manual Controls
Precision Temperature Control
Smart Path Way Tech – Pre-Set Temps For Great Vaping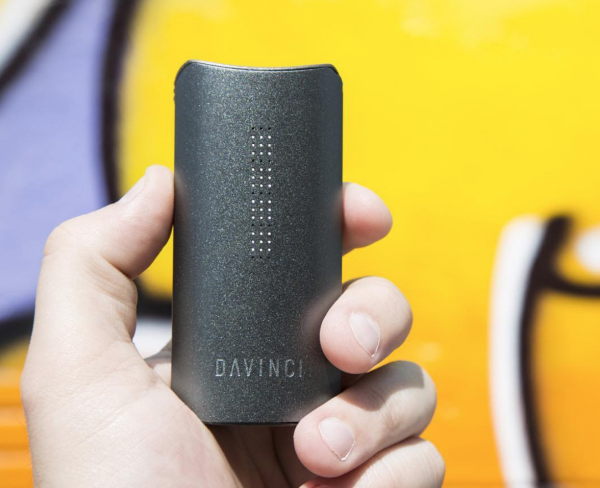 ---
Davinci IQ Full Review – Specs, Features & Performance Detailed In Full
If you're serious about vaping weed, you need a good vaporizer. This is a fact and there's no way around it, unfortunately – trust me, I found out the hard way. Cheap vaporizers are plentiful, but they SUCK. This is why I eventually decided to splurge some cash on the critically acclaimed Davinci IQ vaporizer.
Like with vape mods, you have TONS of choice when it comes to weed vaporizers – hundreds and hundreds, essentially.
Not all weed vaporizers are created equally, however…
And if you've used a bunk weed vaporizer in the past, you'll know what I am talking about.
Is the DaVinci IQ the vaporizer you've been waiting for? Is it worth the $274? Is it better than the PAX 3 and the FireFly 2?
Read on to find out.
DaVinci IQ | Design & Set-Up
The thing I like most about the Davinci IQ is that it's as complicated or simple as you want it to be.
If you want to mess around with temperatures and power outputs, you can do so via the app.
This is one thing that makes it preferable to the PAX 3; you don't need a phone app to use the DaVinci IQ – or the IQ2 or IQC.. Instead, you can work it manually – and that suits me just fine.
The phone app is OK, but I prefer to just use the power rocker, starting low and building my way up.
The added bonus of a removable battery, which you can charge inside an external battery charger, is another massive USP for the DaVinci IQ.
Why's that? Simple: it charges WAY faster and if you're the kind of vaper that is toking all day long, you can buy a few spares and have them ready to go as soon as the one you're using inside the DaVinci IQ dies.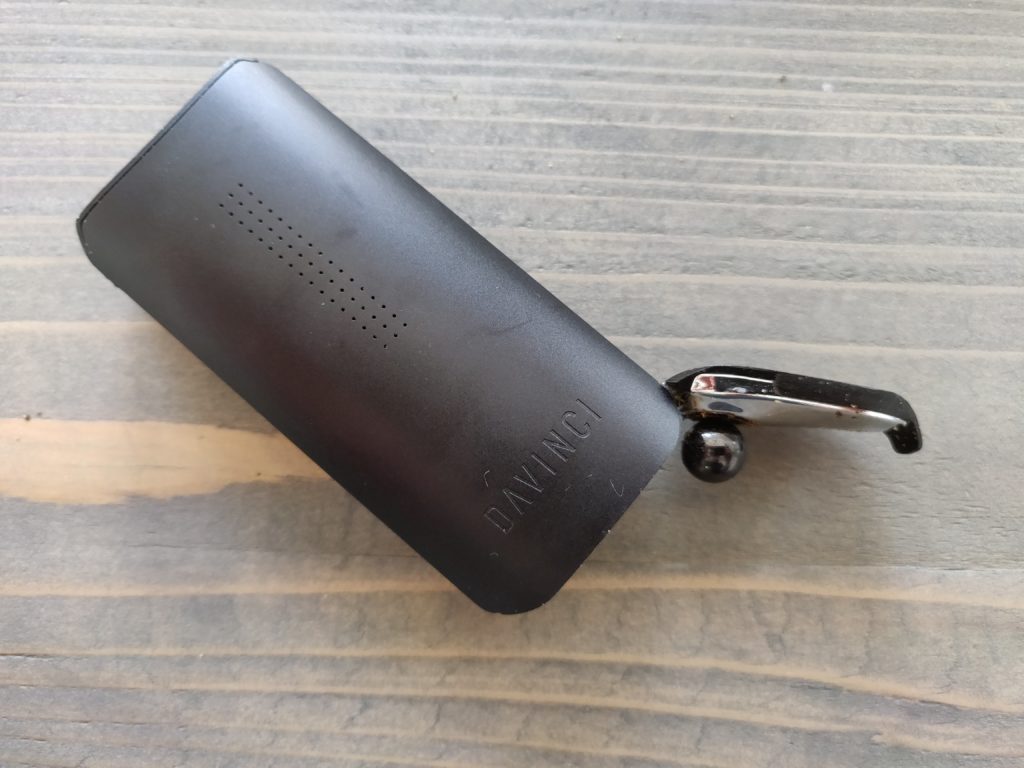 Setting up the vaporizer is a breeze, simply pop the bottom off and insert some of your good stuff, seal it back up, and then power it on with five clicks of the power button.
It'll vibrate ever so slightly, so you'll know it's on. From here you have four basic power options – access them by clicking the up and down rocker keys.
I tend to start on one, and then gradually move my way up to the highest setting as I get through the chamber, though you can totally just keep in and around 1-3 and still get excellent vapor.
As mentioned before, the DAVINCI IQ also rocks a removable battery too, so you can charge it up pretty quick in something like a NITECORE D4.
Not got one? Doesn't matter. You can always charge via the mains, using the micro USB port.
DaVinci IQ Performance 
The vapor quality the DAVINCI IQ kicks out is, well… unbelievable.
Over the years I've used innumerable dry herb vaporizers, most of them cheap units, and the performance was always, well… seriously lacking.
I think this is what's holding a lot of people back from giving up smoking the good stuff for good.
Vaping weed – or any other dry herbs – is INFINITELY better for you than smoking.
This goes without saying, but if you're new to this concept, congrats on taking a step towards being a healthier pot user.
"While smoking marijuana is less harmful than tobacco, the smoke created by burning marijuana contains many of the same toxins. In fact, burning marijuana has been shown to create over 100 different toxins, many of which are linked to cancer," notes Leaf Science.
It added: "Vaporizers work by heating marijuana to a temperature that is hot enough to evaporate the active ingredients, but cool enough to avoid combustion (burning). As a result, people who vaporize are not exposed to the toxins that are found in smoke."
The draw is fairly restricted here but the airflow is very smooth. You can also add a kind of drip tip to it as well, though I didn't bother.
The power of this mod is incredible, as is the software that powers it which allows you to custom-control the temp for a vape that is spot-on every time.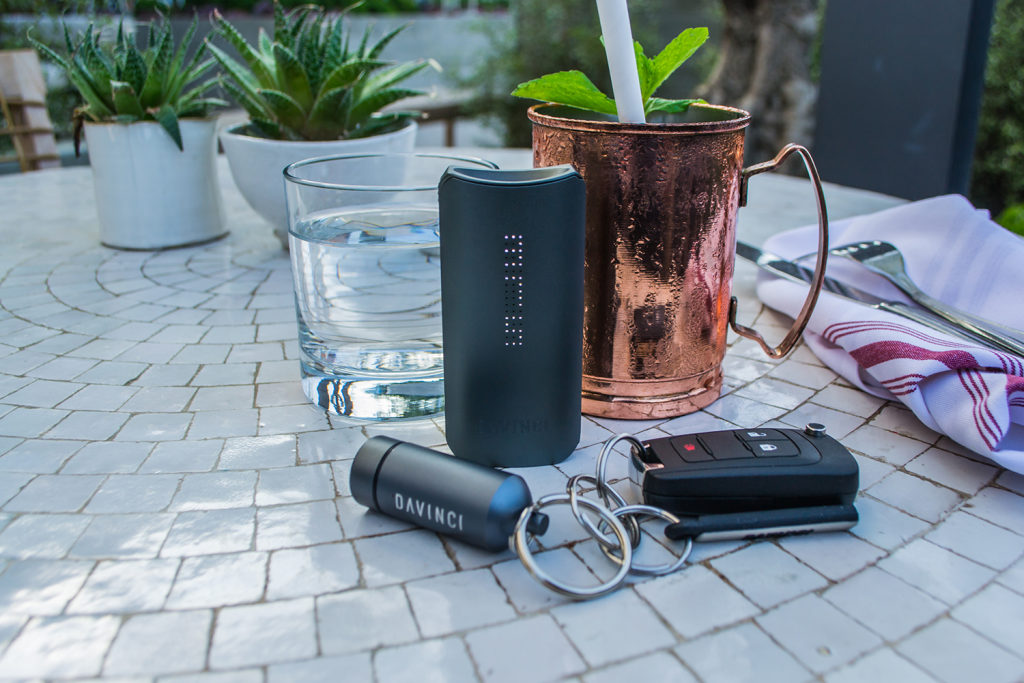 How the DAVINCI IQ gets such flavor is simple: it's made using the best possible build materials.
I didn't realize quite how much difference materials made to the flavor of the vapor; the DAVINCI IQ is WAY more expensive than my usual vaporizers, but the difference was obvious right from the get-go.
But it's not just the vapor, everything about the DaVinci IQ feels premium and quality, as if it were made by Porsche or something…
In the hand it feels solid and stable. The construction is solid, durable, and almost perfectly executed – it cannot find one thing wrong with the DaVinci IQ's physical design.
The chamber (and the way it sends vaper from the oven to the mouthpiece) is handled in a way that you get maximum flavor and the most possible vapor on each draw.
There's even a flavor draw at the top of the device which you can fill with flavored herbs to augment the taste of what's cooking in its oven. This is a nice touch, but it is not something I bother with normally.
The ceramic oven and the implementation of zirconium ensure the vapor is thick, potent, and full of flavor.
I came from using the G-Pen Elite to this and the difference was like switching from an eGo-style vape pen to a fully-fledged 200W box mod running an RDA.
DaVinci IQ Smart Path Technology
Aside from excellent design and build materials, what really makes the IQ tick is its bespoke Smart Path Technology, which lets you select from four different temp settings. This ensures the vapor is always consistent and to your liking.
On top of this, the DAVINCI IQ allows feature two additional power modes: Precision Mode and Boost Mode, with former letting you lock in a bespoke temp setting and the latter gives you even more power if required.
DAVINCI IQ App For iPhone and Android
Oh, and the DAVINCI IQ will also pair with your iPhone or Android handset via the DAVINCI app, which can be downloaded from the Apple App Store or Google Play Store.
You can play around with settings in the app, augment certain aspects of the DAVINCI IQ like which mode it is running in, how much battery is left, and, basically, keep tabs on the overall performance and functionality of the DAVINCI IQ from the comfort of your phone.
You don't need to run this app, however – it's just a little bonus, thrown in for good measure. However, I would definitely recommend you do, as it is bloody brilliant!
You can control the Smart Path settings from inside the app, too.
DaVinci IQ | Vaporizer Design USPs
You have power, you have TONS of features and power optimizations, and you have excellent build materials. But the first thing you will notice about the DAVINCI IQ is just how good it looks.
The DAVINCI IQ is super-portable and beautifully designed. In fact, I'd go as far as saying it is the best-designed weed vaporizer on the planet right now.
On the front of the DAVINCI IQ, you have an innovative LED light system from displaying current temp, battery life and additional settings like Boost Mode.
It's functional and it looks badass, especially when you're in low lit conditions.
The DAVINCI IQ is also super easy to set-up and use; simply load her up via the chamber located on the bottom of the device, pack the contents down, seal the oven, heat it up and you're ready to go – it's really that easy.
DAVINCI IQ Price – Is It Worth It?
The DAVINCI IQ is an expensive, premium device.
And, yes, it is rather pricey – $274.99 direct from DaVinci.
There's no way around that.
But I do personally believe it is worth every dime. And not just for performance and features, but also because of the care and attention that has gone into its design and manufacture.
Everything is just top-notch.
The ease of use, the vapor production, the fact you can run it from your phone, its size and design – it just does everything so well.
This is the kind of vaporizer you buy and then don't think about ever getting another one.
---
How To Set Up The DaVinci IQ 
---
I honestly cannot think of a vaporizer I'd rather own.
Is it better than the FireFly 2? Hard to say. They're both excellent (and very similar, both in terms of price and performance).
When you're talking about vaporizers this good it's kind of like comparing Mercedes Benz and BMW.
Though the FireFly 2 is CONSIDERABLY more expensive – it retails for $329!!
Almost $100 more than the DaVinci…
Whatever you go for you're getting quality, so it kind of just comes down to which brand you prefer.
For me, I'm ALL about Davinci right now.
Davinci IQ Best Deal
DaVinci – $274.99 (Inc. 2-Year Warranty)
Drake Equation
Co-founder and Editor of VapeBeat. I make the words.