The UK will run a nationwide "vaping awareness" campaign in April called VApril – and the aim is to get MILLIONS of UK people to quit smoking by switching to vaping!
---
The UK is pushing ahead full-steam in its support of vaping.
While in the US there is talk of BANNING flavored E Juice.
Not content with being the most progressive vaping nation on the planet, the UK Vaping Industry Association (UKVIA) is now running a month-long campaign called VApril.
The idea? Get more people to quit smoking and start vaping.
The campaign will be fronted by TV doctor, Dr Christian Jessen, so expect to see ads and tweets all over your social media during the coming months.
What is VApril

VApril is a national campaign to get UK smokers off the fags and onto vaping products.
The goal is to get up to three million people to quit in April.
The VApril campaign will "challenge" smokers to make the switch to a vape device during April.
Hence the name, VApril.
The campaign comes following Public Health England's endorsement of vaping, which confirmed electronic cigarette devices were a vastly healthier alternative to smoking – 95% healthier.
Although plenty of other studies have found ZERO longterm negative effects associated with vaping, an endorsement by such a respected body as PHE is just what vaping needs.
The taboo around vaping is FINALLY lifting and the end is definitely in sight for cigarettes.
"I am always amazed and disappointed to hear that we still have 7m smokers in this country and, according to PHE, around 40% of them have never tried vaping," said Dr Christian Jessen.
"Furthermore, more than half of the population don't realise that vaping is a fraction of the risk of smoking. That's why I'm a committed supporter of the idea of a national vaping awareness campaign such as VApril to encourage smokers to take the first steps to quitting their habit."
VApril – A Way To Combat "Fake News" & "Fake Science"
For some reason (I'm looking at you MailOnline) people in the UK, and elsewhere, have gotten the idea into their heads that vaping is not only worse than smoking but also causes all kinds of serious illnesses and diseases.
And this just isn't the case, as thousands of scholarly reports and scientific studies have shown time and time again.
The Royal College of Physicians and now Public Health England are in agreement that vaping is safe – 95% safer than smoking.
John Dunne, a director of the UKVIA, said: "This will be the largest campaign ever run by the vaping industry and reflects how far the sector has come in a relatively short period of time."
He added: "The challenge for the industry, government and the public health community is to get across the message that e-cigarettes are a very small risk compared to smoking and that nearly 3m smokers are now vaping, with a significant number having switched over altogether. VApril aims to be the starting point for more smokers to quit their habit."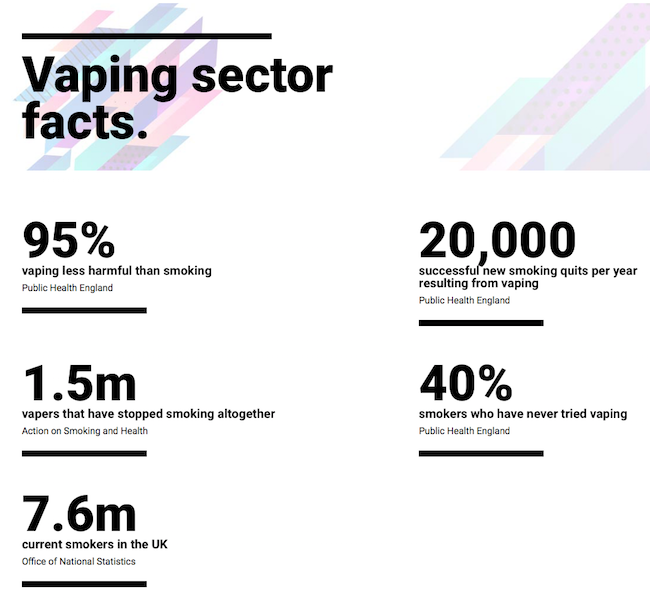 So if you're still smoking, what the hell are you doing? I mean seriously? It's never been easier to stop the habit dead in its track. All it takes is a stroll to your local vape shop or a few clicks online.
But if you scroll down a little bit, you can see what I'd recommend you start your vaping journey with.
And running a vaping blog for a living, I'd like to think I know a thing or two about what the best starter kits are 🙂
Will You Quit This VApril?
If you do, make sure you get a decent device.
The 90% of vapers that don't make it, don't make it because they buy a rubbish device and the transition slips up after a couple of days.
If you're new to vaping you need something simple and reliable. And, guess what? I have just the devices for you.
The first is called the Suorin Drop Starter Vape Kit and it is brilliant.
Although it does look a bit weird.
It's a pod mod, so all the parts are contained inside one device which is good for newbies, as there are hardly any moving parts. You just insert the pod, turn it on, and you're away!
And best of all, it only costs £29.95. But you will have to buy E Juice pods (£4.95 a pack) to run it long term.
Prefer A Proper Vape? (This is What I'd Get, To Be Honest)
Another solid option, if you want a more traditional style of vape device, is the Jac Vapour SERIES-S22 device, which I actually tested recently and then gave to my Dad, who bloody loves it.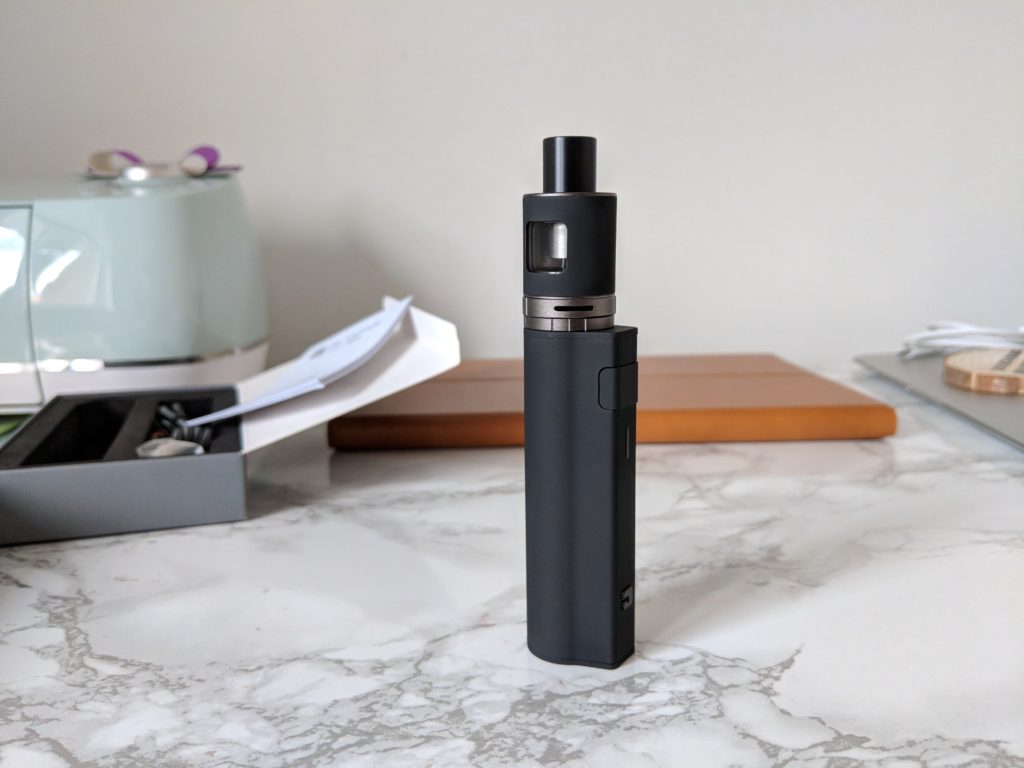 The battery lasts for an eternity, the coils are easy to work with and install, and the flavor it produces is exceptional.
I only wish they had products like this around when I was first trying to stop smoking! It would have been so easy!
If you're after a proper vape (and you should be), the JAC Vapour SERIES-S22 comes highly recommended – especially when it only costs £34.99!
Happy VApril, UK readers!
PS – Do me a favour? Share this article with AS MANY people as you can! The more coverage VApril gets the more accepted vaping will become! 
#nosmoke
Drake Equation
Co-founder and Editor of VapeBeat. I make the words.