UPDATE: Thanks to a raft of lawsuits, the vast majority of third-party JUUL pods are no longer available. JUUL has ensured that any non-JUUL pods are no longer available. And this kind of sucks.
---
Off Brand JUUL Pods No Longer Available
Not so long ago, when it came to off brand JUUL pods, you have LOADS to choose from. Nowadays, thanks to a raft of lawsuits from JUUL, you have none. And this means, if you use JUUL, you're stuck using its expensive JUUL Pods…
And there's no way around it. My advice? Ditch JUUL; the device sucks anyway, so you're not missing out on anything.
RELATED: JUUL vs RELX: Which is The Best Vape?
Last year, you had myriad options when it came to off brand JUUL pods. But no more! And that, for many users, should be the final straw for JUUL.
It's TIME you ditched JUUL. The vape itself sucks and now, without cheaper JUUL pods alternatives, is just too expensive to run long term.
You will be 100% better off with a vape mod and tank combo or if you want something more portable, a refillable pod vape system.
If you're after a pod system that is A) better than JUUL, B) cheaper to run, and C) has a better battery life, your 100% better off using any of the ones listed below – they're all exceptionally good.
---
The #1 Top JUUL Pod Alternatives
This is really simple. If you're in the market for a vape that is like JUUL, just a million times better, go with the UWELL Caliburn G2 – it is the best pod vape systems on the market. And unlike JUUL, it is completely refillable, so you can use your own juice in it and switch it whenever you like.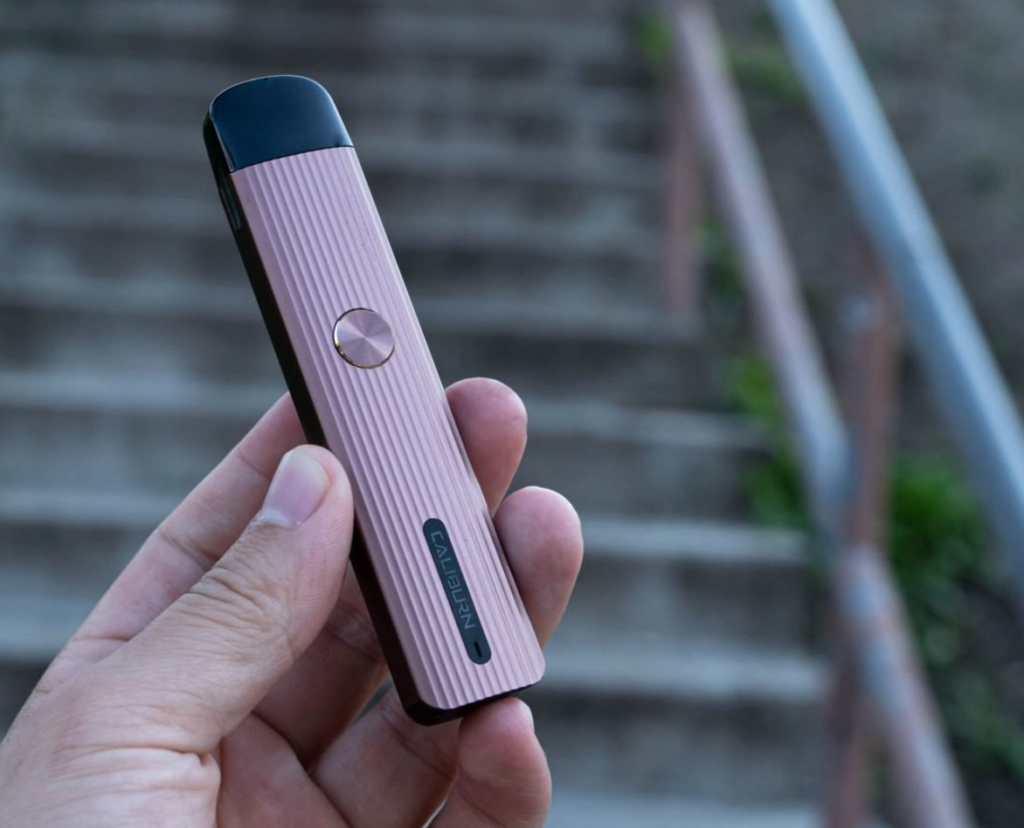 The battery life on the UWELL Caliburn G2 is great too; you'll get a solid day and a bit from it. That is a huge difference compared to JUUL which only lasts a couple of hours. It is also cheaper to buy and run in the short, medium, and long term.
Basically, there's no comparison really. I've been using the UWELL Caliburn G as my go-to daily pod vape for months now and it hasn't missed a beat during this time which is why I recommend it to all of our readers.
---
This Post Has Been Updated; You Can No Longer Buy Off-Brand JUUL Pods
JUUL has taken legal action against all off brand JUUL pods which has resulted in them being taken off the market. If you're still using JUUL, you HAVE to use JUUL pods. There's just no way around it now.
And if you've been running a JUUL for any amount of time you will know that JUUL Pods are kind of expensive.
You're looking at $15.99 for a pack of four, with each pod lasting around the same time as a pack of cigarettes. My advice to you, if you're a long time JUUL user, or just thinking about JUUL, is to switch; use a disposable vape pen instead or, failing that, get yourself a proper vape tank. They're cheaper and they last longer.
Great JUUL Alternatives To Consider
Disposables have come on A LOT in the past 18 months; they're now very impressive. I recently spent an entire month testing disposable vapes, and I have been very impressed by them. My current #1 favorite disposable vape brands are as follows:
All of the vapes listed in the table above are better than JUUL, they last longer, taste better, and are cheaper to run. JUUL Pods are criminally expensive. And now JUUL is limiting flavor options too. For this reason, you're better off with something similar but infinitely better.
UPDATE: JUUL is also making it hard for third-party JUUL pod makers' to stay in business; it is getting them banned from sale via lawsuits because it does not like the competition.
---
Depending on how much you vape, this means you're either running out of JUUL pods in a week or a couple of weeks (or, if you're anything like me, a few days). Today, we're gonna look at the best JUUL compatible pods you can buy.
Why? Simple: because if you're going to use the JUUL, you are going to have to figure out what JUUL compatible pods are best for you for the simple reason that official JUUL pods are just too expensive to run 100% of the time.
Cheap JUUL Pods
If you want to use JUUL pods and you want to save some money, the only way to do this currently is by signing up to JUUL's auto-ship program – doing this saves you 15% per order.
Doing this is the only way to save money on JUUL pods in an official capacity.
You also get a regular shipment of JUUL pods sent directly to your house every month, saving you the hassle of constantly re-ordering the pods.
If you're flush with cash, this is a great way to do things. You save some money and you ensure a constant, reliable supply of JUUL pods direct to your doorstep.
Best JUUL Pod Alternatives
If you want to save EVEN more money, and you don't mind using third-party pods, you have a couple of decent options in the form of ViV, ZIIP, and Eon pods.
How did I find these JUUL pod alternatives? Simple: I got fed up of spending $60-$70 a month on JUUL's pods, so I began looking for other options. I eventually found ViV and ZiiP pods at a vape expo in New York. Since then, I haven't looked back.
Third-party JUUL pods are cheaper, come in more flavor options, and taste great. The main thing, however, is the price: you could save anywhere from $20-$40 a month using them instead of actual JUULpods direct from JUUL.
Let's take a more detailed look at these three third-party JUUL pod systems.
1) ZIIP Pods
ZIIP Pods 100% work with JUUL, I'm actually using them as I write this. They come in more flavor options and they're also A LOT cheaper ($10.99 per pack in some cases).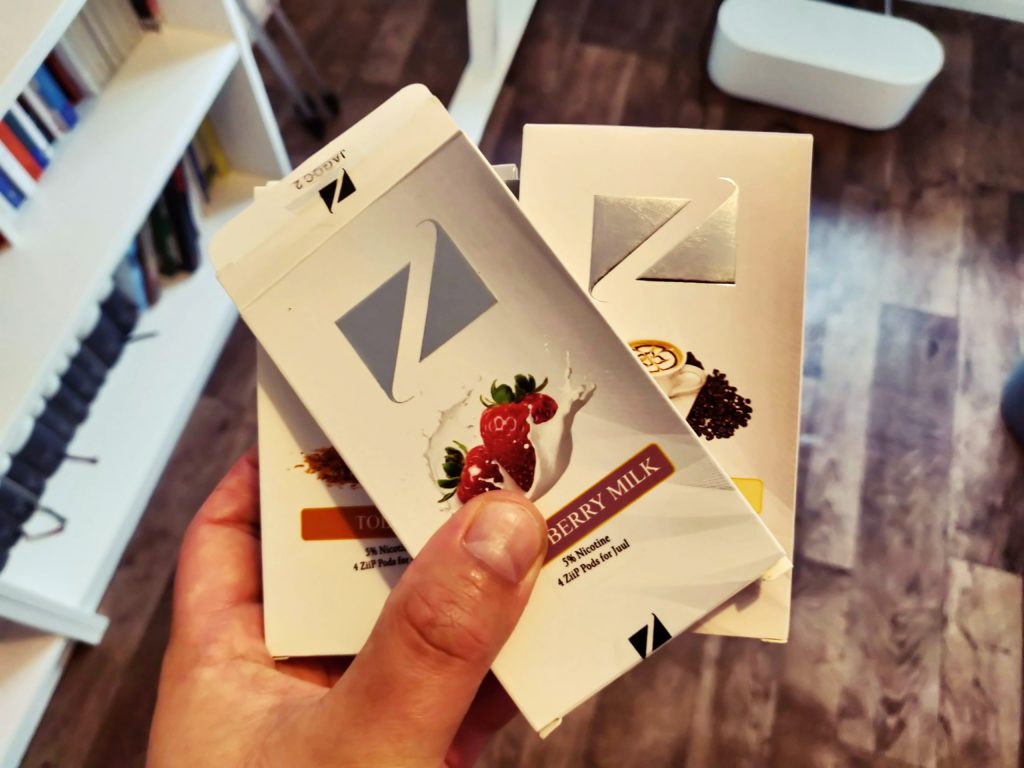 ---
I've actually had quite a few issues with my JUUL Pods, as noted in our JUUL problems post, they either didn't fire properly or the hit wasn't great, but the ZIIP Pods have been great so far.
The flavor profile isn't quite as good as you get with the real deal, but it's good enough for me and the fact you get more life from them (they contain more E Juice) is a big bonus of using them.
They're larger, holding more E-Liquid, and, bizarrely, seem to fit better inside the JUUL itself, which is why I tend to get more of a consistent draw from them.
Pod Flavor Options (Click Here For ALL Flavor Options)
Mango
Strawberry Milk
Watermelon
Mint
Tobacco
Cappuccino
Iced Orange
Iced Pina Colada
Iced Watermelon
Iced Blueberry
Iced Strawberry
Iced Mango
Iced Pineapple
My favorite flavor is Strawberry Milk, it's a delicate, creamy vape and is incredibly moreish.
I honestly wasn't expecting much from ZIIP Pods, but I was pleasantly surprised by them.
If you're looking for a cheaper alternative or something to run alongside your JUUL Pods and save a little cash in the process, these are definitely with a look.
2) ViV Pods
ViV Pods were created by Vapor4Life, one of my personal favorite US Vaper retailers. I know a few of the guys from the company, and they're all extremely passionate about what they do.
The ViV Pods, like the ZIIP Pods, are 100% JUUL compatible and, again, they are cheaper than the real deal ($14.99).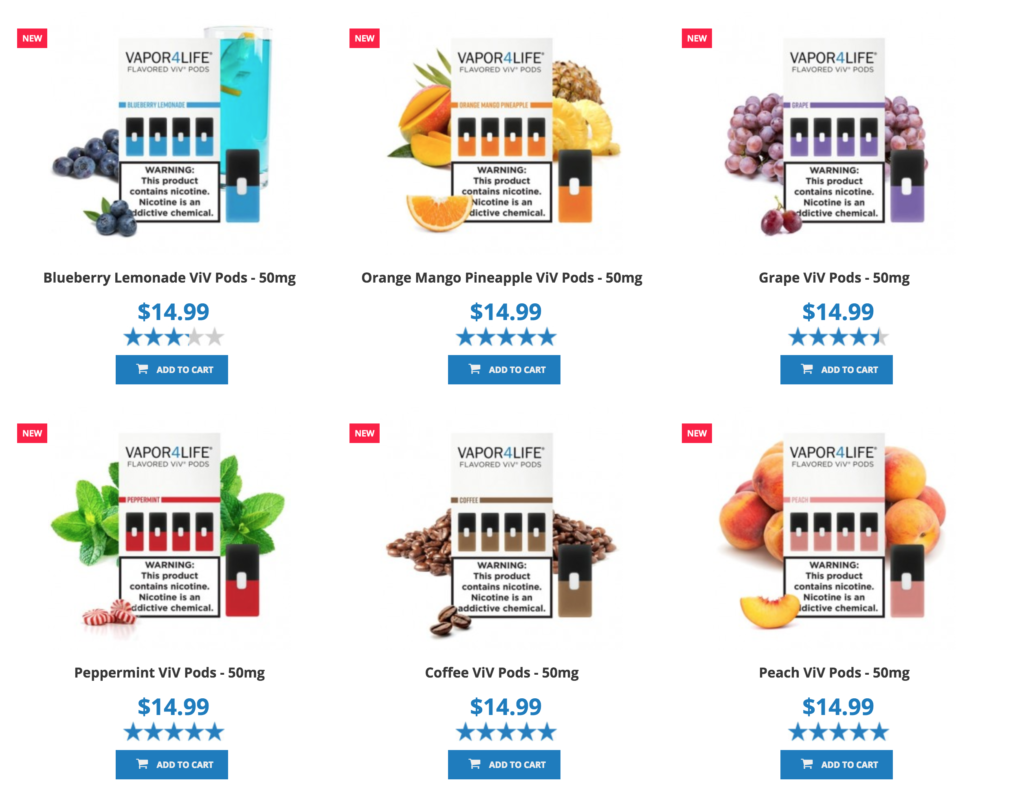 ---
You don't have quite as much choice when it comes to flavor with ViV Pods, but the flavors they do are VERY good.
Vapor4Life based the choice of flavors on its most popular selling E Juice lines, so what you get here is what most people want to vape.
Grape
Orange Mango
Blueberry Lemonade
Peach
Coffee
Peppermint
Like the ZIIP pods, these bad boys perform really well. The Nic-Salts inside them provide a heady hit, and the flavors are all very precise and well executed.
My personal favorite flavor from this line-up would have to be Peach, simply because I love peach flavored E Juice – and this one is REALLY good.
---
3) EON Pods
JUUL pods contain 0.7ML of E Juice. EON pods carry 1ML. That means you're getting around 30% more E Juice per pod – and, trust me, that will add up over time.
EON's flavor choices are more limited than ZIIP and VIV. As of right now, these are the current options for EON Pod Flavors: cool mint, tobacco, caffe latte, strawberry, and watermelon.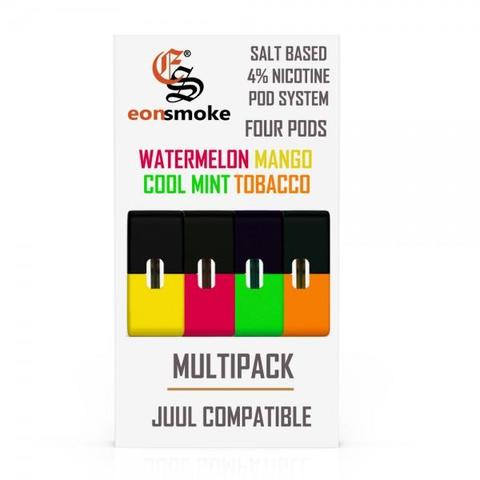 The flavors it does offer, however, are very, very good. My personal favorite is strawberry. I also really like the refreshing watermelon pods too. I just wish EON would combine the two in one – strawberry and watermelon is ALWAYS nice to vape together!
In terms of nicotine, you're looking at 4% per pod. That's 1% less than JUUL, but this should not be considered a negative. EON pods deliver plenty of nicotine and are more than adequate for heavy-smokers looking to switch.
I hope this guide helped you out. JUUL pods are very expensive, so it's nice to know there are some cheap JUUL pods alternatives around.
As I test more out, I'll add them to this list.
For now, these are my #1 picks for third-party JUUL pods.
>>Click Here To Go Back To The Top Picks Again…
Common JUUL Questions & Answers (FAQs)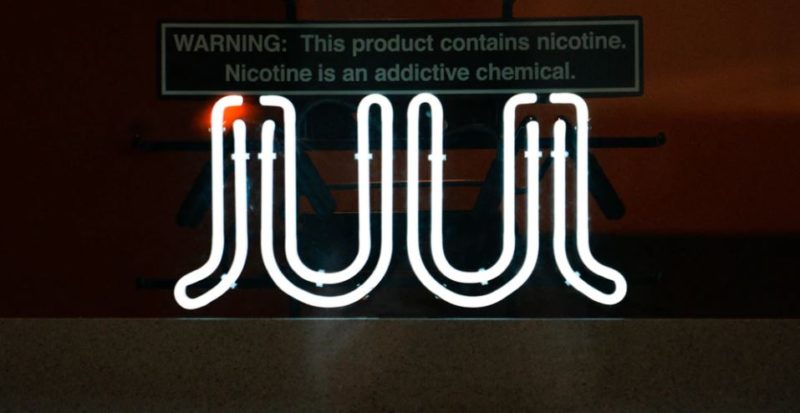 Cheap JUUL Alternative?
When it comes to closed-pod systems, JUUL is the #1 game in town for many. This is mostly down to the amount of press the company gets – good and bad. However, it isn't the best option out there right now. For me, devices like the Apollo Brex Deluxe kit are a far better choice; it's cheaper to buy, cheaper to run, and it has a much better battery life. In this respect, the Brez Deluxe kit is probably the best cheap JUUL alternative right now.
MORE: Find Out Why The Brez Deluxe is BETTER Than The JUUL
I've been using the Brex Deluxe ever since we got it in stock and, boy, has it impressed me. Not only does it cost a lot less than the JUUL, but its pods also last longer too – by about 40% in my experience. The hit is smoother than JUUL's as well, making for a very relaxed vaping experience. I also really like the flavors that, while limited in selection, are all super-tasty.
Like the JUUL, the Brez Deluxe is aimed at current smokers. If you're looking to stop smoking right now, and you want a simple vape kit, and you were looking at the JUUL, get the Brez Deluxe Kit instead. For battery life and replacement cartridges, it is an infinitely better option. Plus, JUUL is now owned by a big tobacco company – and you don't want to be supporting that!
Best JUUL Compatible Pods
Right now, you have a few solid options. My #1 picks are detailed in the table at the top of this post – click here to review them. My personally favorite third-party compatible JUUL pods are probably EON pods. They just do it for me with respect to flavor. Both ZiiP pods and ViV Pods are also very good though. Hence their inclusion on this list.
Best JUUL Flavor (When You're Buying Non-JUUL Pods)
Finding the right flavor for you will depend on your own personal preferences. Me? I like fruity flavors and robust RY4 vape juice – that's what floats my boat. Going with third-party, cheaper JUUL pods open up way more flavors to you as a user, however, as JUUL's selection of flavors is very limited.
My advice is to buy a few packs of different flavors and see which you like best. If you're brand new to JUUL and vaping in general, a good rule of thumb is to do for flavors that appeal to you naturally. With me, I like fruit, so fruity flavors have always been something I've gravitated towards.
This is why I love EON JUUL pods so much, there's just so many flavors to choose from!
If you want tobacco, go with a tobacco option. I know plenty of people that ONLY vape tobacco vape juice because it is the only way they feel satisfied. As always, everyone's different, so just take your time and sample as many styles of flavor as you can.
Drake Equation
Co-founder and Editor of VapeBeat. I make the words.