JUUL is the biggest vape brand on the PLANET, but I'd argue there are plenty of better options. So what's the Best JUUL Alternative right now?
---
Top Rated JUUL Alternatives (Updated For 2021)
The #1 Option For Flavor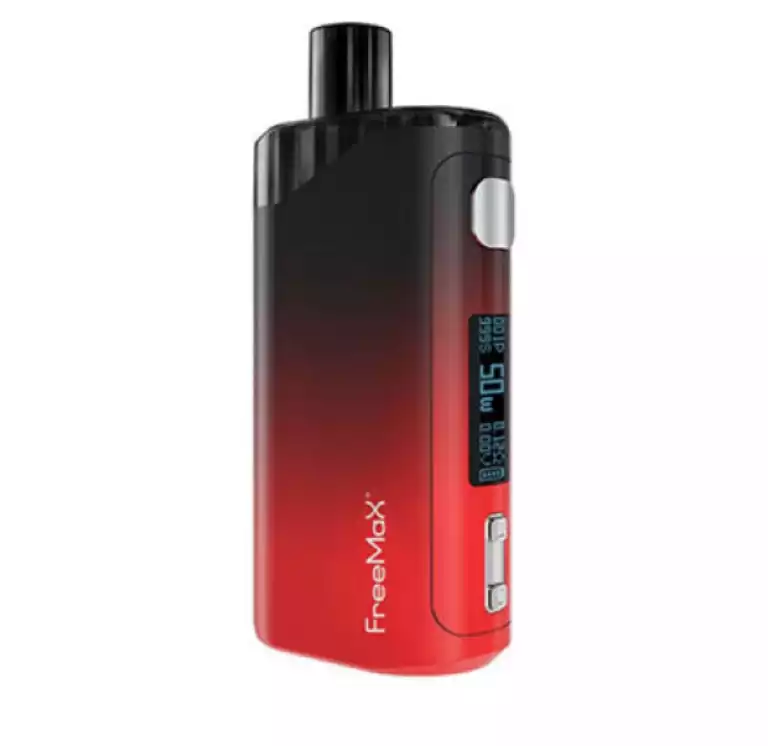 Freemax Autopod50 Pod Mod
$56.95 Inc. FREE SHIPPING
Fully compatible with Freemax's AX2 coils, the Freemax Autopod50 is yet another gem from the company that basically invented mesh coils. This pod is perfectly sized, made from zinc-alloy, so it looks and feels great, and it delivers incredible flavor with all-day-long battery life. It's slightly pricey, but that's what happens when you have market-leading flavor production…
USA DEALS
UK DEALS
Killer Flavor. Epic Coils. Massive Battery Life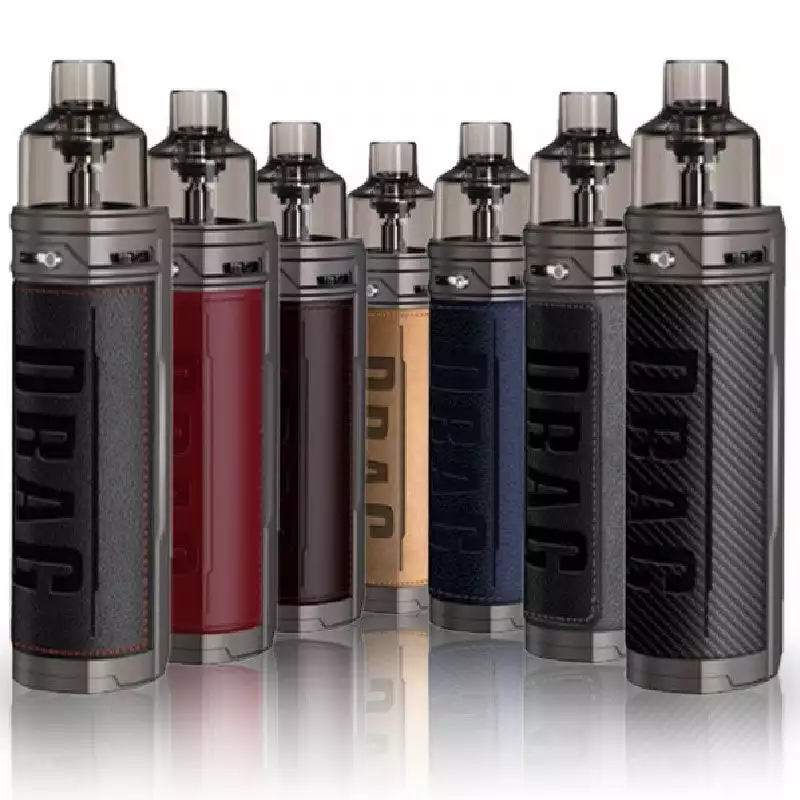 VooPoo Drag X Pod Mod
$39.99 Inc. FREE SHIPPING
The original VooPoo Drag vape mod was something of a game-changer. Keen to reinvent the wheel again, VooPoo has returned with the VooPoo Drag X pod vape – and this thing is brilliant. It will run both Nic Salts and High VG vape juice, it has a HUGE battery life, and the coils last for weeks at a time. As pod vapes go, the Drag X is damn-near perfect.
BEST DEALS USA
BEST DEAL UK
An Absolute POWER HOUSE....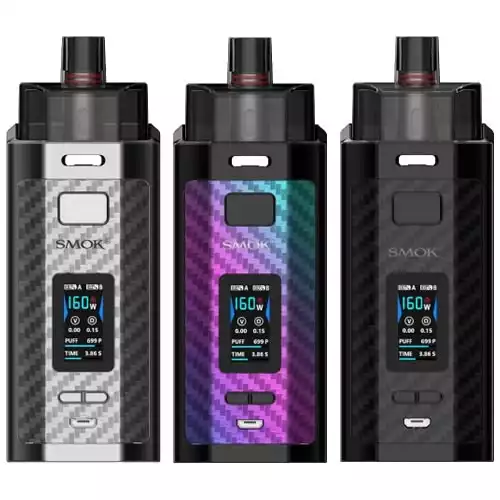 Smok RPM160 Pod Mod
$38.95 Inc. FREE SHIPPING
Like the SMOK Alike, the Smok RPM160 Pod Mod is again another hybrid pod vape device, pulling aspects of pod vapes and vape mods into one seamless device. You have 120W of power under the hood, a gorgeously designed chassis, and SMOK's brand new IQ-160 chipset which brings an array of vaping modes into play. If you want a fancy pod mod that behaves and performs like an actual vape mod, the Smok RPM160 Pod Mod is 100% worth a look.
BEST USA DEAL
BEST UK DEAL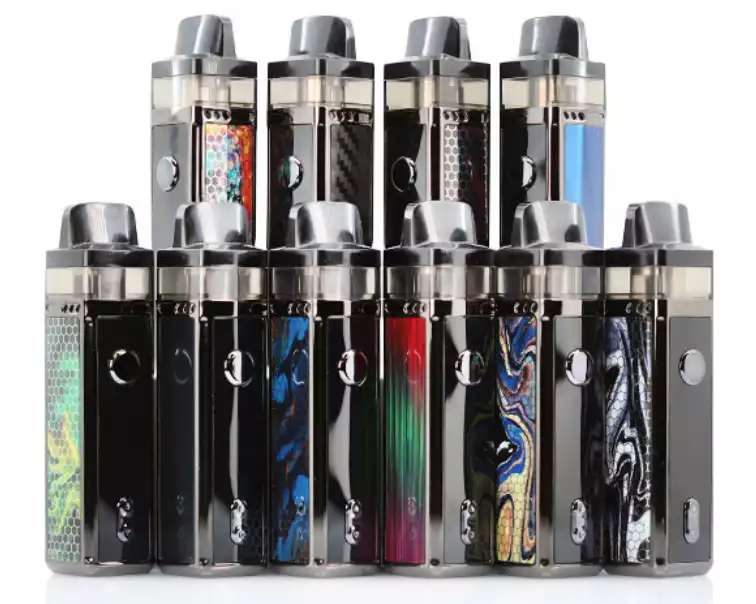 VooPoo Vinci
The VooPoo Vinci will hold 5.5ml of vape juice; that's about as big as it gets when you're talking about pod vapes. And it has a huge 1500mAh battery and 40W of power. If you want box mod performance, the Vinci comes highly recommended.
BEST USA DEAL
BEST UK DEAL
The "New" UWELL Caliburn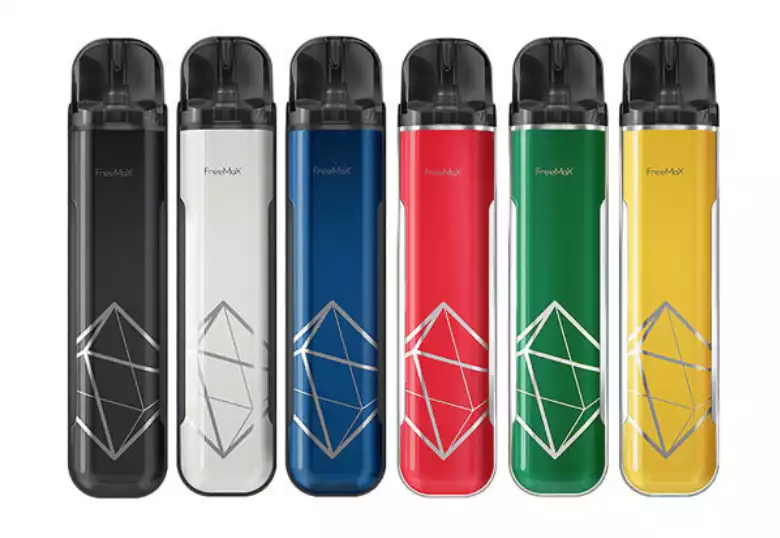 Freemax Maxpod Kit Pod Mod Starter Kit
The FDA killed the UWELL Caliburn. And that sucks because that was a truly great device. There are now great alternatives, though, and the Freemax Maxpod Kit Pod Mod is our current #1 favorite option for a small, all-in-one vape device. This is a straight-up MTL pod, just like the Caliburn. You get killer flavor, as you'd expect from Freemax, and, unlike the Caliburn, the Freemax Maxpod has awesome battery life too. If you're looking for a Caliburn alternative, this is the one you want to go for…
Buy Now
---
Analysis of The Top JUUL Alternatives
As of right now, so about mid-way through 2021, these are the best JUUL alternatives we have used and tested.
My personal favorite would have to be the VooPoo DRAG X pod vape simply because it is so versatile – it's basically three vapes in one.
I do really like the Freemax AutoPod, however, especially if you're after a more compact vape with outstanding flavor and great battery life.
All of the vapes listed above scored an A+ in our tests and they're all vastly superior to JUUL.
Whichever you go for, you'll get excellent performance, great flavor, no leaking, and superb battery life.
---
The Best JUUL Alternative Right Now (2019 & Earlier)
I've tested A LOT of pod mods in the past 12 months. Too many, really. Most were pretty rubbish too; lackluster performance, rubbish battery, wonky airflow, and draw. The good ones, basically, were very few and far between. And the reason for this is simple: manufacturers are rushing to flood the market, following the success of JUUL.
But the problem here is that they didn't really think the designs and performance of the pods through thoroughly enough. 95% of the pod mods I've tested SUCK. Big time. There are exceptions, however, and my current #1 picks for the best JUUL alternatives you can buy right now are detailed in full below:
#1) Brez Deluxe Pod System – The #1 JUUL Alternative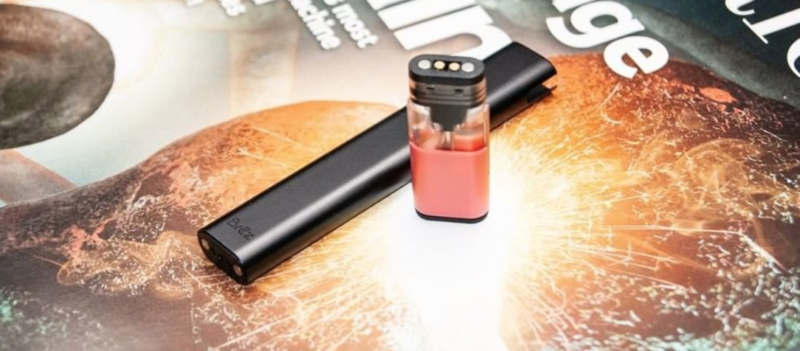 BEST PRICE | $37.95 (Inc. FREE SHIPPING)
If you're after a straight-up JUUL alternative, then the Brez Deluxe Pod System is the one to go for. Like JUUL, it is a closed system. But unlike JUUL, it has plenty of things going for it – as noted inside our Brez Deluxe Pod Review.
The #1 reason it is better than JUUL is because of battery life; the Brez Deluxe Pod System's battery life, while still operating on a small battery, is vastly superior to JUUL's – upwards of 40%.
The pods it comes with are also very tasty. The starter pack comes with five pods that last a solid few days each. Each pack of replacement pods retails for $19, which is pricy but remember: they last double (and sometimes triple) the length of time as JUULpods.
I don't really like closed pod systems all that much, but the Brez Deluxe Pod System completely changed my mind. It showed me that they can work when they're designed properly. Add in the fact that it is cheaper to buy and run than JUUL, and there is no reason why you wouldn't get this vape over the JUUL any day of the week.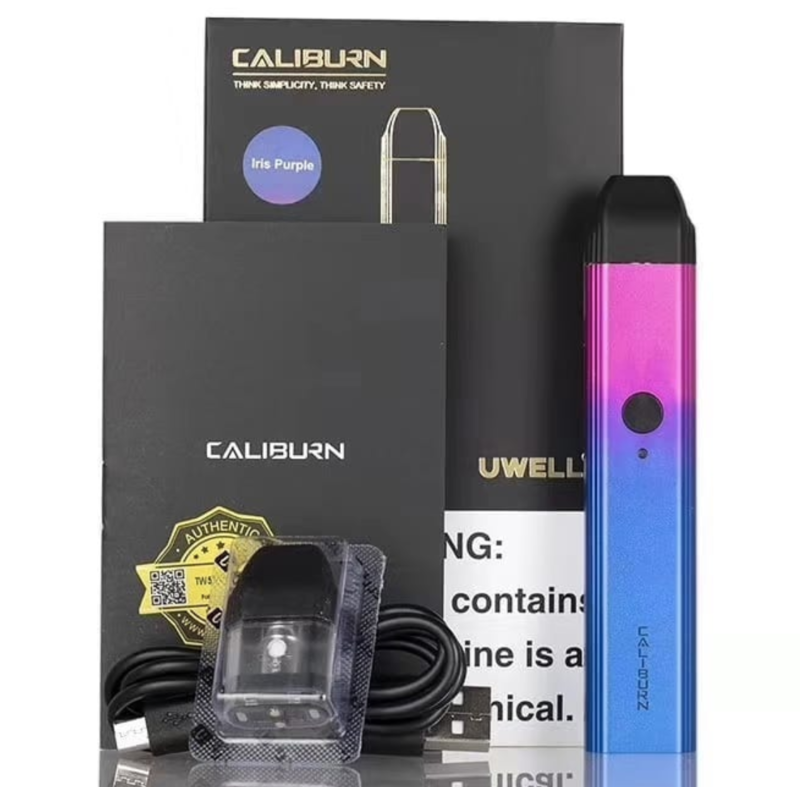 Best Price | $37.95 (Inc. FREE SHIPPING)
The UWELL Caliburn is a brilliant pod vape. I used mine for a solid six months, before switching back to an MTL tank and vape mod combo. In that time, I got to know the UWELL Caliburn very well. For flavor, it is one of the best. The draw is also beautiful, a proper MTL experience. The Caliburn also looks pretty badass too and it is super-portable.
Battery life is acceptable, though it won't last you an entire day with heavy usage. Thankfully, UWELL designed it with a USB charging port on the bottom, so you can quickly top it up on the fly. I like to give mine a solid 30-40 minutes mid-way through the day. This ensures it will get through the rest of the evening, regardless of whether I go out after work or not.
The UWELL Caliburn is a true classic in the making. For me, it is probably the best open system pod vape you can buy. It's 100% refillable, so you can use your own vape juice, and the flavor it produces is stunning. Oh, and the coils inside its pods last for weeks at a time. What more could you want?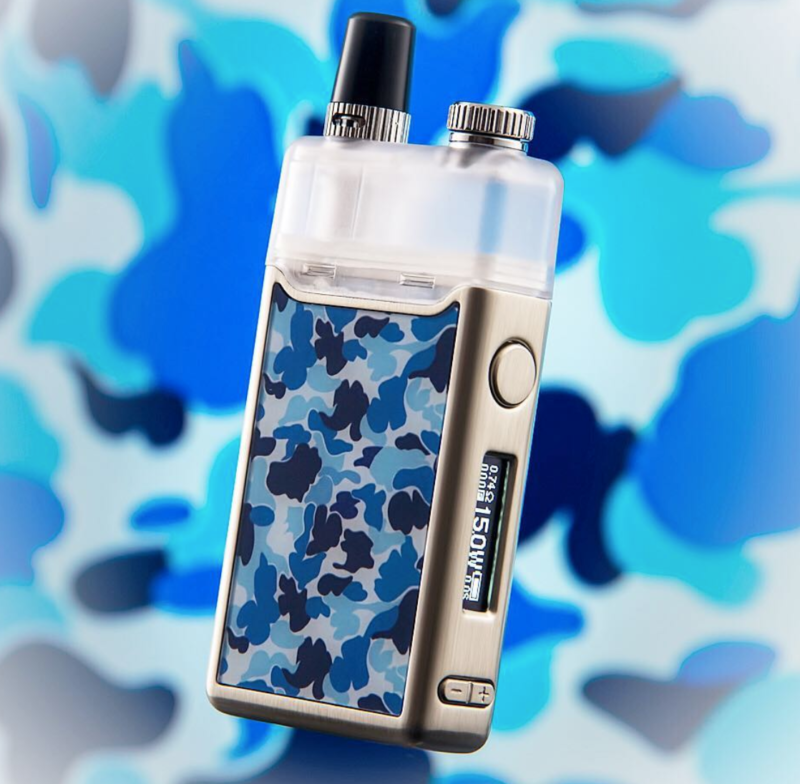 Best Price | $34.95 (Use Code "DNA10" For 10% OFF)
The Orchid Ultra is a slightly different beast to the UWELL Caliburn and Brez Deluxe system. For starters, it does both MTL and DTL styles of vaping, which means you can use both Nic Salts and normal, higher VG vape juice inside it.
The design of the Orchid Ultra, as you can see in the images, is very cool as well. Inside, you have up to 30W of power to play with, a sizeable battery for true, all-day vaping, and the performance and flavor it delivers are second to none. In fact, I'd go as far as saying that it is better than the Lost Vape Orion.
If you want variable wattage, the ability to switch between MTL and DTL vaping, excellent battery life, and truly outstanding flavor, then the Orchid Ultra is 100% worth a look. I'd take one of these over the Lost Vape Orion DNA Go any day of the week and twice and on a Sunday!
---
My #1 Picks For Top JUUL Alternatives UK
1) Vaporesso Nexus All-in-One Vape Starter Kit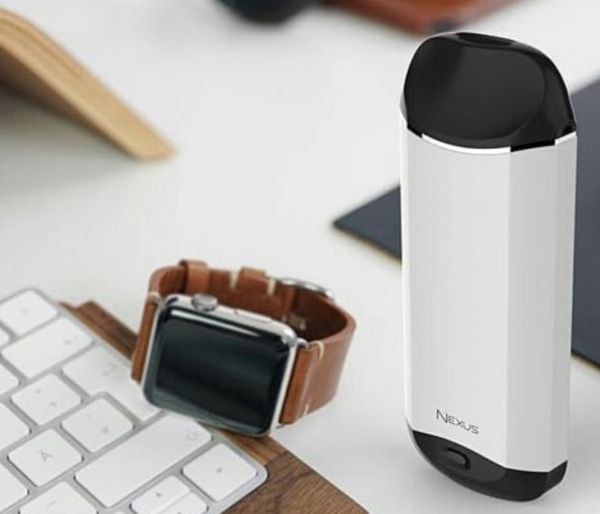 If you're after something with great battery life, brilliant coil heads, and a slick-ass design, the Vaporesso Nexus comes highly recommended.
This pod mod is 100% refillable, meaning you can pick and choose your own E Juice. Not only that, but it also has a big internal battery, so you'll be up and vaping all day long.
For me, this is one of the best AIO vapes around right now. It beats JUUL in every way, from battery life to overall performance. Perfect for new vapers and seasoned pros alike.
Why You'd Buy This Pod Mod
Great Design
Long-Lasting Battery Life
Big Flavor
Simple To Use
100% Refillable
Best Deal: £17.99 (VaporFi) – FREE SHIPPING
---
2) Aspire Breeze All-In-One Vape Starter Kit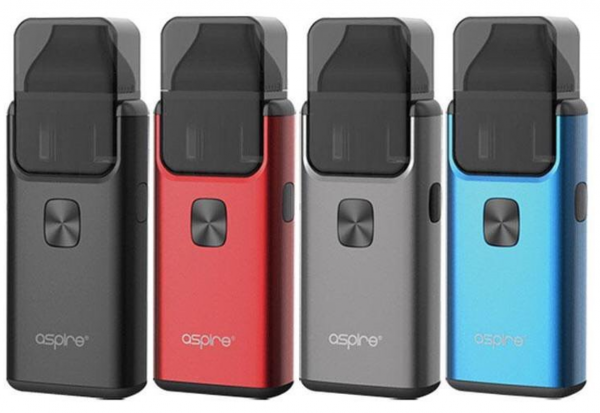 The Aspire Breeze is one of the most popular JUUL alternatives around. And with good reason too: this thing kicks ASS.
Available in a range of colors, the Aspire Breeze is simple to use and packs in a large battery for round-the-clock vaping.
It is 100% refillable, so you can pick and choose what E Juice you run in it. For me, this device serves up some of the best value for money around.
Why You'd Buy This Pod Mod
Solid, Reliable Performance
Portable Design
Great Flavor Production
Simple To Use
Excellent Battery Life
Best Deal: £21.99 (VaporFi) – FREE SHIPPING
---
3) OVNS Cookie Ultra-Portable Vape Pod Starter Kit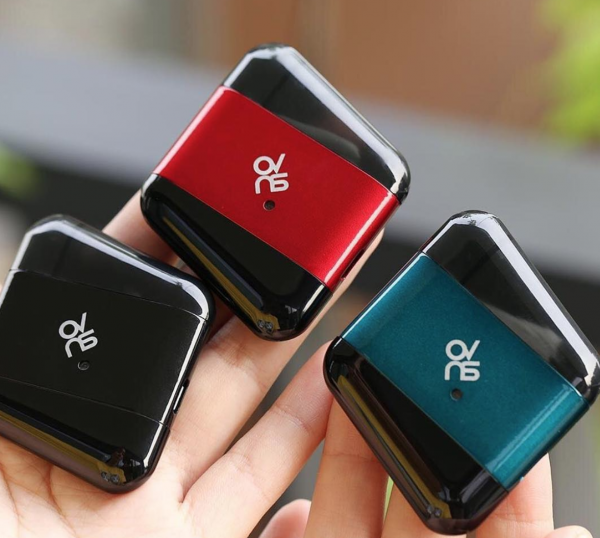 If you want something a little more unusual, the OVNS Cookie is just about as quirky as it gets!
This teeny tiny little vape mod is the perfect option for anyone that finds JUUL too boring. The airflow isn't quite as tight as it is on JUUL, but the vapor production and flavor are stellar.
It also has a slightly smaller battery than the Aspire Breeze and Vaporesso Nexus on account of its smaller size. Other than that, this dinky little pod mod is bloody impressive!
Why You'd Buy This Pod Mod
Totally Unique Design
Great Flavor & Vapor Production
Simple To Use
100% Refillable
Spare Pods Are Very Cheap
Best Deal: £17.99 (VaporFi) – FREE SHIPPING
---
Is The JUUL Hype Legit? 
To be 100% frank, I'd say, no – it's not like it's the second coming of Christ or anything. It's just a super-simple, easy to use vape. And that makes it great for smokers looking to quit smoking. However, there are MANY other options that are just as simple and, in most cases, actually better than JUUL.
My Problem With JUUL… 
Everybody knows about JUUL, thanks to the company receiving massive financial investment during 2017/18 and plenty of favorable reviews for the product and the company's JUUL pods.
JUUL is now officially available in the UK too. And there is A LOT of hype about it – as you'd expect. But JUUL isn't ACTUALLY the best device in its class either.
Why not? Well, for one, it's pods are not (technically) refillable.
And this makes them expensive to run. I always advise readers to go for open pod systems.
This way, you can use your own Nic Salts E Juice (and save a fortune in the process).
JUUL Battery Life SUCKS
This is the biggest downer of the JUUL in my opinion; the battery just ain't good enough. You're looking at four-to-five hours MAX with the JUUL, and this is because it has a teeny tiny battery.
The Brez Deluxe, however, has a similar-sized battery inside it but manages to eke out WAY more battery life. It's also cheaper to run and its pods last MUCH longer, saving you plenty of headaches and money in the short, medium, and long term.
Why I ALWAYS Recommend Refillable Pod Mod Vape Systems
To reiterate the point I made at the beginning of this piece: you'll basically save money. JUUL-like systems are more expensive to run.
This is just a fact.
It is also why JUUL favors this system – more money equals more profits. JUULpods are smaller and cost more.
And this kinda sucks.
Nic Salt E Juice is now widely available too, and it's nice to have a choice.
Bottom line: using a refillable pod mod system means you can use whatever vape juice you like and save money in the process.
For me, it's a no-brainer.
>>>Click Here To View The #1 JUUL Alternatives Again
Rob