Vape tanks. God, there's a lot to choose from. Some are amazing, others not so much. So how does a new vaper go about choosing the best vape tank for their needs? Simple: read this guide…
---
You're new, so I'll keep things as simple as possible.
Vaping can seem complicated to a newcomer, but the reality is actually rather simple.
You have three main types of tanks:
Sub ohm tanks (most common)
RDAs (Rebuildable Deck Atomizer)
RTAs (Rebuildable Tank Atomizer)
And RDTAs (Though there aren't many of these around anymore)
Best Vape Tank For Beginners?
If you're brand new to vaping, I'm going to assume you don't want to be fiddling around with cotton, wire, and screwdrivers? Or that you don't want to be installing your own wire coils?
Yes? OK, good.
For ease of use and simplicity, two key things for new vapers, the best style of tank for you would be a sub ohm tank.
With a sub ohm tank, all you do is pop a fresh coil in, prime it, and then fill the tank up with E Juice and you're away. No hassle.
Different Types of Draw
Draw – the type of pull a tank produces – is an important, but often overlooked thing when talking about tanks with new vapers.
Do you want a cigarette-like draw when you breathe in? Or do you want a more common style of vape tank, where the draw is more like an inhaler (i.e. you take it directly to your lungs)?
Vape tanks with a tighter, more cigarette-like draw are called "MTL Vape Tanks" – it stands for mouth-to-lung.
RDAs and higher power sub ohm tanks are all Direct To Lung – meaning, the inhale is more like an inhaler and completely unlike a cigarette.
What you decide here will affect what type of tank you get, as MTL tanks aren't anywhere near as common as DTL tanks.
---
MTL vs DTL Tanks: Key Points
MTL Tanks run at a lower wattage, use less juice, produce less vapor
99.9% of rebuildable tanks (RDAs, RTAs) are DTL.
DTL tanks produce big clouds and run at higher wattages
Most standard sub-ohm tanks are DTL
---
I hope that's clear enough for you?
A Word on Vape Coils
Coils (and Coil Heads) are essentially the most important element of a vape tank.
Get a good tank with good coils and you're sorted.
Pick the wrong one and you'll be forever having to change coils and this will cost you money ($12-$15 per pack).
A good coil will last anywhere from 7-14 days – that's the average.
A bad one will crap out after a day or two. You want to make sure you get a good one; pre-made coils are very expensive, especially if you're burning through them every other day.
Long lasting vape coils are key to ensuring a happy relationship with your vape tank.
OK – Let's Talk About Vape Tanks…
If you think you want to do MTL vaping, the best option around right now (in my opinion) is Innokin's KROMA-A kit.
You get one of the best MTL tanks in the business (The ZENITH), and a very impressive mod.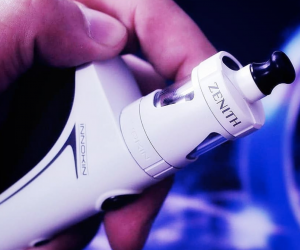 Best of all? You can pick one up for less than $60 – ($44.99 via VaporDNA).
If you want to MTL vape and you want great flavor and battery life, this kit is the #1 game in town right now for this price.
What About High-Power Sub Ohm Tanks?
If you fancy a high-power DLT vape tank, the most common style of vape tanks used by vapers, you have A LOT to choose from.
Literally hundreds of options.
Myself, and the VapeBeat team, test around 100+ tanks a year.
The best tanks we test get added to our A-List – basically a list of all the best sub ohm tanks right now.
If a tank hits the following criteria:
Excellent Coil Performance
Great Flavor
Easy To Use
Brilliant Value For Money
It makes it onto VapeBeat's A-List.
And you can see all the current tanks included on our A-List below.
Pictures
Name
Latest Prices
Rating
Review
Why You'd Buy This Tank

(The #1 For Flavor)

100%

Best In Class Flavor 
Insanely Good Mesh Coils
Premium Design & Finish 
100% Leak-Proof 
Excellent Value For Money

(INSANELY Good Mesh Coils)

100%

Amazing Design

Brilliant "Conical" Mesh Coils

Epic Flavor – Best I've Had In Ages

Premium Build Quality

100% Leak-Proof & Shock-Proof

(RDA-Grade Flavor)

98%

RDA-Like Flavor & Mega Clouds
Coil Heads Are BRILLIANT
Solid, Well-Executed Design
Excellent Value For Money

(A True Classic)

98%

AMAZING Flavor
Great Build Quality
Decent Locking Mechanism On Top Cap For E Juice Port
Reliable, Consistent Coils – Some of The Best I've Ever Used!

(Amazing Coils & Top Notch Flavor)

98%

Excellent Coils (They Last AGES) 
Brilliant, Precise Flavor 
Zero Leaks 
Easy To Set Up 
Wicks Quickly 
Solid, Reliable Performance

(INSANE Mesh Coil Performance)

90%

Excellent Design & Looks
Great Flavor + Long Lasting Coils
Triple Mesh Coil is INSANELY Good
Great Price (Only $27.95)
I hope that helped! As always, we're here to help/assist you in any way we can.
If you sign up for our newsletter below, you can contact me directly with any questions you might have about tanks, life, vape mods, and everything else in between!
[smartslider3 slider=9]
Drake Equation
Co-founder and Editor of VapeBeat. I make the words.