Wotofo Profile RDA Review: A Mesh Coil RDA That 100% Delivers
By Drake Equation • Updated: 01/26/20 • 8 min read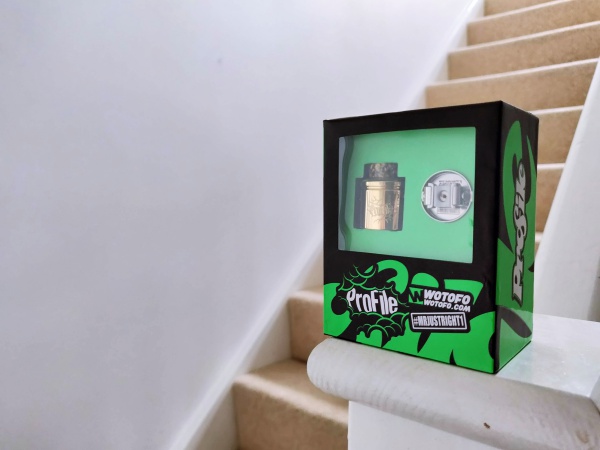 The Wotofo Profile RDA is yet another squonk-focussed RDA from Wotofo, only with a little twist… And that twist is this: it can (and does) run mesh coils (as opposed to a standard, wire coils), though it can also run standard wire coils too. So is this squonk RDA legit?
---
Quick Verdict: Wotofo Profile RDA
If you like squonk RDAs and you're a fan of BIG flavor, then the Wotofo Profile RDA comes highly recommended. This low-maintenance rebuildable deck atomizer is a breeze to set up and a joy to vape with.
Installing the mesh coils is super-simple, thanks to the included mesh-bending tool, and, unlike some mesh, Wotofo's never generate hot spots. This means your builds deliver consistent, predictable hits.
I adore the look of this tank, mine's gold, and the sheer volume of vapor it kicks out. Chuck in some of the best flavor of any RDA I have tested in the past 12 months and it is easy to see why the Profile RDA is one of the most popular RDAs of all time!
Wotofo Profile RDA Pros
Excellent Design, Finish
The Deck is Superb & Super-Simple To Work With
Wotofo's Mesh Coils Are Awesome
Amazing Vapor Production and Flavor
Awesome For Squonking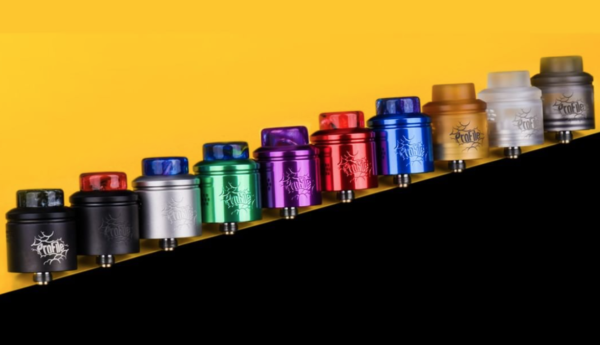 Pin
---
Full Review of The Wotofo Profile RDA
The Wotofo Profile RDA is yet another squonk-focussed RDA from Wotofo, only with a little twist…
And that twist is this: it can (and does) run mesh coils (as opposed to a standard, wire coils), though it can also run standard wire coils too.
It's also a very good looking tank, not that you'd expect anything less from Wotofo; the company has had a fantastic run in 2018 with mods and tanks., with the Wotofo Recurve RDA and the later-released Recurve squonk mod being the latest of note.
So… how's the Wotofo Profile RDA?
Good enough to make our Best RDA List for 2018?
Should you be adding it to your collection?
As always: read on to find out.
Wotofo Profile RDA Review
Design
I just want to say a couple of words about the sheer amount of stuff you get with the Wotofo Profile RDA. You get mesh coils, standard coils, 6mm, specific cotton for wicking the tank, and a bunch of tools as well.
It is an EPIC haul of goodies, and it means setting up the tank is super-simple. Even if you've never set up a mesh RDA tank before, you will not struggle with this one – it's just so intuitive.
The tank itself is a beauty; mine's the gold version and I think it looks badass. It measures in at 25mm and has a small(ish) logo on the side which reads "Profile" in a graffiti-like text.
The airflow, which is situated on both sides, is INSANELY smooth when fully open (but more on that later). You basically have 19 holes on either side and you close them off by turning the top cap to cover them off in sections.
The mechanism, once lubed, is silky smooth and fairly easy to see on the gold version; though Grim Green did make a point about the AFC being difficult to see on the black model, so that's definitely something you should keep in mind.
The drip tip is an 810 wide bore setup that looks and feels great to use. Normally, I tend to switch out drip tips for my preferred, custom setups but on the Profile RDA, I didn't do this. Good work, Wotofo!
The big thing here, however, is the mesh coils it runs. Normally on RDAs, mesh coil performance can be a bit… wonky. Dry hits are common as is uneven heating.
So has Wotofo fixed this with the Wotofo Profile RDA?
The Deck
In a word, yes – I haven't had a single dry hit from this RDA in the time I've been using (and 14 days now).
And the reason for this is that Wotofo's mesh coils are VASTLY superior to much of the third-party crap most people use when running mesh on an RDA.
The edges of the coil are completely flat and finished; there is no wire sticking out, and this ensures the coils burn evenly and consistently.
I've had the same coil in for two weeks now, and despite riding it like a porn star on meth, the coil looks pretty much as good as new.
And this is significant: Wotofo has built itself a great tank and, by a stroke of genius, has also created the perfect mesh coils to run on it.
The deck itself is also masterful too; there's a spring-loaded ceramic platform in the middle that pushes up against you wick and ensures that it presses tightly onto the mesh.
This aspect, combined with the great mesh coils, ensures an even, flavorful vape that is 100% free from dry hits and uneven heat-up.
Wotofo built the Profile RDA in cahoots with MrJustRight1. Now, I'm not familiar with this guy, but I will now forever remember his name because he has designed a truly stunning deck. So, kudos on that, MrJustRight1!
Installing The Mesh Coil
Again, it's really simple: just unscrew the clamps, insert on end into the clamp, tighten it down, then do the other. The entire process takes about 30 seconds.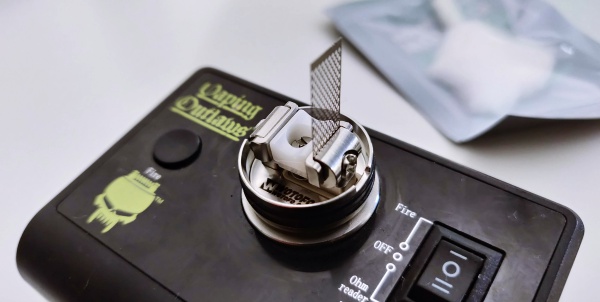 Pin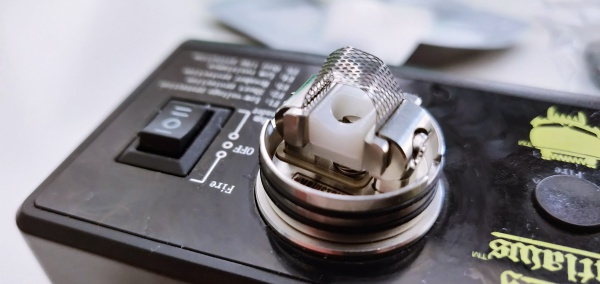 Pin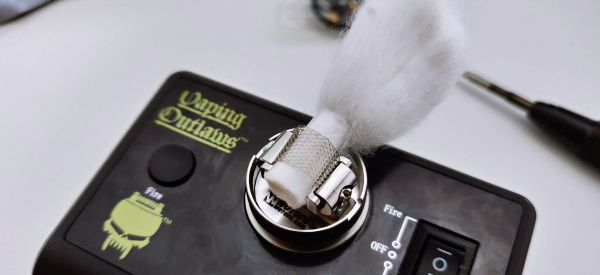 Pin
In order to get the perfect arch for your mesh coil, make sure you use the provided tool from the box; with this, you can get the exact curve for the coil so that it sits perfectly between the clamps.
Once you've done this, take your 6mm cotton and bash it through. Snip the ends off it, fluff it, tuck it, and, BOOM, you're done.
Wotofo Profile RDA Flavor Performance
Flavor performance is highly subjective; some people love certain tanks that I positively despise, so I'll try and be as frank as possible in the regard, but please remember that much of this section is dependant on opinion.
The flavor on this tank is very decent, but the airflow, which is very, very, very, very smooth, I feel, does detract from it somewhat. How's that, you ask? I just tend to prefer a slightly more restricted airflow on my RDAs.
And the AFC here is basically smooth all the way down. If you like smooth RDAs, this is a huge boon, as it doesn't really get much smoother than the Wotofo Profile RDA.
If, like me, you prefer a little bit of resistance, well, it might not be ideal. Personally, I've grown to really like this RDA. Over the two weeks, the flavor profile has developed and changed. I get it more now than I did last week if that makes any sense!?
I do think my personal sweet-spot, however, is with the airflow closed off by about 50%. At this setting, you get a smooth-but-slightly-restricted airflow that suits my style of vaping right down to the ground. I do keep it wide open for when I'm vaping at higher wattages though.
Wotofo Profile RDA Performance + How's It Squonk?
You can run the Wotofo Profile RDA as a dripper, though I didn't bother, as I'm more or less 100% squonking these days.
It is designed predominantly to be a squonker, and it really does perform in this context. The juice is directed right onto the bottom of the wick, so it ensures everything is saturated all the time.
I also found it kind of impossible to over-squonk on this RDA too; no matter how much you push it, it just doesn't leak. Obviously, being completely stupid with your squeezing will cause leaks, but for most people, you can squonk hard and not have to worry about any leaks.
As for overall performance, I do really like this RDA. It does everything it does very well, and without any fuss or hassle. It's the kind of tank you install and just forget about; it just hits consistently, with great flavor, and it squonks great.
For me, this is a big USP. I hate having to fiddle with my tanks once they're set up, so when I install a tank and then hardly ever touch it, this is always a good sign for me.
Another very solid offering from Wotofo.
What I Liked
The Deck is Superb
Great Overall Design & Finish
Perfect Mesh Coils
Easy To Set Up
Great Flavor
Smo0o0o0o0o0o0oth Airflow
Things To Keep In Mind?
Airflow is Difficult To Gage on Black Model
You Have To Buy Mesh Coils Via Wotofo
---
Best Place To Buy?
VaporDNA | $29.99 (Down From $39.99)
ECIG ONE | £24.99 
Drake Equation
Co-founder and Editor of VapeBeat. I make the words.