All the best mesh coil tank options, RANKED N' REVIEWED, for your viewing pleasure. Say goodbye to flat flavor and coils that burn out too quickly! It's Mesh Coil TIME!
---
Best Mesh Coil Tank 2022
---
Are Mesh Coils Better?
If you're using sub-ohm tanks to vape, you 100% should be using one that supports mesh coils, as they're vastly superior to standard coil systems.
Whether you're talking about flavor or the longevity of the coil head itself, mesh coils are infinitely better than their standard sub-ohm tank counterparts. And the reason for this is simple: the design of the coil head, the layout of the coil material, allow for a more even and balanced vape.
They also deliver better flavor too which is always a bonus.
This is why most of the tanks in our Best Vape Tank Guide are mesh coil tanks.
So if you've been using standard coils and felt a little shortchanged by them, it is definitely advisable that you try mesh coils.
Most "new" vape tanks now support mesh coils as well, all you have to do is select the mesh coil option when you buy one.
Which Is Best Overall?
When you test as many vape tanks as I do – mesh coil or otherwise – you get to know, almost intuitively, whether a tank is going to be good or not from the very first hit. And in my experience, pretty much anything from Horizon Tech from the last several years has always made a great first impression.
The Horizon Tech Falcon King is currently ranked as the #1 best vape tank inside our best vape tank guide. And the reason? It is a brilliant mesh coil tank that is not only expertly designed and 100% leak-proof, but it has some of the best mesh coils on the market. These coils deliver unprecedented flavor, as good as any RDA, and the coils themselves last for weeks at a time.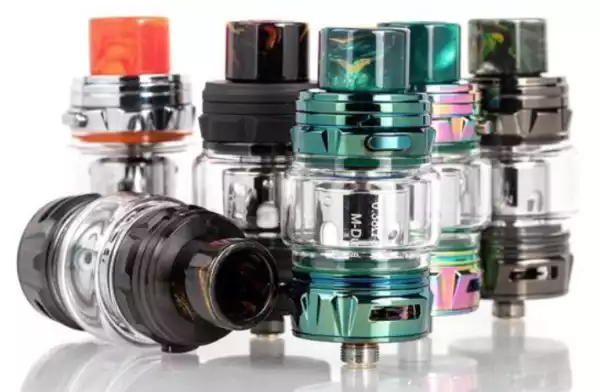 Falcon King Tank
If you want big flavor, but don't want the hassle of building and installing your own coils, you're best off with a mesh coil vape tank. And right now, our #1 recommendation is the Falcon King tank by HorizenTech. This vape tank is incredible – for overall flavor, coil performance, and it is super-easy to set up and use. Perfect!
BEST USA DEAL
BEST UK/EU DEAL
When I'm using a mesh coil tank, which isn't that often these days, this is the ONLY tank I have been using as a daily driver for the past 12 months. It really is that good. This is a sentiment shared by the team as well – we're all converts to Horizon Tech's way of doing things. I do like the Freemax Fireluke 2 and Mesh Pro too. But I do think the Falcon King has a slight edge in the flavor department.
And for me, flavor – as well as coil longevity – is the most important thing when considering a new mesh coil tank. As of right now, so early-2022, there isn't a better mesh coil tank on the market than the Falcon King. It is well priced, it delivers exceptional flavor, and its coils are more or less unbeatable in every regard.
What more could you want from a mesh coil tank!?
Drake Equation
Co-founder and Editor of VapeBeat. I make the words.