VooPoo Panda Review: The #1 Pod Mod For Battery Life
By Drake Equation • Updated: 09/07/18 • 5 min read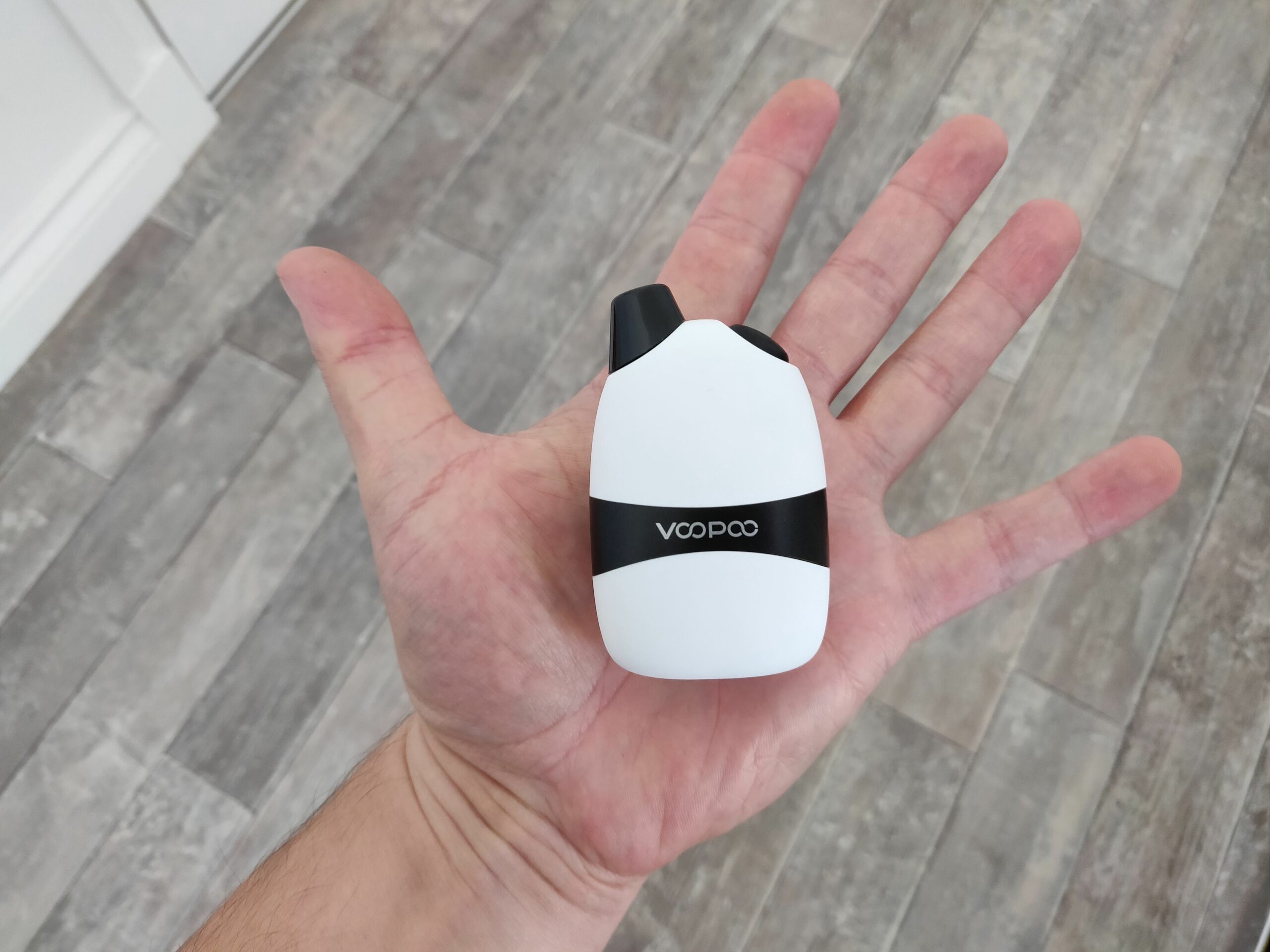 The VooPoo Panda is yet another pod mod device that wants a piece of the ultra-portable pod mod market. But is it any good!?
---
[letsreview]
---
The VooPoo Panda is a teeny, tiny pod mod device. It's cute-looking, around the size of a Zippo lighter, and it runs two styles of coil heads.
And it is these coil heads that make the VooPoo Panda a little bit different to many of the pod mod vapes on the market right now.
Why? Because you can sub-ohm vape with the Panda's 0.8ohm coil head, which means high VG E Juice will run inside it just fine.
Want a more traditional pod mod-style vape? Stick the 1.2ohm head in and you're good to go for MTL-style vaping with Nic Salts E Juice.
The versatility of the coil heads, combined with its tiny stature, is what makes this device something of a head turner.
But is it any good in practice? Let's find out…
VooPoo Panda Review
Design
As I said, the VooPoo Panda is very small. I'm talking Zippo lighter-small and this is definitely a good thing when you're talking about pod mods.
You want them small and portable. Ideally, with very few moving parts as well. The VooPoo Panda does both of these things very well.
There is a single fire button on the device and that, save for the MicroUSB charging port, is literally it.
Why is it called the Panda? Simple: it's a cute and round black and white device, though you can pick it up in a variety of color options.
Overall, I think the design of the VooPoo Panda is very attractive. If you're into small, portable pod mods, it is definitely one of the more unique looking setups I've seen.
How The Pods Work
You get two in the kit (one 1.2ohm, the other 0.8ohms) and they will hold 5ml of E Juice. Obviously, these pods are also refillable too.
The pods are easy to fill up too. Simply unplug the rubber port and fill it up with E Juice. Once you've done this, you'll want to let it stand for about 10 minutes – this way it'll prime up properly.
Putting everything together is super simple; you don't even need to consult the user manual – it's just obvious what you have to do.
Pod mods by their very nature are designed to be simple. But what VooPoo has come up with here takes this idea to a whole other level.
The VooPoo Panda can be setup in under 3 minutes. Even a vaper with ZERO experience with pod mods could do it.
VooPoo Panda Specs & Features
Here's a breakdown of the Panda's key specs and features.
Size: 75*47.5*27.4mm
Capacity: 5ml
Wattage: self-adaptive 8w or 12w
Resistance: 1.2Ω(8W) & 0.8 Ω(12w)
Battery capacity:1100mah
As you can see, the battery it uses is pretty large. Another positive for this device, as the battery life: it lasts for AGES (and it only takes 1.5 hours to recharge from dead).
VooPoo Panda Pod Mod Performance
How's it perform? Decent, actually. It's not mind-blowing in the flavor department but it's definitely above average.
I generally prefer running it with the 1.2ohms coil heads, as this means I can use Nic Salts E Juice and take proper advantage of its sizeable battery life.
I tend to use RDAs, like, exclusively, so I'm always a little "meh" about pod mods when it comes to flavor.
They never quite deliver what I want when it comes to flavor. But this is to be expected on account of how they're designed versus RDAs and RTAs.
For a pod mod, the flavor is OK – but I still think the SMOANT S8 Pod is the king of flavor in the pod mod space right now.
Bottomline: if you want to really get the most out of this device, you'll need to run decent quality Nic Salts E Juice.
The VooPoo Panda works best with its 1.2ml coil head. You'll get better flavor, bigger hits, and more battery life.
I like that they added a sub-ohm option, but with only 12w of power to play with it doesn't really work all that well.
VooPoo Panda Battery Life
Battery life on the Panda is exceptional. In this context, I think it is a clear winner in the pod mod space right now.
I've used a bunch of pod mods this year, and the VooPoo Panda's battery life WIPES the floor with every single one of them.
I ran mine for almost three days before it required a recharge. Obviously, this was with low-to-moderate usage, but it is still very impressive for a device of this size.
[letsreview]
Drake Equation
Drake is the founder and editor of VapeBeat. He started the blog WAY back in 2015 when, upon quitting smoking, he struggled to find any useful information about vaping online. With a background in journalism and a newfound hobby on his hands, he set about creating VapeBeat – a blog all about making vaping simple to understand for new users.