If you want a DTL pod vape that'll also MTL, the Vaporesso LUXE PM40 is well worth a look. It has brilliant coils, excellent battery life, and the flavor is sublime…
---
Vaporesso LUXE PM40 Review | Verdict | 91% – (VIEW DEALS)
[lasso ref="shrsl" id="14735″ link_id="10280″]
---
Vaporesso LUXE PM40 Pros:
Excellent Design & Build Quality
Massive 1800mAh Battery – Great Battery Life
Adjustable Airflow
Vaporesso's GTX Coils Are Great
Zero Leaks
Simple To Use
TL;DR Verdict – In a sea of similar types of pod devices, the Vaporesso LUXE PM40 stands out from the crowd with its focus on the basics, which it nails spectacularly. The GTX coils last an AGE and provide excellent flavor, the battery life is killer (30+ hours), and it super simple to set up and use.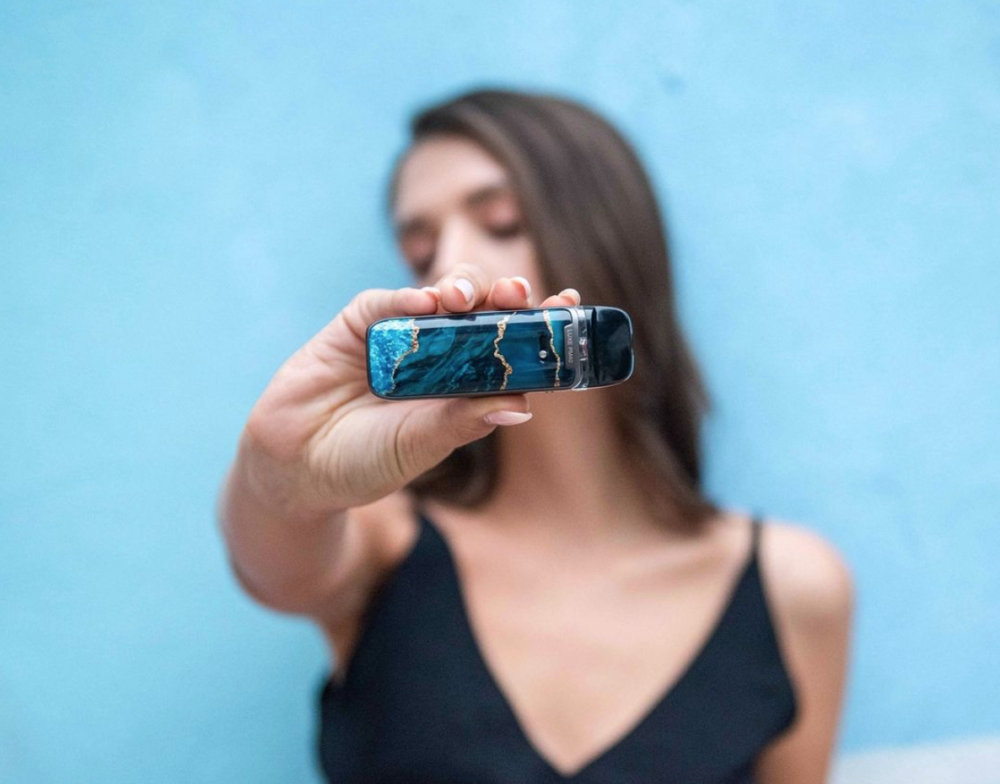 If you want a reliable, easy to use, DTL pod vape that has great coil performance, the Vaporesso LUXE PM40 is well worth a look. I've used a ton of pod vapes like this one in 2020, but the Vaporesso LUXE PM40 feels like the most complete package. It doesn't try and do too much, and what it does do it does really well.
I also really like the fact that it has an adjustable AFC, so, if you fancy a slightly tighter DTL draw, you can easily dial it in. Ideal for use with high-VG freebase vape juice, the Vaporesso LUXE PM40 is a near-perfect example of just how good a pod vape can be when the company that developed it doesn't try and do too much. Hats off to Vaporesso for this one, it's totally badass!
Best Place To Buy | VaporDNA | $36.99
---
Full Vaporesso LUXE PM40 Review – Design, Battery, Performance, Coils & More…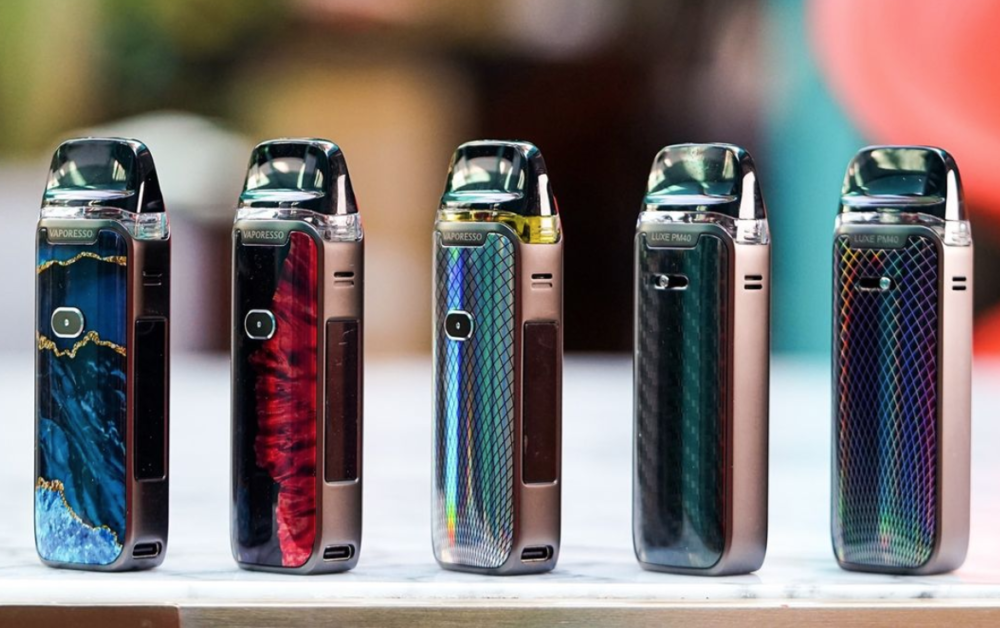 Design & Dimensions
The Vaporesso LUXE PM40 is a small pod-style vape. In this respect, it is pretty traditional. It sits comfortably in the palm of your hand, has a USB Type C charging port on its lower right-hand side just below its 0.69in OLED display. You have a fire button on the front and, on the backside, in the same location, is the Vaporesso LUXE PM40's AFC controls – a sliding mechanism that opens or closes the airflow.
The pod section pops off and is easy to fill. You have to push your vape juice bottle through a hole to fill. This means you should use unicorn bottles. But the upshot of this method for refilling the pods ensures that there is ZERO spillage or leaks.
The Vaporesso LUXE PM40 measures in at 96.4 x 30 x 21 mm and is finished in a very premium-looking stabilized wood finish. You have multiple colors (or finish) options too – and they all look great. The remainder of the chassis is done in blacked-out, gunmetal framing. The net result is a very attractive-looking pod vape.
As noted above, I've used a TON of pod vapes this year. But very few look anywhere near as good as the Vaporesso LUXE PM40. This stylish little pod vape ticks all my boxes from a pure design perspective. Everything is laid out in an intuitive manner, and the overall finish and feel of the vape are top-notch, belying its surprisingly low pricing (it costs $36.99).
Vaporesso LUXE PM40 Specs
Size: 96.4 x 30 x 21 mm
Output: 5-40W
Battery: 1800mAh (internal)
Display: 0.69in OLED screen
E-liquid capacity: 4ml (standard) / 2ml (TPD)
Type C USB charging – 2A
Coils: GTX coil range
Axon Chipset
Adjustable airflow
Quad Protection Improved Leakproof system
Top fill
Push/pull coil replacement
Performance
As regular readers will know, I am predominantly an MTL vaper. I use the Kayfun Lite. That's my bag. And it has been for almost nine straight months now. When it comes to pod vapes, I like them to be MTL too. I just think MTL vaping lends itself better to pod vapes than DTL.
Sadly, most pod vapes these days are DTL with MTL being pushed to the sidelines. If you want MTL, you have to settle for a tight DTL, if at all. With the Vaporesso LUXE PM40, you get the best of both worlds – MTL and DTL.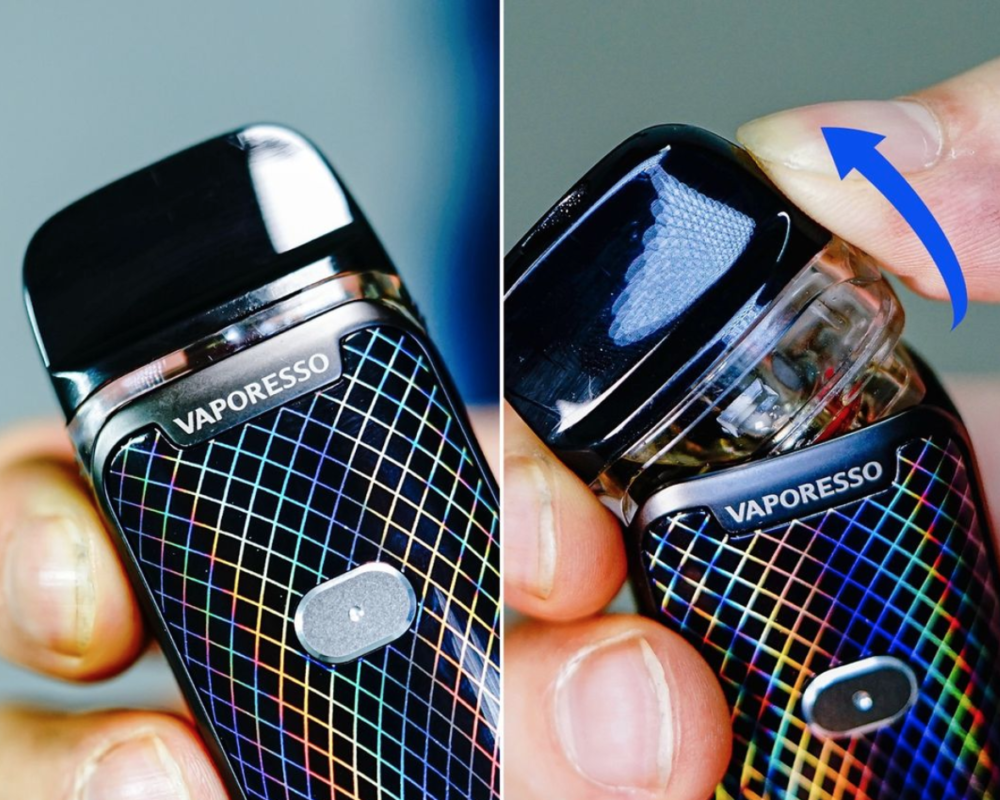 And this is very cool. I just wish more vape brands would do this. With a simple flick of the AFC, you can turn the Vaporesso LUXE PM40 from a whooshy, open DTL vape to a satisfying tight MTL draw. And it works great on both styles of coil the pod supports, though the 0.8ohm is the best if you're going after a purely MTL vape on the LUXE PM40.
The benefit of this is that you can have freebase, high VG vape juice in one pod, and run the Vaporesso LUXE PM40 at full power. This will give you plenty of flavor and clouds. But then, if you want to MTL vape, you can switch in a new pod, one filled with Nic Salts or 50/50 vape juice, and have yourself a nice MTL vaping session.
This is what I've been doing, and I've had a blast with the Vaporesso LUXE PM40. Honestly, I tend to run it mostly as an MTL pod. But I'd be lying if I said I didn't enjoy vaping high VG vape juice though it – the flavor is incredible, reminding me of what you typically get from a mesh coil tank. If you want this level of versatility, the Vaporesso LUXE PM40 is well worth a look.
The LUXE PM40 runs on Vaporesso's AXON 2.0 chip which brings with it a host of benefits – things like instant firing, auto-coil detection, and a bunch of safety features that will ensure your device is always operating in a safe manner. You also get three different vaping modes: power, pulse, eco, and manual modes. It's all very useful and, predictably, impressive. Vaporesso does, after all, make some of the best vape chipsets on the market.
Coil Options, Performance & How Long They Last
0.8-ohm Mesh GTX Coil (Rated For 12-20W)
0.6-ohm Mesh GTX Coil (Rated For 20-30W)
The Vaporesso LUXE PM40 comes with two coil options (listed above). Both are part of Vaporesso's GTX coil head family and they're damn impressive. I started testing both coils out almost a month ago now, and they're still going strong. I haven't been using them heavily, but that's still really impressive.
What's more impressive, though, is the flavor: both of the coils deliver, precise, flavor-packed vapor. I think I prefer the 0.8ohm coil head, though is because I tend to do more low-power MTL vaping. The 0.6ohm coil head is insanely good for high VG vape juice, so if that's your thing you're covered.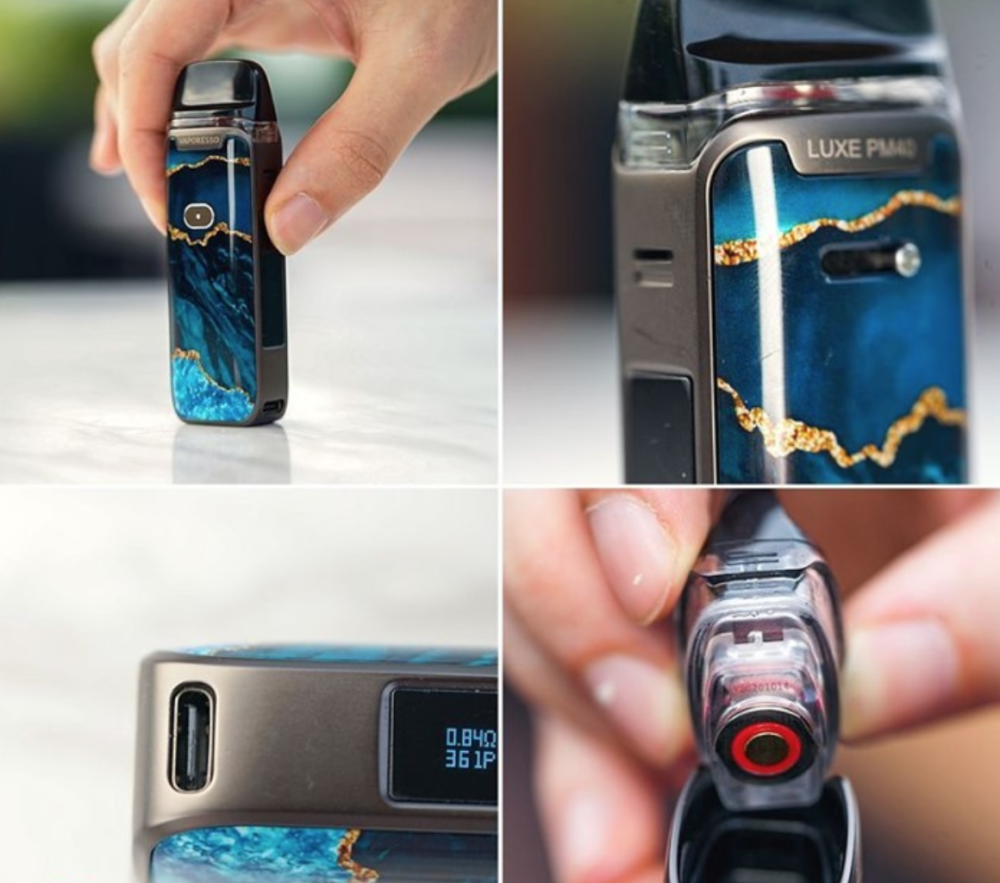 Best Place To Buy | VaporDNA | $36.99
I did find that the coils tend to burn-out quicker at higher wattages. For example, the flavor on my 0.8ohm pod is still very good, whereas the flavor on the 0.6ohm mesh coil is now starting to degrade. And the only difference here is that I ran the 0.8ohm coil at 12W and the 0.6ohm coil at 30W.
These are the coils the Vaporesso LUXE PM40 comes with. But you can also get an RBA deck too, although I didn't test this, and three other coil options inside the GTX coil family, including the GTX 0.2ohm Mesh Coil and the GTX 0.3ohm Mesh coil. Again, I didn't test either of these coils. But they'd be ideal for pushing the Vaporesso LUXE PM40 up towards its maximum 40W output.
Battery Life
If there is one area where the Vaporesso LUXE PM40 REALLY excels it is battery life. This small vape device is fitted with a 1800mAh internal battery. And for a device of this size, this is HUGE. I've been using the Vaporesso LUXE PM40 for about a month now, and I usually only have to charge it every few days.
With normal usage, you'll get 30+ hours of usage from the Vaporesso LUXE PM40. That means you can technically use it all day, and not charge it, and it'll still have plenty of juice left inside it the next day. My usage patterns with this device have not been heavy, so I am getting days and days of battery life.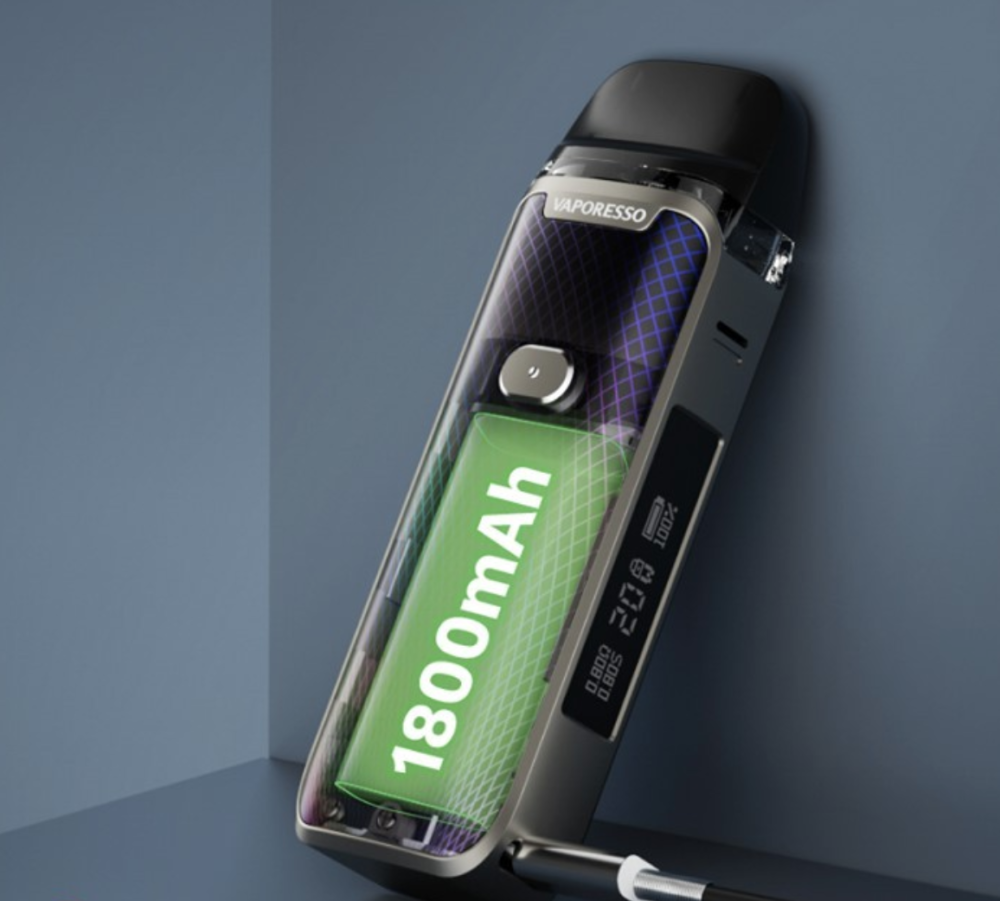 If you buy the Vaporesso LUXE PM40 and it becomes your daily driver, you'll want to charge it once a day. But if you forget to, it'll still have battery life the next day. And because the Vaporesso LUXE PM40 uses USB Type C for charging, it charges super-fast. You can charge it from dead to around 70% in about 20 minutes.
Basically, when it comes to battery life, you have NOTHING to worry about.
Is The Vaporesso LUXE PM40 Worth It?
As you can tell, I really quite like this device. It ticks all my boxes, having support for MTL/DTL vaping, amazing battery life, and reliable coil heads that produce densely flavorful vapor. Add in a beautiful design and you're looking at one of 2020's most versatile and hottest pod vapes.
Would I buy the Vaporesso LUXE PM40? Yes. Of that, I have no doubt. The Vaporesso LUXE PM40 is a killer pod vape setup that'll satisfy the needs of even the most hard-to-please vape. It does everything you want, and, best of all, it does it really well, taking everything in its stride with ease.
Next to the UWELL Caliburn G, this is perhaps one of the best pod vapes I have tested in 2020, so hats off to Vaporesso for this one. It is easily one of the most reliable, best-performing pod vapes I have ever used. And that kind of stuff doesn't happen everyday…
Best Place To Buy | VaporDNA | $36.99