SMOK Rolo Badge Review: Nice Design… But The Flavor's WONKY
By Drake Equation • Updated: 05/24/18 • 6 min read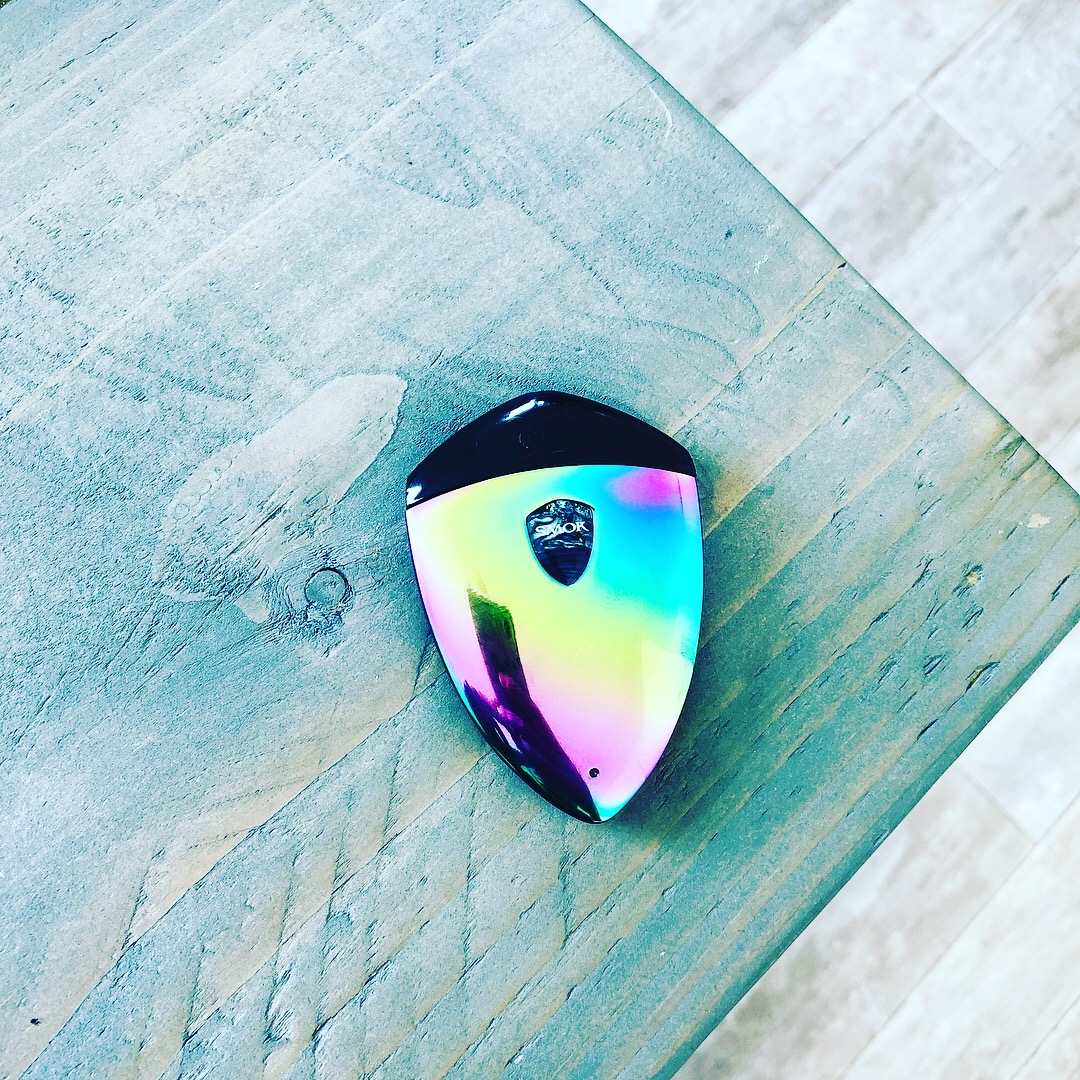 When it comes to pod mod vapes, you're kind of spoilt for choice. So how does the SMOK ROLO Badge compare to the competition?
---
[letsreview]
---
I'll admit it: I'm a fan of pod mod vapes.
They're convenient, simple to use, easy to setup, and are great for when you don't want to be carting around a load of gear on nights out or when you're on vacation.
They're also brilliant for absolute beginners, as there are very few moving parts.
I've tested a bunch of pod mods this year, and the latest one to grace my palm was the SMOK ROLO Badge.
Is it any good? Read on to find out.
SMOK ROLO Badge Review: Design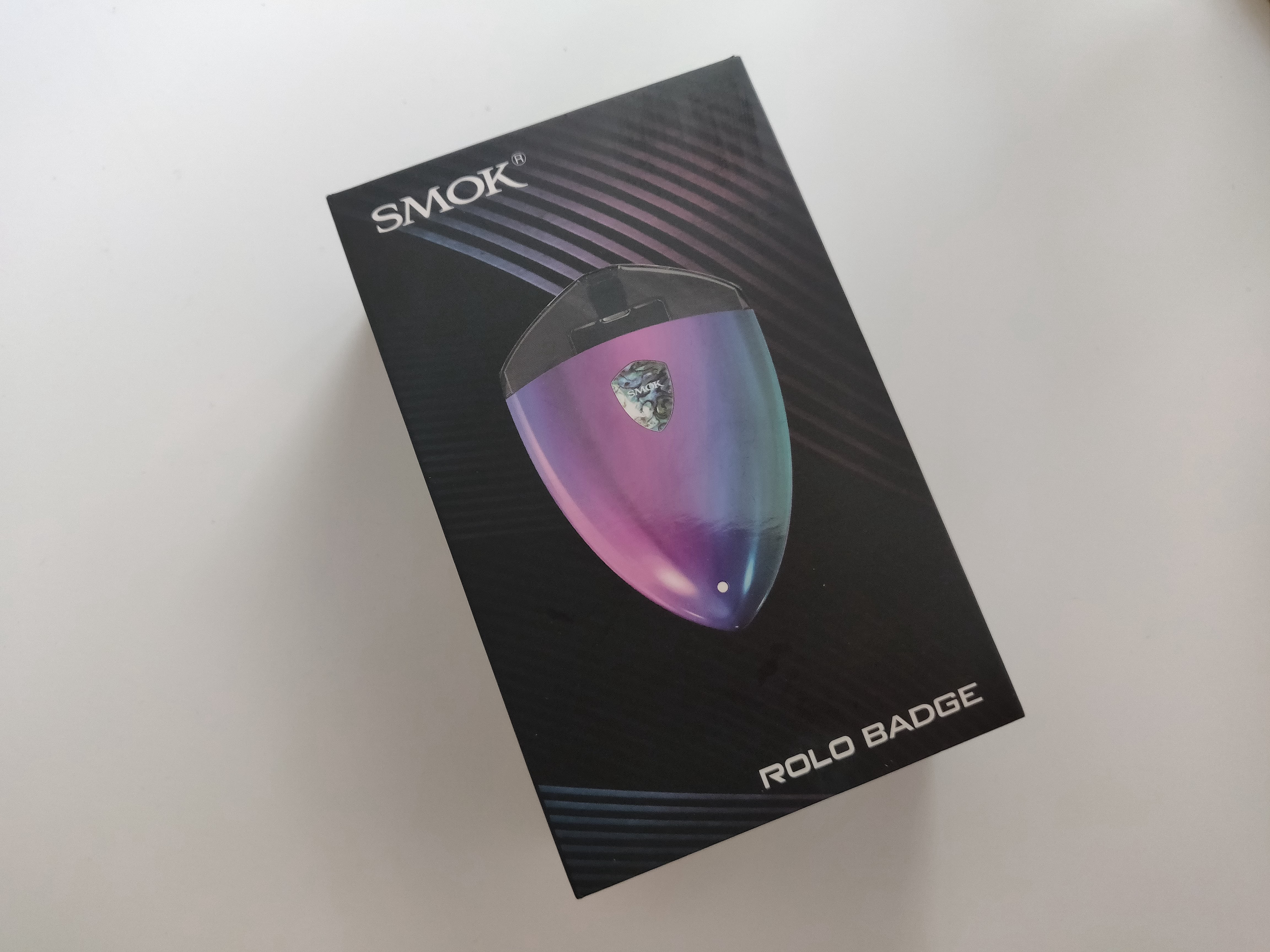 Pin
As the name suggests, this device is modelled on some kind of badge. It's small, super-portable, and definitely unique-looking.
It is definitely NOT going to be to everyone's tastes but I actually quite like the way it looks.
The SMOK ROLO Badge is TINY; it'll comfortably sit in the palm of your hand, or easily slip into your pocket. And when it's there, you will hardly feel it.
The device is made up of two, key parts:
The pod – this is where the action happens; inside the pod, you have the coil and juice reserve. Importantly, you can refill it using your own E Juice.
The battery – this where the bulk of the weight comes from; it's a 250mAh battery.
And that's literally it. Simple, right?
The setup is super-simple as well. Just pop the ports open, fill up the pod with your E Juice, attach it to the battery and you're away.
The pod doesn't click or anything, though it is held in place by magnets. This kind of bugged me as well, as it just doesn't seem like it's held in place all that well.
I love a good satisfying clickiness with my vape products, and this is sadly missing from the SMOK ROLO Badge.
Once the parts are secured together, they don't come apart easily, so you don't need to worry about that.
There's a MicroUSB port on the side for charging and a SMOK logo on the front, which is made from some kind of soft-touch silicon.
And that's about it for the outer design of the device.
My test unit was the rainbow color one, and it is a MASSIVE fingerprint magnet. I mean, the thing is covered in smudged within moments of picking it up.
If you're a neat-freak, this is definitely something you'll want to keep in mind.
Fortunately, there are A TON of other color options in true SMOK fashion.
SMOK ROLO Badge Specs & Features
As usual, here's a quick breakdown of the ROLO Badge's key features and specs.
Everything is as you'd expect for a pod mod; a small, 250mAh battery, 2ml capacity, draw-activated firing – par for the course basically.
Dimensions – 73.3mm by 50mm by 12mm
Integrated 250mAh Rechargeable Battery
Wattage Output Range: 10-16W
Voltage Input Range: 3.3-4.2V
Direct Voltage Based Output
Draw-Activated Firing Mechanism
LED Light Battery Indicator
Fillable Pod System – Replaceable Cartridge
2mL Juice Capacity – Side Fill Slot
Horizontal Coil Atomizer
Air-Driven Pod System
8 Seconds Cut-Off Protection
Short-Circuit Protection
Low Voltage Warning
MicroUSB Port Charging System
Proprietary Magnetized Connection
Available in Platin Edition – Black, Chrome, Gold, Blue and Rainbow
Rubber Paint Version – Rubber Black, White, Yellow, Blue, Red, Pink
SMOK ROLO Badge Performance – How's It Vape?
[letsreviewaffiliate url="https://fave.co/2x7QvIX" text="SMOK ROLO Badge | Best Deal | Vapor4Life ($29.99) " size="big" rel="nofollow" target="newwindow" accent="#dd3333″ border="on"]
---
Turbulent. It's not as smooth as I was expecting, to be honest. The draw is a little bubbly, and the airflow does feel a little wobbly.
It's not a deal-breaker, really, but it is definitely something to keep in mind, especially when you consider just how good some of the competition is in this regard.
Most notably, in my experience, the SMOANT S8 Pod.
I've run a ton of juice through the ROLO Badge and, while the pod coil systems seem fairly decent, they last a solid couple of weeks, the flavor isn't quite what I was expecting.
The flavor notes are there, but they seem a little muted, not quite as precise as they should be. Again, this is likely an issue with the coil/pod system. But I do wish it was better in this regard.
Competition is THICK in this space, so you're not going to win many friends by failing to produce great flavor. And I kind of feel like SMOK has really missed the boat in this regard with the ROLO Badge.
SMOK ROLO Badge Battery Life
Battery life is a pretty consistent 5-6 hours (with heavy usage).
If you're using Nic Salts E Juice and vaping with less frequency, you're looking at potentially 10-12 hours.
Again, these devices are SMALL, and so too is the battery. Therefore, you can't treat them like a standard mod and tank kit. This is why you should use Nic Salts juice.
They're meant to be used like you would a traditional cigarette, so the occasional toot when you're on a break at work. Not all-day chain vaping.
In this respect, the ROLO Badge is as good as most other pods I've tested. But then again you can ONLY do so much with a 250mAh battery, so this is kind of obvious.
Would I Buy One?
In a word: no – it just doesn't do it for me in the flavor department.
If I were in the market for a pod mod, there are only two I'd really be looking at right now:
Or, if you want something REALLY simple, the JUUL.
[letsreview]
Drake Equation
Co-founder and Editor of VapeBeat. I make the words.