Looking for a small vape – something that is stealthy, easy to use, and has a decent battery? I have JUST the small vape for you.
---
Top Rated Small Vape Kits 
IMAGE
NAME
BEST PRICE
KEY POINTS
RATING

(Best All-Round Performer)

Stunning Design
Immensely Advanced DNA Chipset
Great Flavor & Draw
Excellent Battery Life
Expensive But Well Worth It

100%

(Great Value + Performance)

Big Battery Life
Great Flavor & Vapor Production
Three Coil Head Options
MTL and DTL Vaping

100%

(Unique & Totally Amazing)

Awesome Design + Super Portable
MTL & Sub Ohm Coils
Excellent Battery Life
Outstanding Flavor
Hold Tons of Juice

98%
---
Box mods are BIG. They take up room in your pocket and can be unwieldy on nights out or long drives.
You look at it and think, I wish I had a small vape device – a device that was just as good, only smaller.
Well, good news – you're kind of in luck.
There has been a HUGE influx of small vape devices hitting the market between 2017 and now.
Often called "pod mods", these small vape devices are designed with a few, unique things in mind:
They're simple to use (having very few moving parts)
They pack in plenty of flavor and performance
They can last all day
The big idea behind these small vape devices is to make vaping easier, as a lot of new vapers struggle with sub ohm tanks, coils, batteries, and mod settings.
And right now, I think there are three really solid options available to vapers interested in stealth vaping.
Best Small Vapes – Pod Mods & Stealth Vapes
1) Mi-Pod 
The Mi-Pod, for me, is perhaps the best overall pod mod vape around right now. It looks amazing and it vapes great. It also has a very decent battery life.
The biggest thing about the Mi-Pod is the way it looks; it is unlike anything else around right now. Stylish, slick, perfectly portable – it does it all.
Chuck in refillable pods that kick out intense, precise flavor and you have all the makings of a classic vape device.
The Mi-Pod is also ALL over Instagram as well; a lot of the top promoters use it and love it.
I don't use pod mods exclusively, but when I do use them, like when I'm driving or traveling, the Mi-Pod is always the first thing I grab.
Why You'd Buy This Pod Mod? 
Great Looks & Design 
100% Refillable
Great Battery Life (One of The Best) 
Great Flavor & Vapor Production
---
2) Lost Vape Orion 
The Lost Vape Orion is the world's first DNA-powered pod mod. EVOLV's DNA chip normally comes inside high-power vape mods, but the chip maker is now trying its hand at the pod mod format.
Reviews of this device have been very positive; users love the design and the way it looks, as well as the fact that it runs a 950mAH battery inside it which translates into truly excellent battery life.
It is slightly more expensive than the Mi-Pod, but, again, it is more sophisticated – you can do A LOT with EVOLV's DNA chip, and this is what you're effectively paying for.
Flavor is great too, you get a restricted lung hit, but you can also narrow it down for a pure MTL experience. The pods are replaceable too, so you can run your own E Juice or Nic Salts.
If you want the best of the best, EVOLV's DNA chip and Lost Vape are always good places to start.
Why You'd Buy This Pod Mod? 
You Want The Best of The Best Performance
You Don't Mind Paying Extra For Technology
Great Battery Life 
Unique Design That's Simple To Use 
Top-Notch Flavor & Coil Performance
100% Refillable
---
#3) SMOK Nord
SMOK's reputation took a fair old beating during 2017/18, but the company has returned in 2019 with one of the best pod mod vapes on the planet. It's called the SMOK Nord and it really is a killer piece of kit.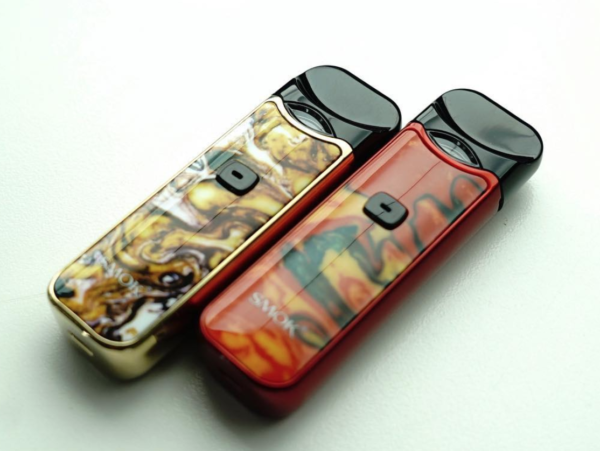 The battery life is exceptional and so too are the coil heads. You also have support for MTL and Sub Ohm coils, so you can pick and choose how you want to vape with it.
The device itself is beautifully designed too; it's stealthy and it fits perfectly in the palm of your hand. From top to bottom, the SMOK Nord is easily one of the best value small vape kits on the planet right now.
It's cheaper than both the Mi Pod and Lost Vape Orion, and while it does lack some of the features of the Orion, it more than makes up for it with its brilliant, all-round performance. Exceptional stuff from SMOK.
Why You'd Buy This Pod Mod?
Exceptional Flavor & Vapor
Hits Like A Fright Train
Excellent Battery Life
Choice of Three Coils Heads (Inc. MTL & Sub Ohm)
Gorgeous Design and Build Quality
Super-Portable & Ergonomic
---
Are Tiny Vape Devices The Future?
Quite possibly. I mean, JUUL is killing it right now in the US. But you do have to keep in mind that these types of devices are relatively new. There is also A LOT of them – and most of them positively suck.
Trust me, I have about 20 in my office right now and I only ever use the three mentioned in this post regularly.
Most pod mods don't produce good flavor or don't work that well. For every 10 devices that I test, I'd say probably only a couple are actually worthy of mention.
And right now, it's basically the Mi-Pod, SMOK Nord, or the Lost Vape Orion for overall best performers.
I do always recommend VapeBeat readers go with refillable pod systems, however, as they're cheaper to run and offer way more value – you're not limited to a small selection of Juice flavors, for one thing.
This is why I DO NOT recommend JUUL; it's too expensive to run because you cannot "officially" refill the pods. Therefore, if you just want something small and portable, the Mi-Pod and Lost Vape Orion are far superior options.
Things To Keep In Mind When Buying Smaller Vape Devices
When you're using a small vape kit there are a few things you need to keep in mind. And most of these are created by the size of the vape device. The key ones are as follows:
Battery Life – They have smaller battery lives than bigger vape mods.
Pods – Are they refillable? If not, you could be spending more than you need to running the device.
Nic Salts E Juice – In order to get the most from your pod mod, you should be running Nic Salts E Juice. Why? Simple: you'll vape less, without losing flavor, and this will help conserve your battery life.
All of the options listed in this post excel in these important areas. They're all very good for battery life, they're all 100% refillable, and you can also run Nic Salts E Juice in all of them.
I built this list off of the back of about 12 months of extensive research. In this time I used a boat-load of small vapes, pod mods, and stealth vape kits in a bid to isolate the best options for the readers of VapeBeat.
All of the devices mentioned above are exceptional pod vapes, so whatever you go with you're sure to be 100% happy with the results.
Again, my money right now would be on the Mi-Pod ($39.99), the SMOK Nord ($23.95), or the Lost Vape Orion ($89.99).
>>>Click Here To View The Top Small Vape Kits Table Again
Drake Equation
Co-founder and Editor of VapeBeat. I make the words.