The Vaporesso GTX GO 80 takes all of the guess work out of vaping. This is by far the easiest to use kit that I have come across in 2021! Today we take a look at it, and break down the features…
---
Vaporesso GTX Go 80: A Beginner's Dream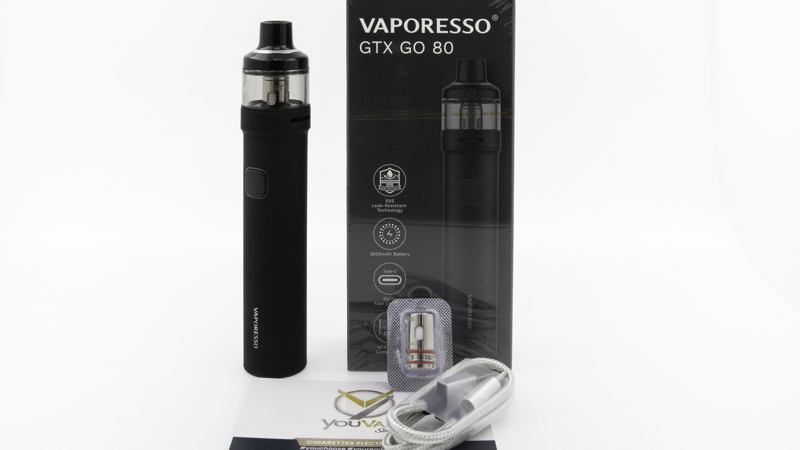 One of the biggest complaints I have heard about getting new people to vape instead of smoking, is the sheer complexity of vaping devices. I think sometimes we forget as vapers, that we were once the beginners! When I started, the options were pretty slim, but these days, we have tons of different variants to choose from.
I think new vapers often see something like the Aegis Legend, and get very intimidated. Or even worse, they see something very complex like a DNA device, and feel super lost. This is pretty fair, and I don't blame someone new to vaping being a little freaked out.
Most customers I had at the vape shop just wanted to quit smoking. They didn't care about the features or design. In fact, half of them did not even care about the color of the device. They just wanted something easy to use, that would help them stop smoking.
Back then, we had devices like the NOVO by SMOK. Of course, we also had regular box mods with tanks. There will always be the hobbyist vaper, that loves box mods and RDA tanks. But for the regular person that just wanted a vape, there were not a lot of options.
If I would have had the Vaporesso GTX GO 80 back then, I would have stocked them by the hundreds! This seems like the perfect vape for beginners on the surface. But let's take a look at the device, and see what it is all about!
Vaporesso GTX GO 80: Features And Design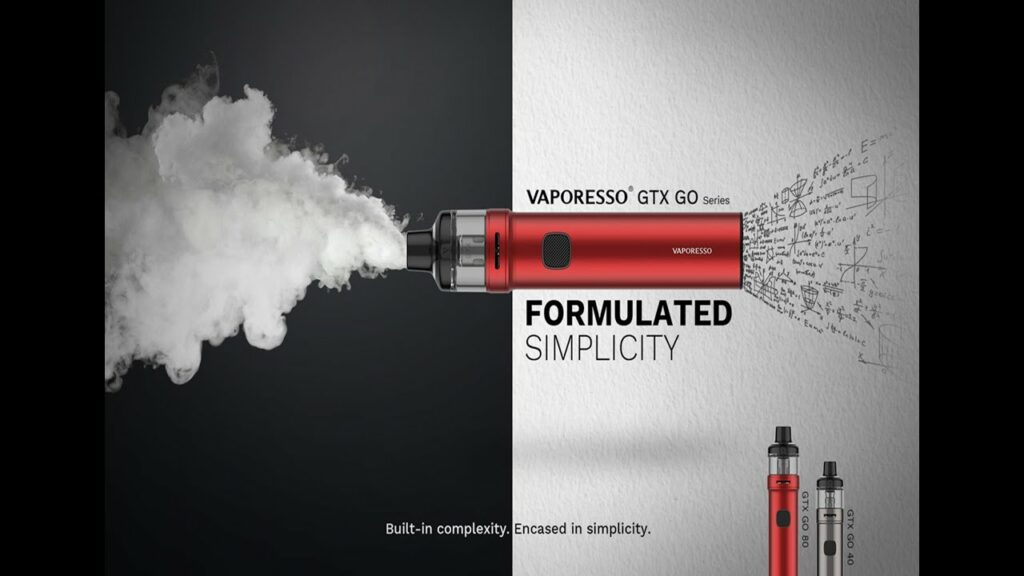 The key feature of the Vaporesso GTX GO 80 is not in any or the parts, but the sum of all of the parts. The key feature is definitely simplicity. So while more experienced vapers may scoff at such a barebones kit, new vapers may think this is by far the best option. It takes all of the guess work out of vaping, and opens up a ton of coil options.
What's In The Box?
1 x GTX GO 80 Battery
1 x GTX POD 26 (5ml)
1 x GTX 0.2ohm MESH COIL
1 x Type-C USB Cable
1 x User Manual
1 x Warranty Card
Features and Design:
Easy to use and get started
3000mAh Built-in Battery
Type-C 5V/2A Fast Charging
LED Indicator
Quick Snap-Top Filling System
Magnetic Pod Connection
Airflow Adjustment
One-Click Design Satisfaction
GTX Coils and Including RBA Compatible
SSS Leak-Resistant Technology
Comfortable Grip
Upon first inspection, you notice that this is a "one button operation" type of mod. I was not expecting that, but the design is actually really cool, especially for a new vaper. The mod portion auto-detects the coil you are using, and gives you the power you need for that coil, without ever touching a setting.
At first, this seemed pretty arbitrary. But you have to take into account just how many coils are in the GTX family! There is a coil for every type of vaper out there. * Note: The coils are compatible with Voopoo devices that take the PNP coils, but do NOT work the other way around. I wish the compatibility went both ways, but unfortunately, I tried it to no avail.
Get The Vaporesso GTX GO 80 Today! Only $34.99 with FREE Shipping!

With the Vaporesso GTX GO 80, you can use all 8 types of coils! So if you want big clouds, you could go for the lower ohm GTX Mesh Coils. If you wanted MTL style vaping, you can get the higher ohm coils and cut down the airflow. The options are huge with the tank. Unfortunately, you only get one coil with the kit. I wish they had included at least 2.
That brings me to the only con I have with this kit: the airflow. The GTX pod just sits inside the mod magnetically, and spins freely. Now this allows you to set the airflow however you want it, and I had no problem getting it down to almost MTL settings. But then I put it in my pocket and went on a drive. The slightest touch moves the pod, and changes the airflow.
But is that a deal-breaker for the Vaporesso GTX GO 80? Absolutely not!
The pod design is pretty genius. You have a "plug and play" coil system that allows you to just push the coil in. No screwing the coil down, or moving it 17 different ways to get it to fit. The coil goes in only one way, and snaps right into place. The top filling system makes this almost leak-proof.
Leaky tanks are usually another complaint from new vapers, and the Vaporesso GTX GO 80 does not have that problem at all. The top fill system has a tiny gasket that the tip of your juice bottle fits into when filling. The top of the tank then fits right back on by screwing it down.
What about the fact that you can't set the wattage? Well, I am happy to report that the intelligent sensor does a pretty good job of setting the wattage for you! I had absolutely zero problems with the amount of power it gave each coil that I tried. The lower ohm coils definitely drain the battery a little faster, keep in mind.
The 2 amp charging is fast and efficient. I went from dead battery, all the way to full charge in about an hour. The Vaporesso GTX GO 80 also supports "pass thru" charging, meaning you can use it as it is charging. The battery life of 3000mah lasts most of the day vaping and is equivalent to a regular 18650 battery.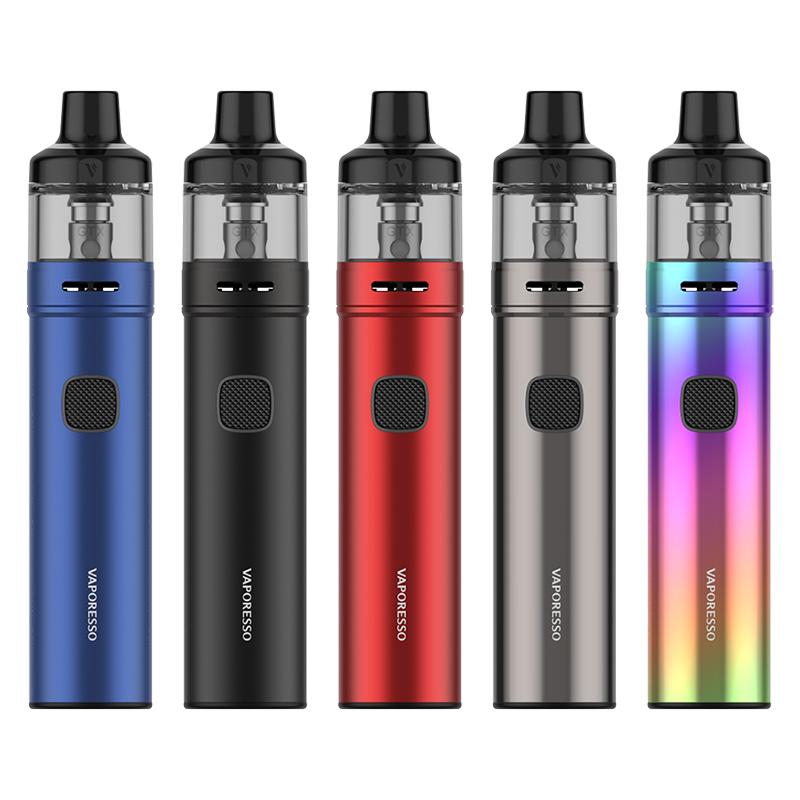 Vaporesso GTX GO 80: Final Thoughts…
I am very impressed with the Vaporesso GTX line in general. The different options that all take the same coils, is amazing. There is literally a coil for every user, and Vaporesso has amazing quality control, as I can't remember when I last got a "dud" product from the company.
If you are looking for a starter kit that is no-nonsense, and easy to use…you have found it! The is easily the best beginner product I have seen in a while. It seems simple on the surface, but the Vaporesso GTX GO 80 opens you up to a world of possibilities with the different coil options.
Sometimes "simple" is exactly what you need. This starter kit is exactly what most new vapers need to get going, and it can lead to more complex devices down the road. I think this just officially became my new travel vape! Get yours today from Direct Vapor, with FREE Shipping on all orders!
Christopher Horton