SMOK's back with the new SMOK Novo 2, a direct successor to the company's ultra-popular SMOK Novo pod system. But is it any good?
---
If you're looking for a small, compact vape with a great battery life that can run Nic Salts vape juice, the SMOK NOVO 2 might just well be what you've been looking for.
I spent a good couple of months using this pod vape, and I had a blast. It has great battery life – meaning all-day usage – plus its coils kick out amazing flavor, providing you use good quality vape juice.
The SMOK NOVO 2 is nice and compact too, so it won't take up much room in your pocket. The entire vape will sit squarely in the palm of your hand.
With coils, you have a few options. And in my experience with the NOVO 2, each coil tends to last anywhere between 10-14 days which is great. Next to the Caliburn G, I'd say this is one of my favorite small vapes right now.
SMOK Novo 2 Review – Quick Verdict (90%)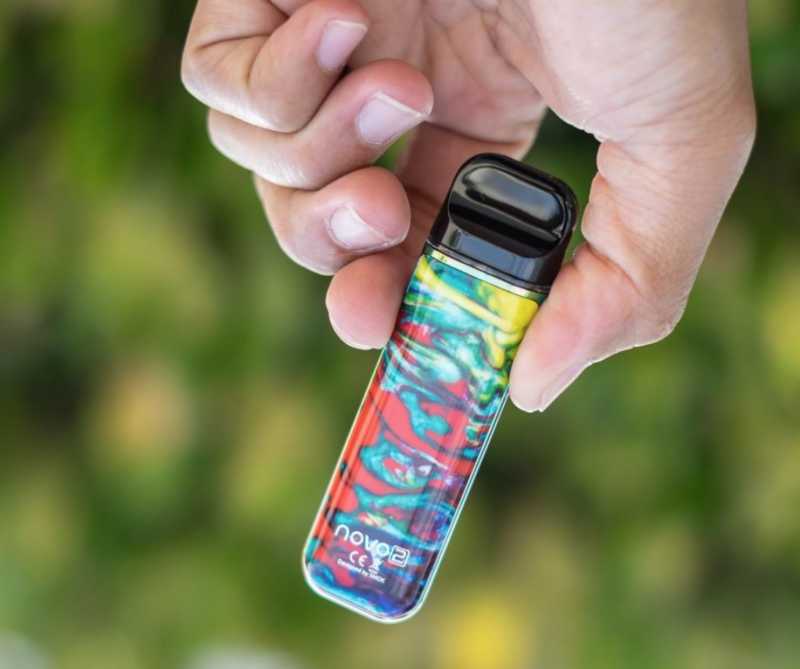 Best Price | $21.95 | DirectVapor (FREE SHIPPING)
SMOK Novo 2 Pros:
Excellent Design; It's Super-Portable
Improved Battery Performance (800mAh)
Will Do Both MTL & Sub-Ohm Vaping
Excellent Flavor Performance
Outstanding Value For Money
Quick Verdict – The SMOK Novo 2 is a compact, potent pod system that delivers plenty of flavor. The coil heads are great, serving up excellent performance and longevity and I really like the color options available for this pod system.
If you're after a solid, versatile, reliable pod system to use as your daily vape system, it is hard not to love to the SMOK Novo 2; it ticks all my boxes, anyway. Because it's an MTL device, you're best running it with Nic Salts (check out VapeBeat's Nic Salts Sample Pack), as this will deliver the most flavor and the biggest hit.
The MTL draw is nice and tight, though I would have liked a tad more vapor on the inhale. Compared to the UWELL Caliburn, my current #1 favorite pod system, it feels a little underwhelming. It's good, but it's just not quite as good as the Caliburn.
Other than that, the SMOK Novo 2 is a great little pod vape that is inexpensive, simple to use, and super-portable. As a secondary vape, it is great. I used mine predominantly like this, either when traveling or out with my friends, and it worked perfectly.
You have more than enough battery life and the device is so small it literally fits anywhere with ease. And it's also very cheap at just $21.95 (w/ FREE shipping). 
Our Full SMOK Novo 2 Review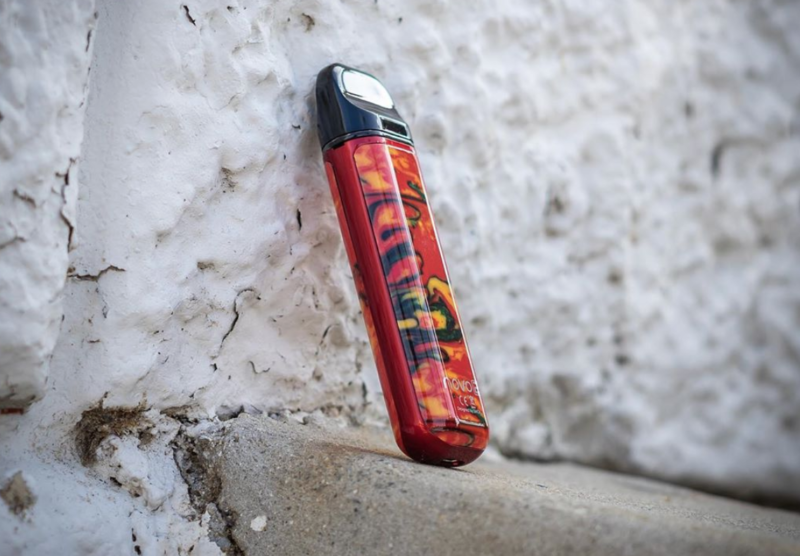 Design
Sleek, slim, and simple – what's not to like, right? SMOK's NOVO 2 is an update to their highly successful ultraportable NOVO pod-based device. This time around, you have a larger battery and more power (up to 25W). The size of the vape, however, remains identical which means the NOVO 2 is still one of the most portable pods around.
The biggest update to the SMOK Novo 2 compared to the original NOVO is the battery; the NOVO 2's battery is almost DOUBLE the size. And when you consider that the device is identical in size, this is a rather impressive feat of engineering.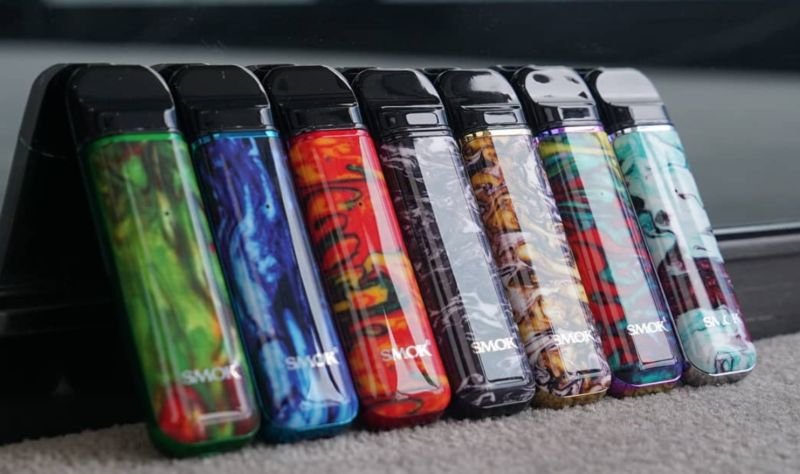 SMOK has also bought in a bunch of new resin hue options for the NOVO 2; you have several options – mine test unit was the marble finish one and I think it looks pretty darn badass. It is worth noting, though, that it isn't ACTUAL resin; rather, it is some kind of treated plastic. Doing this allowed SMOK to keep the price nice and low.
The SMOK Novo 2 has no physical buttons; the pod is breath activated, meaning as soon as you start inhaling the atomizer fires. It works great too.
In my few weeks with the NOVO 2, I haven't had any issues with this aspect of the device. It hits consistently every time. On the bottom of the device, you have a microUSB port for charging.
No USB Type C, though, which does kind of suck, as that technology allows for faster charging among other things.
As before, the SMOK Novo 2's pods are removable and 100% refillable. They each hold 2ml and you have options for either 1ohm or 1.4ohm coil heads.
Me personally, I prefer the 1.4ohm pods because they deliver a tighter, more focussed draw. Both are very decent though, so make sure you try both to see which suits your tastes best.
SMOK Novo 2 Specs & Features
When it comes to specs and features, the SMOK NOVO 2 is a simple vape – it doesn't have a lot of features. But that's the deal with pods – they're designed to be simple.
The key things it has (and does right) are battery life and its draw; the MTL draw is near-perfect, just like the Caliburn or, if you're coming from cigarettes, just like pulling on a real smoke.
This makes the SMOK NOVO 2 an ideal first vape for anyone that is trying to transition off of cigarettes onto a vape. It is simple to use, nice and compact, and it has great battery life.
Battery Capacity: 800mAh
LED Battery Indicator
Input Voltage: (3.3V – 4.2V)
Charging Current: Max- 0.55A
Overcharge Voltage: 4.3V
Overcharge Current: 1A
Output Wattage: (6-25W)
Charging Voltage: 5V
E-liquid Capacity: 2mL
The NOVO 2 doesn't include any features that could be as described as "ground-breaking" or "revolutionary", especially in comparison to the original NOVO.
For all intents and purposes, they are markedly similar – so similar in fact, that they can use the exact same pods. The question is, is this distinct lack of "mind-blowing" technology necessarily a bad thing?
In our humble opinion: no. Pod-based systems have reached a stage of development where they do what they do, and generally, do it quite well.
The NOVO 2 does everything you'd expect from a very polished and refined pod system from an industry-leading manufacturer, albeit with a few nice upgrades from SMOK's previous version.
SMOK Novo 2 Performance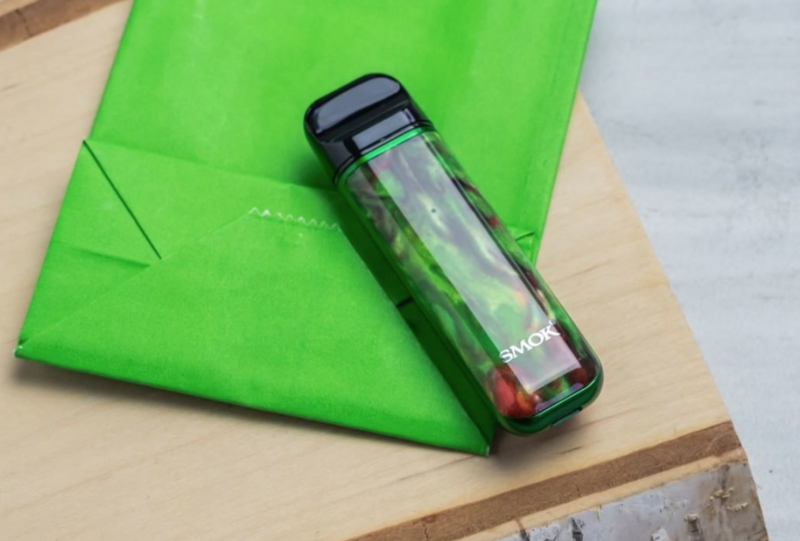 The NOVO 2 hits on all the points most vapers are looking for when they decide to shop for a pod system. It's ultraportable, it has a sleek form factor, decent battery life, subtly attractive looks, and is super simple to use.
With respect to performance, the NOVO 2 – like its predecessor – is decent, I just don't think it quite hits hard enough to get inside our Best Pod Vape Guide, alongside the likes of the UWELL Caliburn and Orchid Ultra.
This doesn't mean it isn't very good, it just means that there are better options out there – though they do cost more!
The flavor is very good and the coil heads last weeks at a time. In this respect, the NOVO 2 is very accomplished. I also think the device and construction of the device are stunning too; it's so sleek and so portable, you just want to pick it up and vape!
The mouthpiece is also very comfortable for vaping too, which is always a good thing, as so many pod vapes get this wrong.
Overall, the NOVO 2's performance is a solid 7/10, meaning it's not market-leading like the UWELL Caliburn, but it is a lot better than most.
For this reason, I do recommend the SMOK Novo 2, especially if you're after value for money – this pod vape is super affordable at just $21.95 (and that includes free shipping)
Should You Buy The SMOK Novo 2?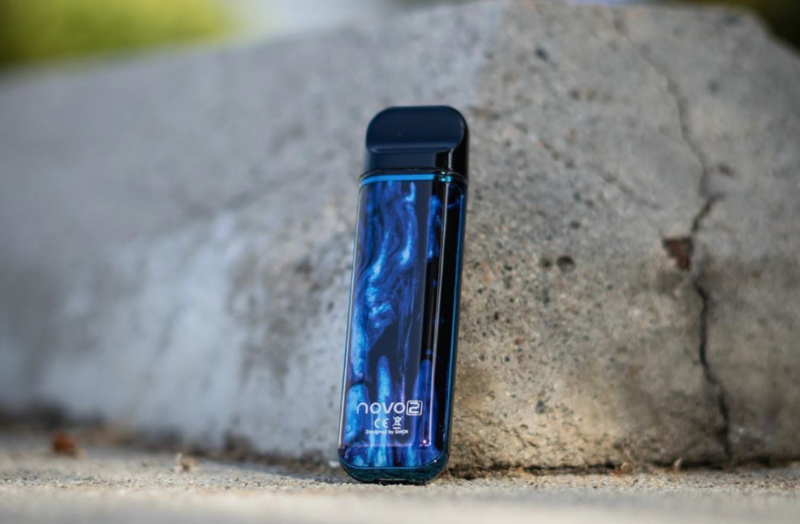 So why consider the NOVO 2? After all, the original NOVO offered all of these attributes as well. Essentially, is it worth upgrading? The answer is a resounding "maybe".
If you're currently using an older pod system that may be lagging in the performance or battery life departments, switching to SMOK's decidedly modern NOVO 2 will certainly feel like a significant improvement.
Conversely, if you're the proud owner of the original NOVO device, the NOVO 2 will offer a familiar feel and function, but probably won't seem like a "game-changing" advancement.
That said, the NOVO 2 does offer some significant improvements over its predecessor.
Airflow sees a boost with a mildly redesigned "U-shaped" air channel, and condensation management has been built-in in the form of redesigned contacts and trenches for siphoning condensed liquid away from the device's internals.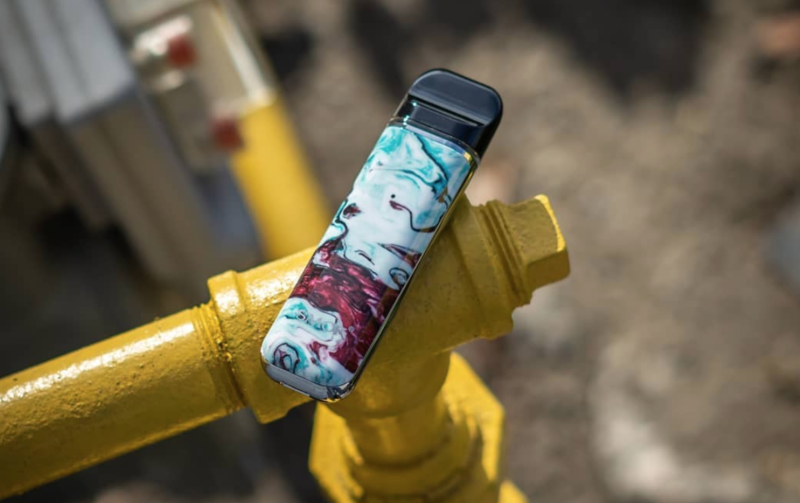 Is The SMOK NOVO 2 Worth It?
We say: Yay! We think that the NOVO 2's upgraded features, 800 mAh battery capacity, and various pod options offer enough incentive for users of older systems, including the original NOVO itself, to consider it as a possible path to an upgrade.
Depending on the system you're currently using, prepare to be more or less impressed by SMOK's latest evolution in the NOVO line.
If you want huge clouds, sublime flavor, and battery life that lasts a week between charges; there are much, much better (not pod-based) systems for that, but for excellent portability, attractive and unobtrusive aesthetics, reliable and simple operation, and an overall well-balanced pod-based experience, SMOK's NOVO 2 definitely doesn't disappoint!
Best Price | $21.95 | DirectVapor (FREE SHIPPING)
Drake Equation
Co-founder and Editor of VapeBeat. I make the words.