It's the talk of the town right now, but is the Orchid pod vape system as good as the hype suggests? Let's take a look at what makes this hugely popular pod vape tick.
---
In a sea of pod vape releases, standing out from the crowd is tricky – some say impossible. But this is what the Orchid pod vape has managed to do, thanks to high-praise from the likes of The Vaping Bogan, Grimm Green, and other vape industry luminaries.
But does the Orchid Pod live up to the hype? Let's take a look at what makes this pod mod device tick to find out if it can take on the likes of the UWELL Caliburn and Lost Vape Orion DNA.
Orchid ULTRA Pod Vape Specs – What Makes This Pod Tick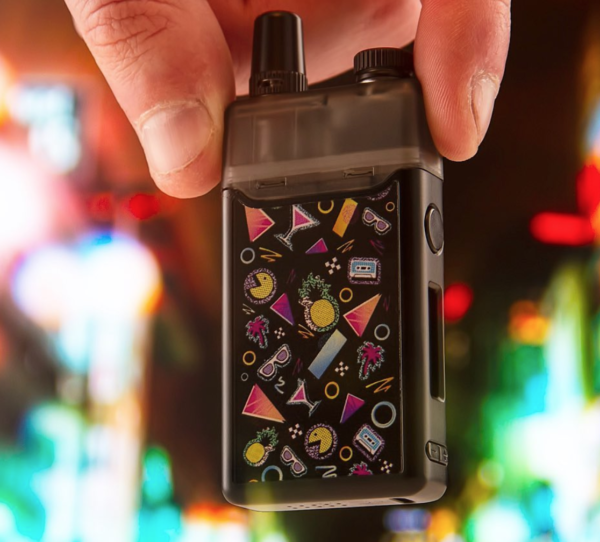 First and foremost, the people behind the Orchid Pod Vape know what pod fans want: performance and battery life. The Orchid packs in a 950mAh battery, which should deliver true, all-day battery life, even with heavy usage.
Inside, the Orchid is more box-mod than traditional pod-vape; you have things like temperature control mode, an OLED display, variable wattage, and variable voltage, giving you unprecedented control over your vaping experience.
For me, this is what separates the Orchid from 99.9% of pod systems on the market right now. It gives you control, and it lets you choose a vaping mode, a rare thing in the world of pod vapes. I think this aspect of the device, combined with its design, is what has made this device so massively hyped.
Orchid Pod Vape Coil Head (AKA: The Pod System)
Like the Lost Vape Orion, the Orchid Pod Vape runs a removable top piece that features the drip tip and filling port, as well as its E Juice storage compartment. Inside you have a 0.85ohm coil head designed for Nic Salts E Juice.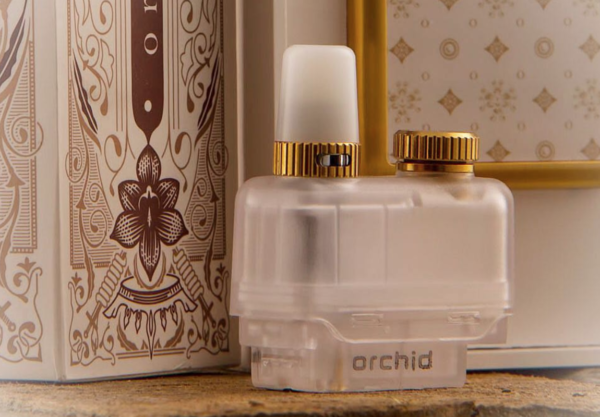 It has an AFC too, which means you can augment the airflow, making it tighter (MTL) or more open (DTL). As someone that likes their pod mods with MTL, this feature is a brilliant addition. I like choice when it comes to my airflow, and on pod mods, you don't usually get it.
Orchid Pod Vape Design
As noted earlier, the Orchid Pod Vape bares more than a passing resemblance to the Lost Vape Orion and SMOK Trinity Alpha. The shape and gait are the same, and so too is the way the pod interacts with the chassis of the device.
This similarity is not a bad thing; the Lost Vape and SMOK pod system are both handsome chaps. The pods are easy to refill and remove, and the drip tips are great for both MTL and DTL vaping. For this reason, it's easy to see why Orchid went this route over, say, a more pen-style system.
The device itself is crafted from zinc alloy and is available in a variety of color schemes – at least five, at my last count. Magnets secure the pods in place, and it also features a dedicated fire button and wattage/power rocker. And if that wasn't enough, you also get a 0.69in OLED display.
Package Contents Include:
1x Orchid Ultra Pod System
1x Orchid 0.8 ohm mesh coil
1x USB cable
1x User manual
Should You Buy The Orchid Ultra Pod System?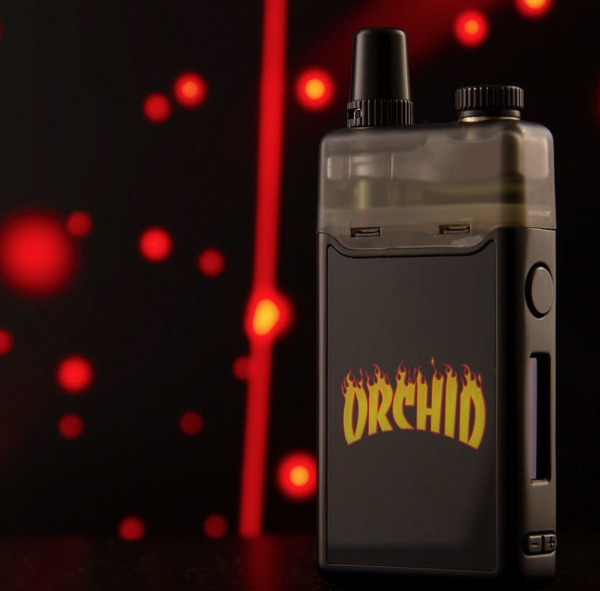 I haven't tested this device yet, but I have already placed my order, as I am more than impressed by its design, specs, and overall functionality. For me, it is the perfect, cheaper Lost Vape Orion DNA alternative.
You have a massive internal battery (950mAh), a fully removable and refillable pod, the ability to run Nic Salts E Juice, as well as set and run things like variable wattage, variable voltage, and temperature control modes.
I also really like the design of the Orchid Ultra Pod System; it's portable (40mm*14.8mm*58mm), it comes in a range of color options, and it holds enough E Juice (3ml) to get you through a full day's worth of vaping.
And then there's the price; the Orchid Ultra Pod System retails for $44.99 via VaporDNA – an amount that makes it considerably cheaper than its nearest rival, the Lost Vape Orion DNA.
Drake Equation
Co-founder and Editor of VapeBeat. I make the words.