Geekvape Aegis VS Geekvape Aegis: Clash Of The Indestructible Titans For 2021!
The Geekvape Aegis Series has been one of the most popular mods on the market for several years now. There are many different versions of the mod, and today, we take a comparison look at all of them!
---
The Geekvape Aegis: A Legacy of Legends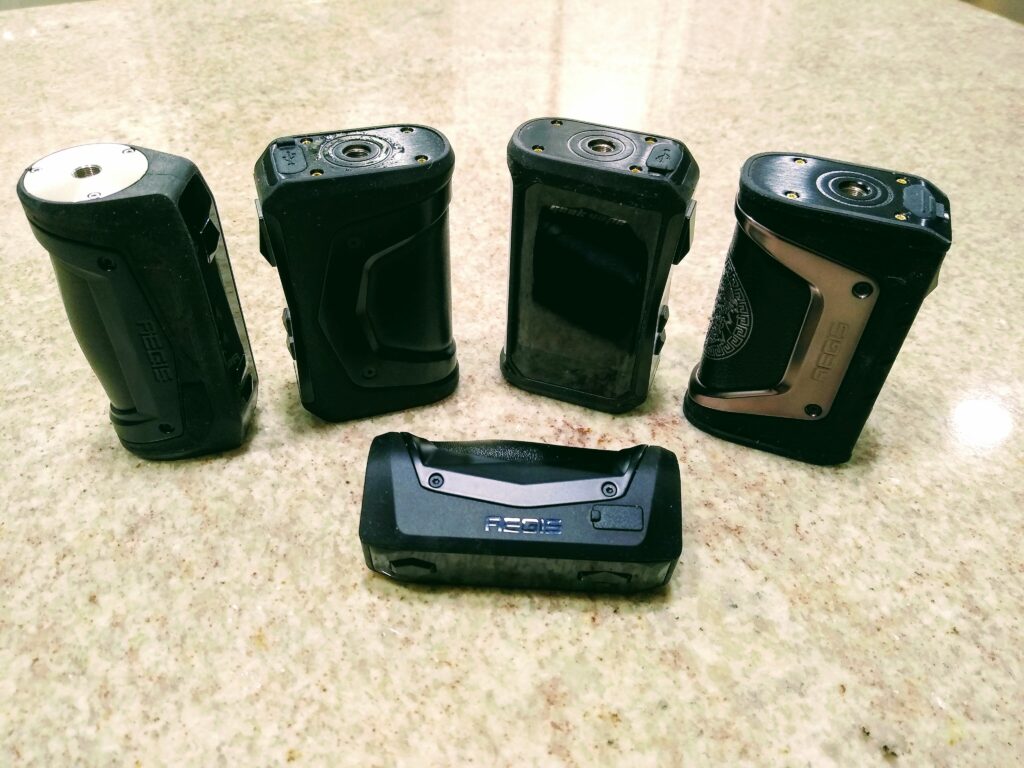 The Geekvape Aegis series first came out way back in 2016. If that sounds a little wrong to you, it's because the original Aegis was NOT very popular at all. The original Aegis took a big single 26650 battery, and was quite large for what it was. Just like all of the Aegis series, it was IP67 waterproof and drop proof. All in all, it sounded like an amazing mod on paper.
Just like the current Aegis models, it also had a classy leather accent. This was a totally new idea back then, and usually reserved for high-end vaping products. Nowadays…everything looks like an Aegis.
Again, on paper, it was perfect.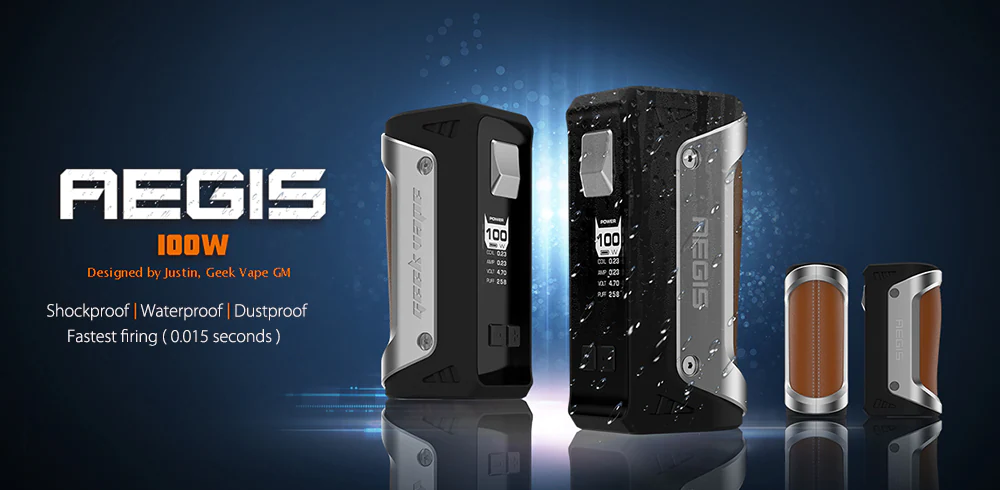 As a matter of fact, if you look at the picture above, it is almost identical to the Aegis that we know today. Albeit, the original mod is definitely chunkier and larger. So what made it fail so badly? What happened to the Aegis in 2016?
I think several factors came into play…
The original Aegis came at a time when SMOK was dominating the market. At the time, it seemed like every single mod in the vape shop was made by SMOK. The popularity of the Alien and G Priv Series carried SMOK to the next level when it came to retail purchases.
You also have to factor in that Geekvape was a totally new IP at the time. People were familiar with Digitech, which is Geekvape's parent company. But they were not familiar yet with Geekvape. So more "trusted" brands like SMOK and Sigelei dominated everything.
There was also a new player in town at the same time: Voopoo.
The Voopoo Drag had just became popular also, and became the best selling dual battery mod of all time. We gave the original Drag some of the highest marks ever, and for a good reason. I know people that still own and use the OG Drag. It was THAT durable.
Mods in general were made a little better back then. So why would I need a waterproof, nearly indestructible mod? This is where the Aegis failed: It was bad timing, and competition was just too high.
So what changed?
2017: Everyone Makes Vape Mods Now!
The very next year, vaping really took off. We saw production at it's highest in years from all of the usual companies. But other companies started popping up as well. Suddenly, a company like Sigelei had 6 spinoff companies. SMOK bought Wotofo.
Everyone was trying to make the latest, greatest vape products. But when production is that high, quality goes down.
It got to the point that if you dropped your mod accidently, it might be dead in the water. Companies traded out metal components for plastic ones. Designs were made to look cool, instead of being durable. I cannot count how many times a customer came in to my vape shop, with a broken mod…from a single drop.
People were breaking stuff, and it was getting expensive!
The original Geekvape Aegis saw a resurgence in popularity all the sudden. But there was a small problem: The company had halted production. It was time for a new plan from Geekvape. Which brings us up to speed on the first new model Geekvape released: The Aegis Legend.
Today we are going to take a look at all of the Geekvape Aegis mods, and rate them accordingly. Which one will come out on top?
---
The Geekvape Aegis Legend: 8/10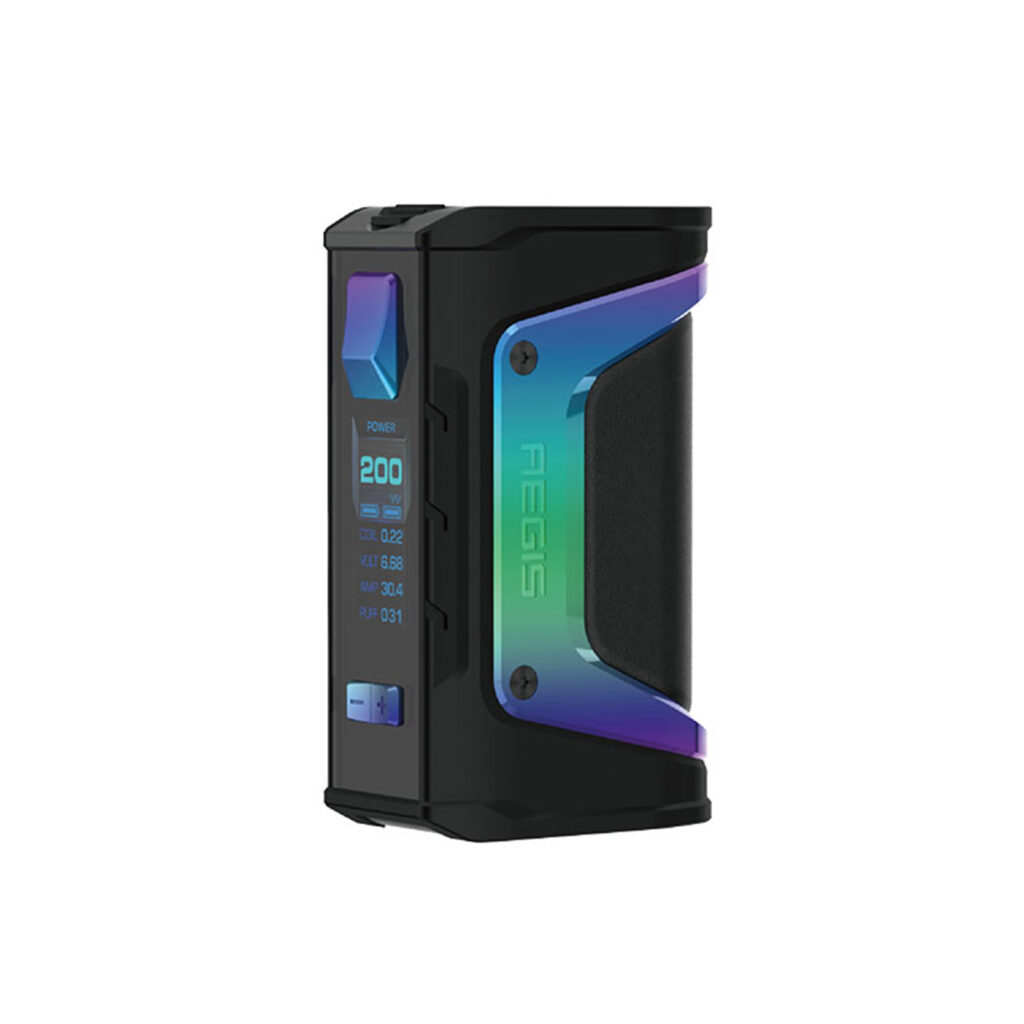 The Aegis Legend was the first new product Geekvape designed for the Aegis line. This took everything from the OG Aegis, and improved upon it. The new features not only made it popular, but it lived up to it's namesake. This mod started a legacy!
Features and Design
Dual High-Amp 18650 Batteries – Not Included
Wattage Output Range: 5-200W
Temperature Control Range: 200-600F
Minimum Atomizer Resistance: 0.05ohm
Support Nickel, Titanium, and Stainless Steel Heating Elements
Temperature Coefficient of Resistance Adjustments (TCR)
VPC Mode – Power Curve Adjustments
BYPASS Mode
Intuitive 0.91″ OLED Full-Color Display
Durable Zinc & Aluminum Zinc Alloy Construction
LSR Silicone Mould
Stainless Steel Powder Metallurgy
Premium Leather Grip Section
Incredible Shockproof System
IP67 Water Resistance and Dustproof System
Rocker-Style Firing Button
Bottom-Loaded Hinged Battery Cap
Spring-Loaded Gold-Plated 510 Connection
The Aegis Legend has everything you could possibly want out of a vape mod, on top of being durable and waterproof! The screen and chip were recycled from the OG Aegis, and for a good reason…it works great. The most interesting feature to me, was the VPC wattage curve setting.
You could set the wattage in steps. So if you wanted the first second to be 100 watts, and the next second to be 80 watts, you could set it that way. This allowed you to customize how the vape hit, and you could tailor it to your own design. Of course, the Legend Also worked great in just plain wattage mode.
On top of the IP67 rating, and the LSR rubber that coated the mod, you also had a very tight battery door. The door has never failed on either of my Legend models. The hinge was solid, and easy to secure.
The final outstanding feature for this mod was the size of atomizer you could use with it. There are tons of 28mm-30mm RTAs out there, but strangely enough…not many mods can run them without overhang. The Geekvape Aegis Legend COULD. Easily. Because it was so wide.
But if there were any complaints on my end, it was the size and weight of the mod. This is not a dainty mod in any shape or form. This is why it lost 2 points and just couldn't be a perfect 10 for me. This is definitely not a mod you travel around with. But Geekvape realized this, and moved on to new models.
Get The Aegis Legend For Only $55.95 With FREE Shipping!
---
Geekvape Aegis MAX 100 Watt: 8/10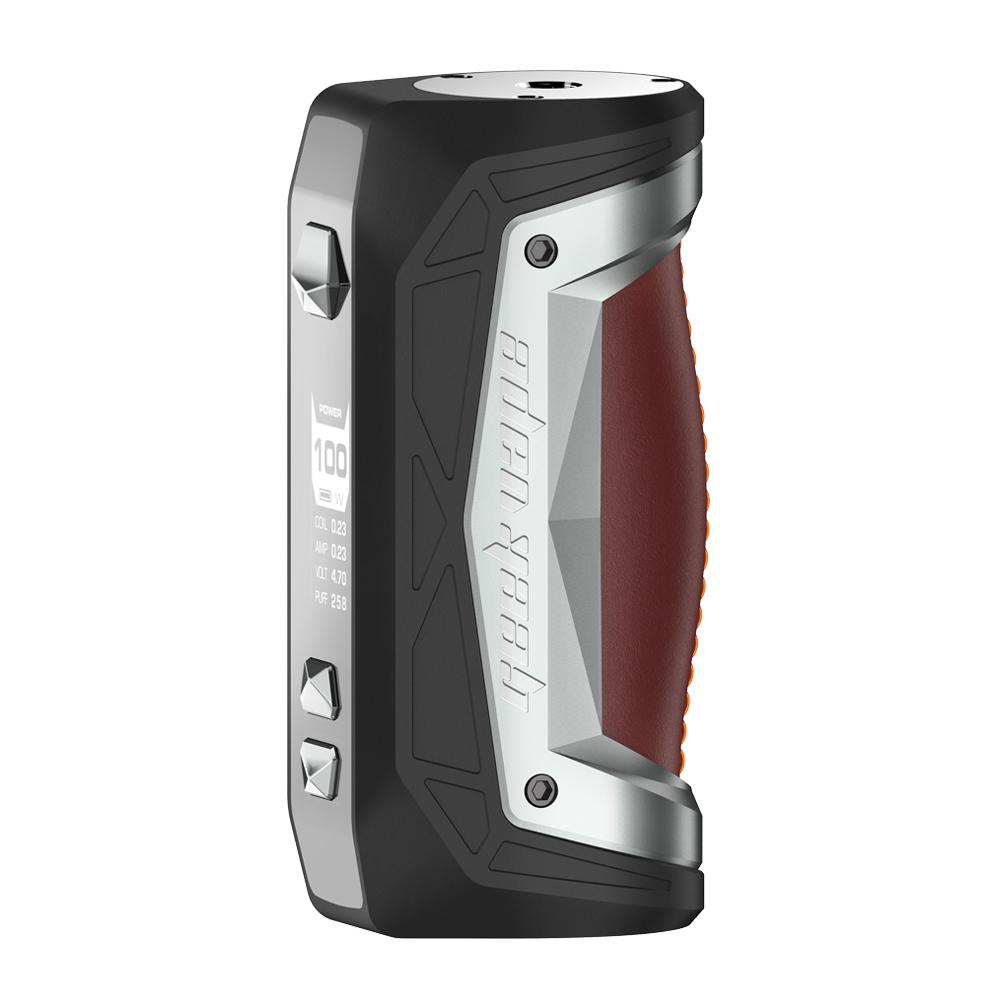 The Geekvape Aegis MAX is a redesign of the original Aegis, from the ground up. These mods may look similar, but they certainly aren't. The biggest change between the MAX and the original, is the type of battery it takes. The newer MAX takes a 21700 battery, or 18650 with an adaptor. Let's look at all of the features:
AS-100 Chipset
Single High Amp 21700 / 18650 Battery – Not Included
Wattage Output Range: 1-100W
Resistance Range: 0.05-3.0ohm
Temperature Range: 100°-315°C / 200°-600°F
Firing Speed – 0.02s
Power Mode
VPC Mode
TC Mode
TCR Mode
Bypass Mode
Stainless Steel, Nickel, and Titanium Wire Compatibility
Zinc-Aluminium Alloy Chassis Construction
IP67 Rating – Shock, Dust, and Water Proofing
Intuitive Firing Button
OLED Display Screen
Two Adjustment Buttons
10s Cut-Off Protection
Short-Circuit Protection
Over-Charging & Discharging Protection
Over-Heat Protection
Over-Current Protection
Anti-Dry Protection
510 Connection
MicroUSB Port – Silicone Cover
Once again, we have all of the features that make the Aegis lineup famous. You still get all of the protection and durability, just in a single battery package. The Aegis MAX was my daily driver for quite a while!
The biggest appeal of the MAX is the drawback from the Legend: Size.
The MAX is half the size of the Legend, and still has all of the same great features. The VPC wattage control is even more accurate with the updated chip, and the wattage mode is just as accurate as the Legend. You can even fit a 28mm atomizer on it!
So why did I take 2 points off again from a perfect 10?
As amazing as the Aegis MAX is…it still suffers from being a little too hefty for a single battery mod. The MAX is about 30% bigger than all of my other single 21700 battery devices.
I understand this is because of it's durability. The added size and weight comes from the construction of the mod, especially the LSR rubber accents.
So the MAX is a great mod. But it's not quite perfect for me.
Get The Aegis Max For Only $44.95 with FREE Shipping!
---
Geekvape Aegis SOLO: 9/10
Now we are getting somewhere! The Geekvape Aegis SOLO was my all time favorite mod for quite a while. Mine has over 8000 hits on it, and my SOLO is still kicking! I have used and abused this mod, and I can attest that it will withstand anything you throw at it. It has nearly all the same features as it's bigger brothers:
AS-100 Chipset
Single High-Amp 18650 Battery – Not Included
Wattage Output Range: (5-100W)
Resistance Range: 0.05-3.0ohm
Power Mode
VPC Mode
TC Mode
TCR Mode
Bypass Mode
Zinc-Aluminium Alloy Chassis Construction
10s Cut-Off Protection
Short-Circuit Protection
Over-Charging & Discharging Protection
Over-Heat Protection
Over-Current Protection
Anti-Dry Protection
510 Connection
MicroUSB Port
While I definitely liked the other Aegis mods, the SOLO was the first one that I loved. This single 18650 mod was perfect for me when I was on the go. I often paired the SOLO with a MTL tank, or the SMOK Baby Beast. This little mod got me through most of my days working at the vape store.
The SOLO is about 25% smaller than the Aegis MAX, and it has all the same functionality. The chip, VPC wattage, and every other feature is pretty much identical. The interface between these three models barely changed at all, and I think that is a pretty cool feature. Geekvape is very consistent.
So why did I dock one point? Why isn't the SOLO the perfect 10?
You can't have everything, and with the SOLO…it was the battery life. I got most of the day out of a single 18650, but sometimes I needed just a little more power.
Geekvape had another trick up the sleeve, though…
Get The Aegis SOLO for only $37.95 with FREE Shipping!
Geekvape Aegis X: 10/10!
The Geekvape Aegis X gets the perfect 10/10! This was the design compromise that changed everything for me. Finally, we had a dual 18650 Aegis mod, without being super heavy and bulky. The Aegis X was slimmed down, and much of the weight was trimmed off as well. This doesn't mean it was lacking at all in the durability department.
AS 2.0 Chipset
Dual High Amp 18650 Batteries – Not Included
Wattage Output Range: 5-200W
Resistance Range: 0.05-3.0ohms
Temperature Range: 200°-600°F / 100°-415°C
IP67 Rating – Water/Shock/Dust Proofing
Zinc-Alloy Chassis Construction
2.4 " OLED Display Screen
Bottom Hinged Battery Door
MicroUSB Port
Threaded 510 Connection
Superior Stainless Steel Construction
Detachable Structure
It may have taken Geekvape a few years, but the company finally hit a home run with the Aegis X. We sold out of these mods every week at the vape shop, and it's easy to see why. We also love this mod here at Vapebeat.
You get a full color, almost high-def looking screen on the side of the mod. You also still have all of the same features from the Aegis Legend, like the wattage curve and individual profiles. This is just a slimmed down version!
Even though the Aegis X is slimmed down, you can still fit a 28mm atomizer on top. The side screen was a point of worry for some people, who thought it may affect durability. When I first reviewed the Aegis X, I dropped it from the roof of my house on to concrete. It had a few scratches…but it continued to work.
For me, the Aegis X was the perfect dual battery mod. I had tons of SMOK mods, and several Voopoo. None of the stood up to the quality of the Aegis X.
I own two today. If anything happened to one? I would buy another.
Get Your Aegis X Kit Edition today for only $71.95 with FREE shipping!
---
The Geekvape Aegis: A Legacy For The Future?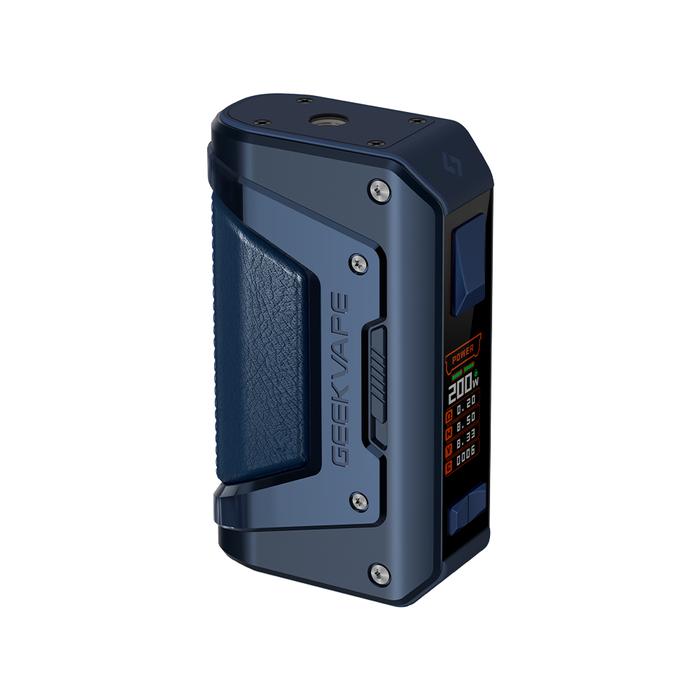 The Geekvape Legend 2 is just now hitting the shelves, and I am sure it will be a huge hit. It is even smaller and more lightweight than the Aegis X. From the design choices, it looks like Geekvape has stuck to what works, while continuing to make improvements.
So which Geekvape Aegis is the right one for you? I suppose that's up to your needs. My ratings were based purely on my experience with the products, and I stand by the Aegis X being the absolute best.
But then again…I haven't tried the new one!
Christopher Horton