It looks like we are at it again with the Geekvape Aegis Nano, probably the smallest of the Aegis series so far. But what makes it special? Does it live up to the Aegis legacy? Today we take a look, and break down the features!
---
Geekvape Aegis Nano: The Newest Of The Aegis Family
If you have been vaping for more than a couple of years, I am sure you know all abut the Geekvape Aegis line of products. They have been not only popular, but well reviewed by just about everyone I can think of. In fact, there have been tons of different versions, and every one of them have been successful in their own way.
The claim to fame for the Aegis is first and foremost, the fact that it is IP67 waterproof. While all of the Aegis lineup works really well in that department, the features and designs of the Aegis are also outstanding.
These are mods and kits that come in all kinds of shapes and sizes, with varying power functions. There are single battery bangers, and the big dual 200 watt powerful mods. There is an Aegis for just about any vaper out there. Well, almost…
For MTL vapers, and salt-nic vapers…there has not been much for them in the Aegis line. There was the popular Aegis BOOST series, but it didn't quite hit the mark. This was small and compact, and did well for MTL, but it also catered to the "regular vaper". Meaning sub-ohm mesh coils, and the like.
Well, now we have the Geekvape Aegis Nano. This looks exactly like what the Aegis line was missing. But how does it work? Let's take a look.
Geekvape Aegis Nano: Features And Design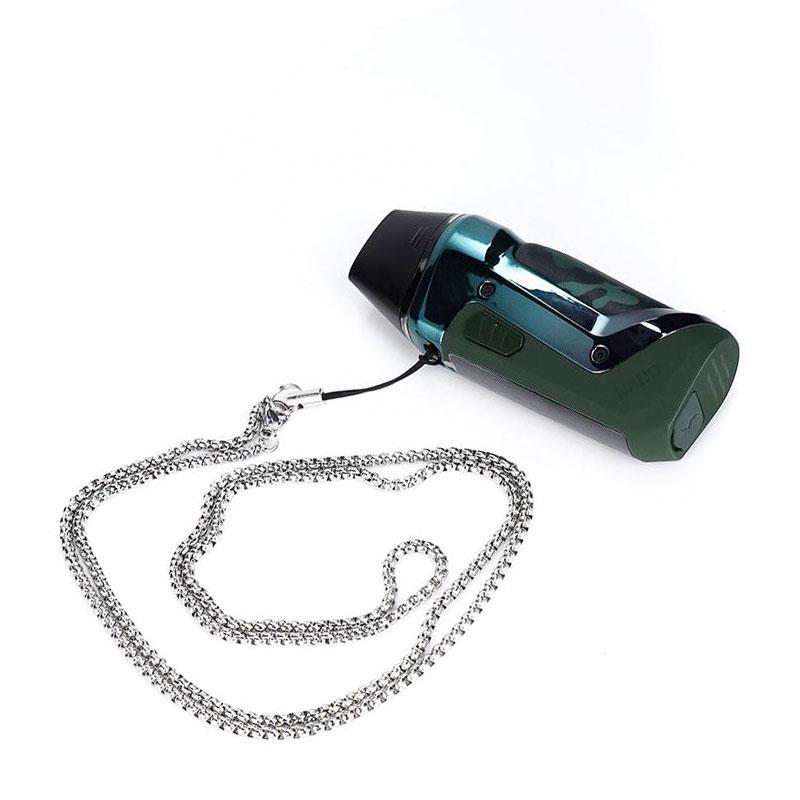 It looks like Geekvape has finally attacked the pod mod market. I think it's a testament to how Geekvape works as a company, though. The company rarely just blindly releases product after product. There has been a huge gap between the different Aegis line products.
I think this is because Geekvape likes to spend it's time trying to make the best designs possible. I would rather a few months for the RIGHT mod, that has been designed well. In an industry where so many companies just put out whatever they can, and some even ape the idea of the Aegis, it's nice to see something thoughtful.
Let's take a look at the new Geekvape Aegis Nano, and see what makes it tick!
What's In The Box?
1 x Geekvape Aegis Nano Kit (2ml, Pre-installed : 0.6Ω 20~25W)
1 x Aegis Nano Pod (2ml, 1.2Ω 11~14W)
1 x Lanyards
1 x Spare Parts Pack
1 x USB Cable (Type-C)
Standout Features
Integrated 800mAh Battery
Up to 30W Power Output
Auto Output Adjustment
Industry-leading Geekvape Tri-proof Technology
Splash & water resistance, Dust resistance, Shock resistance
Compact and durable, Handy Portability
2ml Refillable Pod with Magnetic Click
Top Filling Port – Hidden Under Mouthpiece
0.6ohm or 1.2ohm integrated coil pod
Immersive Flavor – Nano packs a punch.
Adjustable Airflow Switch – A precise airflow control
Stylish Neck Chain – Nano got style.
We all know that the Geekvape Aegis series is waterproof and durable, so let's get that out of the way. The Geekvape Aegis Nano is no different than the other products in the series. This thing can take a beating, and keep ticking. Like all of the Aegis line, if you DO drop it in water, please change the pod and coil! They are NOT waterproof.
Let's start by taking a look at the size. This is smaller than all of the other Aegis products, and is meant to be highly portable. It's smaller than even the Hero Boost series. It even comes with a little lanyard chain, like the Drag Nano did two years ago. This chain lanyard isn't something I would ever use…but hey, You do You!
Like most of the Aegis line, The Geekvape Aegis Nano comes with leather accents on the grip, and a colored frame. It also has the famous rubberized coating that makes it less prone to damage from drops. There are currently several different styles to choose from, as seen below:
Get Yours Today For Only $32.95 With FREE Shipping!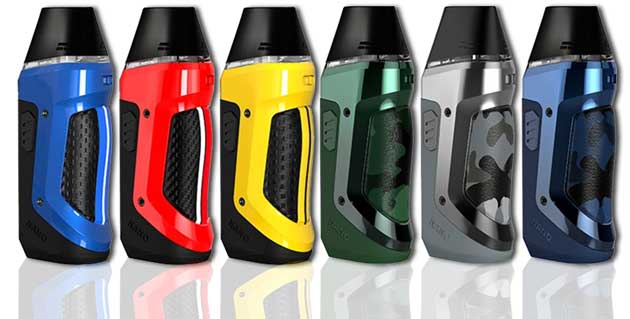 This kit comes with two different pods: a 0.6 ohm pod, and a 1.2 ohm MTL pod. I like that Geekvape gives you two different options, so if you are a new vaper this gives you a chance to try out both of the different styles of pods. Each pod holds 2ML, which sounds sparse, but not if you are using salt-nic!
The mod itself puts out 30 watts max. This is more than enough power for the pods available. The built in 800mah battery is enough to last all day for me, with moderate usage. But if you like to chain-vape, then the USB-C charge port charges fast! From almost dead battery, back to full, it took about 40 minutes to charge.
Like the Vaporesso products of recent date, this little mod is auto-regulated when it comes to power. It detects the ohm load, and gives you the sufficient power needed. This makes it perfect for a beginner. There are no settings to deal with, and it seems like this is a direction that a lot of companies are going with, and the Geekvape Aegis Nano is the newest of this breed.
The rear of the mod has a tiny airflow adjuster, which I didn't find to be necessary at all. In this department, the pods do the legwork for you. The 1.2 ohm pod is noticeably more restricted than the more open lung 0.6 pod. But if you need to dial in airflow, it's there!
The whole system is...simple. I like that a lot. There is not much to say here when it comes to features, and that is not a bad thing. Fill up the pod, wait 10 minutes, and vape. It's that easy to use the Geekvape Aegis Nano!
Geekvape Aegis Nano: Final Thoughts…
If you are the type of person that is pretty hard on your pod mod system, the Aegis Nano is right up your alley. But there is a missed demographic for Geekvape, I think. There are plenty of people who don't worry at all about putting their vape in danger, but they just want something that will last.
Geekvape always uses the "indestructible" approach regarding the Aegis marketing. But…
All of my Aegis products (I have a few!) are still kicking, and I have not abused them at all. However, it is nice to know that these are well made and durable. But that's not why I bought them. I like them for the features and design. So while this is marketed to people who are rough with their vape, it is also really great for people who treat their vape with kindness!
This would also make a perfect beginner vape, as it is small and easy to use. I also think it works well as a travel vape for those of us that hate taking a big mod everywhere they go! The Geekvape Aegis Nano has lots of potential for many demographics. This is a little beast, that I am sure will last for a long time!
Get Yours Today For Only $32.95 With FREE Shipping!
Christopher Horton