GeekVape has a new pod device out. Meet the GeekVape Aegis Hero Pod, a new portable vape that has eyes on taking the market by storm…
---
GeekVape has produced a TON of cool gear in the last 12 months. And even though we have things like the PMTA looming over our heads, the budget-conscious vape brand isn't showing any signs of slowing down.
The GeekVape Aegis Hero Pod is the company's latest foray into the ever-popular world of pod vapes. Today, we're going to look at the GeekVape Aegis Hero Pod specs, features, price, and design.
GeekVape Aegis Hero Pod Specs
IP67 Rating – Waterproof, Shockproof, Corrosion Resistance
Integrated 1200mAh Rechargeable Battery
45W Max Output Power
Stable Output Buck-Boost tech
0.42 Inch OLED Display Screen
4mL Refillable Pod – Replaceable Coil
Top Fill System – Zero Leakage
Compatible with Geekvape B Series Coil
Top Airflow – Airflow Control
As you can see, like GeekVape's other Aegis mods, the GeekVape Aegis Hero is 100% IP67 certified, meaning it is totally water-proof, so you can vape in the bath, shower, hell even the pool or the sea if it takes your fancy.
The GeekVape Aegis Hero is powered by a 1200mAh battery which should deliver all-day battery life.
To be honest, I'd like to have seen a larger battery here. But given the GeekVape Aegis Hero's dimensions (it's really rather small), I think this was the biggest the company could fit inside.
You have 45W of power to play with too, as well as full support for GeekVape's excellent B Series coils, opening options for both MTL and DTL vaping with this pod device.
GeekVape Aegis Hero Pod Design
The design language here is simple and to the point. The GeekVape Aegis Hero is designed to be super-portable while providing all the features a modern vaper needs.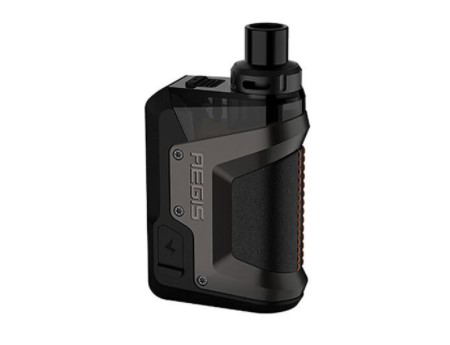 Taking design elements from GeekVape's Aegis mods, the GeekVape Aegis Hero is instantly recognizable as an AEGIS product. And that product line has a very good track record, so this will do the pod plenty of favors with users.
The pods are removable and will hold 4ml of vape juice. The 1200mAh battery is non-removable and the pod is the only part of the device you can remove. All in, it's a pretty tidy little pod vape that I am looking forward to testing.
GeekVape Aegis Hero Pod Battery Life
With a 1200mAh battery inside it, the GeekVape Aegis Hero should provide a solid 12 hours of usage. With moderate to low use, you might be able to get a couple of days out of the device before it requires a top-up.
Again, this isn't the biggest battery. But it will almost certainly do the job. The device is small, remember, so space is limited. I think 1200mAh is just about as big a battery as you could squeeze inside a device of this kind.
If you're using a vape like the UWELL Caliburn or the JUUL, the GeekVape Aegis Hero's battery life will be a MAJOR upgrade. It is almost four times the size of the ones used inside those pod systems, so if you're coming from one of those, this will feel like a massive update.
GeekVape Aegis Hero Pod Price & Release Date
The GeekVape Aegis Hero is now available to buy in the US. You can pick it up with free shipping for $35.95 via DirectVapor.
Drake Equation
Co-founder and Editor of VapeBeat. I make the words.