Portable Pod Mods are her to stay it seems, and the SMOK Thallo is the one of the newer efforts to make this a standard. But how does it stack up to the competition, or even it's own RPM systems?
---
The SMOK Thallo: Well This Looks Like An Old Friend
SMOK is one of those companies that you either love or hate. I find that I am a pretty moderate person when it comes to SMOK. Some of it's products are actually really great, like the RPM Series. The you have the sort of ugly side of SMOK, where the products are definitely close in design to other popular brands.
Let's just say that consistency is not something that SMOK often thinks about. The products are notoriously hit or miss, and there is a certain "charm" about that. SMOK is usually a "beginner" brand, and most vape shops carry SMOK. So sometimes the design of a product may look a little like another.
The SMOK Thallo is this, definitely. This newer pod mod looks awfully familiar… like the Drag S. It's really easy these days to cry foul and say "Oh no, It's a clone!". However that is not always the case. Believe me, I am sometimes one of these people, but lately I have been able to at least find some subtle differences.
The devil is often in the details.
But let's not just automatically dump on the SMOK Thallo because it looks like another product. I mean, this is vaping we are talking about. There are only so many different ways that you can attach an atomizer to a mod. Some companies find really clever ways to do this, but we usually see that in the high end world.
So as much as I want to jump ship and just call the SMOK Thallo a clone, I'm not…yet.
SMOK Thallo: Features, Specs, And Design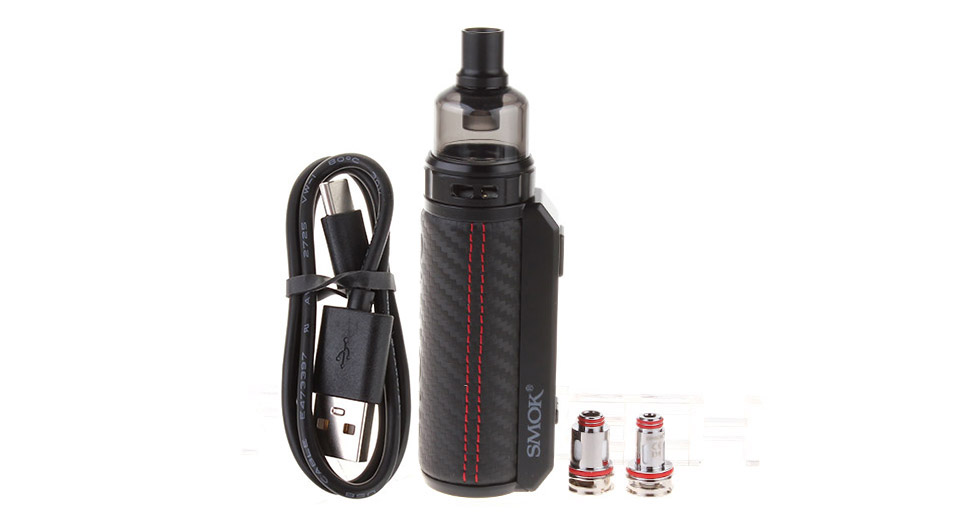 What's In The Box?
1 x Thallo Device
1 x 5mL Thallo RPM2 Pod
1 x 0.16ohm RPM2 Mesh Coil
1 x 0.6ohm MTL Mesh Coil
1 x Type-C Cable
1 x User Manual
Features And Design
IQ-XS Chipset
Integrated 3000mAh Rechargeable Battery
Wattage Output Range: 1-80W
Voltage Output Range: 0.8-4.0V
Resistance Range: 0.15-2.5ohm
Firing Speed – 0.001s
Zinc-Alloy Chassis Construction
Intuitive Firing Button
0.96″ Color Display Screen
Two Adjustment Buttons
5mL THALLO RPM 2 Pod
Bottom Fill System
SMOK RPM2 Coil Series
0.16ohm RPM 2 Mesh Coil – rated for 20-25W
0.6ohm RPM 2 DC MTL Coil – rated for 12-25W
Press Fit Coil Installation
Magnetic Pod Connection
Low Voltage Protection
Short-Circuit Protection
8S Cut-Off Protection
Temperature Protection
MicroUSB Port
Get Yours Today For Only $41.95 At Direct Vapor With 10% Off and FREE Shipping!
Let's start with the basics: It looks a lot like the Voopoo Drag S. Like, it REALLY looks like it. But so does every other pod mod that has came out the last two years. There really isn't much that you can different here. You can add a few different shapes, or accents…but it's still the same basic design.
So why don't we focus on the things that the SMOK Thallo does, that some of these other pod mods doesn't do.
The pod itself is plastic, like most recent pod mods with the "Plug N Play" type coils. It has a bottom fill grommet system that is also a big feature of most pods. This allows the coil to just be inserted easily from the bottom, connecting directly to the mouthpiece.
For the pod, you get two very different cols in the box. Both are the RPM 2 coils that are very much like the original. They cover completely different bases, though. The mesh coil is for freebase liquid and sub ohm vaping, and it works great at about 20 watts. The other coil, is a 0.6 coil more suiting for higher nic juices, and a more restricted style of vaping.
I love when a company includes two very different styles of coils with what is a essentially a "starter kit". This allows the customer to try out both styles, and see which one they eventually want to stick with. Or maybe, they will like both and switch between the two (I am very guilty of this).
The mod itself is pretty standard fare. It has a fire button, and two buttons that control the wattage. You have a pretty large battery capacity as well. At 3000mah, you basically have a built-in 18650 battery, and then some. This lets the mod last all day easily, especially with the higher ohm coils running at around 15 watts.
I mean, it does 80 watts, but you will never use that kind of power with this setup.
The mod also has a great full color screen, with all the info you need. The screens on these small pod mods are getting really great! The colors are crisp, and easy to read. The outside of the mod has either rubber or leather accents, depending on which model you choose.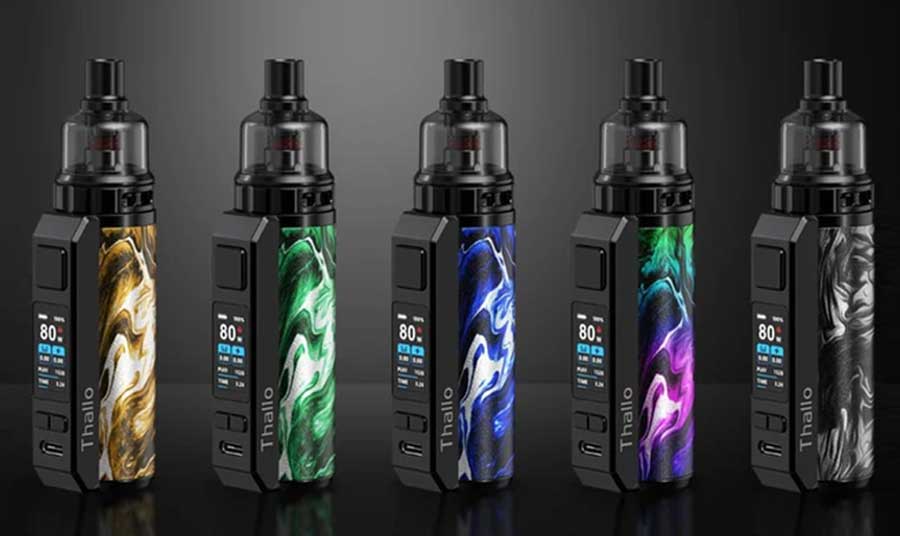 The top of the mod has a really easy to use airflow control that fits with the pod. This can be dialed down to almost MTL levels. Wide open, it is perfect for the sub ohm coil, and has tons of airflow. At the end of the day it's pretty versatile and works great with both coils.
For once, the branding is not out of control for a SMOK device. You have a logo on either side of the mod. It is…dare I say, tasteful. This has been a common thread with new SMOK products lately, and I think this is a great step in the right direction. There is nothing tacky about the SMOK Thallo.
SMOK Thallo: Final Thoughts
Alright, so it's another pod mod device. Sure, we have seen these before, and every company these days make something that is somewhat like this. I get it. Lately, I have a bit of fatigue when it comes to pod mods and the cheaper starter kits. But this is the trend, for better or worse. I am riding it out, just like most people that have been vaping for a while.
But the reality, is that this is actually a pretty competent starter kit. The goal is to get people to start vaping and quit smoking. There are tons of kits out there worse than pod mods!
Get Yours Today For Only $41.95 At Direct Vapor With 10% Off and FREE Shipping!

FREE SHIPPING!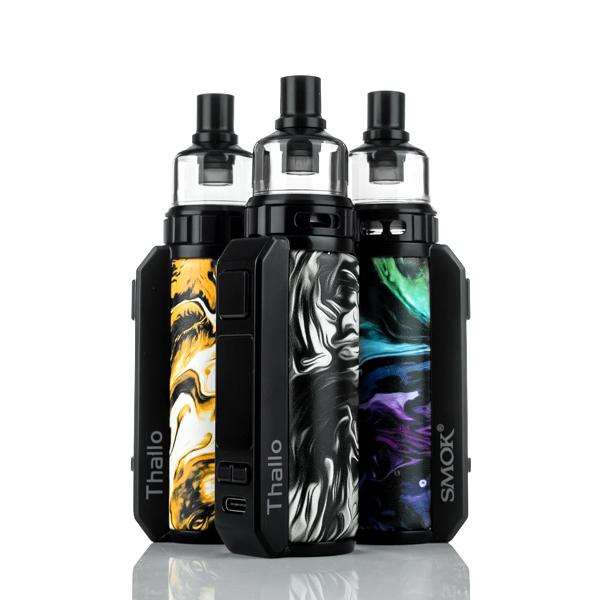 Christopher Horton