I recently got my hands on the Lost Vape CENTAURUS and to celebrate the event I decided to treat myself to the Kayfun Lite (2019), an $89 MTL RTA that needs no introduction…
---
Last week, two amazing things happened (both by post). I got the new Lost Vape CENTAURUS and a brand new Kayfun Lite (2019). The former is one of the hottest box mods available right now, and the latter is perhaps on the best MTL RTAs on the planet.
Combined, these two products alone cost around $250. Now, that's a lot of money to drop on a vape mod and tank. So the next obvious question is whether they're worth all this money? As always, it depends – it depends on what you want from your vape setup.
Me? I like MTL vaping. I also like to know that my tank can (and will) last me years at a time. Kayfun tanks (even the Kayfun Lite) are pricey; you won't find one for less than $89 anywhere (unless it's a clone). But ask anyone that's used one and they'll all tell you the same thing: Kayfun's are worth every dime.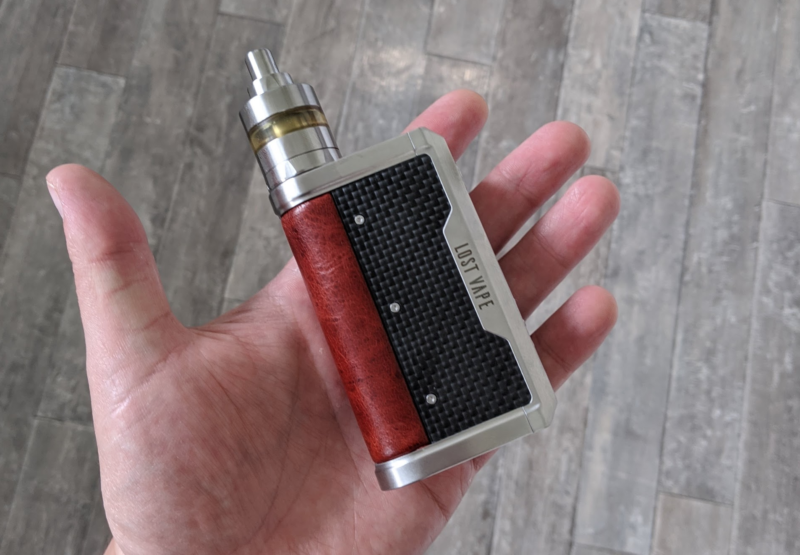 Best Place To Get One? Click Here For Latest Deals
And the reason? Well, it's partly down to the fact that they deliver the best flavor and MTL draw of any tank on the market and partly because they last for years at a time, such is the finesse of the engineering and machining that has gone into making them.
This is why they cost so much money. You're not paying for a brand name; you're paying for quality – quality materials, quality R&D, and quality machining across the board.
The Lost Vape CENTAURUS is the latest DNA 250C mod from Lost Vape. As you'd expect, it looks stunning with its resin or carbon fiber accents (mine has the latter) and the internals are equally impressive, thanks to EVOLV's insanely good DNA 250C chipset. Pound for pound, the Lost Vape CENTAURUS is one of the best looking and most potent vape mods on the planet right now, as you can gather from the specs list below.
Lost Vape Centaurus DNA250c Mod Specs
Size: 91x55x26mm
Output: 1-200W
Modes: VW, TC (Ni80, Ni90, Ti, SS316), TCR
Battery: 2×18650 (Not included)
Display: Screen – 0.96in TFT colour
Temperature range: 200-600°F
Resistance range: 0.1-3ohm
DNA 250c chipset
Firmware upgradeable
Replay feature
USB on the go – mobile power bank feature
USB Micro 2A quick charge
The main reason you'd buy a DNA250c vape mod is performance. EVOLV's DNA250c platform is perhaps the most advanced vape chip on the market, next to YiHi's range of high-end chipsets. It delivers 97% accuracy in both power and temperature control modes and, if you know your vaping, you'll know why this is important.
The more accurate the power delivery, the better the performance of your tank. If you're using a rebuildable tank, you'll want to be as accurate as possible. You do not want to be messing up when it comes to power delivery on low-resistant coils. A DNA250c mod will ensure this doesn't happen.
Secondly, delivering the right amount of power consistently means the vape mod runs more efficiently which, in turn, has a positive effect on your batteries – they'll last longer and degrade charge in a more uniform manner (both good things).
Mostly, though, DNA mods are great because they kick out accurate power. When you vape a DNA250c mod at 50W, you KNOW it's outputting at 50W. Not near 50W, but exactly 50W. The same cannot be said for a lot of cheaper vape mods that lack the sophistication of EVOLV's DNA250c platform.
The #1 Benefits of DNA250c Mods
Improved Battery Life – The Chip Is Very Power Efficient
67 Customizable Options
Best-In-Class Temp Control Mode
Market-Leading Safety Features
Hits Exactly The Same Every Time
Create Different Settings For Different Tanks/Wires
How Does It Go With The Kayfun Lite (2019)?
The Kayfun Lite (2019) is a small, rebuildable MTL RTA. I'm currently running a 1.4ohm coil in mine and I have my Lost Vape CENTAURUS set to 14W.
The performance is amazing; I get the perfect MTL draw and plenty of vapor. And because it's a DNA250c powering everything, and I've locked the resistance and settings, it hits exactly the same every time.
I run nic salts juice in my MTL tanks, mostly Top Brass and Bueno Vista from our store – I like my MTL juices deep and heavy, with a smattering of sweetness to keep things interesting. And so far, it's the best it has ever tasted. And keep in mind I also own the more expensive Kayfun Prime.
And this is what makes the Kayfun Lite (2019) such an interesting tank; it's cheaper than the Kayfun Prime, but in my experience of using both, it is the Kayfun Lite (2019) that is the superior tank with respect to flavor, the MTL draw, and the ease with which new coils and wick can be installed.
Bottom line? I'm super happy with my new vape setup. I don't think I'll be touching a pod vape for months to come, and that hasn't happened in ages. I cannot remember the last time I used a vape mod and tank combo more or less exclusively! It's been pod vapes across the board for the last 12+ months for me…
But once you take a hit on the Kayfun Lite (2019), powered by a beautiful mod like the Lost Vape CENTAURUS, you quickly forget all about pod vapes. It feels like 2018 all over again!
Best Place To Buy Lost Vape CENTAURUS? Click Here For Latest Deals
---
Gear Used In This Post: 
Drake Equation
Co-founder and Editor of VapeBeat. I make the words.