The Lost Vape Hyperion is finally here, and it's time to check out Evolv's latest chipset. Have Lost vape knocked it out of the park again? Today we take a look.
---
Lost Vape Hyperion: The First Mass produced DNA 100C
The Lost Vape Hyperion is the first real mass produced mod that features the new Evolv DNA 100C. At first glance, you might think "this thing has every feature known to man". If that was your first thought, you might be right! Because there are a lot of features to talk about here.
Lost Vape was a company, that in my opinion, lost it's way sometime around 2018. The rumor, is that the company split into two different factions. One was the more budget-focused products like the Lost Vape Lyra. While the other side of the company still made products with the DNA chip, like the Lost Vape Centaurus.
At the time, I thought this was a huge misstep for the company. It did a good job confusing the customer, especially regarding the the budget-friendly products. The name "Lost Vape" was associated with DNA mods, and luxury products…until they weren't.
The past year has seen Lost Vape in a return to form. The Lost Vape Hyperion is part of this new lineup, and I am excited to say that the company is back to it's roots. Albeit, to a little bit of controversy, which we will discuss later. Until then, let's take a look at the New Lost Vape Hyperion and see what it has to offer.
Lost Vape Hyperion: Features, Design, and Specs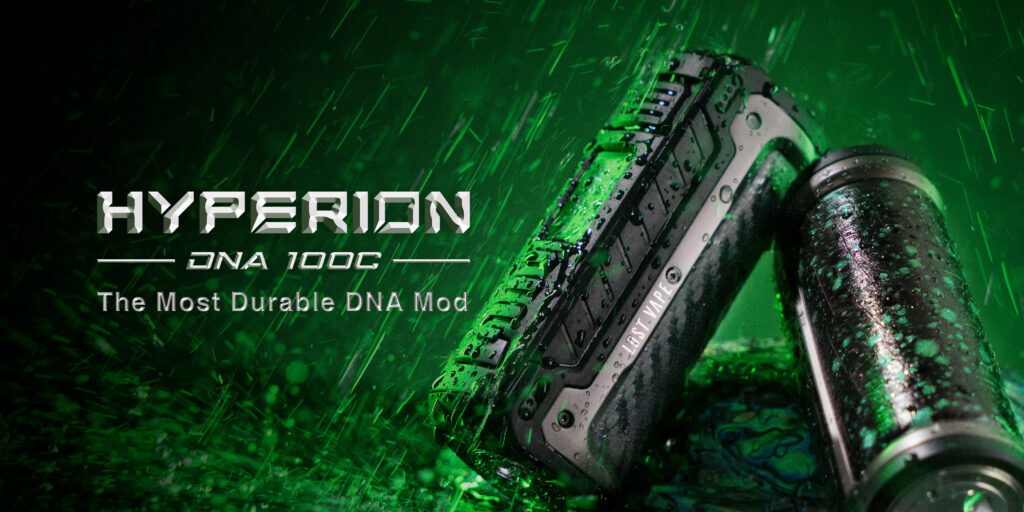 Remember that controversy I mentioned earlier? We will get to that. But what the Lost Vape Hyperion claims is to be highly-durable, and super functional. The DNA 100C is the newest chipset that Evolv makes, and it has a few new features as well. There is a lot to unpack here.
What's In The Box?
1 x HYPERION DNA 100C Box Mod
1 x HYPERION DNA 100C Badge
1 x Type-C Connecting Cable
1 x 18650 Battery Adaptor
1 x User Manual
Mod Features:
STRONGER THAN EVER
With the newest DNA 100C chip embedded in the military-grade materials, the Hyperion DNA 100C mod created an unprecedented vaping experience, making it stronger than ever in terms of durability and functionality.
AUTHENTIC LEATHER COVERED
Inherit the excellent top-notch and high-end quality of Lost Vape, Hyperion DNA 100C is built with authentic leather to make it comfortable to hold in your hand.
MAXIMUM 100-WATT OUTPUT
Powered by a single 21700 battery, Hyperion DNA 100C mod offers max 100W output to meet all your needs for sub-ohm and RDA vaping.
MILITARY GRADE TRI-PROOF
Rest Assured To Go Anywhere
IP68 Waterproof
Withstand water immersion up to 1 meter for up to 30 minutes.
IP68 Dustproof
Completely dust-tight and prevent the ingress of dust.
Shock Resistant
Easily against accidental drop and collision.
3A TYPE-C FAST CHARGING
GET OVER THE GAP
Upgraded from the 2A and USB charging, the latest DNA 100C applied the fastest 3A and Type-C technology, making the Hyperion DNA 100C mod faster than most of the ordinary 2A charge devices on the market.
FIRMWARE UPGRADABLE
With Evolv's Escribe software, Hyperion DNA 100C offers a wide degree of customization and allows you to configure, monitor, and modify exactly the way you want.
---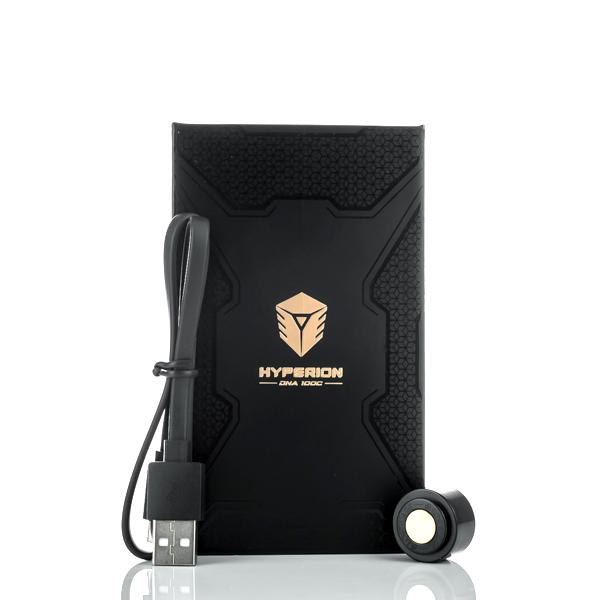 You can buy the Lost Vape Hyperion today from vaporDNA!
The Lost Vape Hyperion comes in some rather sexy packaging. While I don't think it's on par with some of the company's older packaging that just felt luxurious…it's still very nice. In the beautiful box you get the mod, a USB-C cable, and a battery adapter for when you want to use an 18650 battery. Although I recommend using the 21700 batteries that the mod was designed for.
Let's talk about the new DNA 100C first. This takes the original DNA 75 Color and bumps it up to 100 watts. This is the main reason I mentioned using a 21700 battery, to get the full 100 watts safely. Otherwise, the other big change is the USB-C connection.
This should not only make on-the-go charging easier and faster, but it will also download and upload custom themes to your device a little faster. Not that I ever had a problem with uploading a custom theme to a DNA device before. There are hundreds of pre-made themes you can download or you can make your own custom theme. I personally have several I designed on Evolv's website (They are all Star Wars, if you want to find them!).
The DNA 100C is a really monster when it comes to power. It can do over 8 volts, and 100 watts at it's peak. If you are not familiar, you can also make different profiles for each of your favorite atomizers/builds. The temperature control on a DNA device is also second to none. The "Replay" feature ensures that you get the same hit, every time based on the coil temperature.
Something I thought was VERY cool, was the use of a custom theme. The mod ships with a custom theme already loaded on the DNA board. That's a tiny detail, but it is very cool. Most DNA mods come with the stock theme loaded up.
The mod itself is very similar to many single battery mods (we will get to this, I promise). But the difference here is the size of the 510 connection. I found I could fit a 30mm on it, no problem. I really don't know how practical that is, since this IS a single battery mod. But the good news is the mod will fit any atty you own.
I suppose there is one other single 21700 mod that does this…
That being said, it is important to think about what kind of vaper you are regarding this mod. If you like high wattage vaping, the Lost Vape Hyperion might not be for you. While it will definitely power those kinds of sub-ohm atomizers with all 100 watts, it is not designed for that.
The frame has a "familiar" rubberized coating, with a solid metal frame, accented with a leather grip. Lost Vape is famous for using leather accents in a classy way. The Lost Vape Hyperion is no exception, and it follows the path of it's brothers like the Therion.
The military-grade, IP68 coating means that the mod is basically waterproof, and dustproof. You don't need to worry about dirt and dust getting into the working innards of the mod. This also means it is resistant to being dropped from a reasonable height. This is a cool feature for people who work in construction, or something like landscaping.
Ok, let's get to the big leather coated elephant in the room. It seems like every company these days is trying to be the Geekvape Aegis. Don't get me wrong. I understand why. The Geekvape Aegis is one of the most popular vape mods ever made, as well as all the scions of the series.
But not everything has to be bulletproof and super durable, like the Aegis. The shape, design, and features have been copied to death at this point. Products like the SMOK IPX80 are almost clones of the Aegis series. Down to the leather accent and durability rating. These are cool features…but guys, it's been done to death.

The Lost Vape Hyperion: Final Thoughts
The Hyperion is a compact DNA 100C, something the market has definitely been missing. In fact, the market has been missing DNA mods all together! It's nice to see what I think is the best chipset in the world, being utilized again. The updated features to the DNA board make it even better than it was before!
This would be a perfect vape for MTL vapers, and the battery would last days for you! On the other side, you can also do sub-ohm vaping, as long as you like to run things around 50 watts. It will still last most of the day.
But look, vape companies, hear me out…
Not every thing needs to be the Geekvape Aegis. Do your own thing. I know the Aegis is popular, and it has sold thousands upon thousands of units. But there is a line I am drawing here. I swear I will yell it from rooftops if I have to. Just be yourself (As Mitch Hedburg once said about turkeys), and do your own designs.
You can buy the Lost Vape Hyperion today from vaporDNA!
Christopher Horton