The Lost Vape Lyra Pod System has just got official – it's a potent AIO vape with a 1000mAh battery and some new Lyra coil heads. But is it any good?
---
Imagine the SMOK Nord, but just infinitely classier and you're about half-way close to what the Lost Vape Lyra Pod System is all about. Honed from zinc-aluminum, the Lost Vape Lyra is the newest AIO vape system to hit the market. And it is freakin' gorgeous.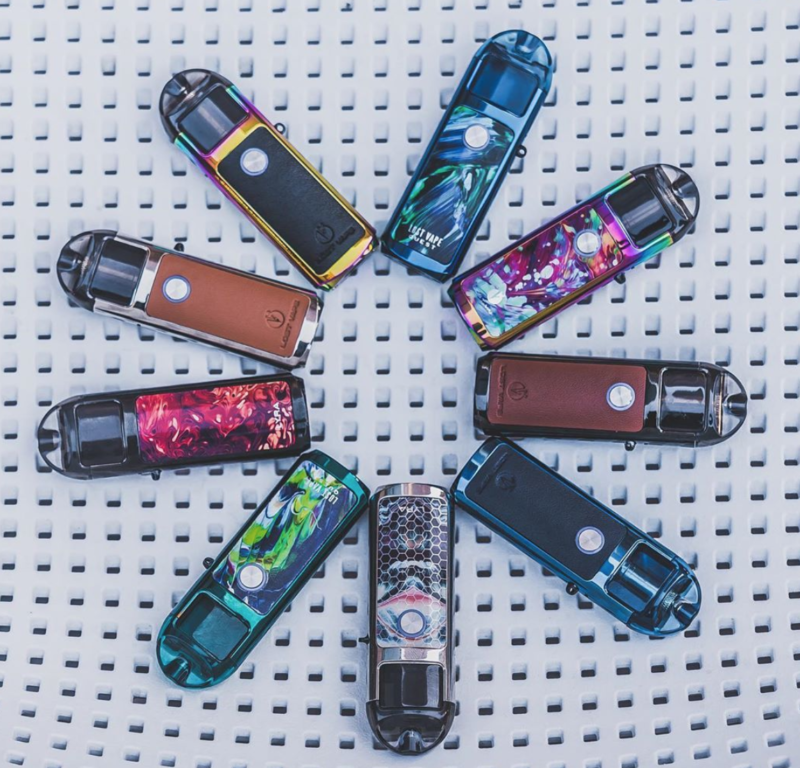 [maxbutton id="4″]
The Lost Vape Lyra picks up where the Lost Vape Orion Q left off, adding in some new form factors, new coil heads, and the ability to swap out sub-ohm coils (0.6 Ohm) for MTL coils (1.2 Ohms) at the user's discretion. And like all Lost Vape products, the specs are to die for…
Lost Vape Lyra Specs & Features
Dimensions: 96.3mm x 30.8mm x 15.8mm
Battery Capacity: 1000mAh
Weight: 79g
Max Wattage Output: 20W
Pod Capacity: 2ml
1000mAh Rechargeable Battery
3 Level Power Adjustment
Single Button Operation
Side Airflow Slots
LED Battery Life Indicator Ring
Snap-In Pod Connection
Dual Port Top Fill System
0.6 ohm Lyra Mesh Coil
1.4 ohm Lyra Regular Coil
Short Circuit Protection
Weak Battery Protection
Temperature Protection
Low Resistance Protection
High Resistance Protection
Micro USB Port
As you can see, you got plenty of high-end specs to play with here. The big news, however, is that the Lyra packs in a 1000mAh battery; that'll make this pod vape last ALL day with MTL coils, and a solid 7-8 hours when used as a sub-ohm device.
Lost Vape Lyra Design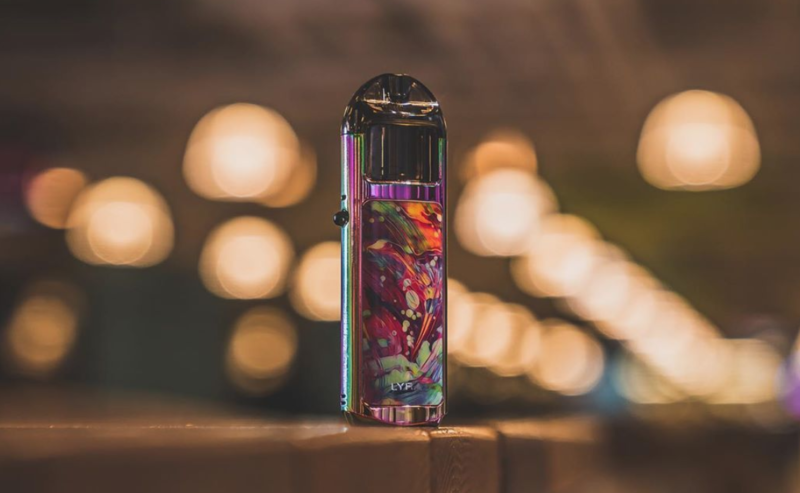 As noted earlier, the Lost Vape Lyra looks quite a bit like the SMOK Nord, just way more premium. It'll come in several color options too – Black/Lava, Silver/Fantasy, Rainbow/Vortex, Blue/Ripple, Green/Peacock, Black/Leather, Silver/Leather, Rainbow/Leather, Blue/Leather, Green/Leather.
The Lyra features an over-sized fire button that is mounted on the front of the device, just slightly above center. The removable pods are refillable and 100% reusable; they work in a similar fashion to the SMOK Nord's, whereby you pop out the coils, depending on what style you want (DTL or MTL).
The Lyra's pods will hold up to 2ml of vape juice, either high VG or Nic Salts, depending on what coils you're running inside it. Me personally, I always run Nic Salts vape juice in my pods. Why? Simple: you get more of a hit, the same great flavor. Plus, I prefer MTL draws pod vapes.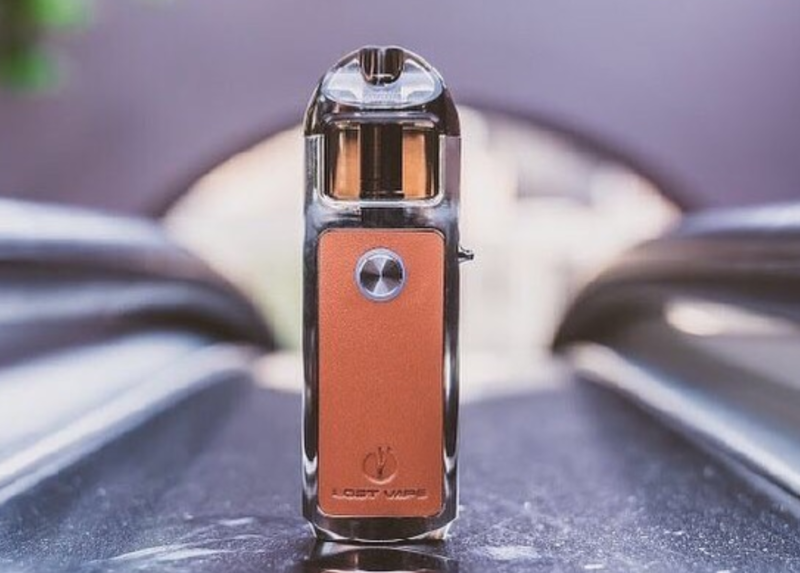 Still, the inclusion of support for sub-ohm vaping is definitely a plus, as plenty of vapers out there really dig vaping at higher wattages on pod mods. The Lyra has a max output of 20W, which you'll be using when running sub-ohm coils. With the MTIL 1.2 ohm coils, you'll keep the power lower, for obvious reasons.
The over-sized fire button on the front of the Lyra also features an LED, which shows you how your battery life is doing – green (65%-100%), Blue (15%-65%), and Red (0%-15%). The pods are snap into place and are held fast by magnets, and on the very bottom of the Lyra pod, you have a small Lost Vape logo.
The design of the Lost Vape Lyra is very tidy; it looks extremely classy and well thought out. I also love that Lost Vape has FINALLY brought leather accents to the pod mod space; those leather finishes look totally badass, just as they do on Lost Vape's DNA vape mods.
Lost Vape Lyra Performance – You'll Get PLENTY!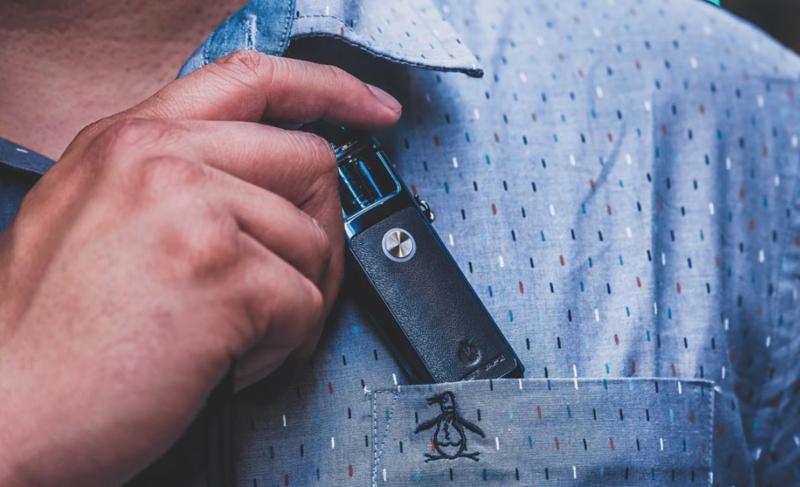 The Lost Vape Lyra, with its 1000mAh battery and 20W of power, is clearly built with performance in mind. You also have the same proprietary chipset that the company used inside the Lost Vape Orion Q, so things will function in a very reliable, safe fashion.
Who's the Lost Vape Lyra designed for? Everybody, I think. It's about as versatile as a pod vape can be; you have MTL and DTL support, as well as plenty of design finishes. Having the ability to run both Nic Salts and normal, High VG vape juice will also be very appealing to a lot of vapers as well. And if you're looking for awesome vape juice, make sure you check the VapeBeat E Juice Store – we got Nic Salts & High VG vape juice at low-ass prices!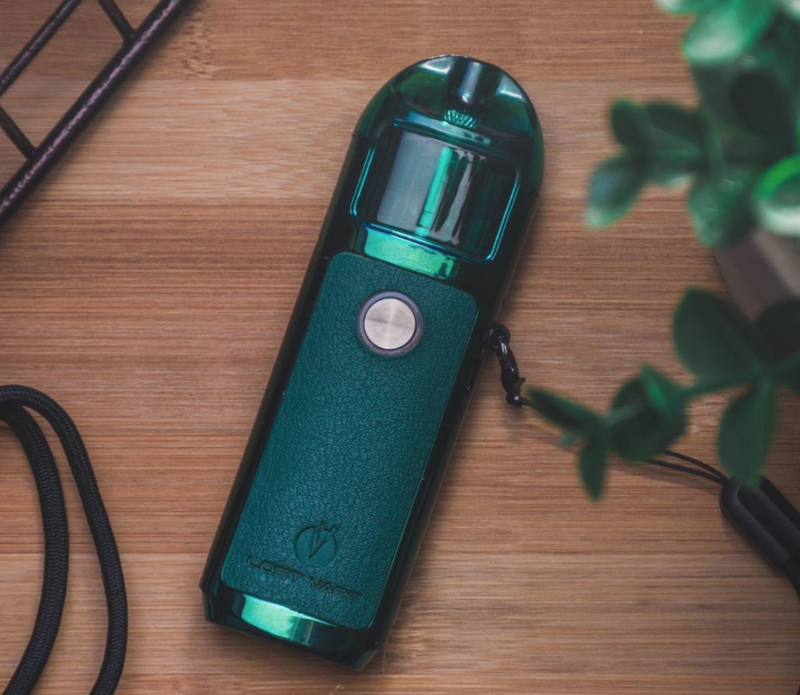 [maxbutton id="4″]
For me, though, the big thing about the Lost Vape Lyra is the size of its battery (1000mAH is HUGE), the new pod system (it has removable coils, both sub-ohm and MTL), and ALL those awesome color combinations for the device's chassis.
Add in EPIC performance, as is standard on ALL Lost Vape products, and you're looking at what will likely go on to become one of 2019/2020's most popular pod vape devices. And best of all is the price – it's not actually all that expensive for a Lost Vape product.
I've seen the Lost Vape Lyra retailing for around $42 online, and for a pod vape of this quality, that is proper amazing value for money!
Drake Equation
Co-founder and Editor of VapeBeat. I make the words.