The Freemax Autopod50 has just launched; it's the world's first double mesh coil pod vape – here's what you need to know
---
Freemax has been one of the visible brands in the vape tank market over the past few years, releasing the world's first Double/Triple/Quad/Quintuple Mesh coil series inside its M Pro Tank. If you like flavor, the Mesh Pro tank is insane.
Increasingly though, more and more vapers are moving over to portable pod vape systems. Initially, I was dead against pod vapes. Nowadays, I find myself using them way more often than traditional vape mods and tanks. Crazy how our habits and perceptions change, right?
Freemax Autopod50 – What's The Deal With This Pod?
So what's the deal with the Freemax Autopod50? Well, it's a brand new pod system for starters, but here you're getting something rather special: a dual-mesh coil system that is designed for maximum flavor and extended longevity.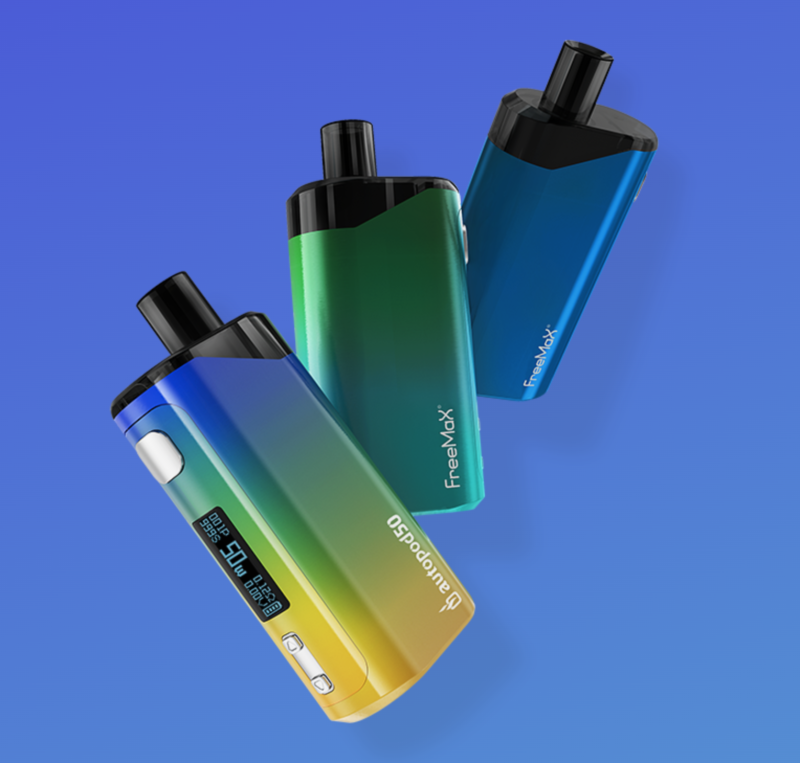 Available in two resistances, 0.25ohm and 0.5ohm, Freemax's COILTECH4.0 mesh coils are designed to run at 15W-35W and 30W-50W. Freemax says each coil is rated for 30-40 refills. That means you'll get through around 160ml of vape juice before they require a change.
Not too shabby, right?
And because the Freemax Autopod50 runs mesh coils, this means you can use high VG juice inside the Freemax Autopod50, so, unlike devices like JUUL and the UWELL Caliburn, which use Nic Salts vape juice, you'd predominantly be using higher VG vape juice inside this pod system – the vape juice you'd normally use inside your RDAs and sub-ohm vape tanks.
Freemax Autopod50 Specs
Size: 43.5x 24.5 x 94mm
Battery: 2000mAh
Output Wattage: 5-50W
Color: Gunmetal, Coral, Blue, Green, Black-Red, Blue-Yellow
Port: USB Type-C

As you can see, the Freemax Autopod50 packs in a truly massive 2000mAh battery. This should deliver all-day vaping, even with higher wattage output settings. You also get 2A fast charging here too, so even when you do run out of battery, topping up the charge will only take 20-30 minutes from 0% to 100%.
Freemax Autopod50 Design
The Freemax Autopod50 is a smart-looking device; it has a small but detailed OLED display that displays all the information you need to know about – puff setting, wattage, resistance, and battery life. The pod aspect of the Freemax Autopod50 is located at the top of the device and is held in place with magnets – just pop it off to refill.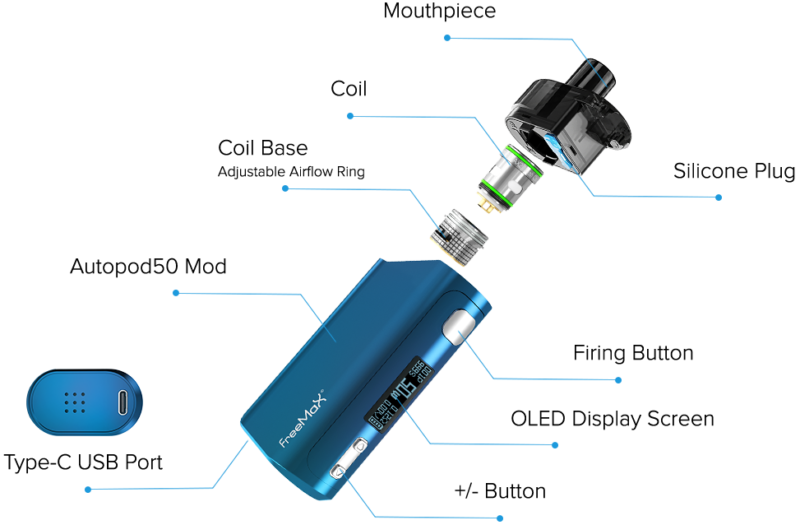 Freemax's mesh coils are replaceable, meaning you don't throw away the entire pod, just the coil. This saves on waste, which is great for the environment, and it makes using the pod system simpler and less fuss in the short, medium, and long term. All you need are spare coils. You don't need to buy additional pods as well, as you do with most pod systems.
Overall, the Freemax Autopod50 is a nice looking device, it functions simply and is, therefore, ideal for all types of vapers – from newbies to more experienced individuals.
I'm most interested in the Freemax Autopod50's new COILTECH4.0 mesh coils. Let's now take a more detailed look at these.
COILTECH4.0 Mesh Coils Overview
The mesh coils for the Freemax Autopod50 are inspired by (or based on) Freemax's EPIC M Pro and X2 Mesh Coil from the Fireluke series. Like these coils, the Freemax Autopod50's AX2 coils are based on Freemax's COILTECH4.0 technology which is designed to deliver more vapor and flavor at lower wattage settings – anywhere from 15W to 40W.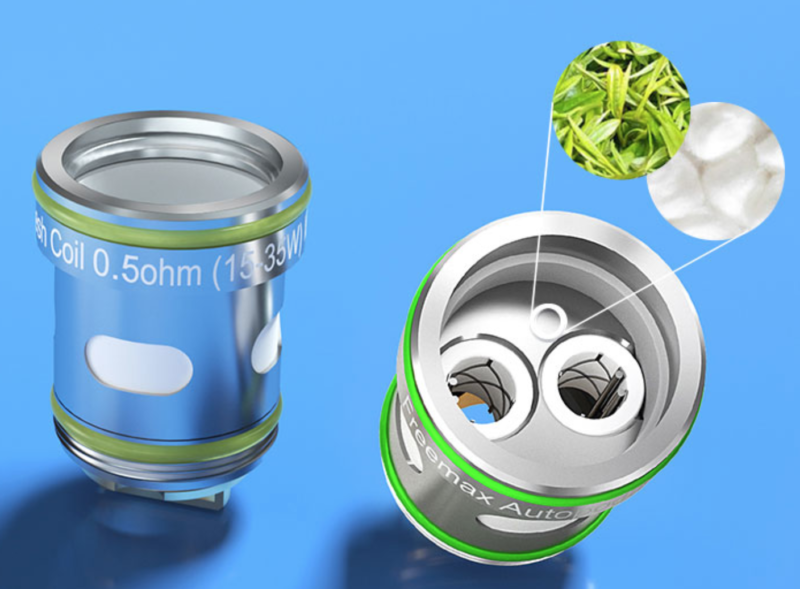 The 0.25ohm coil works best in the 15-35W range and the 0.5ohm coil works best in the 30-50W range, according to Freemax. Again, you'll want to run higher VG vape juice in this pod system, not Nic Salts. The Freemax Autopod50 is designed as a direct-to-lung device, so you definitely do not want to be rockin' nic salts in this thing. It'll blow your head off!
The Freemax Autopod50 will be available later this month… 
Drake Equation
Co-founder and Editor of VapeBeat. I make the words.