New to vaping? Confused about what vape juice to buy? Unsure what PG and VG mean? It's all good – we got you covered!
---
First things first: the type of vape juice you use will depend on the type of vape device you have. This is important, so let's cover this first.
Getting The Right Vape Juice For Your Vape Tank
Here's a quick breakdown of what you need to know:
MTL Tanks/Basic Atomizers/Most Pod Vapes – If your tank is MTL, meaning it hits like a cigarette, you need to run higher-PG vape juice or Nic Salts vape juice. The best combination is 50/50 (PG/VG) or Nic Salts.
Sub-Ohm Tanks/RDAs/RTAs/RDTAs – If you're running a sub-ohm vape tank, RDA, RTA, or RDTA, you'll want to use high VG vape juice. Here, you want to go for 70-80% VG. Any lower than that and things can get a little throaty.
The reason? VG is what makes vape juice smooth; PG is what creates the throat hit. Sub-ohm tanks work differently to MTL tanks (and most pod vapes). You draw on them like an inhaler, taking the vapor from the tank directly to your lungs.
You DO NOT want to do this with high PG vape juice, you'll cough your guts up.
Similarly, you DO NOT want to vape high VG vape juice in most pod vapes and/or MTL tanks. It'll be too smooth, there'll be no sensation of "vaping" – on MTL devices you need higher PG or Nic Salts vape juice to create that "throat hit" that MTL vapers, myself included, love so much.
What About Nicotine Strength?
The level of nicotine you use, again, is dependent on the type of vape tank or vape device you're using.
If you're using an MTL tank system or a pod vape, you can use higher strength nicotine – anywhere from 12MG all the up to 35MG Nic Salts vape juice.
With sub-ohm tanks, because of the sheer amount of vapor they produce, you'll want to keep the nicotine nice and low – no more than 6MG. Any higher than this and your vape juice will taste too harsh. And nobody wants that.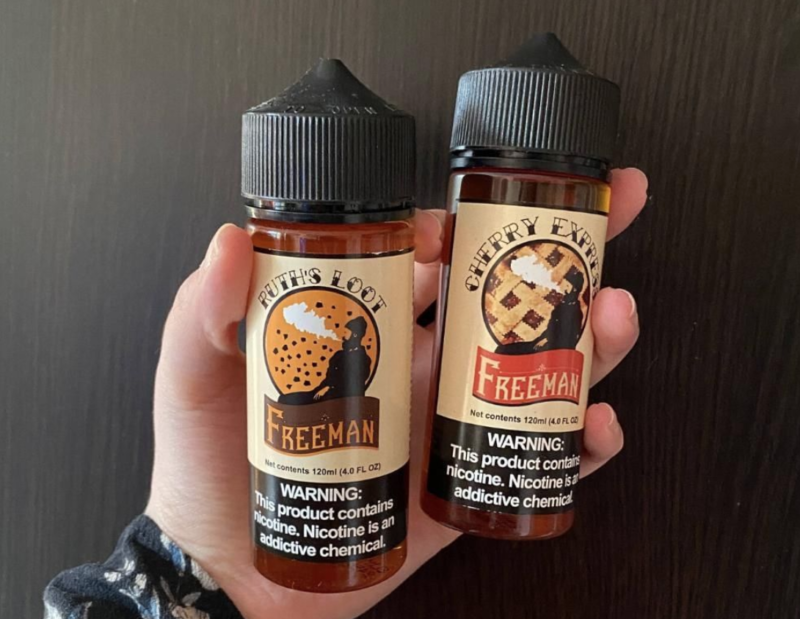 My advice if you've just quit smoking and want to stop? Get yourself a pod vape or an MTL tank and use Nic Salts vape juice – it will kill any cravings you have for cigarettes.
High VG vape juice with lower nicotine, conversely, might not be enough to satisfy your needs. Once you have a baseline established, you can then go about reducing your nicotine levels to a more sensible level.
For instance, I only ever vape 10MG Nic Salts. But it took me a while to get there; I started on 35MG Nic Salts and 12MG normal high PG vape juice. I also used high VG vape juice too, at 3MG nicotine, and found myself needing to constantly vape to keep my cravings in check.
Best Vape Juice For Mesh & Sub Ohm Tanks
Since we launched our store, we've shipped and sold thousands of liters of vape juice, netting thousands of five-star reviews in the process. Going through our store's analytics and data, we've managed to isolate the 15 most popular high VH vape juice lines, which you can see below:
Best Vape Juice For Pod Mods & MTL Tanks
When it comes to pod vapes and MTL tanks, you're best off with Nic Salts vape juice. As of right now, these are my current go-to Nic Salts brands and flavors. When I'm using an MTL tank or a pod mod, I'm always running one of the following Nic Salt vape juices inside it…
Brand Name
Picture
Rating
Why It Rocks!
Best Place To Buy?

TOP BRASS – Tobacco Peanut Butterscotch

(My #1 RY4 Nic Salt Blend)

100%

The Perfect RY4 Tobacco/Dessert Hybrid Blend
Sweet, Nutty & Ideal For All-Day Vaping
30ML Bottles 
100% USA-Made E-Liquid

(The ALL-Time BEST)

100%

Amazing Flavors
Nicest Tasting Nic Salts on The Planet
Good Value For Money
Unlike Anything Else In Terms of Quality

(Perfect For Dessert Lovers)

98%

Perfect For Dessert Lovers 
Great Flavors, Super Smooth
Vapes Great
Tastes JUST Like It Sounds (Yum!)

(A RY4 To DIE FOR)

98%

35MG Strength
Tobacco, Vanilla & Caramel Blend
Quality Ingredients 
Amazing Flavor

(Sweet, Sassy & Sour)

98%

35MG Strength
Sweet, Tangy & Sour
Perfect For Fans of Fruity Vapes
Great Flavor; Perfect For All-Day Vaping
---
Need A Discount on Your Next Vape Juice Order? Click Here – There's Plenty of Options…
Drake Equation
Co-founder and Editor of VapeBeat. I make the words.