How To Set Up The SMOK Nord PROPERLY (Quick N' Easy Tips)
By Drake Equation • Updated: 09/24/20 • 5 min read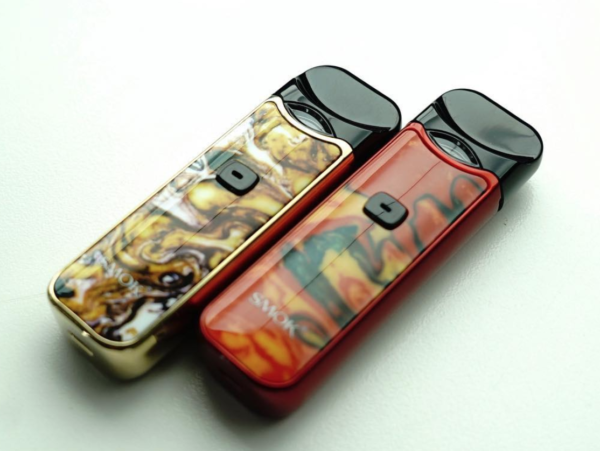 A quick and easy guide on how to set up the SMOK Nord for the first time for maximum flavor and performance
---
The SMOK Nord is a great little pod mod, even though it's not really a true pod mod because it runs actual coils. Technically it's an All In One (AIO), but that's just semantics… so who cares!
Either way, the Nord – as well as the newer and much improved SMOK Nord 2 – is a fantastic vape device. And from someone (me) that normally avoids SMOK products like the plague, this is high praise indeed!
I've been using this vape for months now and I truly adore it. I also pretty much exclusively run these Nic Salts vape juice in mine – they're all incredible.
In order to get maximum results from it, however, there are a few things you need to know.
And we'll be going over them in detail below, so strap in and grab yourself a drink as we detail how to set up the SMOK Nord for the first time.
First Things First: Charge Up The SMOK Nord
This is important. Your SMOK Nord might power-up, but it's been sat in its box for weeks, maybe months at a time, so you'll want to give it a good 60 minute charge before using it for the first time.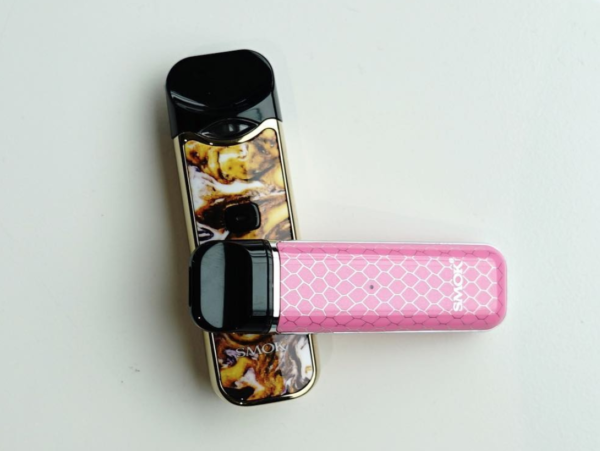 Doing this will ensure, when you do power it up, you'll be dealing with 100% battery power, and this, in turn, will ensure that your vaping experience is as it should be – potent!
How To Prime SMOK Nord Coils (And You Need To Do This)
This one is SUPER important. You have to prime the SMOK Nord's coils before using them. Failure to do so may lead to burning them out prematurely – and nobody wants that.
You also need to make sure you ONLY use the best quality vape juice as well; cheaper vape juice tends to gunk up coils faster than more premium-quality vape juice. This might sound crazy, but it is one of the #1 most common mistakes new vapers make. And don't worry, premium-quality vape juice does not have to cost too much.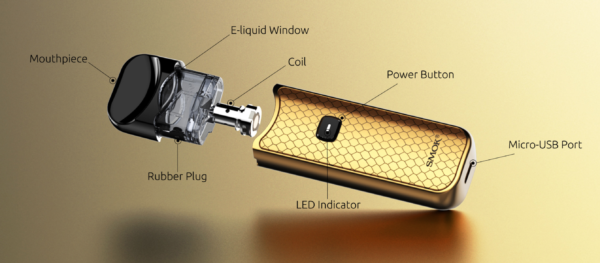 Priming is simple, so don't worry. Take the coil in your hand and simply drop a few drops of E Juice through the hole into where the cotton is. Let it sit for a moment, then do a couple more. That's it. Your coil is primed.
Stopping Dry Hits On The SMOK Nord
Once you've primed the SMOK Nord coil, insert it into the top cap. Make sure the white line on the bottom of it is pointing at the front and back of the device (not to the sides). This ensures your coil is installed properly and will wick correctly.
Now it's time to add some E Juice. Unplug the rubber stopper, located on the right-hand side of the top piece, and fill her up. You'll now want to let the device sit upright for a good 5-10 minutes. This will let the E Juice soak into the cotton and stop dry hits from happening.
Why do you have to wait? Simple: if you take a drag straight away, and any of the cotton inside the coil is dry, it will burn and you've basically ruined the coil. Again, nobody wants this.
How To Check SMOK Nord Battery Life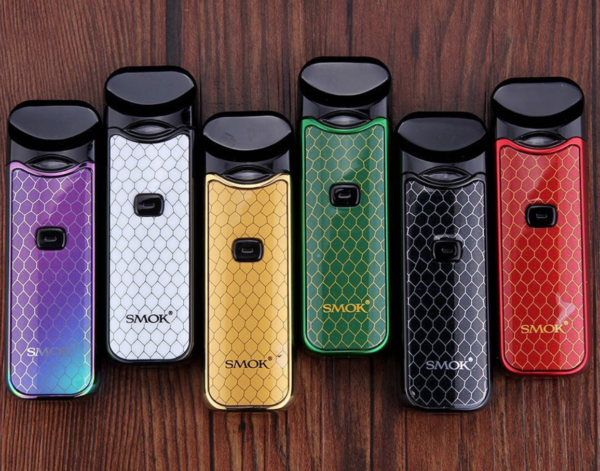 The SMOK Nord has a fire key. It's handy for tactile firing and, generally speaking, I prefer this style to breath-activated pod mods.
You can also use this button to check how much battery life your SMOK Nord has too; all you have to do is click the button twice. It will then show a light:
Green = Above 80%
Yellow = Above 50%
Red = Less Than 30%
Once it turns red you'll want to charge it up again, as performance will dip dramatically.
What's The Best SMOK Nord Coil – MTL or DTL?
The Nord can run both MTL and Sub Ohm coils. This is pretty novel for a device this size, but I generally prefer the MTL coils for a couple of reasons:
The sub-ohm coils for the SMOK Nord are very good though, especially if you want to vape higher VG E Juice. Even then though, I think you'll still want to up the nicotine levels so as to ensure you get a decent hit.
What's The Best E Juice To Run In SMOK Nord?
Because it can run sub-ohm and MTL coils, you can run both Nic Salts and standard, high VG E Juice in the SMOK Nord.
Me personally, I like to vape Nic Salts E Juice in mine with the MTL coil. I just prefer it.
Right now, my favorite Nic Salts E Juice Brands are detailed in the table below – and, yes, they are listed in order!
[ninja_tables id="7009″]
And if you're sick of paying too much for E Juice and Nic Salts, have a look inside the VapeBeat E Juice Store – We Offer 30ML & 120ML Bottles For $8.99 and $19.99, respectively (We Also Have Over 1000 FIVE STAR Reviews).
Anything Else I Need To Know?
Nope, that's literally it! As I said earlier, the SMOK Nord is a fantastic device that is super-simple to use. It has a kick-ass battery life, especially when used with its MTL coils, and the flavor is great (with both styles of coils).
The SMOK Nord also offers fantastic value for money; it retails for less than $25 (with free shipping) and replacement coils aren't too pricey either. Plus, each coil head tends to last a good couple of weeks between changes which is very impressive. This is why the Nord now features so prominently in our Best Pod Mod Guide.
New Juice Recommendations
I get through plenty of vape juice each month, testing loads of different brands. If you're interested in trying some new flavors, right now these are my current favorite vape juices: 
TRAILBLAZER – I used to hate tobacco-flavored vape juices. But then I tried Trailblazer which is a tobacco flavored juice that combines butterscotch and peanut butter. It's rich, sumptuous, and very much an all-day vape and personal favorite of mine. I highly recommend this juice.
1885 – I love a good milkshake, a classic American milkshake that's made up of vanilla ice cream and milk. This just basically takes that classic American milkshake flavor and packs it into your vape tank. It tastes incredible and it comes highly recommended.
Jungle King – If you like smooth, fruity vape juices, Jungle King is well worth a look with its amazing blend of strawberries and bananas. It tastes unlike anything I have ever vaped before (in a good way, don't worry) and it quickly went on to become one of my all-time favorite juices. If you like exotic, sweet vape juices, be sure to check this juice out.
Also: we have an exclusive 50% discount for our store – just use the code: BETTERYEAR at checkout to get 50% off your entire basket. And, no, there are no limits – you can buy as much or as little as you want (while stocks last).
Drake Equation
Co-founder and Editor of VapeBeat. I make the words.